Hello there friends! We hope that you guys had a great time reading our previous blog and are also using our free mock-up PSD files to create your personal and commercial artworks and related designs as well. Since we have people from all sorts of professional backgrounds who follow us here; we wanted to share something that can be used by stationers as well as for individuals for their personal creative projects too so, we have made this free wax seal stamp mock-up PSD file that you can download for free and can edit it however you would like to do it. Let's dive right into it then!
You must have seen rubber stamps that are used in offices and other organizations to attest documents or just to keep a record of the dates and all. We think that that's a really cool way to use a tool officially but now something else is becoming the 'it' thing and we cannot wait to share how you can design and use it in a number of ways. If you are one of those people who recently received a wedding invitation that was sealed with wax – having the name of the to be bride and groom stamped on it, then you would know what we are talking about and yes, we find those invitations super cool too.
Now, as you know that there are multiple ways to go about certain things and that means that you can think of as many cool ideas as you would want to, and then you can execute them in a way that they come to life. Creating and using stamps is not something new but creating more options to use them is something that we can explore as we go. So, for example; you can legit start a collection of customized wax seal stamps for your online/physical stationery shop and it will help so many people to have their own stamps and not just plain rubber stamps that come with a standard color of ink but a cool one, you know.
Then you can offer these cool stamps to be used at offices and other places as well where they are required so that we can start bringing newer ideas to the table instead of working on the conventional ones. Okay so, if you are wondering why we are suggesting introducing something non-conventional, we would like you all to know that wax seals and stamps go way back in time, and in addition to wax being used to seal the documents, packages, etc., history also tells us that even clay was used to seal the official papers as well and we think that's quite an interesting way too but since things have developed, it sounds okay to use wax to seal stuff.
We wanted to keep the element of traditional and modern together so, we have designed this classic yet cool stamp that can be used on melted wax to seal a document or two and if you are feeling a little too fancy, then you can seal your invites as well. The main handle of the stamp is made of wood but if you would like to choose another material for that, feel free to do that too because we know not everyone likes wooden stamp handles and even finish to something.
From using recycled and sustainable materials for the handles of the stamps to using materials that are heavy-duty so that you don't have to worry about the product life, you can pick up anything and everything that you think will work for you and your brand, shop, etc. We would also suggest you guys go for creative and fun stamps while you create stamp designs for hardcore official purposes so that people can know that you have a variety of options that they can choose from. One majorly important thing when it comes to wax seal stamp designs is making sure that the copy is absolutely correct, and it won't get cropped out when it is hard-pressed on the melted wax. These things might sound minor at this point but you will see that these very pointers will help you design everything carefully so that you don't have to make any revisions.
That is all from our side for today! We hope that you enjoyed reading this blog and if you really did, do share your feedback with us in the comments section and also share the blog and our free wax seal stamp mock-up PSD file with your friends and favorite colleagues as well. Also, if you guys have any requests and suggestions, do drop them too and we will get back with that and more in our future blogs – until then keep reading and sharing our content and also keep making kick-ass designs too.
Free Wax Seal Stamp Mockup PSD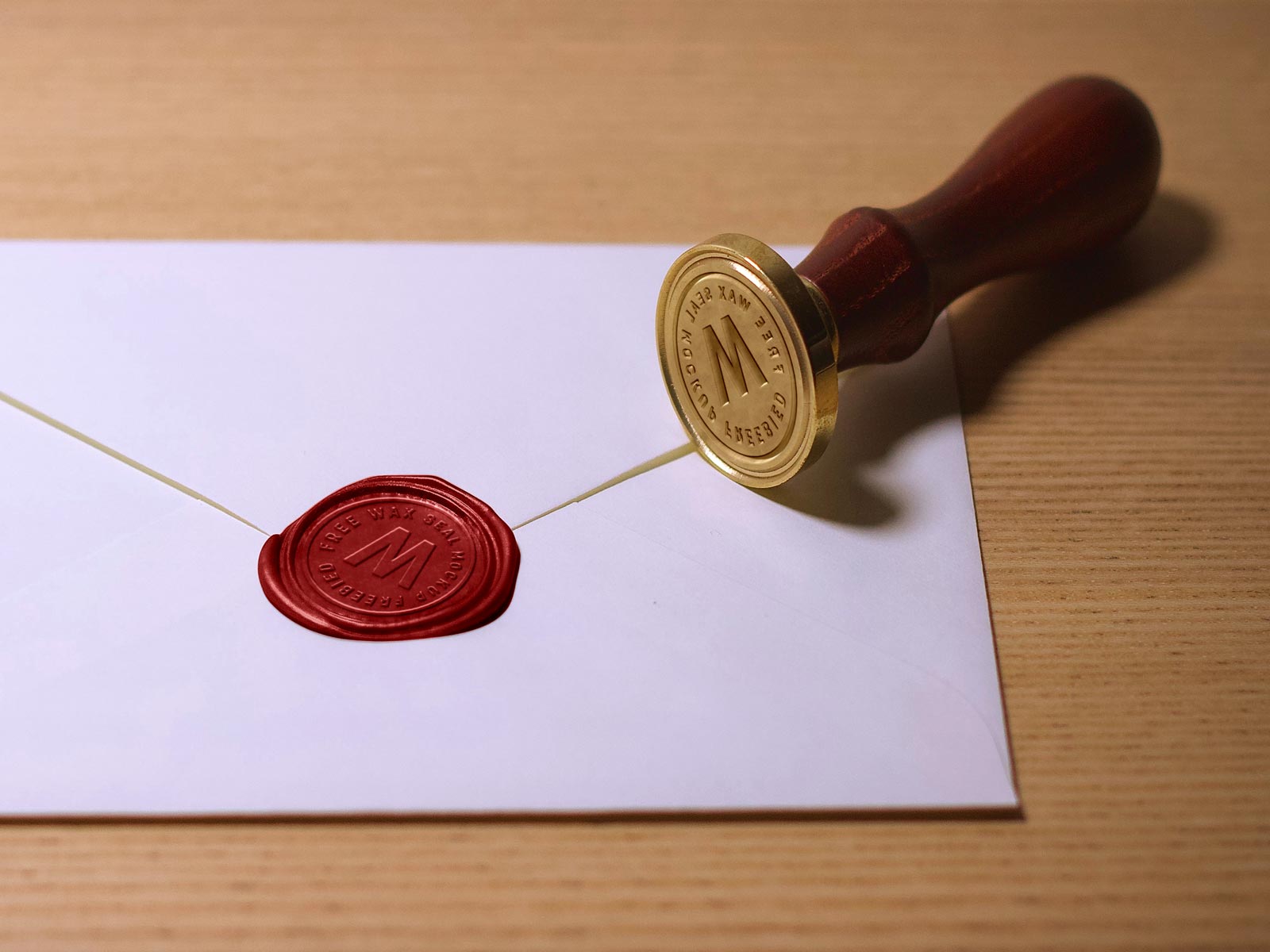 Available Format: Photoshop PSD
License: Free for personal and commercial usage
File Format: WinRAR
Mockup Resolution: 3000 x 2250 px
Note:
1. Free Wax Seal Stamp Mockup is allowed to share online (A Must Linkback to this page)
2. Say thanks if you like or share/tweet with your friends. That means a lot to me.
3. And don't forget to follow or subscribe to receive more high quality premium freebies & awesome articles only.
Download Stamp Mockup
More Stamp Mockup PSD Files: