Hello there everybody! We hope that you all are keeping safe and that our blogs and free mock-up PSD files are helping you get done with your work in style. Earlier this week, we were going through our comments section because we wanted to make sure that you have what it takes to throw an amazing Halloween party but then we realized that we had worked on a bunch of new scary pumpkin carving stencils and we wanted to share them with you so, here we are with our new collection of these super easy stencils that must be used in 2021. Let's dive right into this, shall we?
Recommended:
– – – – – – – – – – – – – – – – – – – – – – – – – – – – – – – –
400+ Free Printable Halloween Pumpkin Carving Stencils, Patterns, Designs, Templates, Faces & Ideas for UK, Canada, Australia, USA
Best Halloween Pumpkin Stencils Ever For the Year 2023, 2022, 2021, 2020, 2019, 2018, 2017, 2016, 2015, 2014, 2013, 2012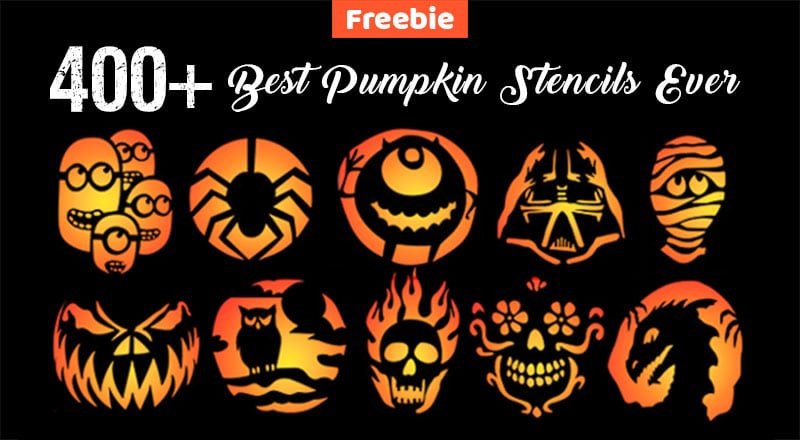 – – – – – – – – – – – – – – – – – – – – – – – – – – – – – – – –
If you are arranging a Halloween 2021 party this year at your house or for your co-workers somewhere nice and calm, there are a couple of things that you need to know before you initiate the process of purchasing things, inviting people and everything else for that matter. We can bet that there are many people in the world who think that arranging a party is like working on a nightmare but that is not true. Want to know why? It is simple; if you know the ways of arranging a party without getting overwhelmed, you will see that everything is going smoothly, everyone is happy, and you are happy too.
Recommended: 100+ Painted Pumpkin Ideas
To arrange a party, you must have a plan and the plan is to work on the lists of items that you need to purchase, then comes the list of guests; if you have a good budget, you can invite as many people as you would like to host but since there are many cities in the world that are following strict COVID-19 SOPs; we would suggest you keep it small and invite people that are fully vaccinated so that all of you can be safe around each other.
Okay so, first things first and this is important so read it carefully, you must work on a list of things that you will need to cook, to decorate the house as well as for the costumes – if you are planning to wear them that is. To make sure that you do not get overwhelmed, you must take some time out of your routine and sit down somewhere you can actually think of the things that you must purchase to make your Halloween party a great one. Same goes for the décor too, there are chances that you have something stored from the last year so take it all out, go through the stuff that you will need and reuse it. By doing so; you are not only saving a few bucks, but you will be happy to see how improvising works in your favor.
Recommended 600+ Pumpkin Carving Ideas
As far as the pumpkin shopping is concerned; make sure that you do that on a day where you can spare a couple of hours for pumpkins. At first, you might think that it can be done easily but once you start taking interest in the peculiar shapes of the pumpkins, their weird yet attractive dents and bumps, then you will see that this task needs proper attention. Also, while we are it, we would like to share it with you guys that you must also look out for deep cuts and bad bruises on the pumpkins because that's something you would not want to spend your money on.
Before the Halloween day, you can start getting the house all prepped up as this will allow you to spend more time with your guests and you will also be able to enjoy your party properly. Also, as far as the food is concerned, and if you are just like Monica from FRIENDS, then do the preparations before time so that when the guests start to reach at the venue, you don't have to stay in the kitchen. Oh, and one more thing, make sure that you ask for help – don't do everything all by yourself because you would not want to be exhausted at your own party. And we are sure that your loved ones would be happy to lend you a helping hand, really.
Recommended: 25+ Easy Pumpkin Carving Ideas 2020
And that is all from our end for today, friends! We hope that you enjoyed reading our blog and that our interesting and free scary pumpkin carving stencils 2021 will help you create awesome carving designs in no time. If you have the time to do so; feel free to let us know which ones are your favorite stencils from our collection and while you are at it, do share the blog with your friends and family members as well. We will keep creating amazing content for you so that you can get ideas and execute them in style so, until next time, keep reading and sharing our blogs.
– – – – – – – – – – – – – – – – – – – – – – – – – – – – – – – – – – – – – – – – –
Don't miss out on these cool Halloween freebies:
– – – – – – – – – – – – – – – – – – – – – – – – – – – – – – – – – – – – – – – – –
10 Free Scary Pumpkin Carving Stencils, Templates & Ideas 2021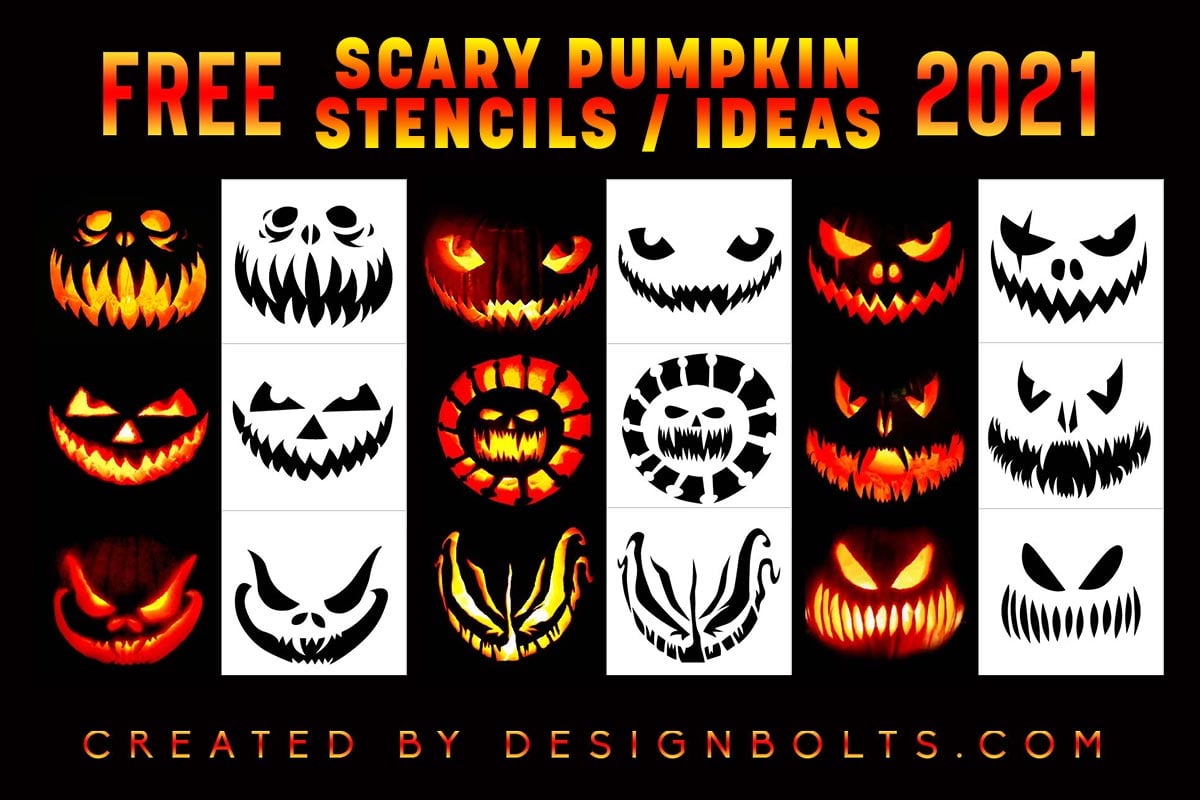 1. Free Scary Pumpkin Carving Stencil 2021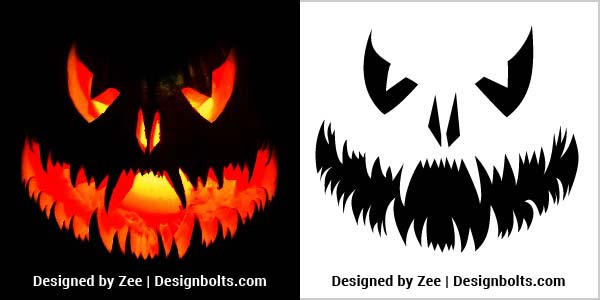 Download Stencil 1
2. Free Scary Jack O'Lantern Carving Stencil 2021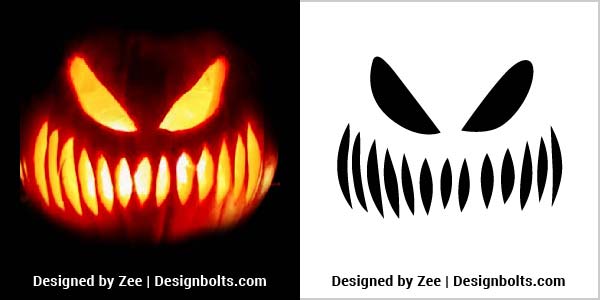 Download Stencil 2
3. Free Scary Pumpkin Face Carving Template 2021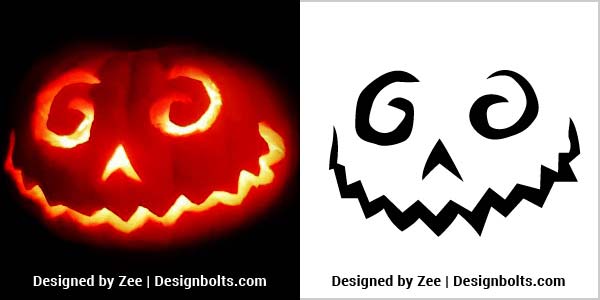 Download Stencil 3
4. Free Scary Pumpkin Carving Ideas Printable Template 2021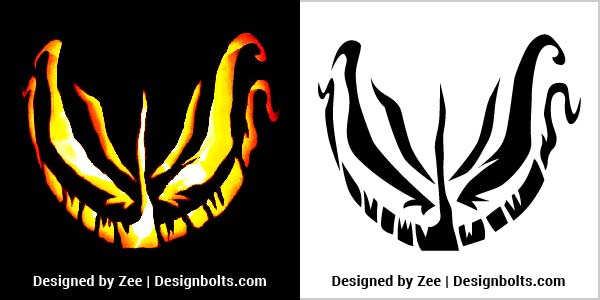 Download Stencil 4
5. Free Scary Pumpkin Stencil 2021 Pattern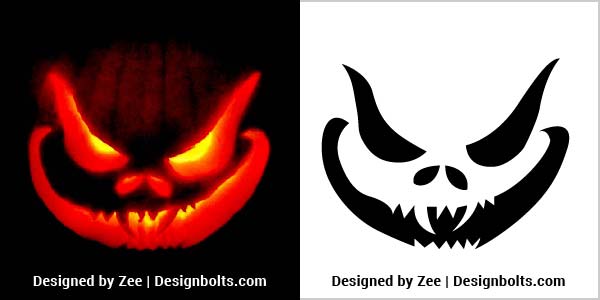 Download Stencil 5
6. Free Scary Pumpkin Face Stencil 2021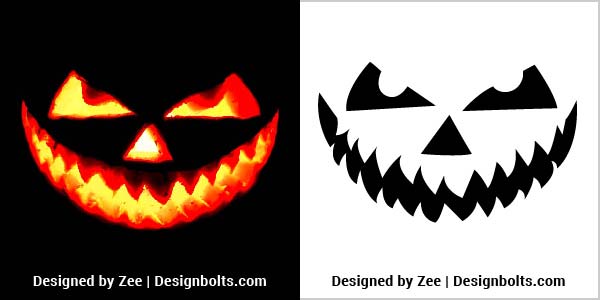 Download Stencil 6
7. Free Scary Pumpkin Pirate Carving Stencil 2021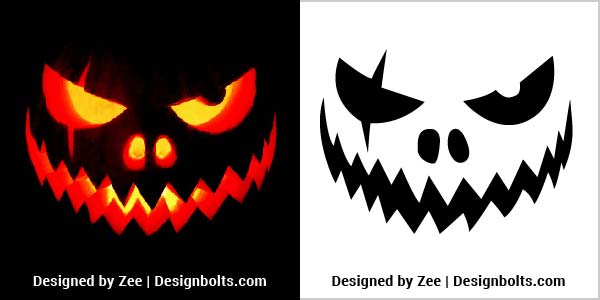 Download Stencil 7
8. Free Scary Covid (Coronavirus) Pumpkin Carving Stencil 2021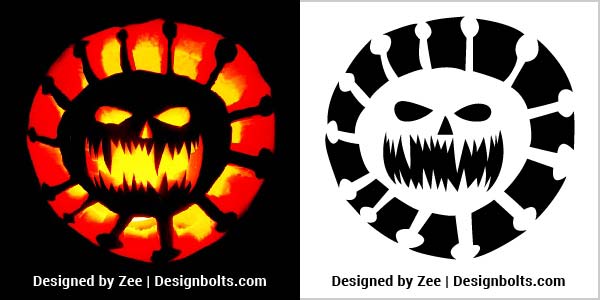 Download Stencil 8
9. Free Scary Face Pumpkin Carving Stencil 2021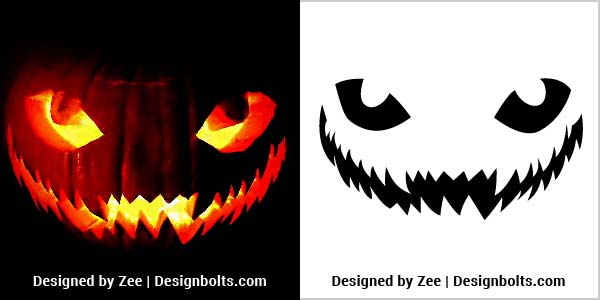 Download Stencil 9
10. Free Scary Pumpkin Template Stencil 2021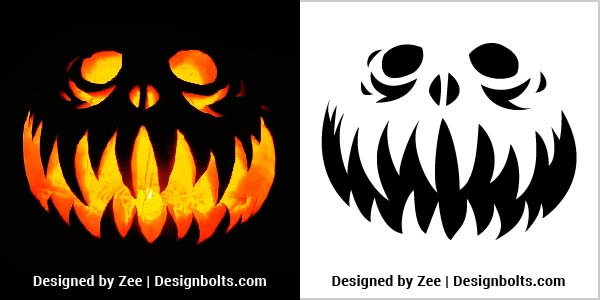 Download Stencil 10
Latest Halloween Pumpkin Carving Stencils 2024, 2023, 2022, 2021, 2020, 2019, 2018, 2017, 2016, 2015, 2014, 2013, 2012 to Carve: