Hi there creative people! We hope that you all are having a great time reading our blogs and that our free mock-up PSD files are also helping you create amazing designs for your personal and commercial projects. Earlier this week when we started to create our content list, we wanted to add as many signage logo mockup PSD files as we can so that you can work on the branding of your work places and buildings in general so, here we are with our today's free yet highly editable mock-up PSD file of etched glass signage logo.
For those of you who don't know; etched glass or glass etching is a technique that is also known as 'French embossing' and is done by either applying acidic substances or abrasive and caustic substances. The end result is a beautiful creation of art and no matter how complicated the art work is; when you look at it, you will only see perfection and awesomeness. This kind of signage is something that we have always liked, and we wanted to share it with you as well so that you can bring a new touch to your branding game, you know.
We often talk about how branding is something that you all must focus on but what really important is knowing the fact that whatever you will do is going to leave a (lasting) impression on your consumers.
Allow us to ask you this question so that you can better understand the situation! Have you ever gotten a chance to work with a marketing and advertising agency that does not have a nice social media presence on Instagram, Facebook or Twitter for that matter? You would not be able to respond to this question because you preferred that agency that is not only present on the digital and social media platforms, but they are also doing great when it comes to their own personal branding. Do you know why that must have happened? Well, that's because you would want to work with a team of people who can bring exciting stuff for you on the table and they can only do that for you if they are doing it for themselves. Right?
Recommended: 60+ Best Free Signage Mockups
Businesses can only flourish if they know how to stay relevant. So, for example; you have got all the tools to make things work for yourself as well as for your clients, you have the best strategists on board to make sure that whatever you are doing is going to bring you awesome stuff back and you know how to implement all your creative thought process to make great things happen but if you are not relevant, you won't be able to achieve your goals.
Many businesses fail when they stop doing things that can appeal to their newer audiences. They tend to make their own audiences drift apart because they are stuck with the conventional means of communication, branding and everything that they do reflects that. When that happens, audiences start preferring those businesses that speak to them at a personal level and we think that makes sense. You might not have seen etched glass signage that often but that does not mean that you cannot incorporate it into doing things for yourself or for the brands etc. that you work with.
Recommended: 50+ Vintage Hotel Signage Ideas
Although, there are many reasons to go for the etched glass signage logo but here are a few of them that we would love to mention here:
Etched glass signage looks professional and you can use it for complex design elements as well, the ones that might not look that great through ordinary signage.
This type of signage does not take a lot of space, looks neat and extremely attractive and if you change your mind or want to revamp the place, you can easily take it off and have it installed somewhere else too.
Etched glass signage won't cost you a lot as well because it has been in the market for many years and any professional can make the designs for you in reasonable prices and we think that is one of the reasons why you might want to check it out too.
And that is all from our end for our today's blog! We hope that you not only had a great time reading it but you will also incorporate our free etched glass signage logo mockup PSD file for your upcoming design projects as well or you know, you can totally use it to revamp your own branding. Feel free to let us know how it all went in the comments section and while you are at it, do share the blog and mock-up PSD file with your favorite colleagues too! Oh, and if you guys have any suggestions or special requests, send them to us and we will make sure to get back with that and more in our upcoming blogs.
Free Etched Glass Signage Logo Mockup PSD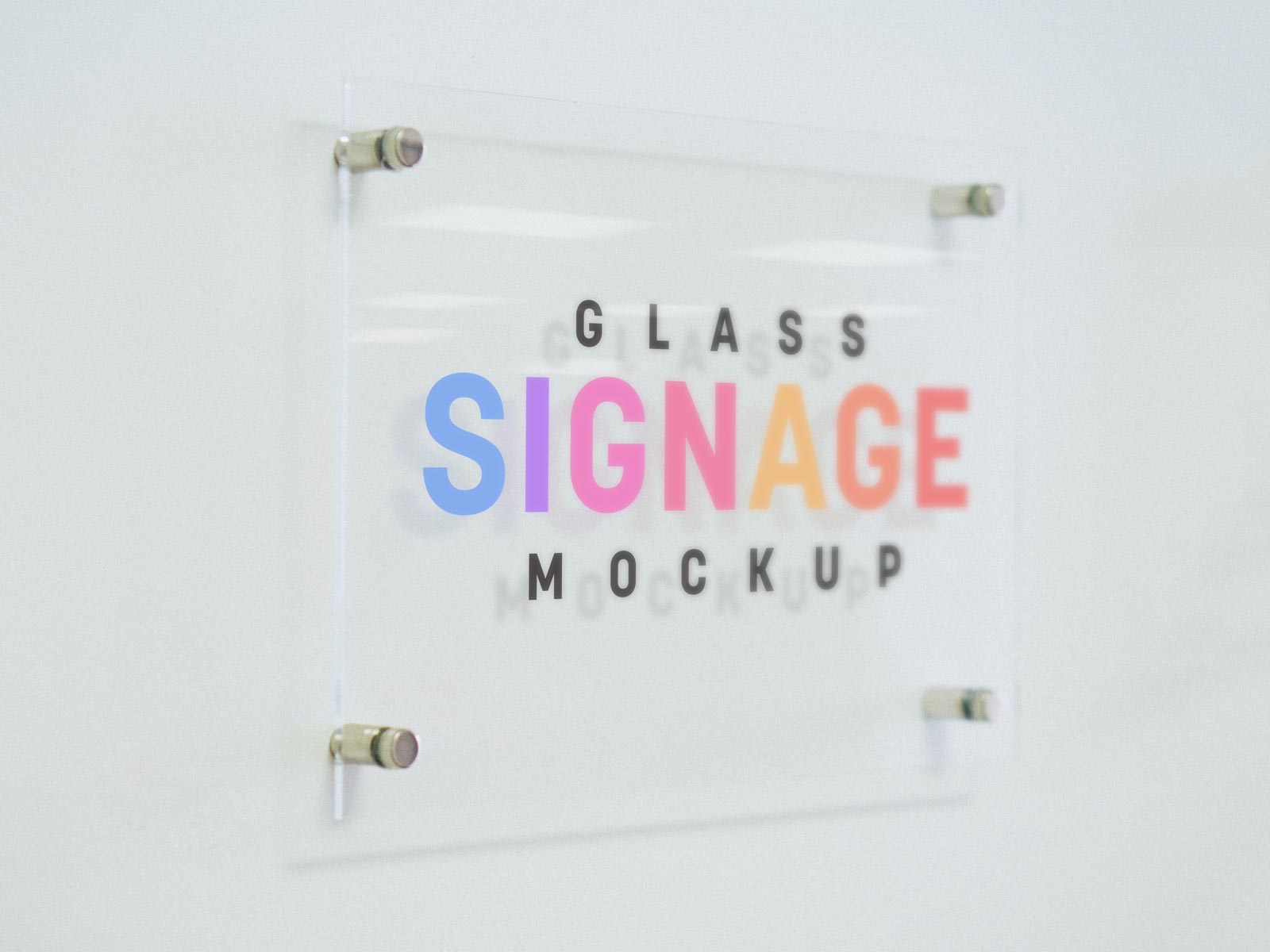 Available Format: Photoshop PSD
License: Free for personal and commercial usage
File Format: WinRAR
Mockup Resolution: 4000 x 3000 px
Note:
1. Free Glass Signage Mockup is allowed to share online (A Must Linkback to this page)
2. Say thanks if you like or share/tweet with your friends. That means a lot to me.
3. And don't forget to follow or subscribe to receive more high quality premium freebies & awesome articles only.
Download Glass Sign Mockup
More Free Sign Board Mockup PSD Files: