Hi there, hello there! We hope that you all are keeping safe and that our creative ideas, interesting tips & tricks and free yet highly editable mockup PSD files are helping you create super awesome designs for yourself as well as for the clients that you are currently working with. Also, thanks so much for your overwhelming response on our previous blogs and for also making sure that you share them with the ones you love and care about.
If you are one of our regular readers, then you would know how much we love working on branding designs and marketing strategies that can help you promote your businesses well. In addition to that, we also happen to love creating designs that can help you market your own business in an effective way before you get in touch with your prospective customers and clients. It has always been interesting how our mock-up PSD files turn out to be when you design them so, keeping all the great things in mind, we decided to create this free corner shop façade mock-up PSD file. Allow us to share how you can create stunning corner shop facades!
The best thing about owning a corner location is that your potential customers can get your information from two sides of the same building and this opportunity can also be explored for creating stories as well for example; you continue a sentence on one corner of the building that goes to the next corner and you will see how you make your audiences curious, you know. That's one way of doing it and there is plenty of others that can help you as a business owner and marketer to craft your brand stories in a way that it brings more and more people to your stores etc.
There are a couple of things that we would love to mention here so that you can create the best corner shop facades in town to market your businesses. Before you start working on what colors to use to create the designs and how big you would like to go in terms of the sizes of the façade, we would like to share that you must work on the perception thing first; the way you would want to be perceived is that goal that you want to achieve in order to keep improving yourself in times to come. Your products and services come next so, while you are working on creating a nice brand personality, you will also have to focus on how to meet the demands of your potential customers.
Recommended: 60+ Best Free Signage Mockups
Whatever you will finalize as the perception of your brand or the promise that you are about to make as a business; your next step will be to base your business on that promise. To make sure that whatever you are going to do is better and more than what your competitors are doing, you must also get the competitor's analysis done as well. All the data and the insights that you will get from this research is what will help you working on better business strategies and eventually you will be able to achieve your goals in no time. That is what planning and strategizing everything out does so make sure that you do that before you begin to create designs.
Your next step is to work on communicating the promise(s) that you have made as a business. Anything and everything that you will do must reflect that because that is one of those things that your audiences will be looking at and if you are not doing what you said that you will do, then there are chances that your audiences will start going to other businesses that are true to their commitments. We have seen many businesses that still do not believe in the power of digital and social media so we are going to take this moment to say that you have to make sure that you are there too and all your communication is aligned meaning that the content that is on ground and on digital and social media.
Recommended: 50+ Vintage Hotel Signage Ideas
We are sure that what we have created for you guys is something that will help you create what you have been wanting to create. From a strategy and creative thinking point of view, we can bet that you have amazing team members on board that can help you execute your plans really well and with the help of our free corner shop façade mockup PSD file, you will attract your targeted audiences efficiently too. So, what are you waiting for? Get your hands on the mockup PSD file today and start creating meaningful designs for yourself or for your clients.
Feel free to share your feedback with us in the comments section down below and we'll see you all next time with something even more creative & fun.
Free Corner Shop Facade Mockup PSD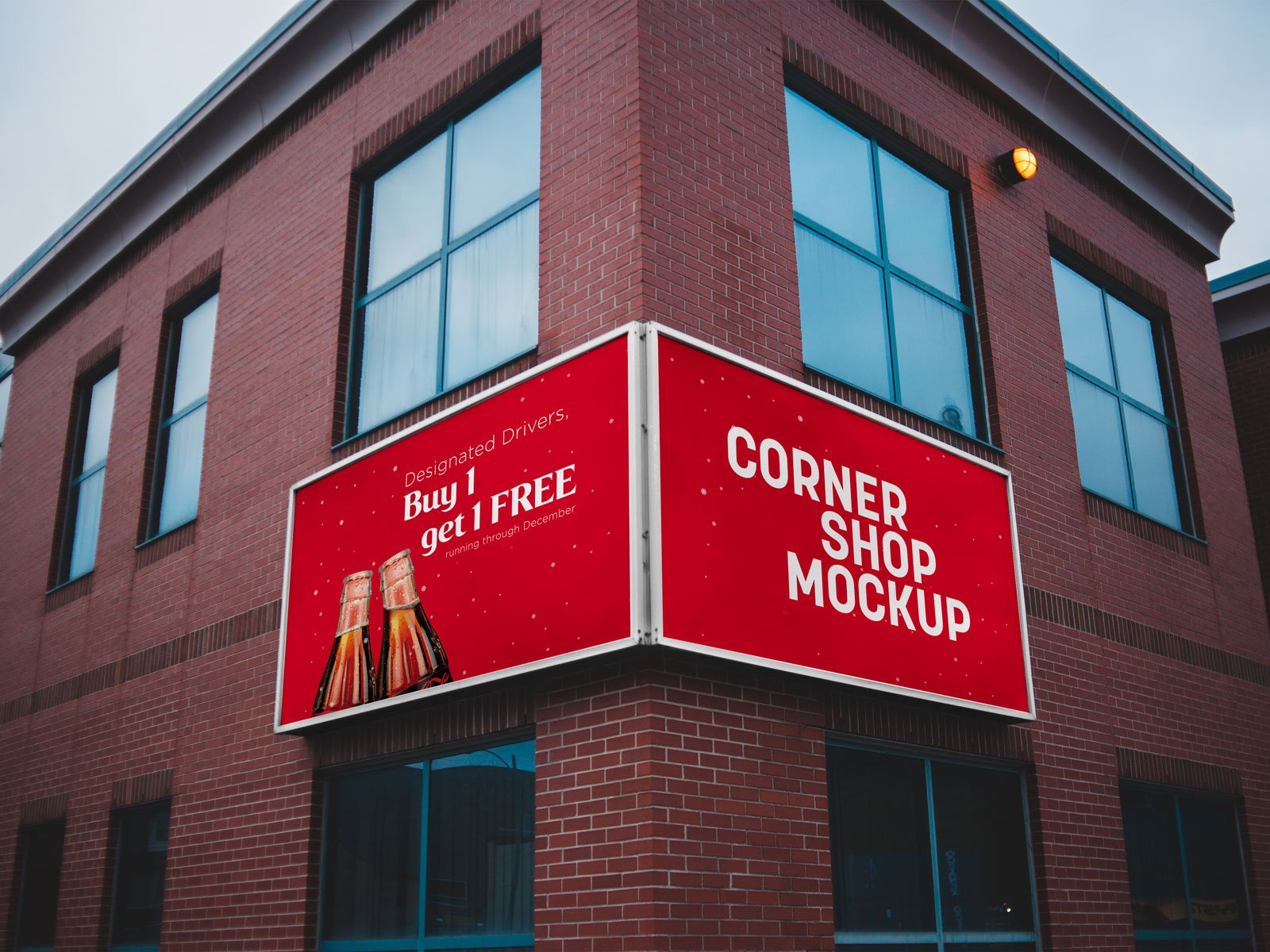 Available Format: Photoshop PSD
License: Free for personal and commercial usage
File Format: WinRAR
Mockup Resolution: 4000 x 3000 px
Note:
1. Free Shop Facade Mockup is allowed to share online (A Must Linkback to this page)
2. Say thanks if you like or share/tweet with your friends. That means a lot to me.
3. And don't forget to follow or subscribe to receive more high-quality premium freebies & awesome articles only.
Download Facade Mockup
More Free Sign Board Mockup PSD Files: