Hello there everyone! We hope that you guys are doing awesome and that our free, yet highly editable mock-up PSD files and interesting content ideas are helping you get done with your projects in style. Before we begin talking about what we have created for you guys today, we would like to thank you all for always taking out the time to share your feedback with us and for also spreading the word within your personal and professional circles. Your constant support and amazing suggestions encourage us to keep creating what we love to create.
In our today's blog, you will be able to get information, tips & tricks to design the coolest shopping bags for yourself or for the businesses you are associated with and we are sure that you will love what we are about to share so let us get started, yeah!? 😊
A shopping bag is one of those things that can promote and talk to your potential customers on your behalf after an actual customer has made a transaction with you in one way or the other. We love shopping bags and we love to keep those with us that are brilliantly designed, that speak to us, are so beautiful that they are neatly lined in our closets and drawers and when needed, we use them to carry a present for someone special. So, if you or your mom is a shopping bag hoarder, then first of all welcome to the club, you guys and second of all, have a look at this simple free shopping bag mock-up PSD file that we have created for you guys.
Recommended: 50 High Quality Free Shopping Bag Mockups
You are free to use it for literally anything that comes to your mind, for all your products; a delicate or heavy-duty or you can suggest interactive designs to your team leads or clients to attract more people to come to your shops, etc., and invest in your business. Before we type what we are going to type here, we are secretly hoping that we are not the only ones who do this so, here it goes: there have been times when we only purchased from a certain business, because the shopping bags that they had were OH-SO-PRETTY!
If you are one of those people who want to try out something new when it comes to packaging, today is your chance to get to know the various fun techniques that you can and must definitely incorporate to attract your existing and potential audiences. For example; if you are a shoe brand, you can literally use the handles of the bag as laces and incorporate them into the designs of the shopping bag. Go for ribbons when designing the shopping bags for the ladies' show and you will be great to go.
If you own or work with a stationery business, play with markers, colors pencils, paper clips, and more to see how far your imagination can take you to and you will see awesome things happening right there through your hands. For a clothing brand, we must suggest you go creative with ties and skirts and bows for that matter, or maybe drop buttons here and there to see your shopping bag designs turning into something supremely beautiful that no one would be able to take their eyes off it.
Oh, and here is something even more fun! If you sell electronics or smart devices like Bluetooth handsfree, headsets, etc. maybe you can use the sets to create the designs that would not only be subtle but we are sure that your creative shopping bags will be out there promoting your business just the way you want them to do their thing. That is how easy it can be when you will consider your own products or even services to speak for you, you know. Thinking outside the box is important but at times, you do not have to do that – everything that you might need to get inspiration from is right there in front of your eyes. And a little research on the internet has no one hurt either so maybe you would want to try doing that sometime soon too.
One more thing before we wind up our today's blog is that you can also go for transparent designs somewhere in the actual design as well to bring more life to the shopping bag; could be a face, a body part, a clothing item, or whatever you sell to make more sense and attract people towards your businesses. Alright so, we believe that we have shared enough to inspire you to start creating stunning designs of your shopping bags. Feel free to ditch the old one and start creating something, something different right away.
Also, if you liked reading our blog, do share your feedback with us in the comments section.
Free Hand Holding Shopping Bag Mockup PSD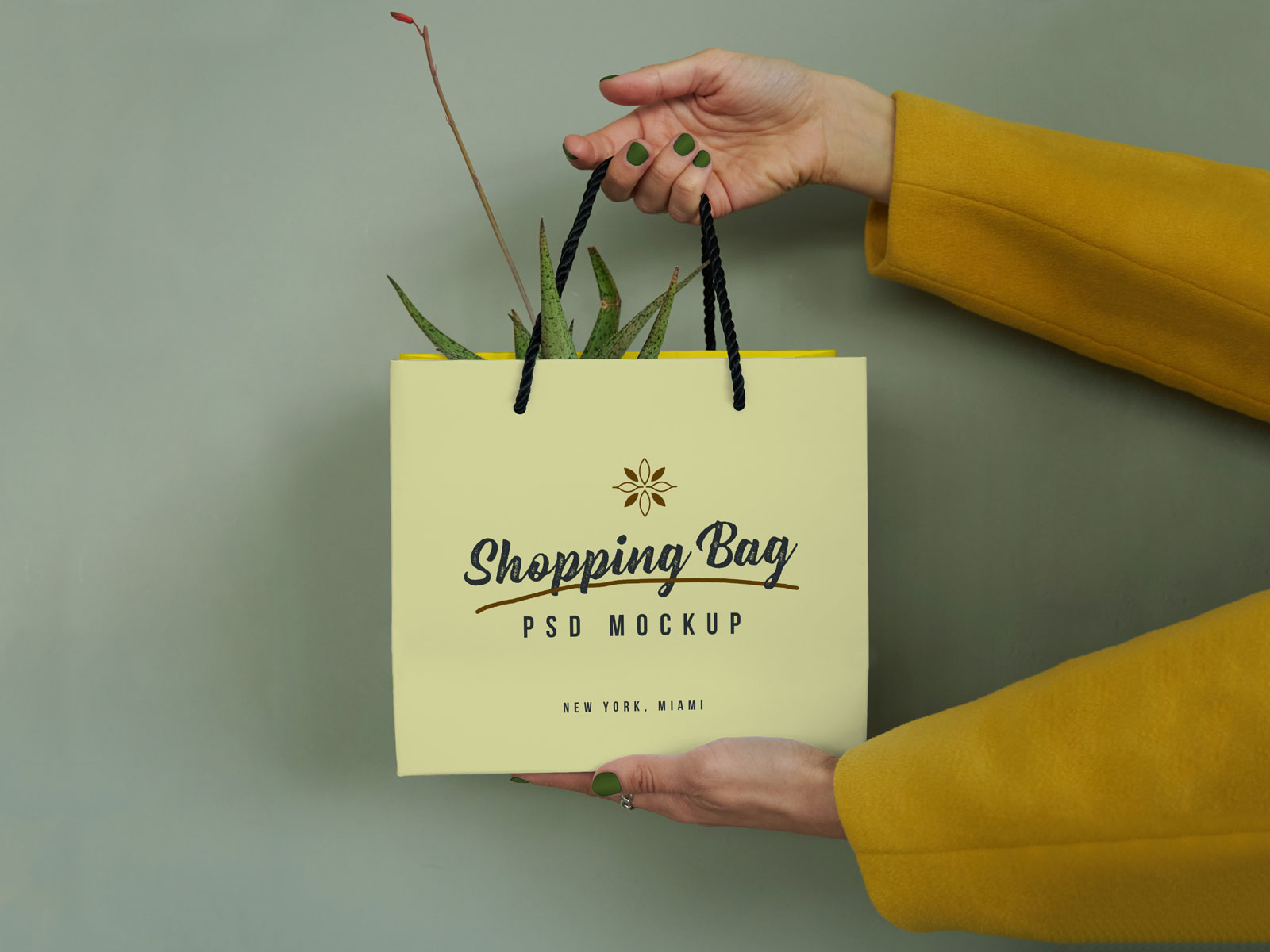 Available Format: Photoshop PSD
License: Free for personal and commercial usage
File Format: WinRAR
Mockup Resolution: 4000 x 3000 px
Note:
1. Free Shopping Bag Mockup is allowed to share online (A Must Linkback to this page)
2. Say thanks if you like or share/tweet with your friends. That means a lot to me.
3. And don't forget to follow or subscribe to receive more high quality premium freebies & awesome articles only.
Download Shopping Bag Mockup
More High-Quality Free Shopping Bag Mockup PSD Files