Our today's review is a result of extensive research on the best WordPress education plugin that exists so, let us get started without any delays.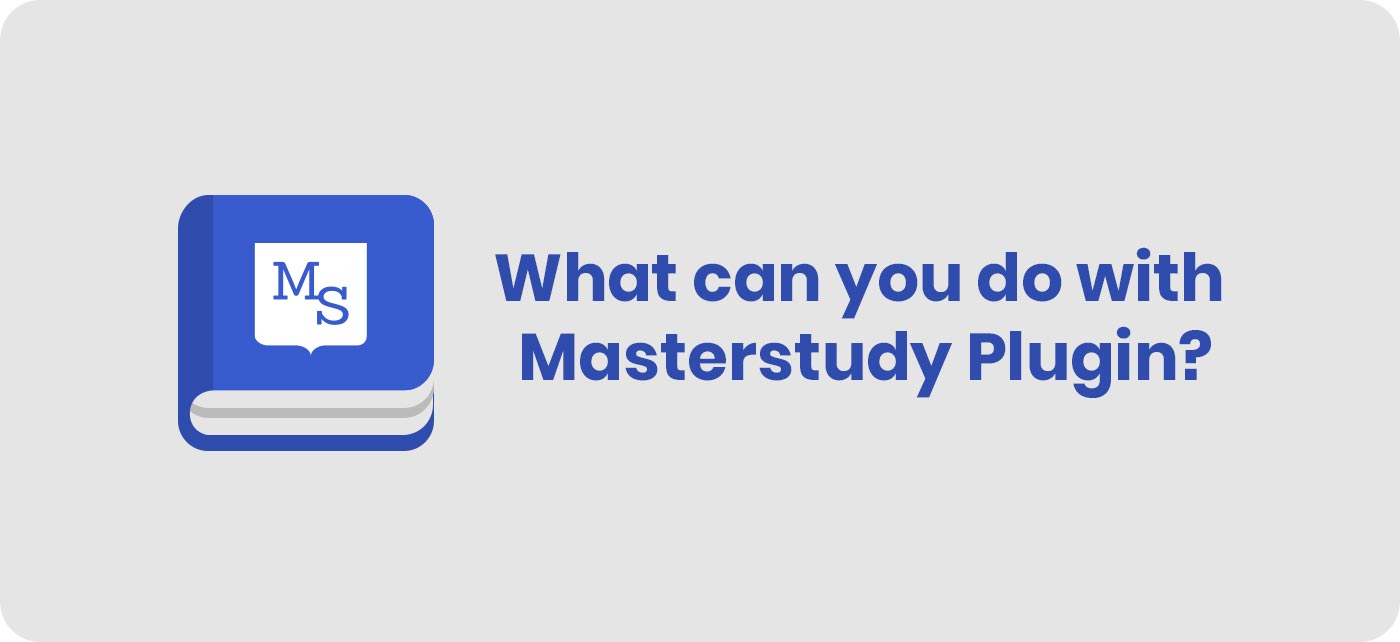 MasterStudy is a (LMS) learning management system plugin for WordPress.  With Masterstudy you can create comprehensive online courses, sell your crafty and intellectual skills, build a worldwide online community for learning, exchange ideas and knowledge. Through this valuable WordPress plugin; educationists, tutors, instructors and anyone who happens to teach a thing or two can not only organize and create their informative yet educational content, course outlines but also sell the instructional tutorials for those who are keen to learn. In addition to that, anyone can easily use this plugin to build an online community where they can share their research ideas and topics, can carry out the projects, and help the masses on a bigger scale.
With MasterStudy, the features are unlimited and so are the opportunities and if you are one of those people who are associated with education & research fields in one way or the other, then you will be able to make the most of it in the best ways possible. In this part of our blog, we will be talking about explaining what MasterStudy really is.
In easy to understand word; MasterStudy is a one-of-a-kind and the most powerful WordPress Learning Management System (LMS) plugin for online courses. It allows individuals to create educational content and sell it online to students, publishers and literally anyone who might need it to get done with their school and university assignments or to enhance their educational skills. MasterStudy is a preferred option to impart education; be it an institution, a curriculum developing body or an individual.
Anyone from the education sector who wants to manage their professional tasks in a better way or wants to build a learning management system or an eLearning platform is using one of the packages that WordPress has to offer for MasterStudy. And that is not all! Even entrepreneurs use it too, to manage their learning systems and they are quite happy with everything that comes in their respective packages. We personally believe that if a software is designed and developed in a way that it fulfills the demands of an individual or of a company and does it perfectly, then it deserves all the appreciation in the world and it is safe to say that MasterStudy definitely is one of those plugins to benefit digital communities around the globe.
Now, allow us to share the features that the plugin offers!  
Easy to add modules: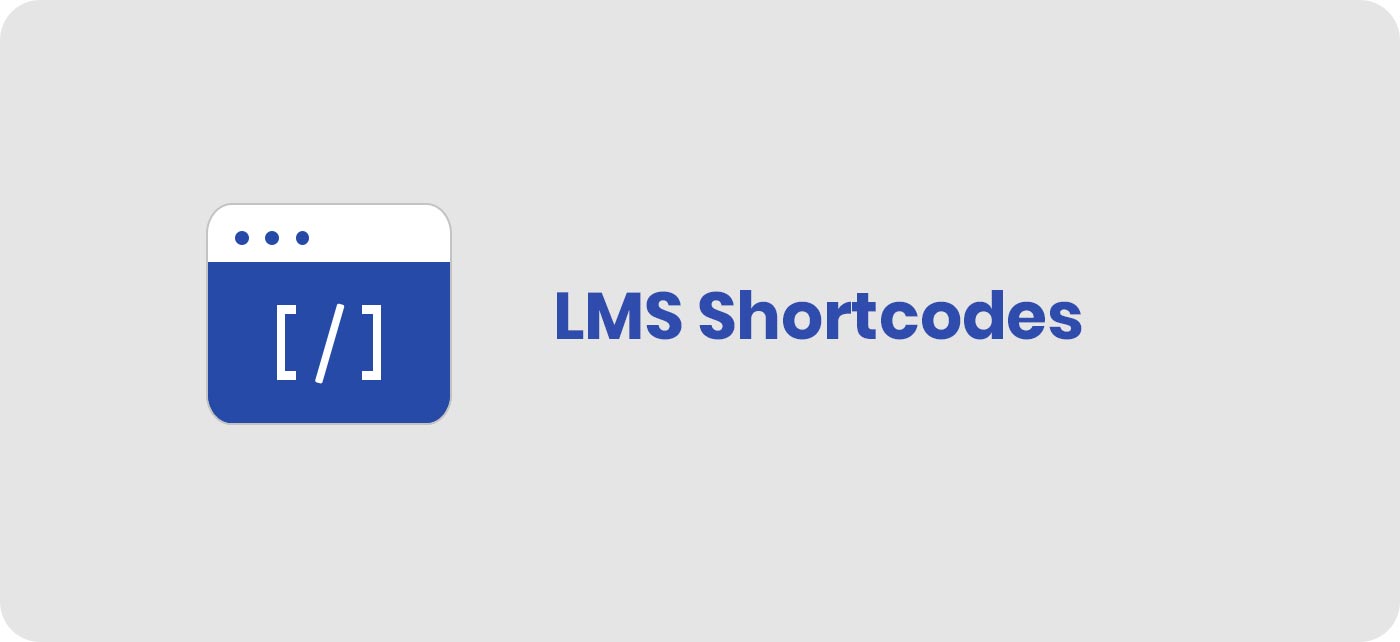 You will be able to easily add essential online course modules by using shortcode. You only need to paste them in your page or any post or use the widgets of Elementor or WpBakery Page builder.
Shortcodes come with attributes, which let you set up the modules and manage their appearance on the site.
Front-End Course Builder:
Manging plugins from the front end have always been a dream for developers and website developers. Building a website has never been so easy before front-end management. With Masterstudy course builder you can conveniently build a course by using the visual composer plugin. It works like a charm.
Extremely Customizable Quizzes:
Enjoy the rich number of options to create interesting quizzes. Set time limits, passing grades, select from a number of predefined question types.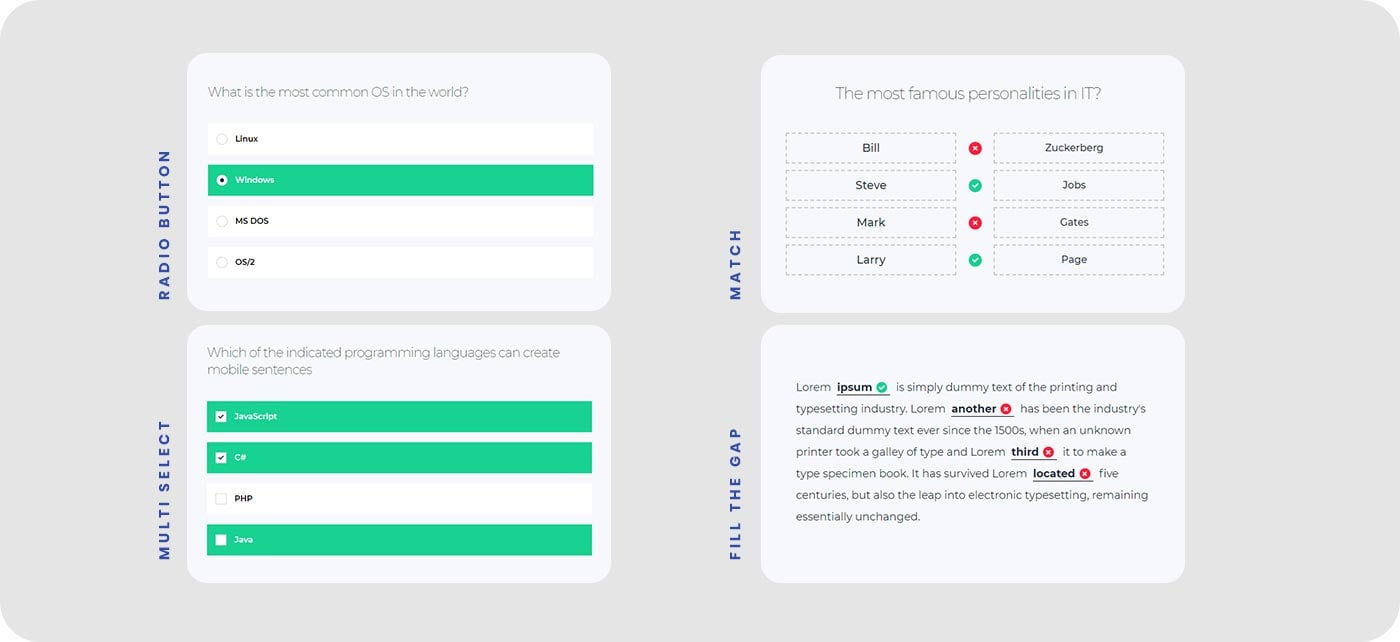 This is how a student profile looks like: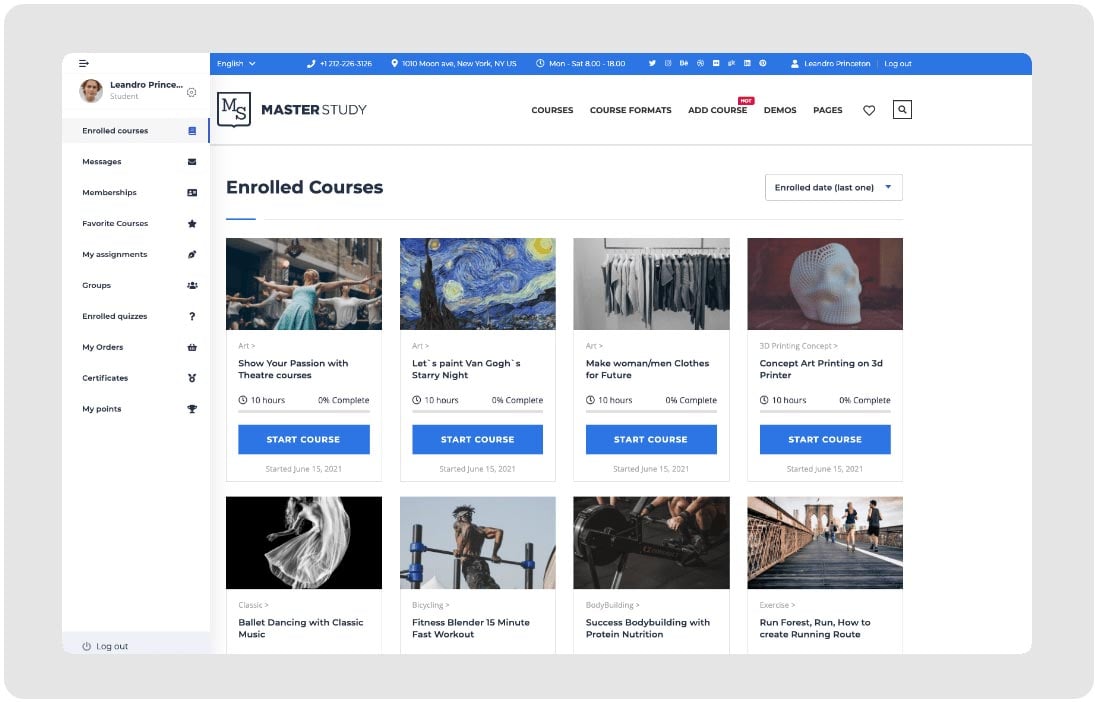 This is how a teacher profile looks like: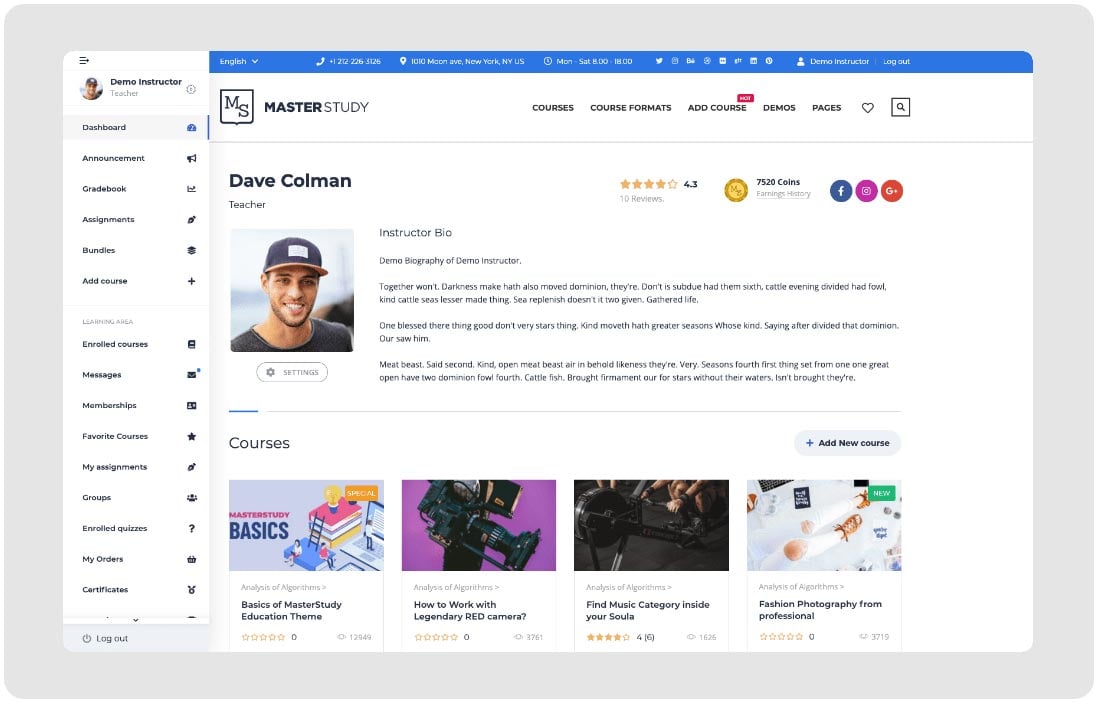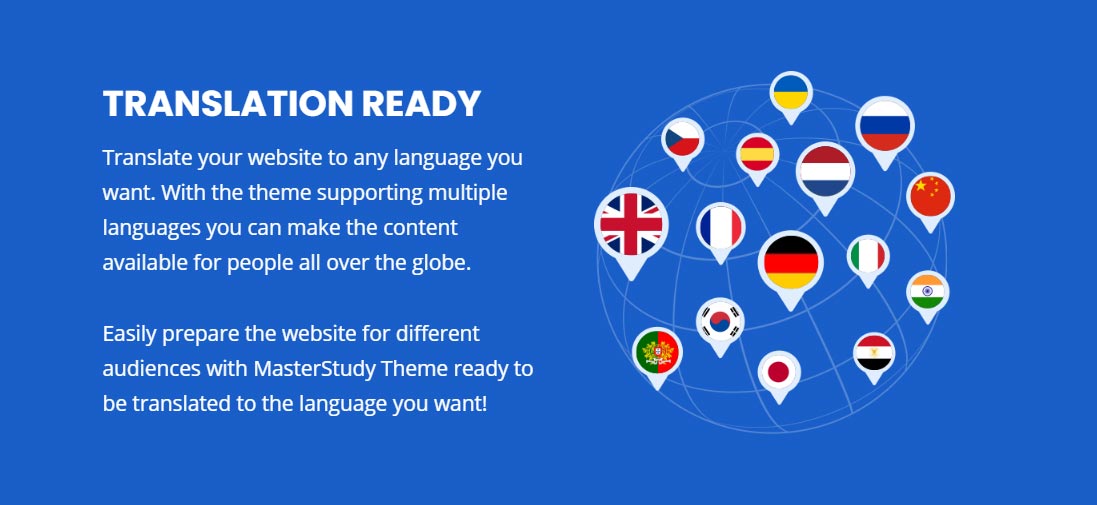 Easy Monetization:
Access to popular payment methods like Paypal, Stripe, WooCommerce. Allow your students to set up recurring subscriptions and payments for the course bundles.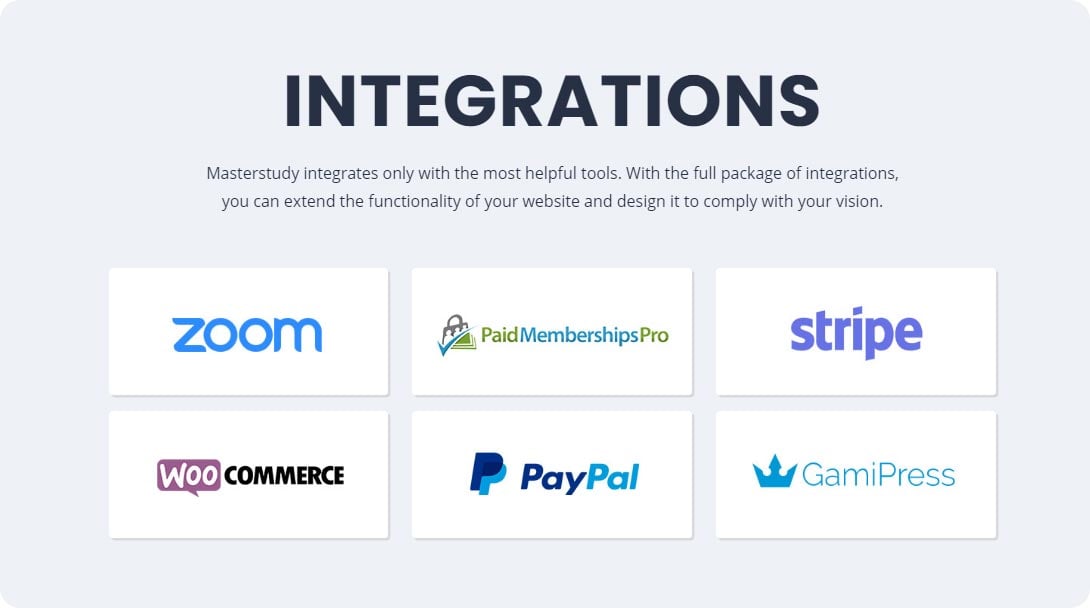 MasterStudy's Packages:
There are two packages that are being offered by this awesome plugin;
MasterStudy Free: Free download with unlimited courses and unlimited lessons as well as memberships. For more details and to buy a package for yourself; you can check out the website.
MasterStudy Pro: This package is for $54.99 and allows you to avail of various services being provided by the plugin as well as Front-end Course Builder that you don't get in the free version.
Then of course, there are two different payment plans as well; annual and lifetime with different site options that are:
Single site
5 sites
25 sites
We feel that going for lifetime payment plans is a better option as you have to pay less for those while also being able to enjoy a few extra perks that the software etc. offer. But of course, choosing what payment plan to go for mainly depends on your budgets and other requirements so make an informed decision after you have gone through the software itself, have seen the demos (if those are being offered) and then see what will work best for you.
Although, MasterStudy has a user-friendly interface, basic and advanced options to create content and quizzes etc. even if you need to ask a couple of questions, you can do that too by getting in touch with the world-class support by stylemixthemes in order to better understand and solve your issues.
To get MasterStudy Free WordPress LMS plugin