Hello there everybody! We hope that you really liked reading our pervious blog and that our free, yet highly editable mock-up PSD files are helping you create awesome content and art works for your personal and commercial design projects. Our today's blog is on one of our favorite marketing materials that are used to promote a brand in a nice way especially when you are low on budget but want to go big so, if you are planning to create flyers for your upcoming business plans, keep reading this blog for effective tips & tricks and to get your hands on our free flyer mock-up PSD file.
Now, there are many ways to design a flyer but to make sure that it is effective enough to grab your audiences' attention can be tricky. Know that all the flyers that happened to work for the brands and companies are the ones that had striking color compositions. The moment someone sees a flyer that is vibrant and does not look dull, that person wants to not only grab it but read it too so that they can know what it says, you know. But when we say vibrant; we do not mean bright colors that are hard on the eyes, in fact, go for colors that are eye-catching. We have always seen tones and shades of pinks, blues, blacks and whites work. And you can experiment with these colors to see what works best for you guys.
Your next should be to focus on getting the best imagery for your flyer content. You can either have it photographed or you can get premium accounts on websites and platforms that share and sell literally anything and everything that might be needed to incorporate into a design or two. We would also like to take this moment to suggest that you must invest in your own photographs – normally it's a one time thing for the on-going year, and you will have the content that you need to use for your marketing platforms; both online and on-ground.
Another thing that makes a flyer worth reading and making people visit your online or physical stores in person is knowing that there is an incentive involved. If sales and discounts are something that you do not want to go about at this stage, then you can offer free gifts or trial services free of cost so that your potential customers know that they are getting something out of their shopping experience or that they can have a test run before they sign up with you and things like that.
We love typography and we know you do too. To make the most of your flyer marketing campaigns, it is always a great idea to incorporate typography as it will make your message stand out and will also have a positive impact on whoever will read it. Through typography, you can create playful and full-of-life visuals and we can bet that whoever will get a hold of your flyer, is going to keep it with them for a while.
Whenever it comes to flyer designs, we personally think that we can do a lot of things to make them work. For example; from adding text effects to your flyer design to using the bold type for the copy – you can actually make it look like an art work that not only delivers your message but it also has the impact to make someone take an action; which could be literally anything: purchasing from the store, generating positive word of mouth for the business, leaving good reviews on your social media platforms etc. so, always go for things that can bring something back for you and your business. Your messages written in bold will be more powerful, and you can always test that through your designs and more.
You must have already decided what design elements to use, but we would love to suggest here that you should also go for illustrations and icons as well to complement the overall design of your flyers.
Last but not the least; segmentation of the flyer is very important. Your main message must be prominently placed, all your contact information as well as the Call to Action button (CTA) should be clearly mentioned so that the reader / viewer does not get confused.
That is all from our end for today! We hope that you guys had a great time reading our blog and that our free flyer mockup PSD file will help you create stunning designs as per your creative and design briefs. Do share your feedback with us in the comments section as we would love to hear from you guys and while you are at it, feel free to spread the blog within your personal and professional circles who would be interested in knowing more on flyer marketing.
– – – – – – – – – – – – – – – – – – – – – – – – – – – –
More Awesome Free Mockups:
– – – – – – – – – – – – – – – – – – – – – – – – – – – –
Free A4 Size Flyer Mockup PSD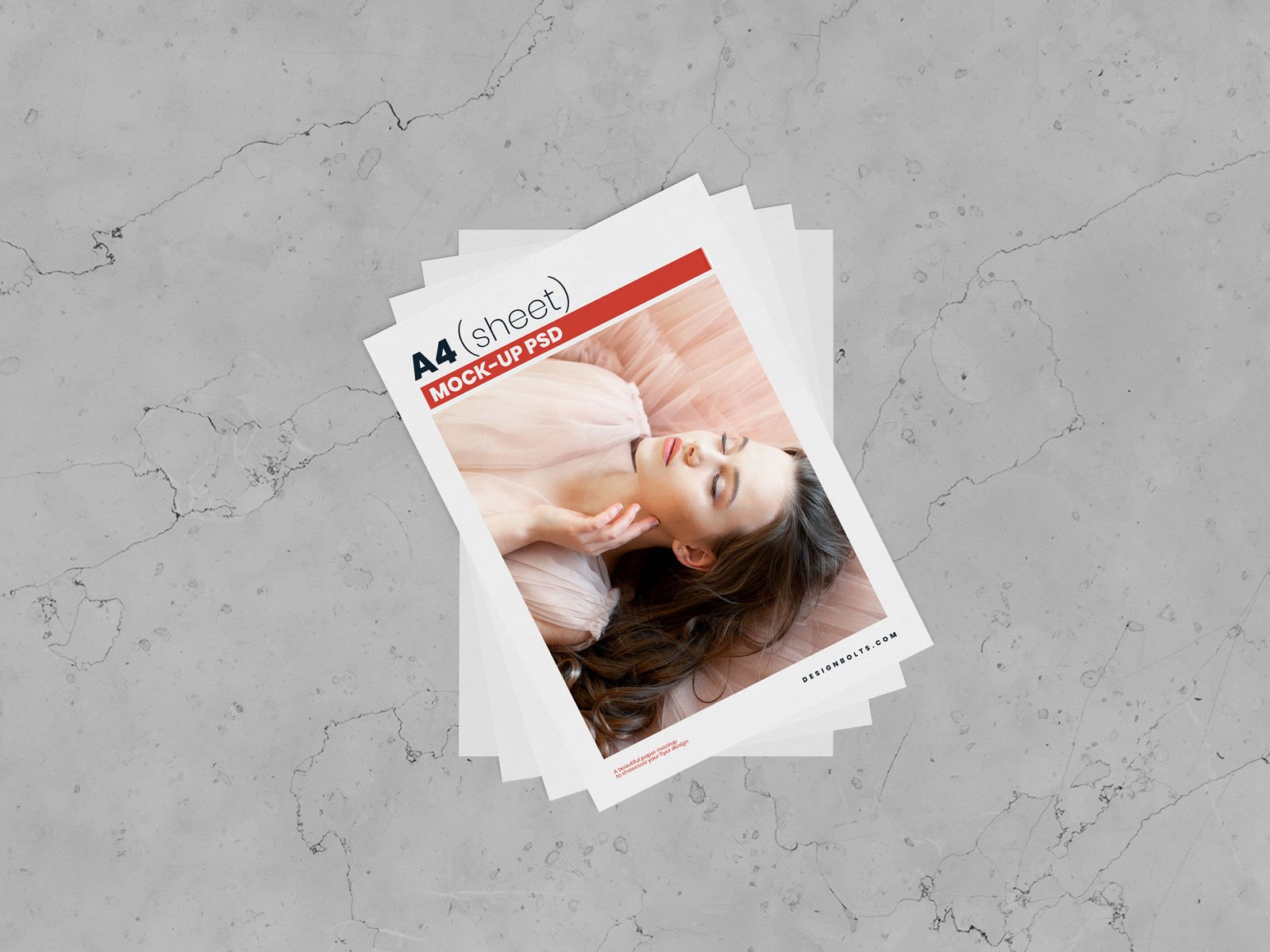 Available Format: Layered PSD with smart object insertion
License: Free for personal and commercial usage
RAR File Includes: Free A4 Mockup PSD
Design Template Resolution: A4 (300dpi)
Note:
1. Free PSD Mockup is allowed to share online (A Must Linkback to this post)
2. Say thanks if you like or share/tweet with your friends. That means a lot to us.
3. And don't forget to subscribe to receive for more high quality premium freebies & awesome articles only.
Download A4 Mockup
More A4 Size Free Mockups: