Hello there everyone! We hope that you had a great time reading our previous blogs and you are excited to read this one as well so, we will be quick to say that we love reading your feedbacks and suggestions in our comments section and we would like to read more positive and constructive things from your end. As far as our today's blog is concerned, we are sure that you are going to make stunning designs of pin metal badges that you can not only use for your personal projects, events and parties but you can also use them for corporate purposes as well so, let us dive right into the design tips and tricks right away.
If you are a collector of cute little things, we can bet that you also have a collection of really cool pin badges too that you have been collecting since childhood and why shouldn't you be doing that, hmm!? Pin metal badges are the coolest to be honest and goes with literally every attire too without making us look like overdressed or weird, you know. And then there are many people who like to decorate their backpacks, laptop bags, camera bags etc. with pin metal badges and that's fine too because as long as you get to flaunt your thoughts and creativity, you are good to go! ?
For corporate usage and giveaways as well, pin badges work well too but we are sure that you must have gotten a bunch of them after attending lectures and trainings from organizations that want you to take souvenirs back home. Although, many people have started preferring lapel pins for that purpose, but we all know that pin metal badges look bomb too especially when they are designed and made using high quality materials. Another good thing about the pin metal badges is that they won't fall down on their own, they will stick to your shirt / blazer and even bags etc. till them time you take them off so, we think that's a plus point if you want to ensure the safety of your personal or commercial pin metal badges.
Another recently found fact is that people who are a little too enthusiastic about their wedding functions have also started to go for pin metal badges that can help their guests, bridesmaids and best men stand apart from the crowd. We feel that it is a cool trend to follow because you get to be all quirky and fun right from the start and your guests would like to celebrate the little things with you so, why not keep them busy with adorable and creative giveaways, yeah?
We are sure that you would know that all the trends that appear on the surface for events; both personal and professional also help in generating revenue for those people who are working in the creative and design fields as well as for those who manufacture such things from their factories etc. So, all in all it is a great idea to keep creating things that can benefit people everywhere directly and indirectly and in return you will not only be able to promote your business / company in a more subtle and effective way but you will be gather more traction to expand your business too.
Now, let's talk about the designs of the pin metal badges! As you guys know that we keep all our mock-up PSD files absolutely free to download yet highly editable to create whatever you want to create, we are sure that you will have a great time incorporating your creative ideas into your designs using our free pin metal badge mockup PSD file. However, there are a few things we must share with you guys so that you can make sure that whatever you are creating is going to make you / your brand stand apart from the crowd.
It is important to know what approach you want to go with for your pin metal badge. If you are going for a painted or printed one, then it won't require a lot of your efforts, but you will still have to make sure that you don't overdo the copy section. Keep it short and to the point so that it doesn't get jumbled up upon being printed. For a better result, you can always go for embossed designs as they look more professional and smarter.
That being said; we would advise you all to also work on your mock-up presentations as well with rationale mentioning why you want to pursue a specific thought or idea and you will end up creating amazing things for your businesses. On that note, we'd say you goodbye hoping that you will share this blog with your friends and favorite colleagues as well, until next time keep creating awesome designs.
Free Pin Metal Badge Mockup PSD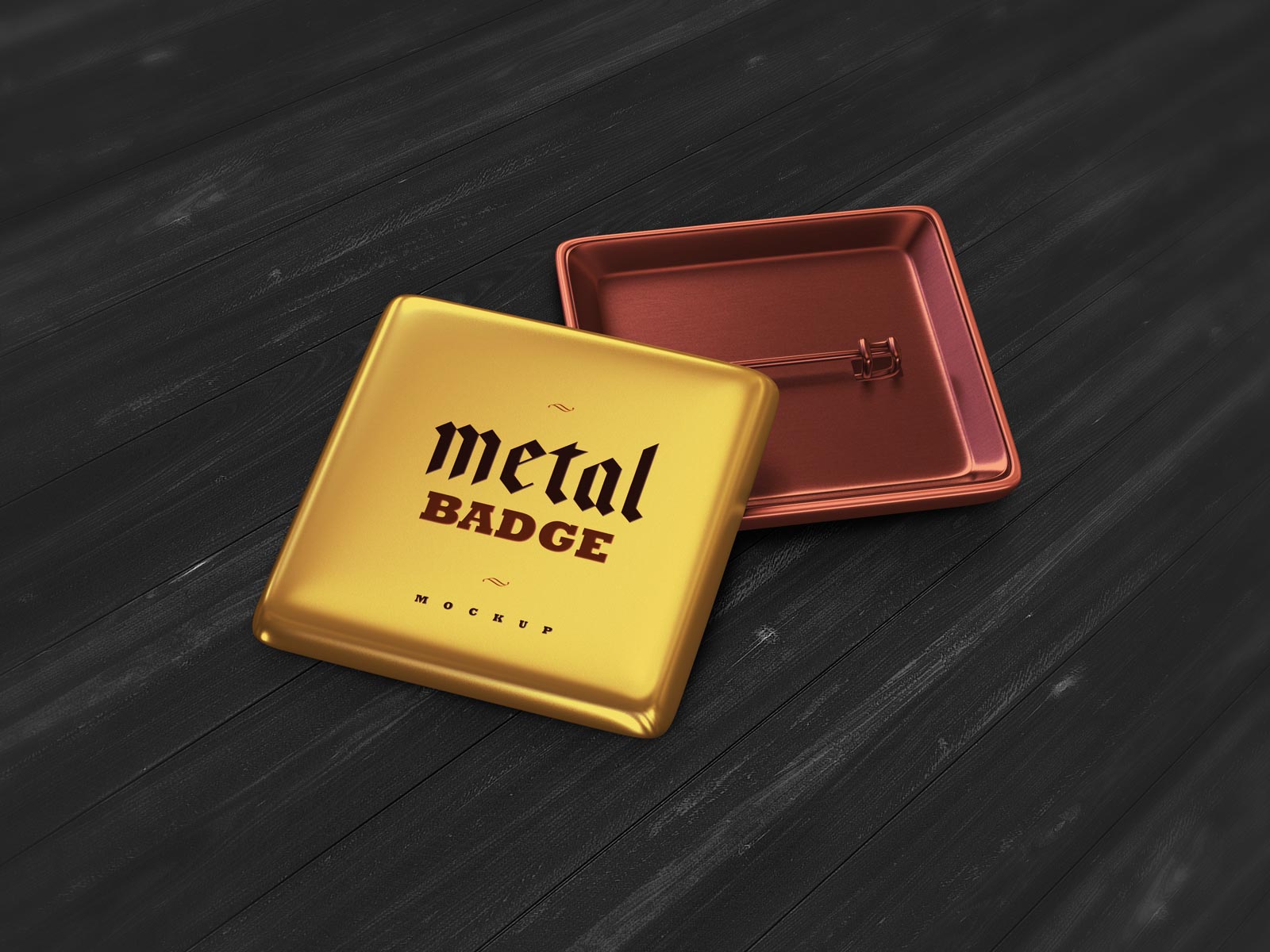 Available Format: Photoshop PSD
License: Free for personal and commercial usage
File Format: WinRAR
Mock-up Resolution: 3000 x 2250 px
Artwork Size: 1102 x 1102 px
Note:
1. Free Pin Metal Badge Mockup is allowed to share online (A Must Linkback to this page)
2. Say thanks if you like or share/tweet with your friends. That means a lot to me.
3. And don't forget to follow or subscribe to receive more high quality premium freebies & awesome articles only.
Download Badge Mockup
More Fresh Free High Quality Mockups: