Hello there everybody! We hope that you had a great time reading our previous blog and that the free, yet highly editable mock-up PSD file has also helped you create your personal and professional design projects. It has been always a great experience to read your feedback and suggestions in our comments section and we are super thankful that you guys exist who not only spend time on reading our blogs, but also share them with the ones you love and care about. We would like to encourage you all to keep doing that and keep motivating us to create amazing content.
In our today's blog, we will be sharing our free skincare cream jar mock-up PSD file and we are sure that you will be able to make stunningly attractive designs using this file. We will share a couple of useful tips and tricks as well to help you smooth out the whole process so, let us get started!
If you are in the cosmetic industry, if you use cosmetics or if you are someone who analyzes whatever the industry does even from a distance then you will know how creative this whole industry is. From producing pretty packaging and containers to beautiful and attractive designs that are created for the tags, stickers, boxes etc., there are days when we fully fall in love with the extremely gorgeous designs that are there and we decided to share what we have made too. As you all know that our mock-up PSD files are free to download and highly editable, all you have to do is to incorporate your creative thought process into them to create whatever you want to create. The process is simple yet fun and we are about to share what you can create using our skincare cream jar mock-up PSD file.
Although, this applies to every product that you design and package but for beauty and skincare related products; making sure that your packaging designs are pretty enough to purchase is very important. It is more like seeing is believing but even before trying out the product itself. You see a beautiful product / packaging design and you want to buy it expecting that it will bring the same pretty effect to your skin etc. and then it does. That is the power of attractive packaging designs that you have to influence the buyer way before they get to apply that cream on their face or hands etc.
Recommended: 30+ Premium Quality Product Mockups
When it comes to designing packaging for beauty products; there are many colors that can be incorporated into making the design templates. We personally love black, white, gold, navy blue and off-white very much because we think that these colors really bring out the best and whatever you will put into the design in terms of text, images etc. everything will stand out looking super attractive, you know. We prefer using darker colors and tones for products that are to be used frequently so that the packaging does not go bad but you can pick a color tone that you like or that complements your brand to make it appealing.
Similarly, you can pick the themes as well or go for minimalism if that's what your brand depicts. We love geometrical patterns nicely incorporated into designs – and even if you like something blingy or want to go fancy, you can pick the ones that complement the product to go about it. Otherwise, there are a few things that you can try:
Storytelling: Tell a story to entice your customers through your packaging – everyone loves a good story; it gets more traction and generally looks amazing too.
Unusual shapes: Pick unusual shapes if you can to make people curious.
Get inspirations from nature: You can get as many ideas as you'd want to get from nature; from the colors of the soil to the freshness of the leaves, it is all there and is up to your imagination to depict it in that manner.
Go sassy: Sass works for anything and everything. If you want to talk to people who would listen too; go sassy and you will see how that works for everything that you will put out there.
Artsy: Being artsy will never go out of fashion, try that out for your brand to experiment here and there.
That's all folks! We hope that this blog and our free skincare cream jar mock-up PSD file will help you create beautiful packaging designs for your own business or for the ones that you are working with. If you would like; feel free to share your creative and design journey with us in the comments section as we would love to hear from your guys. And while we create something more exciting for you guys, you can share the blog with your graphic designer friends and favorite colleagues too.
– – – – – – – – – – – – – – – – – – – – – – – – – – – –
More Awesome Free Mockups:
– – – – – – – – – – – – – – – – – – – – – – – – – – – –
Free Skincare Cream Jar Mockup PSD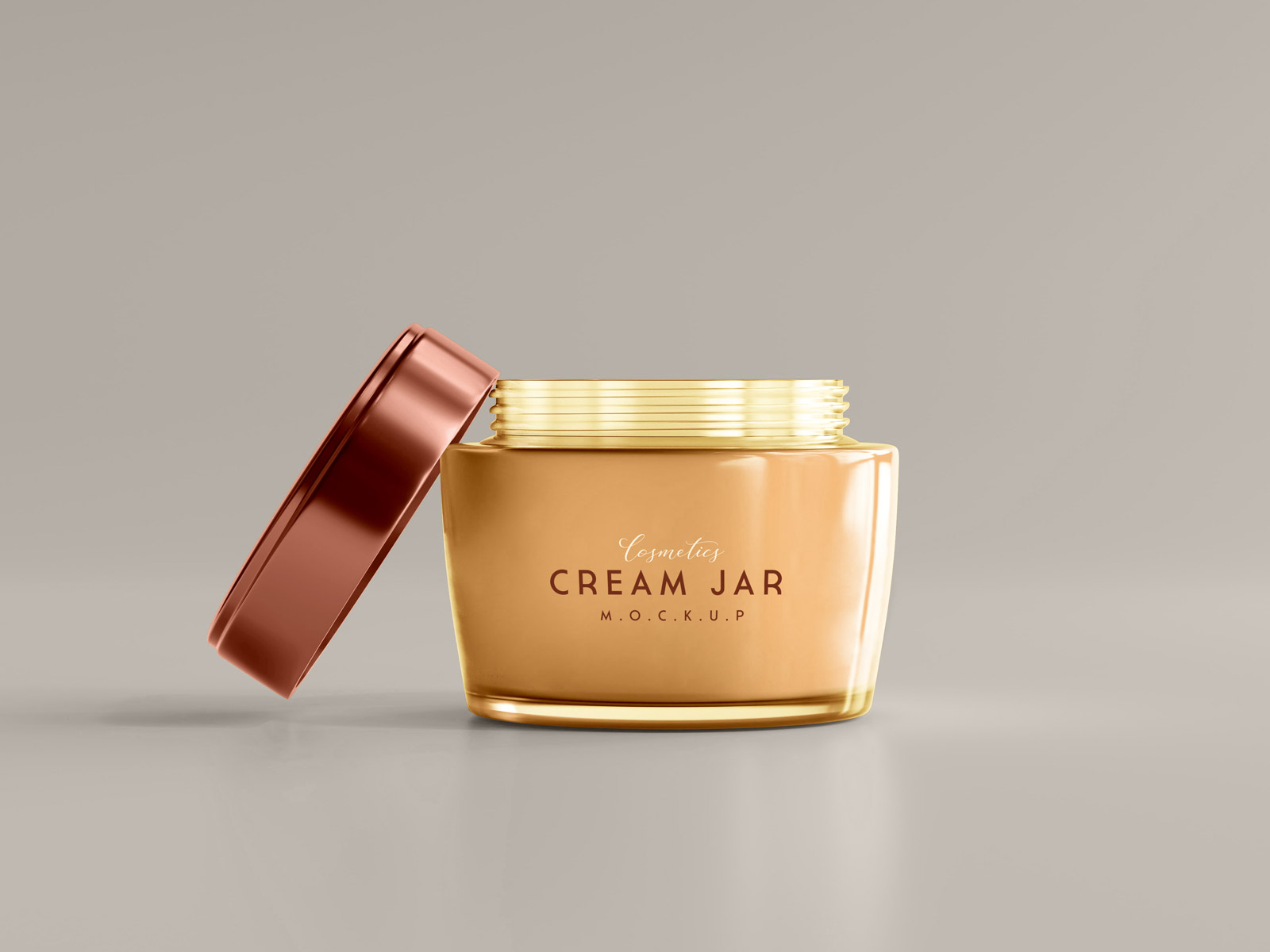 Available Format: Layered PSD with smart object insertion
License: Free for personal presentational use only
Zip File Includes: Skincare Cream Jar Mockup
Note:
1. PSD Mockup is allowed for sharing online (A Must Linkback to this page)
2. Say thanks if you like or share/tweet with your friends. That means a lot to me.
3. And don't forget to subscribe to receive for more high quality premium freebies & awesome articles only.
Download Jar Mockup
More Latest Free Bottle Mockups: