Elementor's Pro 3.5 update just went live. This update is all about expanding Elementor's eCommerce capabilities with a particular focus on its WooCommerce Builder. That said, here in this review, we're providing the lowdown on these new features to provide a quick overview of what Elementor 3.5 has to offer.
So without further adieu, let's get started!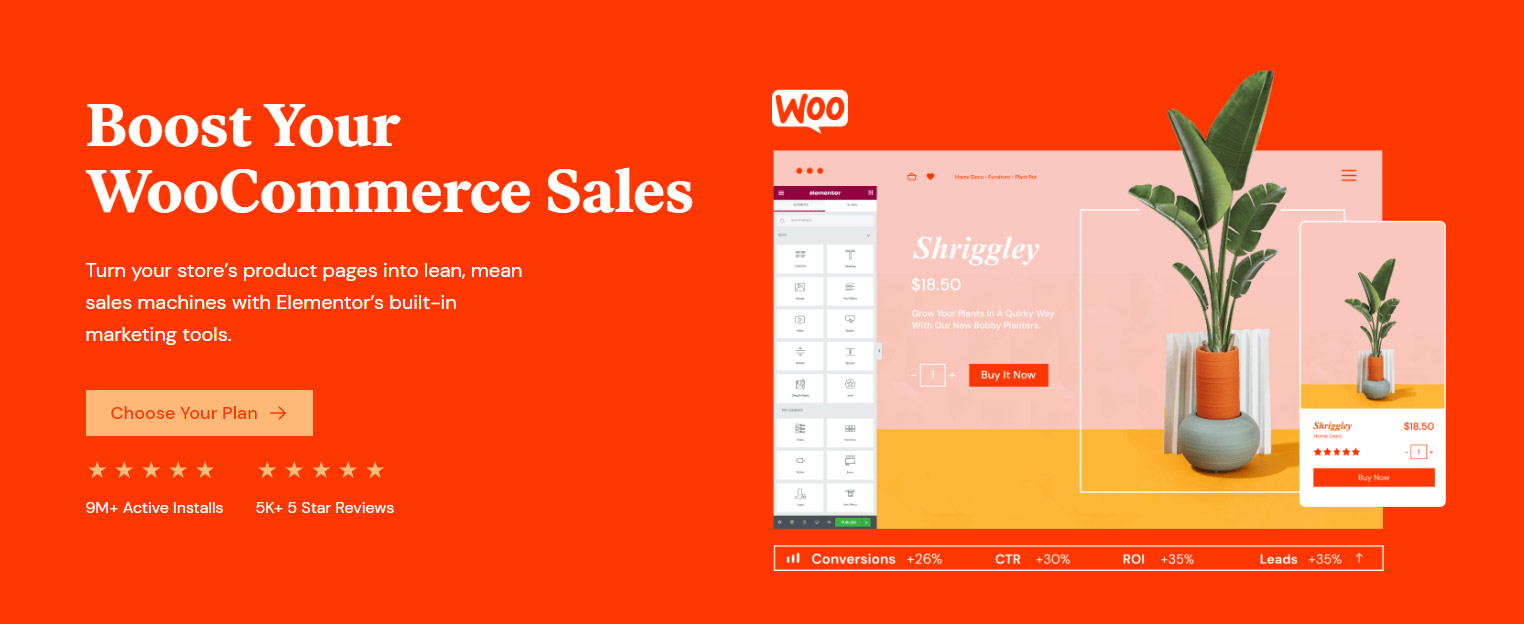 WooCommerce Builder
You can now access your WooCommerce pages directly from Elementor. More specifically, version 3.5 brings in-site customization for your 'Checkout,' 'Cart,' and 'My Account' pages to speed up the web design process and help you to establish a consistent style across your entire store.
On top of that, Elementor's WooCommerce builder also facilitates one-click page configurations for your pages. This means that when you go into Elementor's editor, you can access the WooCommerce page builder widgets. From here, you can quickly make changes and update different sections, styles, and features on each page with just a click. It's also just as quick to set up default WooCommerce pages.
Where Elementor's WooCommerce Checkout widget is concerned, the new features aim to negate the need for a third-party plugin to ensure a coherent style. It achieves this with some degree of success as you can now adjust the checkout page to a single column or two-column layout, change typography, and edit the colors. You also have some control over the styling of the fields. More specifically, their border and wording (should you wish to rename your fields) on your checkout page.
Similarly, you can also customize your 'Cart' and 'My Account' pages with the new respective WooCommerce widgets. For example, when it comes to your 'Cart' page design, you can remove and add buttons concerning totals, coupons, and cart updates to improve the customer experience.
Likewise, you can now also give your 'My Account' page a makeover so that the tabs and the sections are in keeping with the style of your other web pages. You can even view all of your account tabs (such as customer orders, addresses, and downloads) and their associated content (like the actual orders or addresses) side by side to ensure your designs match up.
However, despite all of this new functionality, the customization options remain relatively limited. Namely, because with all of the above widgets, you're given a standard template suffering from a somewhat outdated design – the skeleton of which you can't change. Plus, you still have to go through the tedious process of customizing each page individually before saving it as default.
Not to mention, the widgets work best with the Hello theme – although you can use other themes, you may experience layout and style issues.
Progress Tracker

Another new feature brought to us by Elementor 3.5 is the Tracker widget.
You can use this widget, for example, within your blog posts to provide a 'progress tracker.' That way, as readers embark on your post, the reading time is shown at the top of the page. This allows the reader to see how much of the article's left to go. This goes a long way to creating a more engaging user experience that encourages readers to finish the article.
Best of all, you can also change the tracker's color, location, border, width, and shape to ensure it complements your brand.
Scroll Snap

This new feature makes the viewport stop at a specific position when scrolling ends. Usually, when you scroll on a page, the page will stay put at the last section you scrolled to. However, with scroll snap, when the user finishes scrolling, the page automatically snaps to the pre-specified page element. For example, a CTA at the end of your page.
However, Scroll Snap also means that users don't have complete control over their website navigation. Which, as you can imagine, might be a big turn-off for some users. For example, suppose a user is still reading a section of the page and the snap suddenly jumps to a different section. In that case, it could be annoying – to say the least!
Security Enforcement and Global Widgets Improvement
Lastly, Elementor has also made some proactive changes to address prior security issues. A key one is preventing users who haven't logged in, entering nefarious code into the form field, which might damage your site.
Changes have also been made to the overall infrastructure of global widgets to resolve several bugs. The transition for both these improvements should be seamless and, therefore, shouldn't affect your current websites.
Are You Ready for The Elementor Pro 3.5 Update?
With Elementor Pro 3.5, the main takeaway is that you can now build a more consistent brand across the entirety of your WooCommerce store. On top of that, the progress tracker and scroll snap are both potentially new ways to engage with customers and enhance the overall user experience.
Although these improvements go a long way to foster better user engagement, there are still a fair few web design restrictions. Yes, there's more flexibility than before, but it's still not perfect. While the Elementor Pro 3.5 update promises a quicker and more efficient way to change your store's overall appearance, individual page editing can be pretty tedious.
In summary, this update does have a lot of potentials and is evidence that Elementor is listening to customer feedback. Still, with competitors like Gutenberg also increasing their capabilities, we're yet to see which platform will emerge victoriously. But, hopefully, this will be the first step towards better Elementor functionality.
Recommended: