Hi there, hello there! We hope that you guys are having a great time after a long working weekend but the workaholic in you needed to read something good today so, here you are, right? Haha! We promise that we won't take too long to start this blog featuring our free 3D signage mock-up PSD file so, allow us to thank you for your positive feedback that you always share with us in our comments section and for also sharing our content with your loved ones too, we are thankful and we would encourage you to keep doing that as it helps us staying motivated all the time.
In our today's blog, we will share how you can create effective signage that too in 3D in no time while also helping you find your way to creativity and more. We would like to request you all to keep reading this blog till the end because if you want to be different from your competitors, if you wish to become the most preferred brands in the market, then you have to go that extra mile to make things happen.
Signage are important for any and every business – no matter how big or small they are. And it is also very important to understand that if you want to deliver the right message to your audience, you have to consider what they like, what they are attracted to and what they will do once they have seen your signage. The main reason why many businesses do not happen to survive after they have successfully launched themselves in the market is that they keep ignoring their target audience and do what they think works for themselves.
When that happens, people start to think that those businesses do not really care for them as a brand and that they should not be spending their money on them in any way whatsoever. Makes sense, right? Then how can you change that? How can you make people love your brand when you have made your move and that it is now their time to reach out to you? It is simple; get to know your audiences and provide them with products and services that they haven't gotten from anyone else.
Recommended: 60+ Outdoor Signage Mockups
By making one smart move, you will see that you have impressed your target audiences and that soon your potential customers will become your actual customers and not just that, they will also recommend you to people who might need your services etc. Sounds like a win win situation for everyone, yeah? That is what we believe in and that is how you do it too. So, to start the process of creating impressive signage, you first need to understand or create the objective of creating the signage. What do you expect from it once you have launched it and for how long do you wish to keep it as the representation of your business? These are a couple of questions that you need to put forward in front of yourself and your team to decide the action plan.
Your next step is to look around and see what your competitors are doing, what's their communication like and how their audiences are reacting / responding. This market research will help you gather information to devise your strategies (creative, design, marketing etc.) and you will be able to think through things before executing them. Another thing that we would love to mention it here that you must understand that not everything will work in your favor so you have to set the tone of your communication, you have to determine the factors that will add up to your business's well being and in addition to that, you also need to make sure that your designs etc. and everything that goes live from your professional platforms represents your business in the best way possible.
Recommended: 135+ Free Outdoor Advertisment Branding Mockup PSD Files
Once you have done that, you will have to create drafts and sketches of all the thoughts and ideas that cross your mind and remember that usually, you have to go back to your previously designed / documented ideas to go forward with the final plan so never discard anything that you have created. Always remember that you have to, and you must take a risk to see how things will go. In other words, keep experimenting until you have gotten what you wanted. Play with colors, fonts, ideas and techniques until you have designed something so beautiful that when you look at it, you want to know more about the business (or whatever it is!).
With your creative ideas and unique skills, we can bet that you will be able to create stunning 3D signage mockup for yourself as well as for the businesses that you are working with. So, next time you go to your work desk, make sure to follow the steps that we have mentioned and we can bet that you will end up with nothing but creativity.
Free 3D Signage Mockup PSD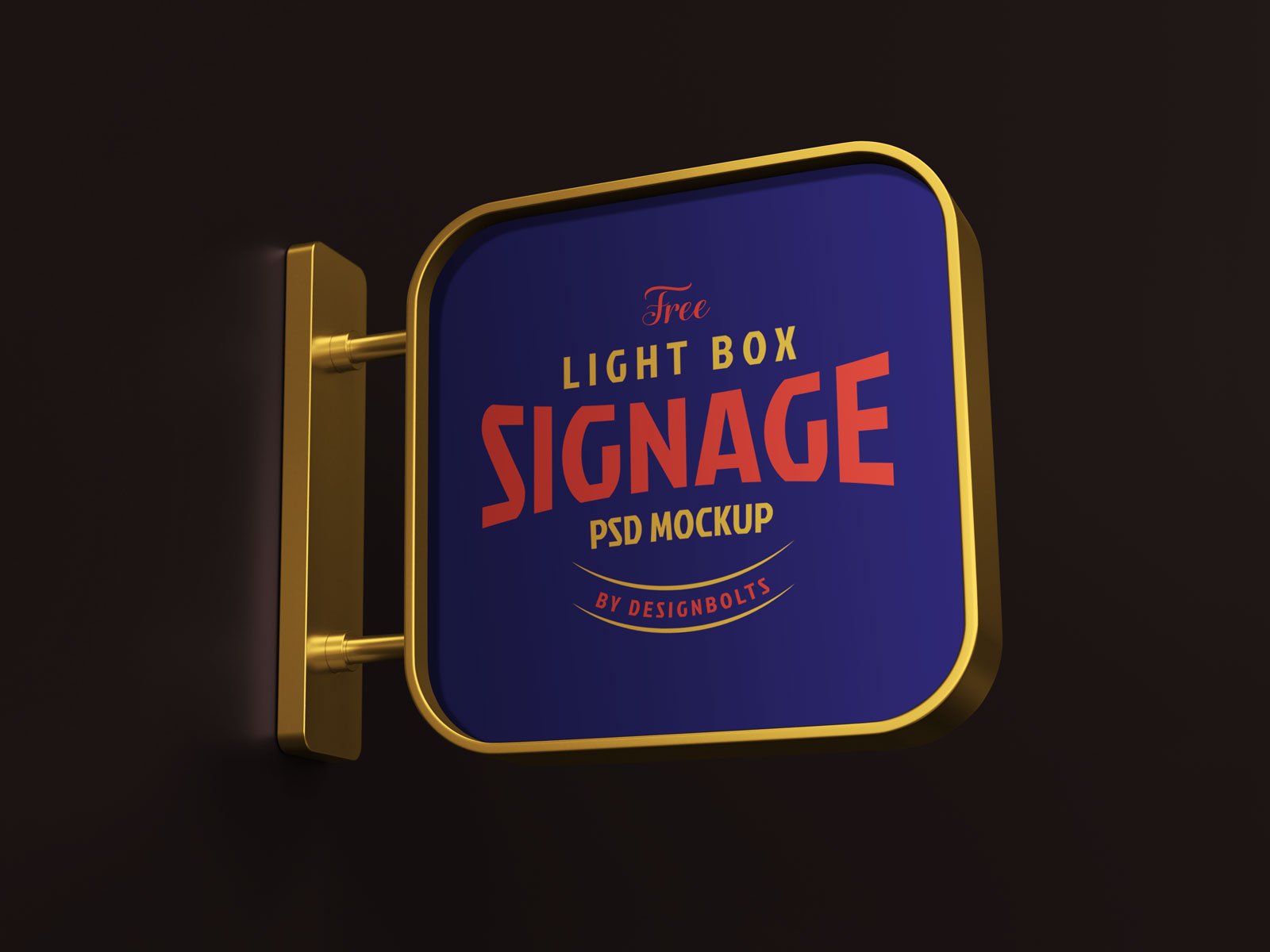 Available Format: Photoshop PSD
License: Free for personal and commercial usage
File Format: WinRAR
Mock-up Resolution: 4000 x 3000 px
Artwork Size: 1953 x 1953 px
Note:
1. Free 3D Signage Mockup is allowed to share online (A Must Linkback to this page)
2. Say thanks if you like or share/tweet with your friends. That means a lot to me.
3. And don't forget to follow or subscribe to receive more high quality premium freebies & awesome articles only.
Download Signage Mockup
More Free High Quality Outdoor Mockups: