Hi there everybody! We hope that you had a great time reading our previous blog and that you are also enjoying our free yet highly editable mock-up PSD files, super creative and effective ideas as well as all our tips & tricks that we share with you guys to make your work life more fun and exciting. We know this for a fact that most of you love pizza but what we are about to share here is something that you will love even more so, guys allow us to share our free pizza box mock-up PSD file that you can use to create your very own designs in no time.
Before we start sharing design tips on how to work on your pizza boxes, we would like to share this very interesting fact with you guys that every year millions of pizzas are baked and sold, and we are only talking about America here. The number is definitely very big when it comes to the daily consumption of pizza around the world. Okay so, while we stun you guys with that very random but super useful fact, we would like to dive right into this free pizza box mock-up PSD file now.
We can bet that you guys have eaten pizzas from many places up till now and you would surely have your favorite pizza bars too that never disappoint you and you come back from those places super happy and satisfied which means you guys must have interacted with the packaging of the pizzas as well – which could be boxes, platters, plates and other stuff that the stuff uses to carry your food items. Interestingly; we have seen that the fancier the pizza box or packaging is, the more a person would like to interact with your brand(s) and by saying 'fancier', we meant something that is intriguing enough to catch your attention and would make you get to know more about the product, the business etc. and more.
If you are about to launch a new pizza bar, then the first thing that you need to do is to make sure that you are actually bringing something new to the table because frankly speaking; if you do not have anything new to offer, no one would be interested in getting stuff from you because there are already thousands of other options to choose from. So, what is that you can do to make your potential customers choose you? It is so simple and we can bet that you guys have done it before as well that you need to understand the needs first and then act once you have gotten the insights.
Recommended: 80+ High Quality Packaging Mockups
All the creative thinking that you guys will be doing to work on the branding and packaging designs will only be helpful if you would know how to execute all of it in an effective way. So, from choosing the right colors, design elements and imagery to bringing on board relevant brand ambassadors to going live with the marketing and advertising campaigns – every single thing will have to be super perfect and there is only one way to do it and that's to know that you are ready for the all the challenges and risks that may come your way.
We know this for a fact that a couple of people get scared when we say that you should be ready to accept challenges but what we are really trying to say is that you already know that there are many brands like yours in the market that are running their businesses successfully and in order to grab the attention of your potential customers, you have to come across as a brand that is innovative, that understands the demands of the customers all the while offering newer and better flavors in the market.
Recommended: 25+ High Quality Packaging Mockups
Always remember that staying ahead in the game does not take you too far, you also have to be smart enough to stand apart from the crowd so that you can be easily recognized and become a preferred business later on. And guys, we are sure that once you will be done creating fantastic pizza boxes using our free mock-up PSD, you will be on to working on a couple of ground breaking marketing campaigns as well.
Recommended: 60+ Most Interesting Creative Barcode Designs Ever for Inspiration
That is all for today from our end! We hope that you guys will make the most of our free pizza box mock-up PSD file and create fabulous designs for your personal and commercial design projects. Before we conclude the blog, we would like you all to share your honest feedback with us in the comments section and while you are at it, don't forget to share the blog with your friends, family members, and favorite colleagues and we will see you all next time!
Free Pizza Box Mockup PSD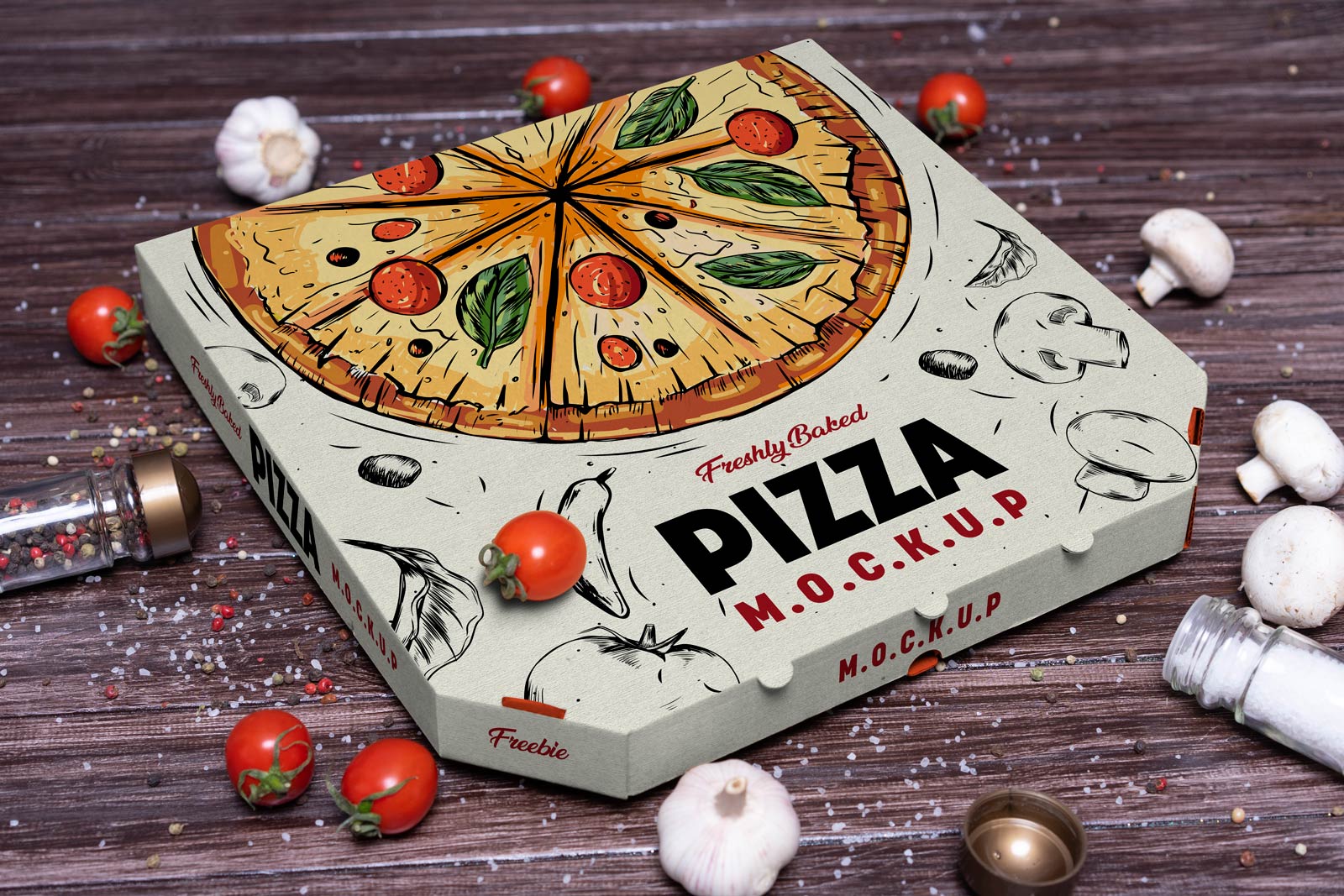 Available Format: Layered PSD with smart object insertion
License: Free for personal presentational use only
RAR File Includes: Pizza Box Mockup PSD
Note:
1. PSD Pizza Mockup is allowed for sharing online (A Must Linkback to this page)
2. Layers are hidden to decrease the size of file kindly unhide and place your design on red colored layer.
3. Say thanks if you like or share/tweet with your friends.
Download Pizza Mockup
Recommended: