Hey there everyone! We hope that you guys had an amazing time reading our previous article and that you are psyched to read this one too and you should be because we are about to share not just 5 or even 15 but 20 best-selling blogging magazine WordPress themes that you all need to check out and make the most of in 2022 especially if you are planning to launch a magazine website for you or for your client. As this is going to be a fun and informative read for all of you, we would encourage you to stop whatever you are doing and pay full attention to this article because we can bet that by the end of it, you would be able to pick your favorite theme for your magazine website. Let's get started then!
Before we get into the details of what themes to go through in detail and how to begin the process of managing all of your content in one place by creating your very own blogging magazine, we wanted to first share about this amazing theme website i.e. pioneer in Premium WordPress themes; ThemeForest. It is very evident from the name of the website that it happens to have thousands of high-quality premium WordPress and e-commerce themes that you can check out for your personal and commercial blogging projects – involving your own content, as well as the content of your clients that you are working with but the best thing about ThemeForest is that you can find any theme that you would like to use for any project and it will do wonders for the business and inspire others!
Now, let us talk about which themes are liked or even loved by the audiences! Always remember that it is the audiences you must keep in mind no matter how big or small your website is because it is literally them you are creating content for so, make it a space where your regulars would want to come again and again to read, to get help and advice, to take inspiration as well as motivation to do something and you can only do that if you know how to keep them engaged not just with your powerful words but also with the overall look and feel of the website.
Keeping in mind the main objective(s) of your website and how it should look like, usually a blog that is more like a newspaper seems interesting and it is also easier to go through too, even if someone who is super busy can get the gist of it by skimming through the blogging magazine or the website and they would know what you are talking about.
Another design-based theme that is liked by many people online is the one that offers imagery and really speaks for the content that is being put up there. Because there are things that words cannot express but images / photography can and when you put them all together nicely, then the impact it has on the people is amazing too. All in all; anything that is communicating yet engaging with your audience is something that you should go for, it will not only be loved by the people but they will also recommend your blog to the ones they care for – creating a safe space of their own.
And we think now it is time for us to share the 20 best-selling blogging magazine WordPress themes that you should be checking out this year in order to work on them in 2022. Keep reading as this post has still got interesting information! ?
20 Best-Selling Blogging Magazine WordPress Themes for 2022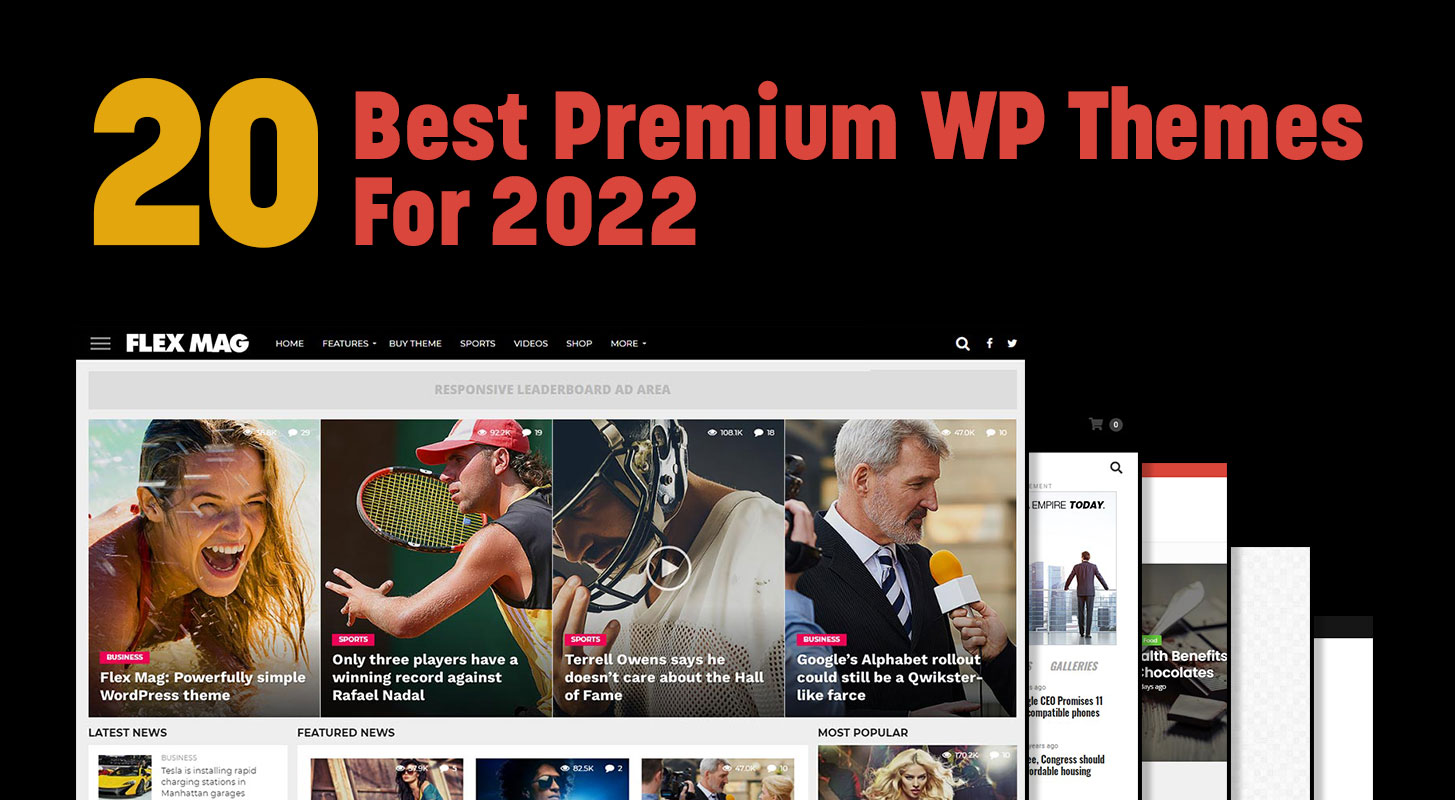 1. Newspaper – News & WooCommerce WordPress Theme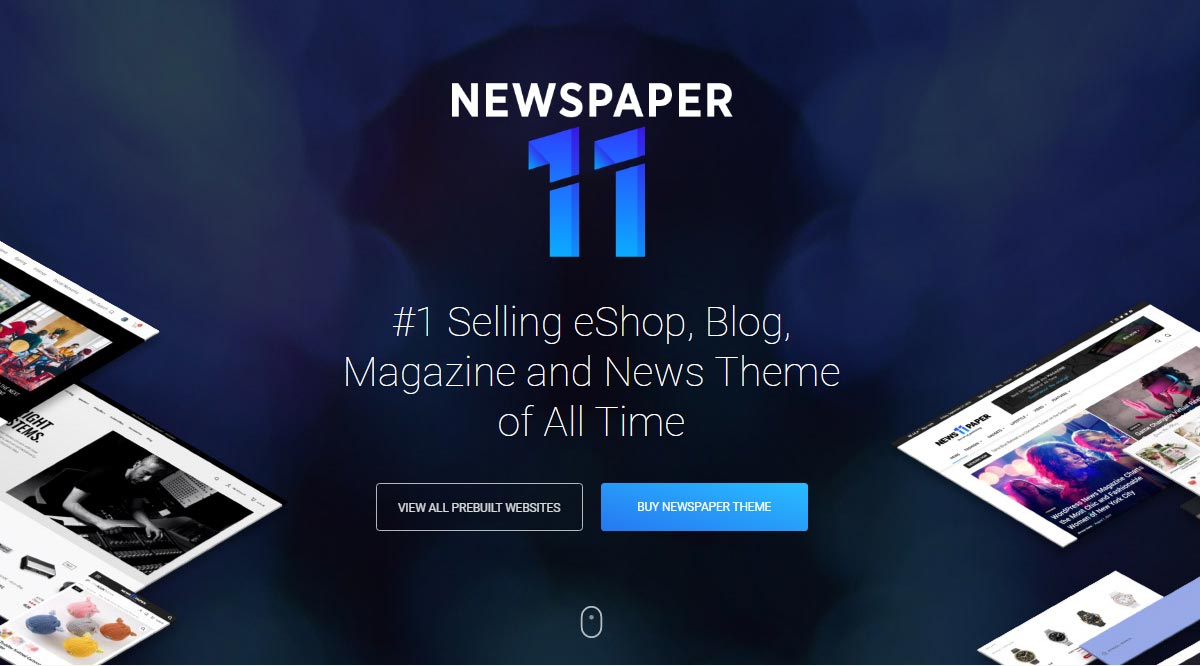 This brilliantly designed theme is one of the best themes that are present and here is why: this theme is not only easy to create your content on but it also supports videos from YouTube as well and even then it will run smoothly and load quickly as they have recently launched the 11th version of the theme based on swift loading speed. You will love writing articles and blog posts through this news theme of WordPress. We would like to mention it on top as this is the number 1 top most selling theme of all time. If you're a blogger or an e-commerce shop, then look no further as this premium theme can be your best bet.
2. Soledad – Multipurpose, Newspaper, Blog & WooCommerce WordPress Theme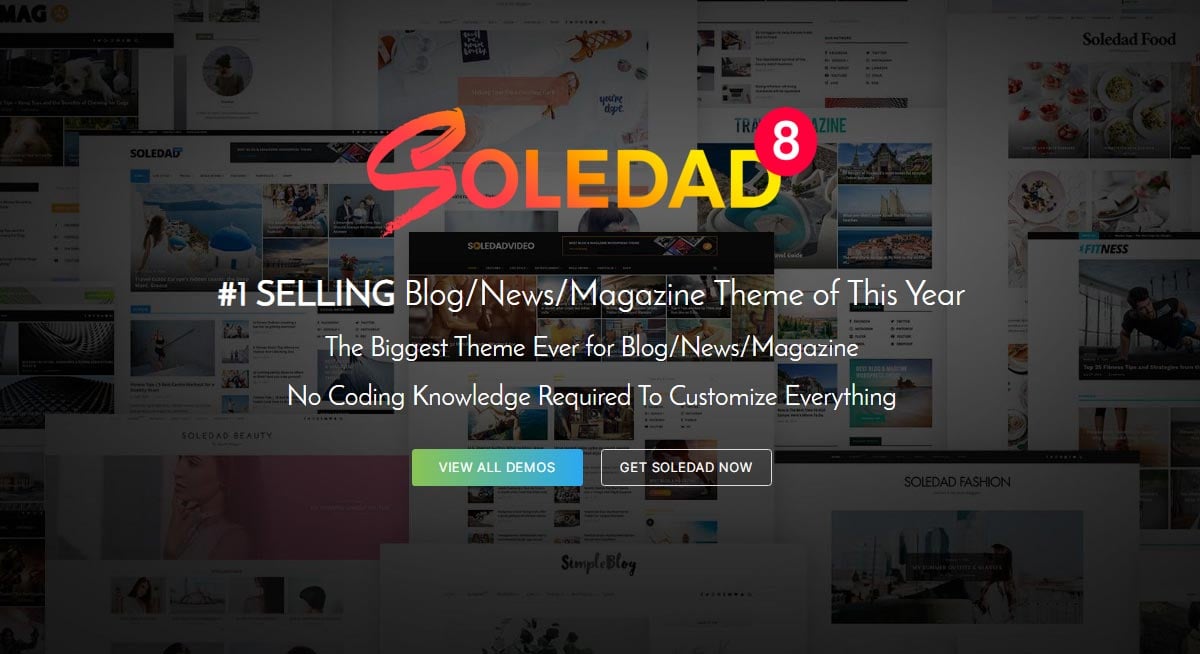 The main reason why we have included this theme in our collection of best-selling blogging themes is that it is a multipurpose theme for blogging as well as for online news channels (could be any medium, really). Another best thing about Soledad is that it lets you create your content without having any coding knowledge. Moreover, it happens to be one of the fastest loading WordPress themes on ThemeForest.
3. Sahifa – Responsive WordPress News / Magazine / Blog Theme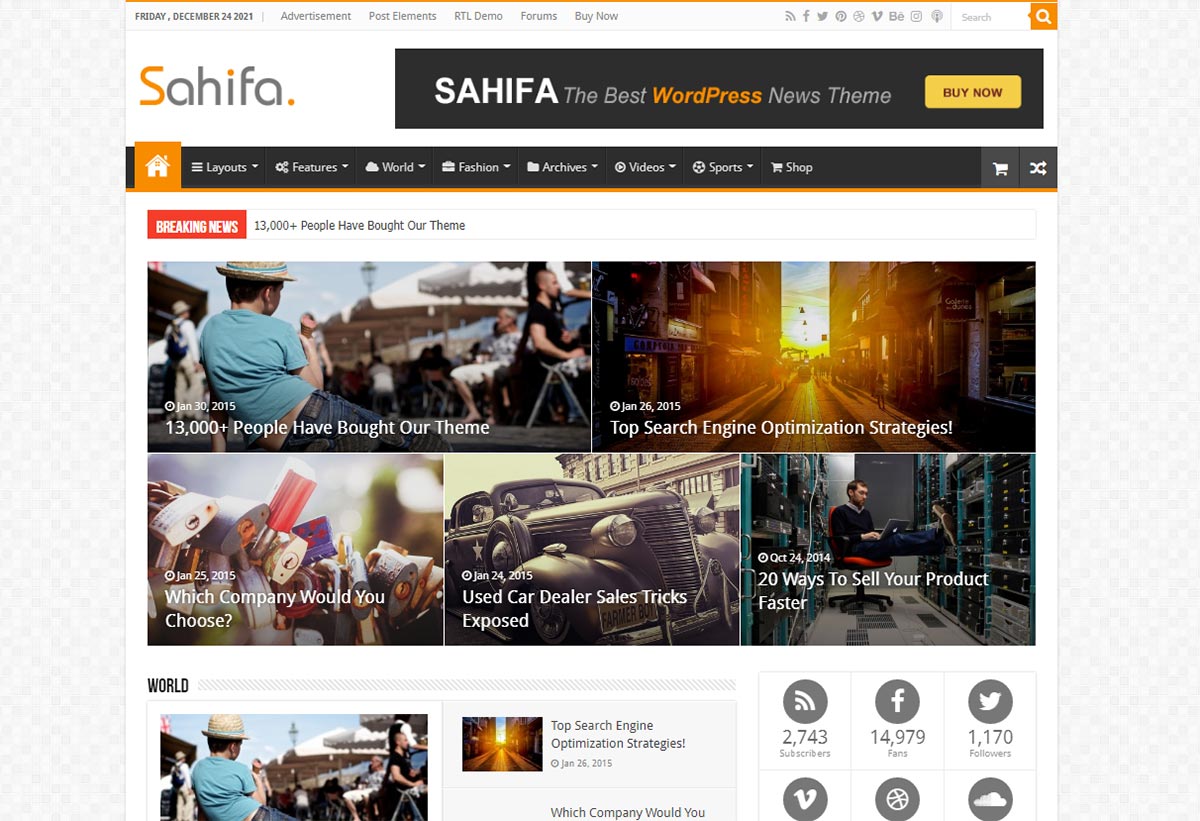 This fully responsive and retina-ready WordPress theme can be your next blogging theme to use for creating content for a magazine or a design or development-based newspaper website. What we love the most about this theme is that it is not only user-friendly but its layout will fit on any screen and your readers/visitors will be able to browse through your content easily and of course, the powerful admin panel is there to help you do your thing in style and customize as per your requirement.
4. Newsmag – Newspaper & Magazine WordPress Theme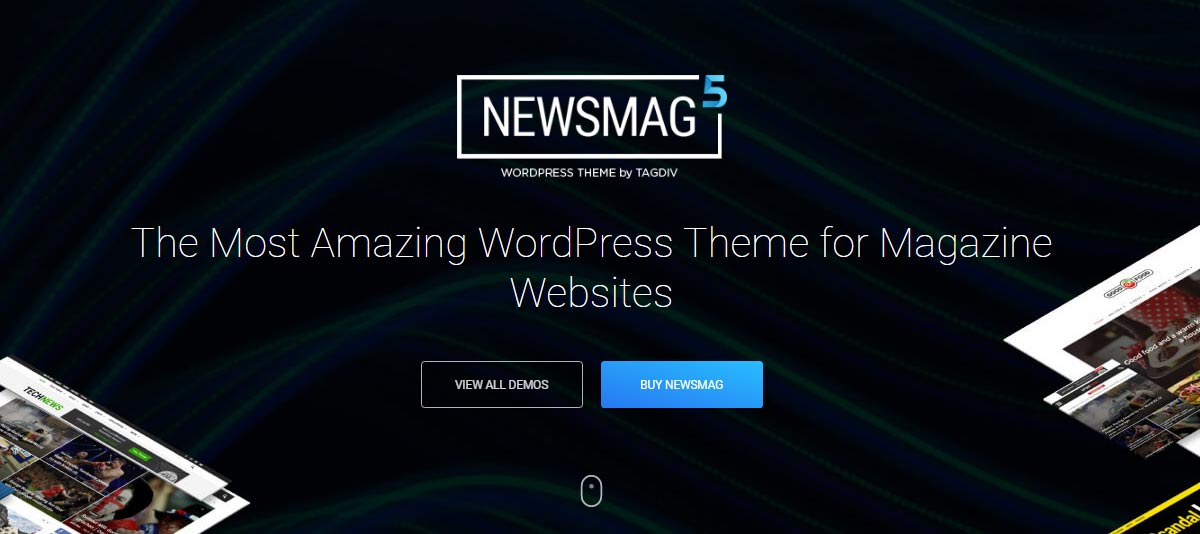 Everyone loves to work on their projects on a platform that loads fast, doesn't hinder the work progress and is good aesthetics-wise as well and if you are one of those people then look no further because Newsmag is the blogging theme that you need for your newspaper or magazine blog. It not only supports videos from YouTube as well as a rating system but it has very neat and clean SEO practices as well so, while you will be able to use it with ease, you will also get the most out of it for your content as well.
5. Jannah – Newspaper Magazine News BuddyPress AMP

If you are looking for a WordPress theme that is not only responsive & fast but has stunning features to offer and if you love freebies (lifetime free updates), then Jannah is the newspaper and magazine theme that you must be checking out and get to for your blogs, etc. It is neat, it allows highlighted social media widgets and plugins if you already have bigger social fan profiles to show off on your website. It also offers support in 10 different languages as well.
6. SmartMag – News & Magazine WordPress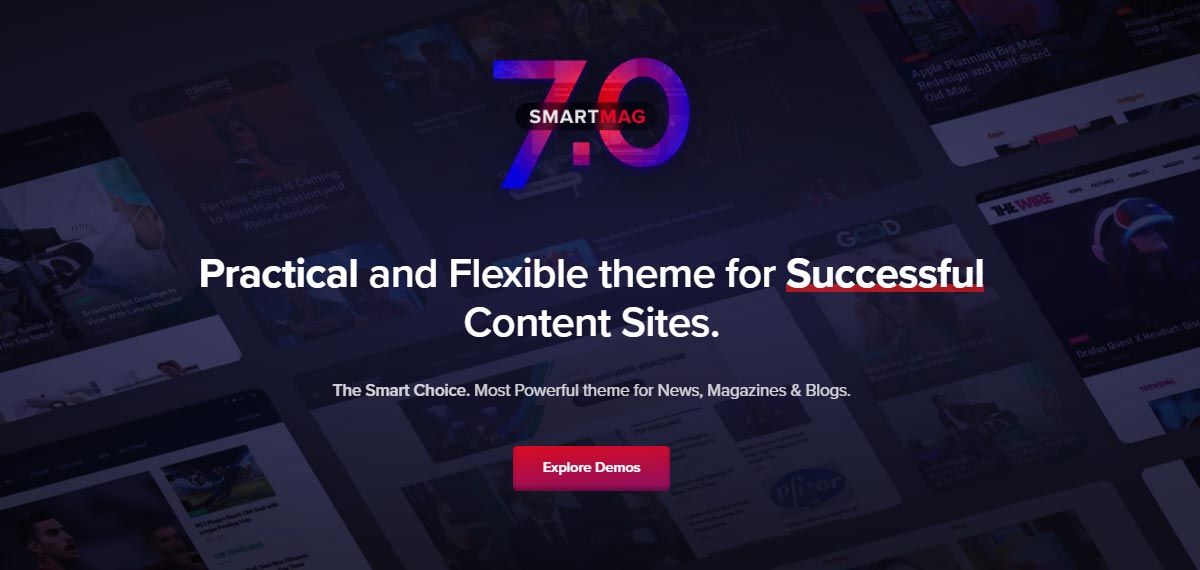 With countless one clicks layouts, dark mode option, easy to navigate through and powerful aesthetic designs, SmartMag – one of the best-selling blogging WordPress theme definitely has become the top favorite among the bloggers and online news channels. We really like how flexible the theme is and how easily you can start creating your content on it without having to worry about coding and everything too technical to even begin with. Check out SmartMag today and see how amazing it can be for your personal blog or for your newspaper magazine!
7. JNews – WordPress Newspaper Magazine Blog AMP Theme
Okay so, JNews has multiple versions and each one of them offered amazing features to the users who wanted to create a newspaper magazine blog online. From allowing a space for audio podcasts to flexible and improved layouts, best SEO practices and more – JNews surely is one of our favorite blogging themes that are being offered by WordPress at the moment. Want to explore it more? Check it out all the features and offers right away!
8. Rosemary – A Responsive WordPress Blog Theme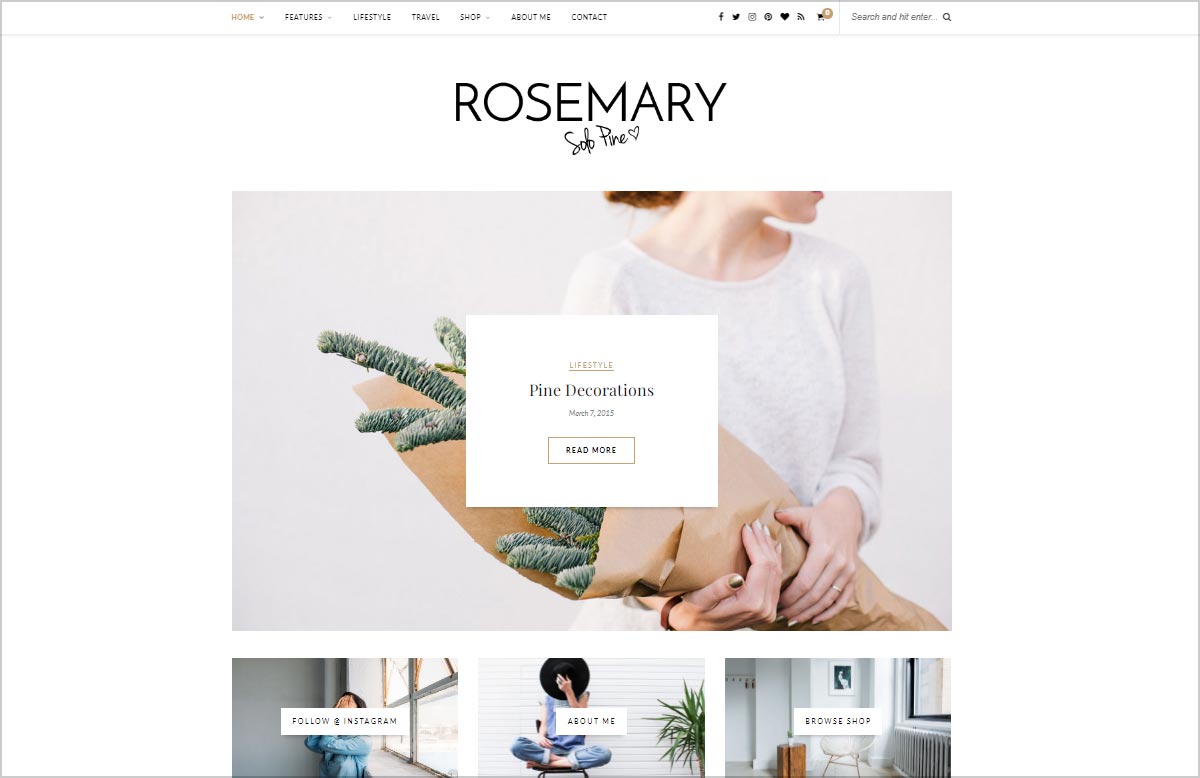 'R' for Rosemary, 'R' for responsive – we are not saying it because of the coincidence, we are saying it because it is true as it is true of the most responsive WordPress blog themes that are there. We love that this theme offers multiple blog layouts and each one of them can be perfect for you if you know how to use it correctly. The theme is nice & clean, offers ease and convenience and we can bet that you will like it as much as we do.
Author removed the theme
9. CheerUp – Food, Blog & Magazine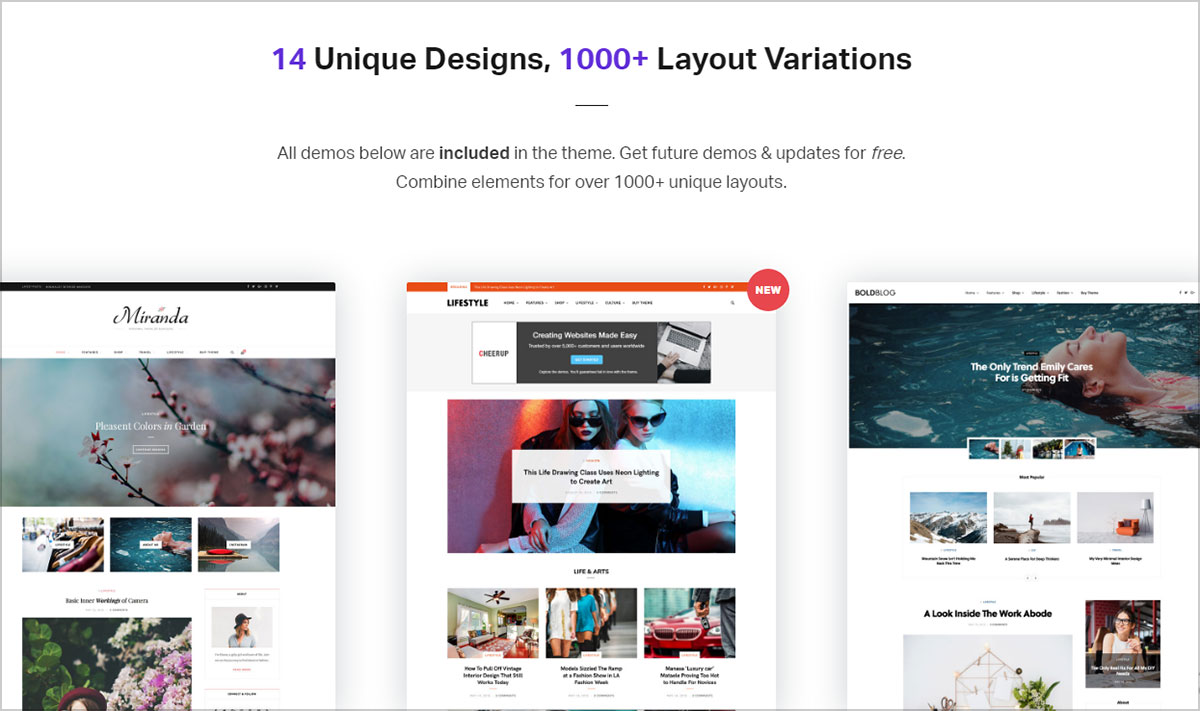 We love how so many people around the globe are always busy clicking nice pictures of their food and post those on Instagram, but have you ever thought how great would it be to put all of that together in one place? If you are thinking that we are trying to convince you to finally start your food blog, then you are right because if not today, then when? Also, when you have got an effective and powerful WordPress theme such as CheerUp to work on then there shouldn't be any second guessing, you guys! ?
10. Voice – News Magazine WordPress Theme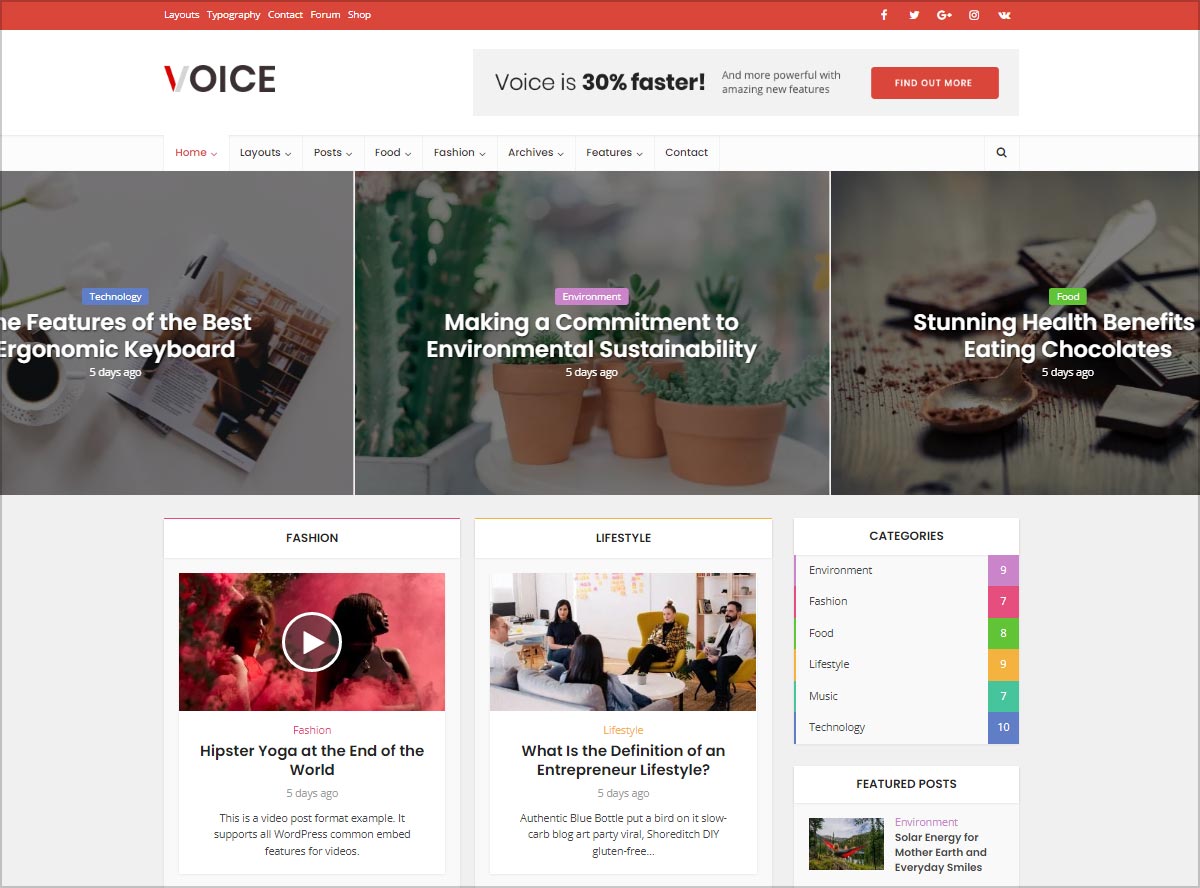 In addition to having WooCommerce integration, this highly customizable WordPress theme was created to cater to the news portals and channels, etc. that would want to create their blogs. Oh, and you will also be able to check out and use unlimited fonts and colors as well which will make your content appear even more appealing.
11. Authentic – Lifestyle Blog & Magazine WordPress Theme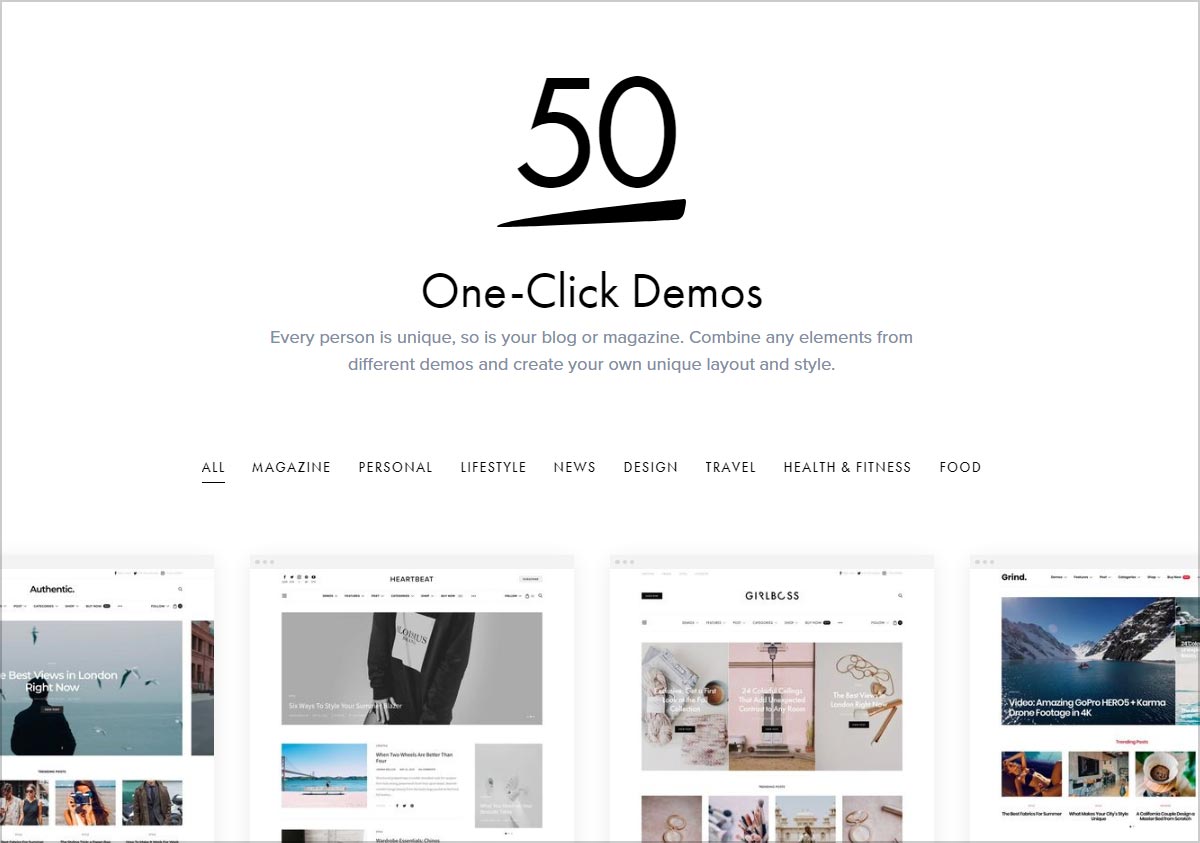 If you are looking for something that is easy to use and beautiful to look at while you create your content then, look nowhere else as Authentic blog theme is here to let you blog the way you want to blog – with 40 different layouts for posts, slider galleries and more, we can bet that anyone who loves to create content online in a simpler manner is going to instantly fall in love with this magazine WordPress theme. You can further install the demo with simply a single tap and start from there to quickly get a perfect look for your website.
12. Redwood – A Responsive WordPress Blog Theme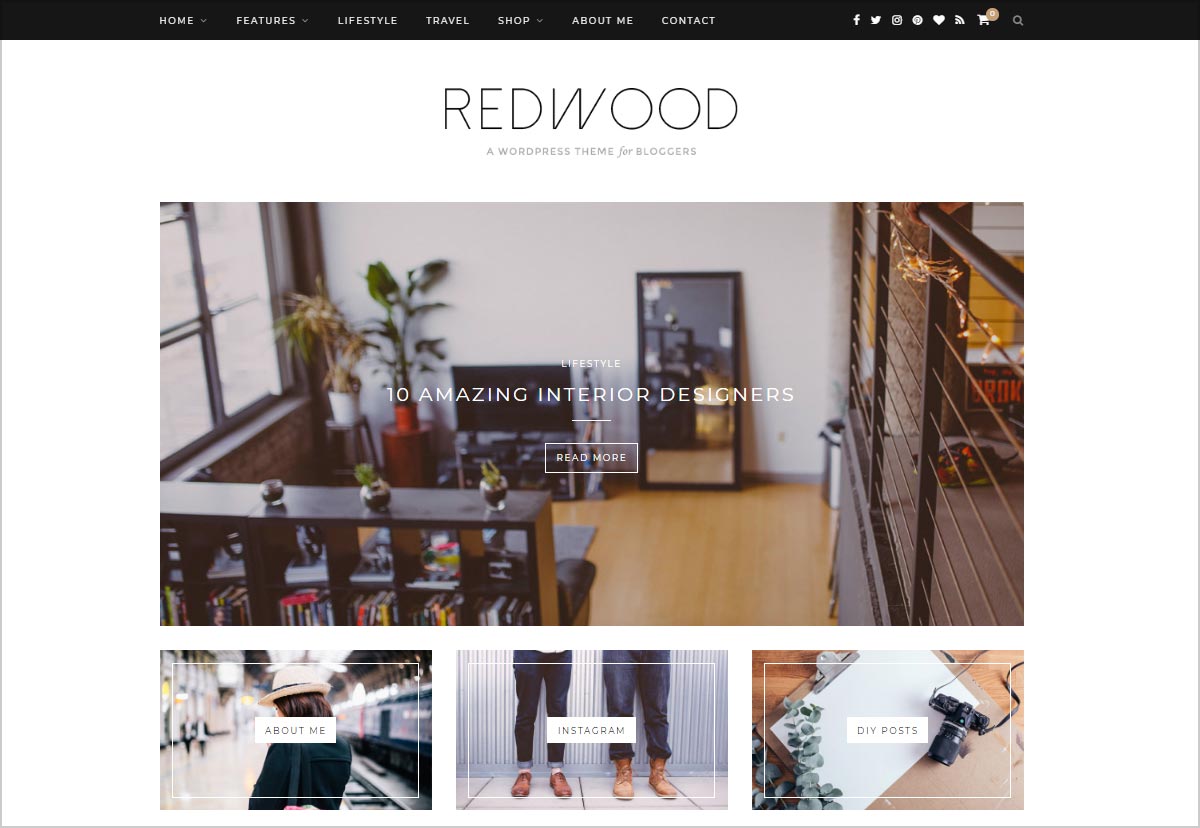 This elegant and classy blog theme is an ideal one for the bloggers out there who want striking sliders on their blog and are looking for something that has multiple layouts to offer too. With Redwood, your audience will not only be able to browse through the blog at a fast speed, but they will also be able to enjoy the fact that it displays all the content in an effective manner.
Author removed the theme
13. Hemlock – A Responsive WordPress Blog Theme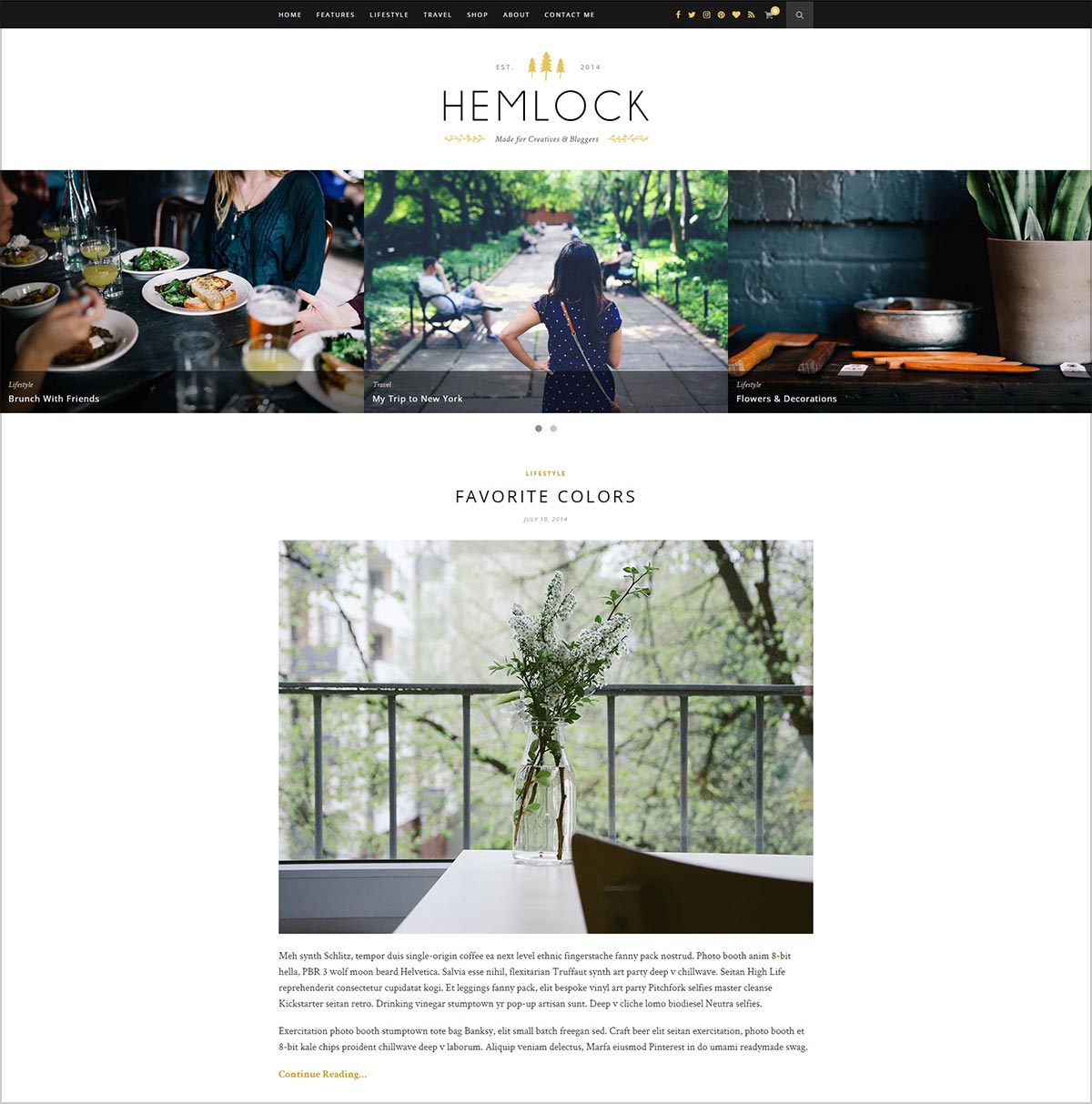 Want to work on a WordPress blog theme that is simple yet elegant? Well, we have got Hemlock for you – with its responsive design and having to change the blog colors via the Customizer, we think it is safe to say that this theme is not only an easy one to work on but the way it lets you do amazing things in a fun way is kinda cool too.
Author removed the theme
14. Buzz – Lifestyle Blog & Magazine WordPress Theme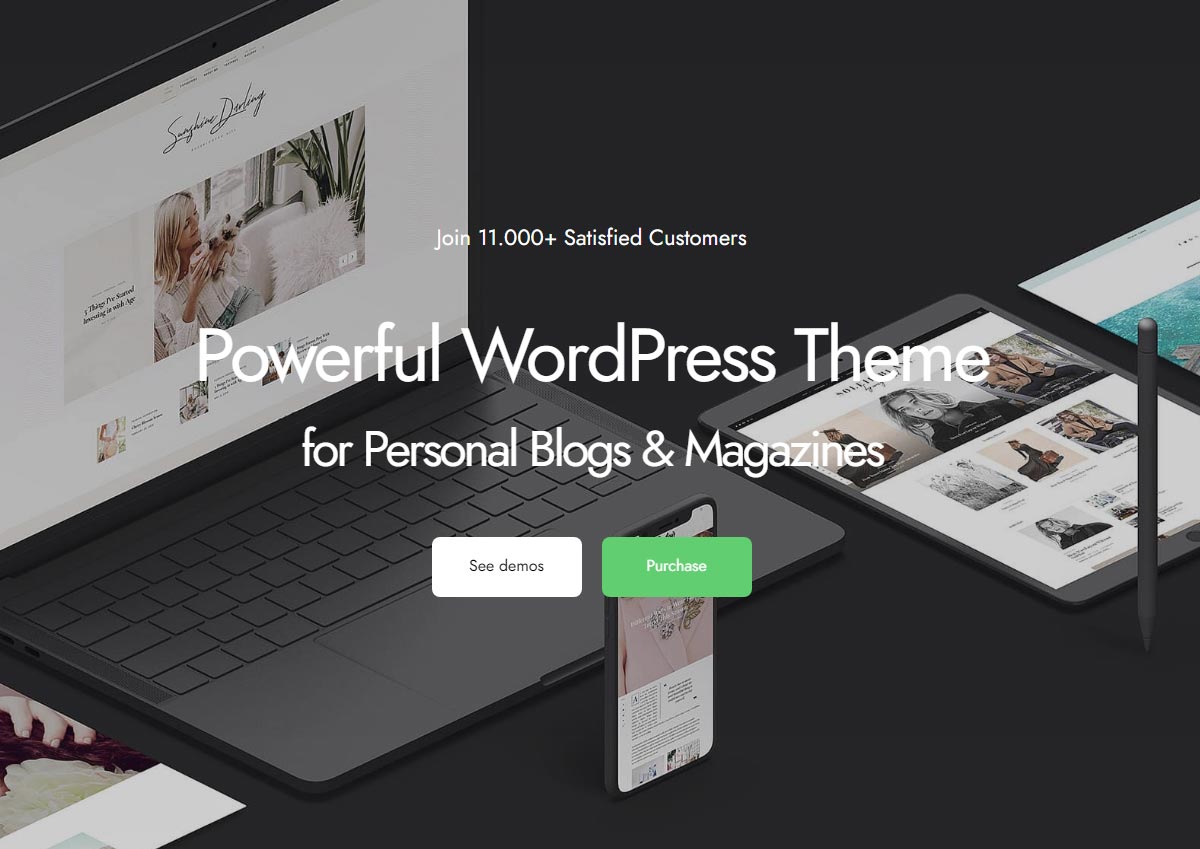 Lifestyle bloggers gather around as Buzz is here to help you guys display your content in a beautiful way. We cannot get over the fact that this theme is super unique when it comes to the layouts and the overall theme design but it being fully compatible with literally every social media platform is quite fascinating too.
15. Good Space – Responsive Minimal WP Theme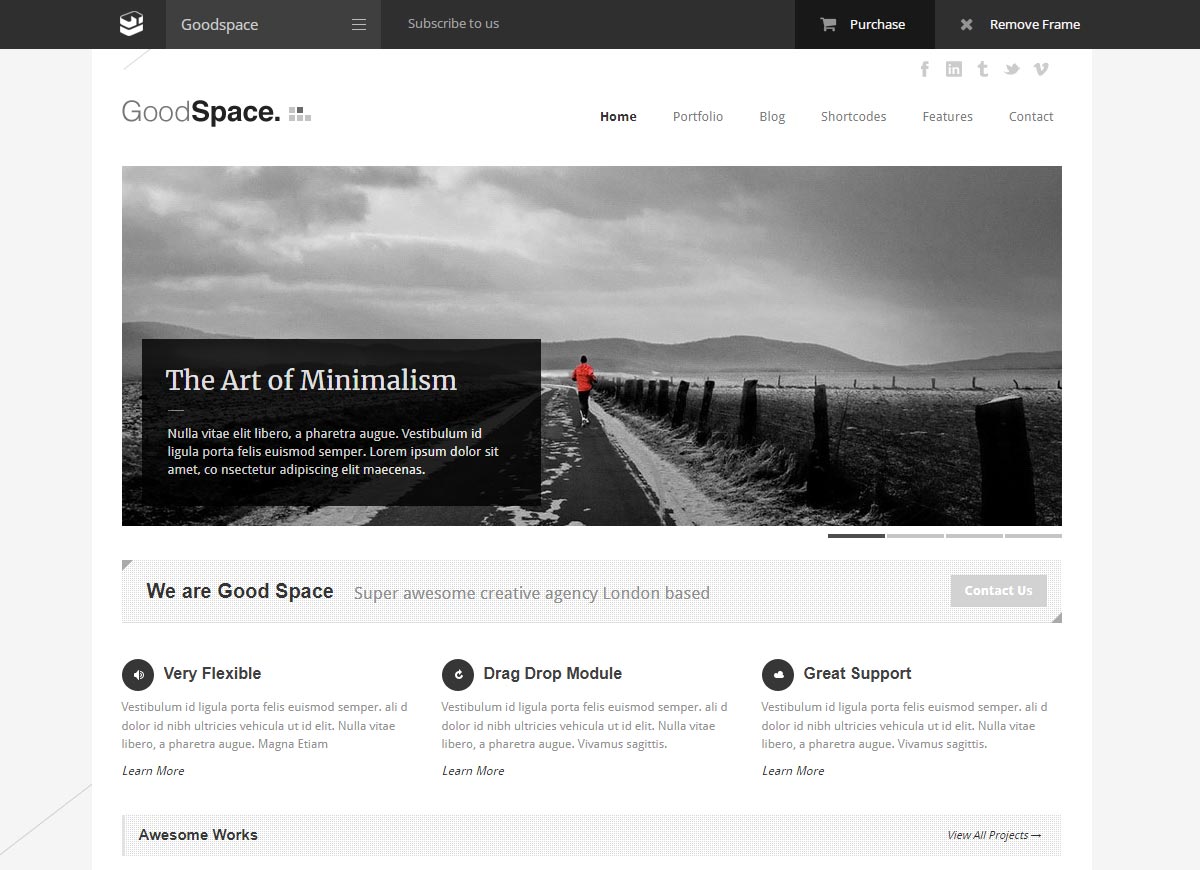 Responsive design, drag & drop page builder, SEO optimization, unlimited color options as well as sidebars – you name it, Good Space has it. Yes, it is correct that Good Space happens to be one of the top selling WordPress themes that are available on the internet and for all the right reasons so, if you are planning to create a new blog or if you wish to upgrade your blog, Good Space is the theme that you are looking for!
16. Zox News – Professional WordPress News & Magazine Theme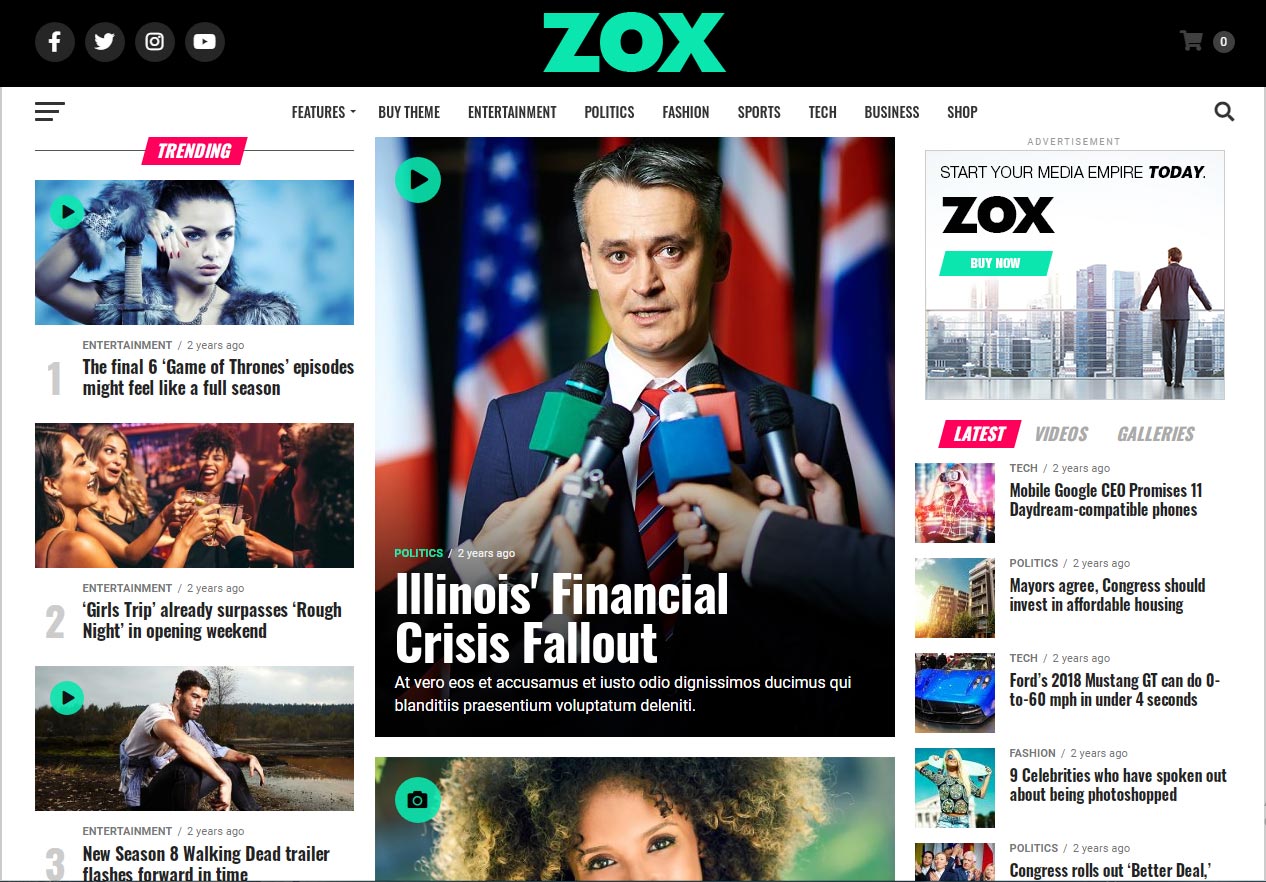 No one said that newspaper blogs have to be boring, right? And that means that Zox News WordPress theme has everything that you will ever need for your news & magazine blog. It is not only fully responsive, but it also works perfectly on every digital screen that exists which means that your content and its display quality won't be compromised one bit.
17. Florence – A Responsive WordPress Blog Theme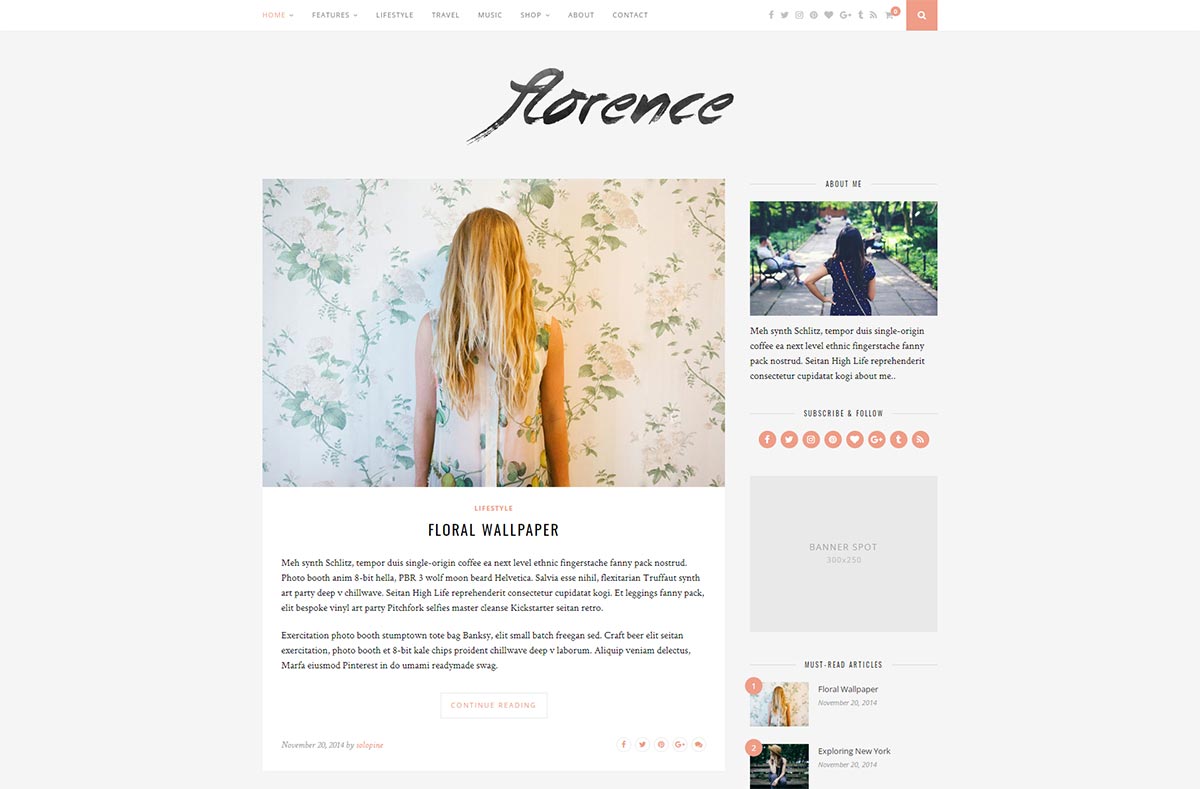 Everyone has the right to have a blog theme that is not only responsive, but it makes your content look appealing too – you know the thing that keeps your readers engaged with the website and everything? Yeah, we are talking about that and we can bet that Florence will be game changer for your blog theme, so check it out today and might as well get it too! ?
Author removed the theme
18. Flex Mag – Responsive WordPress News Theme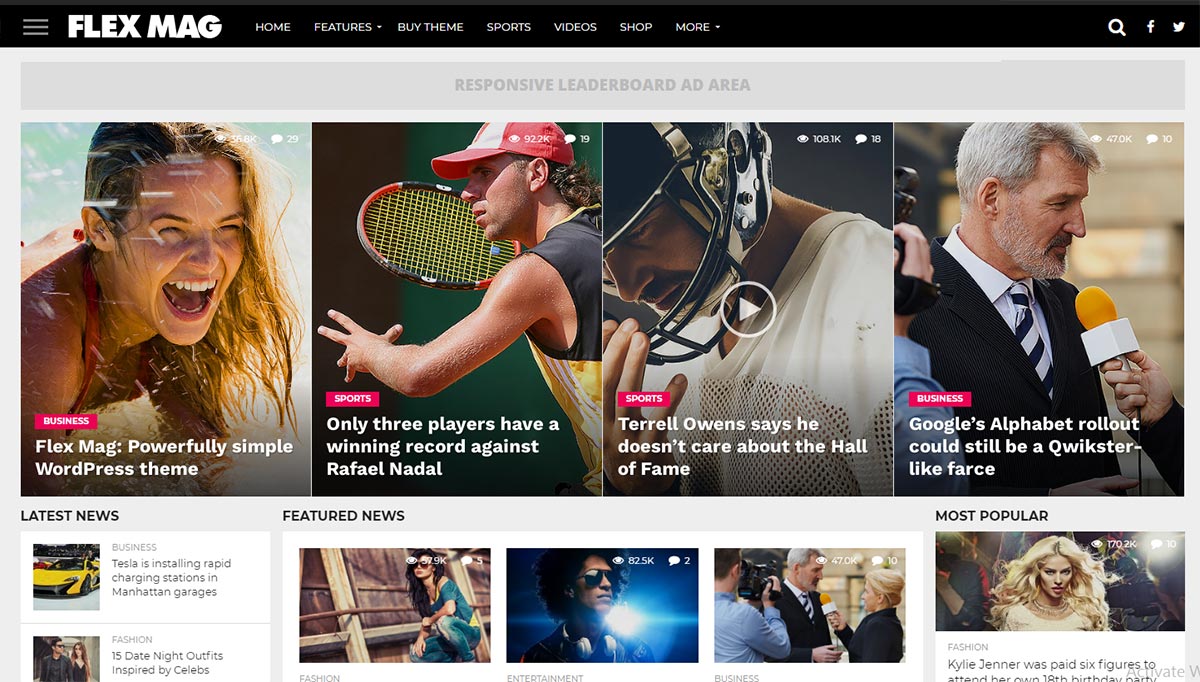 As the name suggests; Flex Mag is a fully flexible, responsive and highly customizable WordPress theme but what we like the most about it is that it will be a perfect choice for anyone and everyone who wants to start a news blog in 2022. There are 9 post options and 8 article layouts to choose from so, if you are up for a new project in 2022, we think you should better start exploring Flex Mag right away.
19. Pixwell – Modern Magazine Theme

We really like the modern look & feel of this WordPress theme, it is unique, lets you do your thing without having to compromise anything whether it's imagery, colors and the overall design theme. And in addition to that; it has a bunch of amazing features to offer along with being fully compatible with WooCommerce, Yoast SEO etc.
20. Malina – Personal WordPress Blog Theme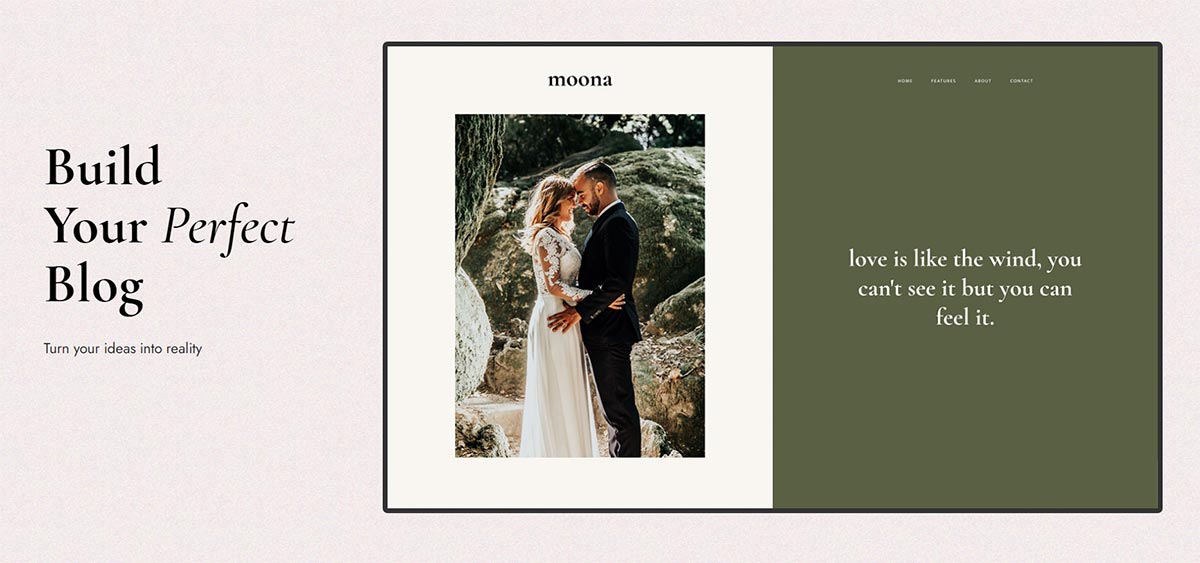 With an immersive layout, Malina happens to be one of the most attractive blogging themes by WordPress. Everything on this theme is extremely balanced, has a very subtle yet powerful appearance and it also makes your content look good too. It has unlimited sidebars to offer along with 8 header layouts, grid layout and more.
And that is all for today! We hope that you guys had a great time reading this handy guide and that you will also check out these best-selling magazine WordPress themes right away so that you can use a couple of them in the coming year.
Recommended: