Hello everyone! As almost all of us have successfully spent the first week of 2022 and you would know that there are many people around the world who are of the view point that this is their year so, we thought to add more fun to their optimistic approach and that's why we are sharing something exciting with you and here it goes.
With every new year, new thoughts and ideas to do something for your personal life / space start popping up in your head that includes maintaining a healthy sleep routine, renovating your room's backdrop wall, upgrading your wardrobe or signing up for a new gym for that matter. We felt that it would be a great idea to share 10 best 2 color combinations for wall painting with you guys that you can check out and have your favorite ones painted or pasted in your personal spaces etc. We would also like to share one very important thing here that you will have to read the entire blog to make an informed decision so, make sure that you read it till the end (it will be fun, promise)!
Reading and going through this blog to try out something new for your walls this year might be overwhelming for some of you guys. Know that you can always come back to this blog later in the day when you get done with work etc. to go through the list again. Now, let us share the list of 10 best 2 color combinations for wall painting that you can check out for your rooms for small flats and big houses.
1. Green Revival & Marshmallow Brown
This color combination is ideal for those rooms that you want to look spacious and energetic; as the earthly tone of green will depict renewal and growth (perfect theme color for the new year) and the 'Marshmallow Brown' will provide comfort to the eyes and overall look & feel of the whole area. So, if you are up for trying out something that you haven't, we would suggest you go for this 2 color combination for your wall painting project.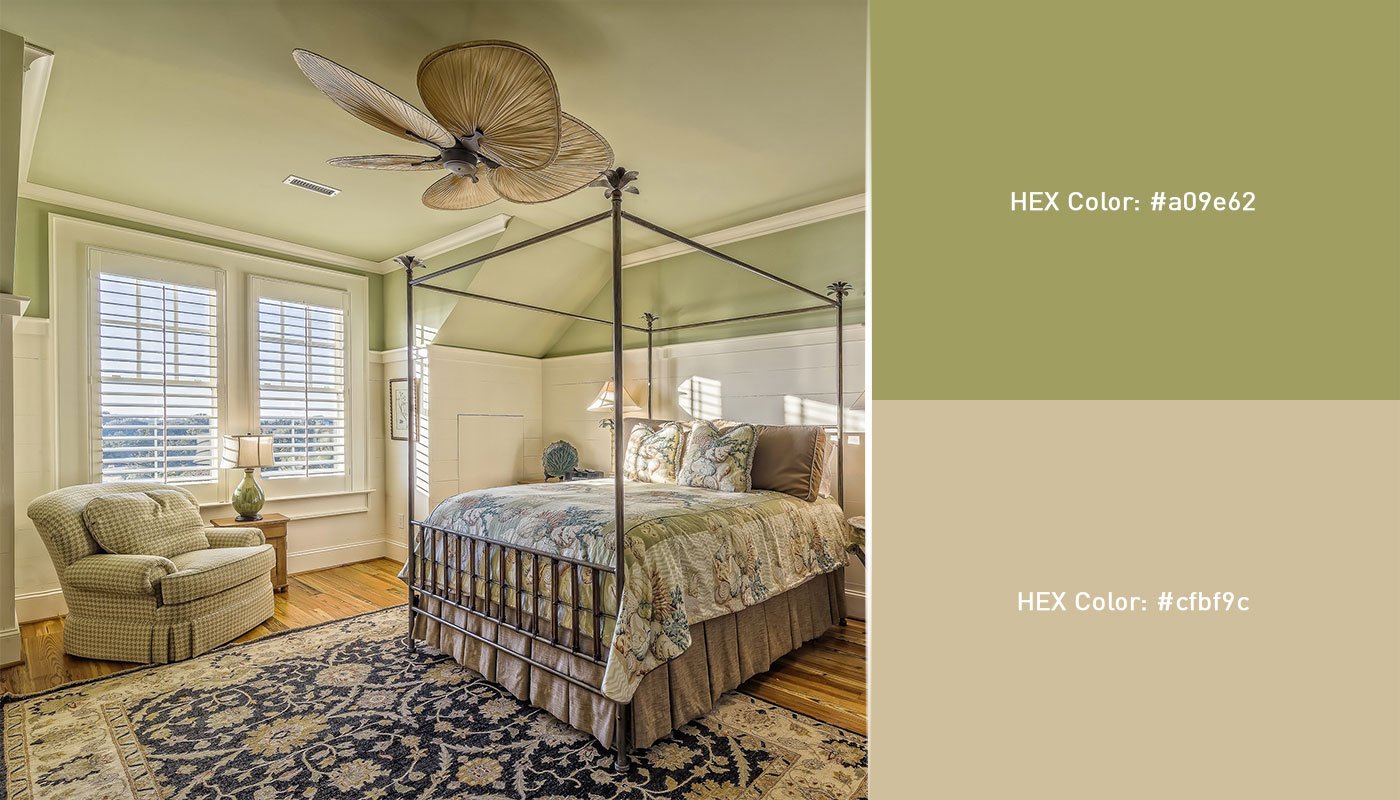 2. Grey Moon & Caffè Latte
As interesting as the names of these colors sound, we can bet that with the inclusion of a subtle, yet lively color palette you are going to change the aura of your room or any other personal space for that matter. As per the color psychology as well; the grey color represents neutrality while the 'Caffè Latte' depicts resilience and security. In order to feel more secure and happy in your space the only thing your room lacks is this 2 color combination wall paint.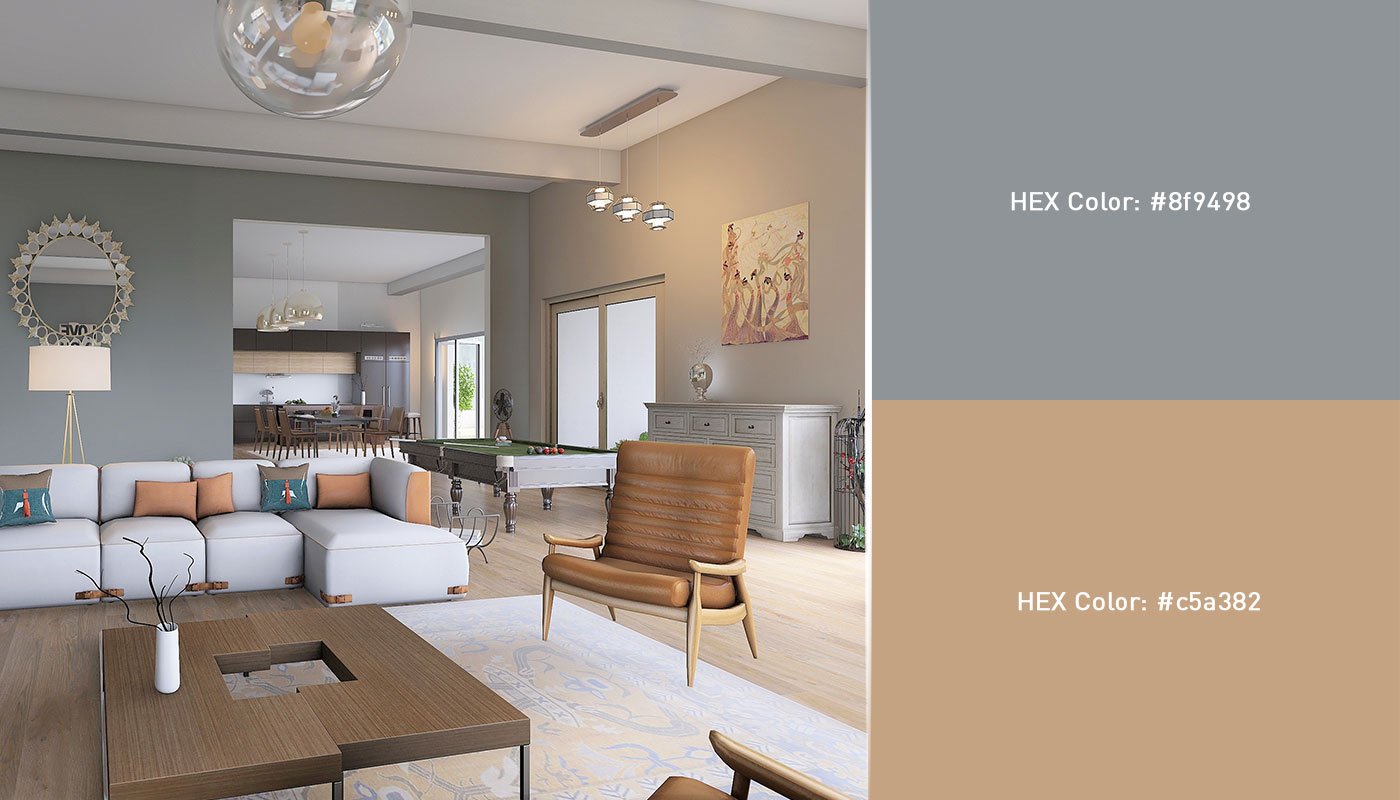 3. Oceany Blue & Glorious Lucinda
Blue and green always look together but if you are picking a couple of well-defined shades of the said colors, then you must know that you are about to up your game. We believe that both blue and green colors are full of life and represent calmness and very natural vibes wherever they are used together and keeping that in mind, we would love to suggest you try out this 2 color combination for your walls this year to feel more grounded.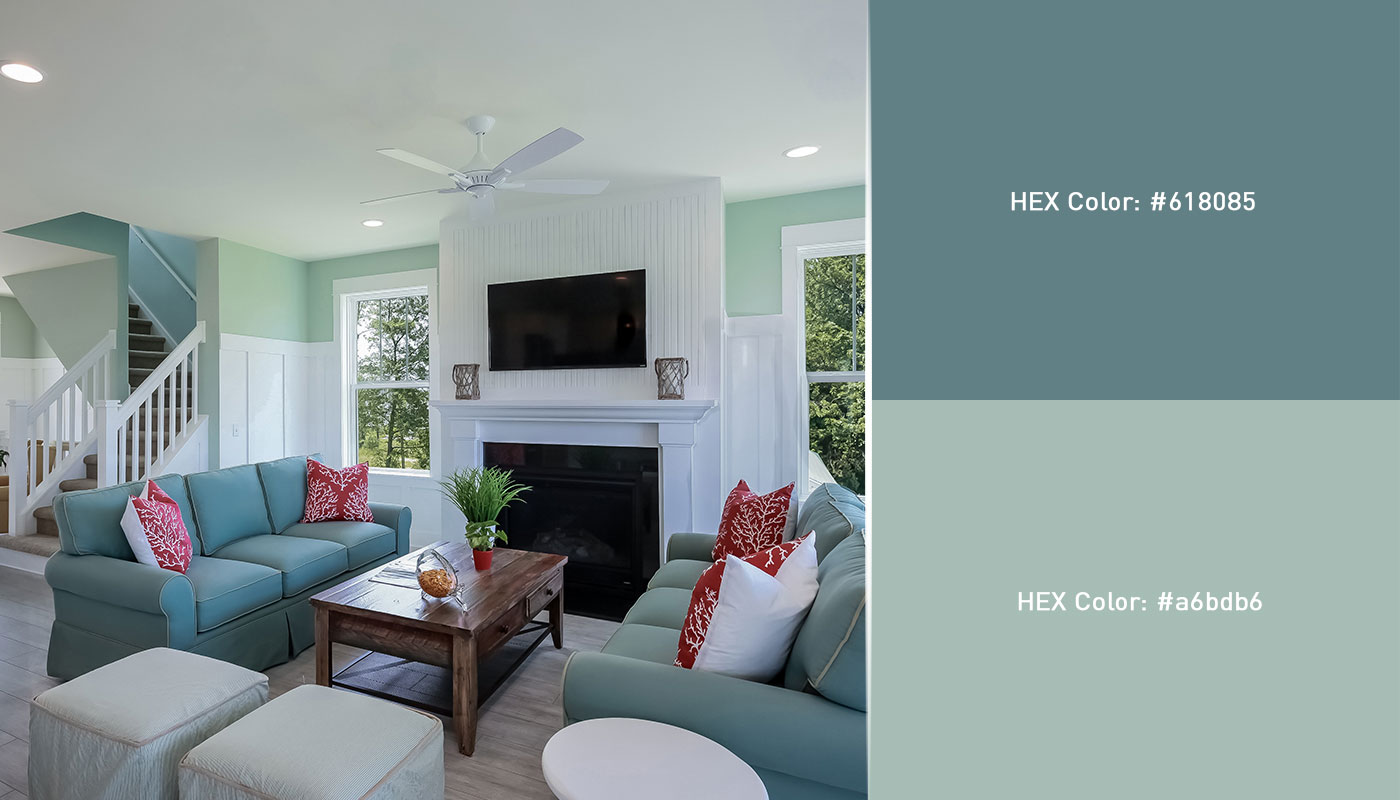 4. Morning Mauve & Fancy Clay
As the names suggest; this 2 color combination for wall painting feels like what dreams are made of. We can totally feel the morning softness through the 'Morning Mauve' and the calmness that 'Fancy Clay' depicts. And while we are at it, we would like to share it here with you all that we are a fan of soft and subtle tones and shades because of how powerful they are and we are sure that once you have explored your options, you will find this 2 color combination something that you would want to try too.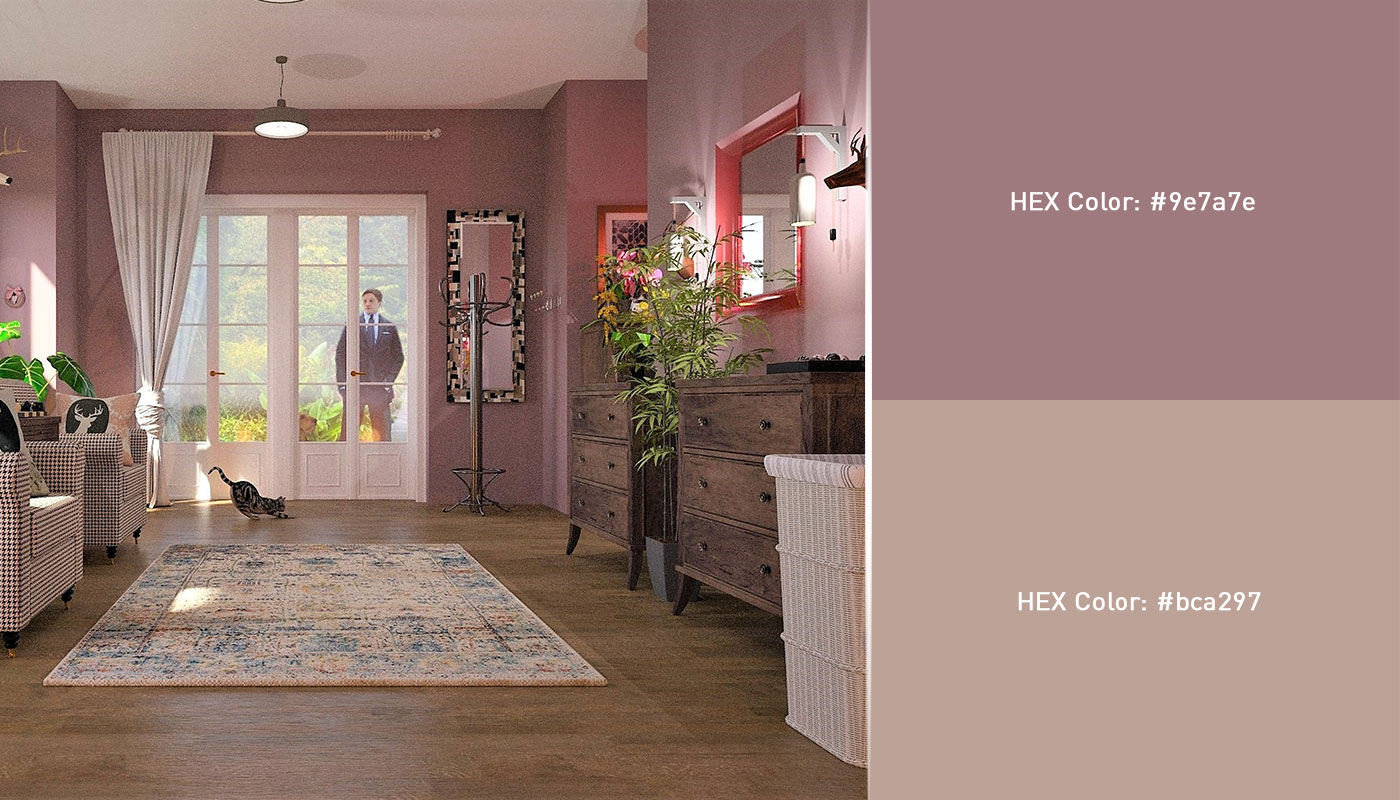 5. Sky High & Nudy Brown
This happens to be one of our favorite 2 color combinations that we have listed for our blog mainly because of the obvious contrast between the two colors along with the fact that they fully complement each other as if they cannot exist if the other color shade is absent. If you are looking for something that can boost your morale right from the comfort of your favorite space in the room all the while giving you the reality checks that you need to keep moving forward, we feel that this 2 color combination is what you need to paint your walls with.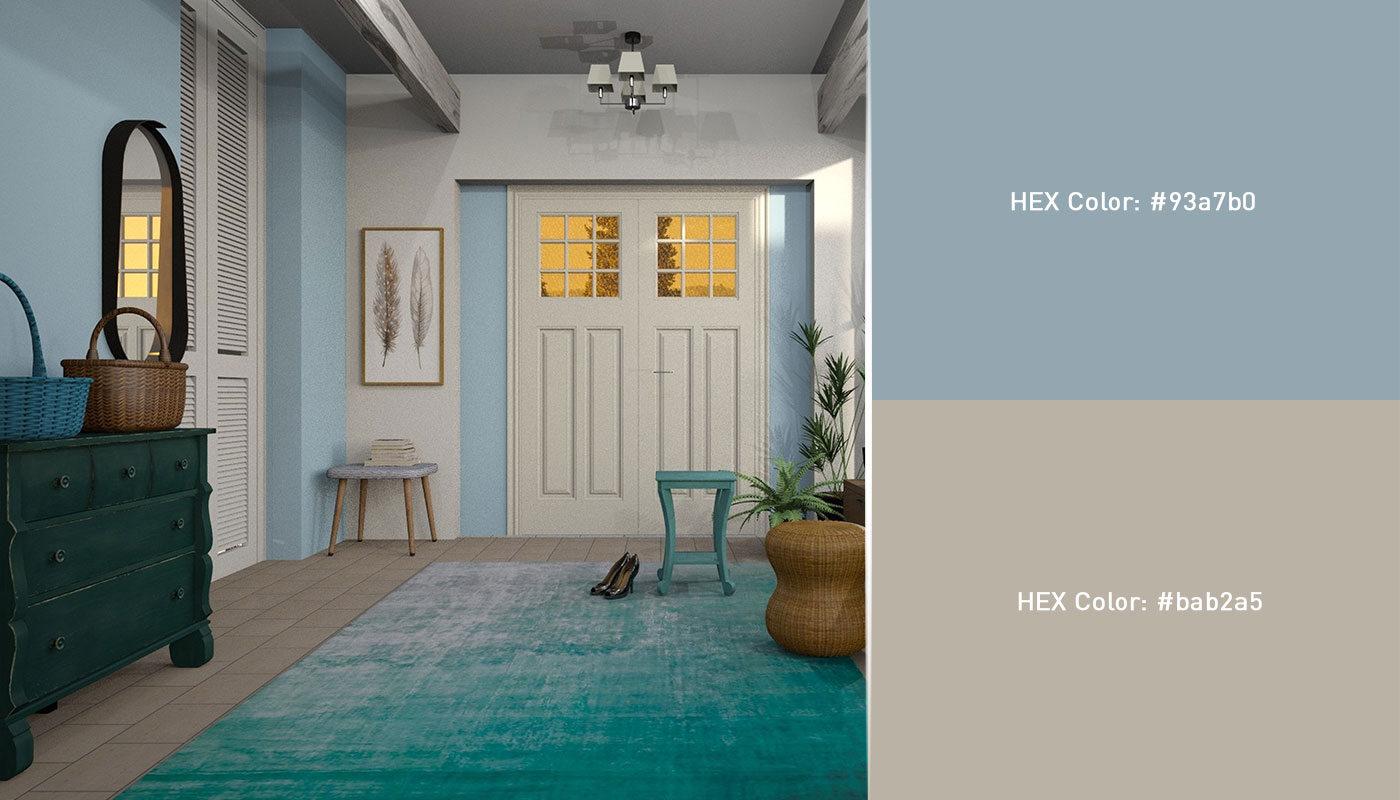 6. Grey Dreams & Comfy Thunder
When you can't decide what color tones and shades to go for; pick something that belong to one color family but in one shade lighter and one shade darker than the first one. What will happen is that you will be able to keep it neutral and balanced which represents that you are looking for calmer vibes and induce a set of curtains in bright colors along with a pair of coffee chairs to add a pop of color in the room.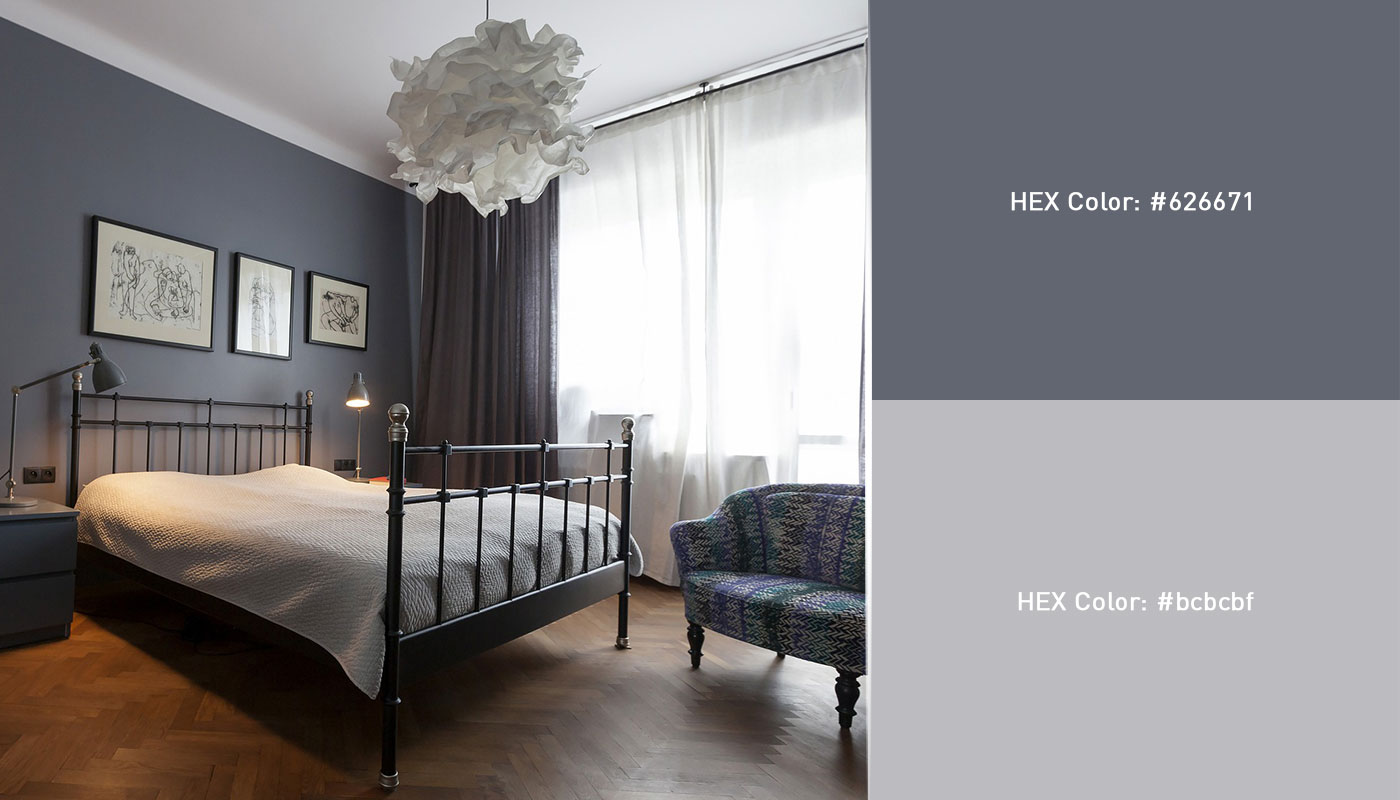 7. Candy Blue & Flossy Beige
We don't want you guys to think that we are sharing our favorites here but what we do want you all to know is that we absolutely are in love with this very 2 color combination for wall painting and here's why: 'Candy Blue' being the darker color here is settling so well with the 'Flossy Beige' that it is making our souls wheeze with happiness & joy. Also, if you guys are looking for something that can create an elegant aura while maintaining giving out calm and positive vibes, then this the 2 color combination for wall painting you must make the most of in 2022.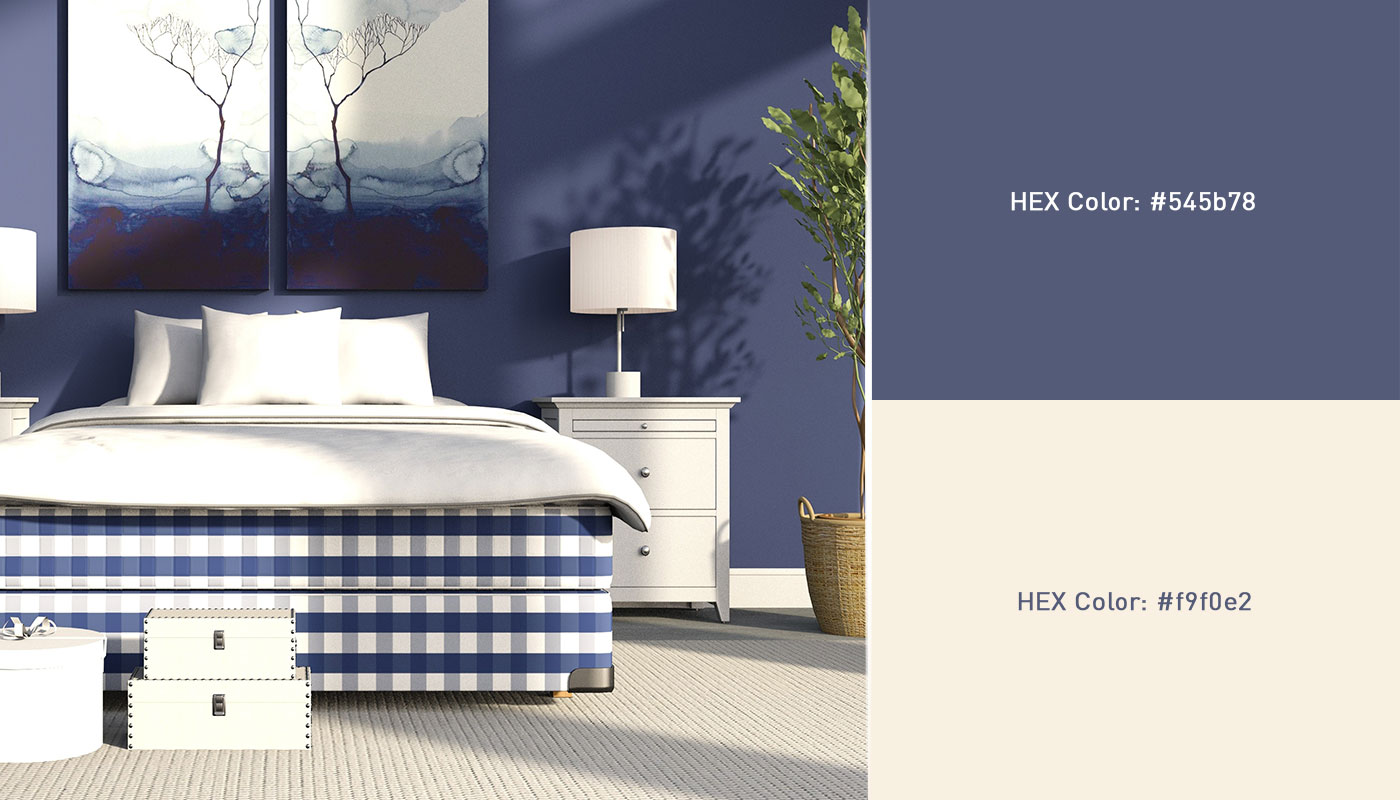 8. Grey Glaze & Soft Cinnamon
This happens to be a bold color combination when it comes to wall paints or other interior décor for that matter. There could be many reasons to go for this 2 color combination but we are here to tell you that one fascinating one to definitely go for it if you are planning to enhance the beauty of your bed room, lounge or any other small or big space: as you all know that the grey color depicts balance so if you are looking to rework on your routine, let this be a sign for you and allow the Soft Cinnamon as a great combination to let you do your thing with its resilient vibes.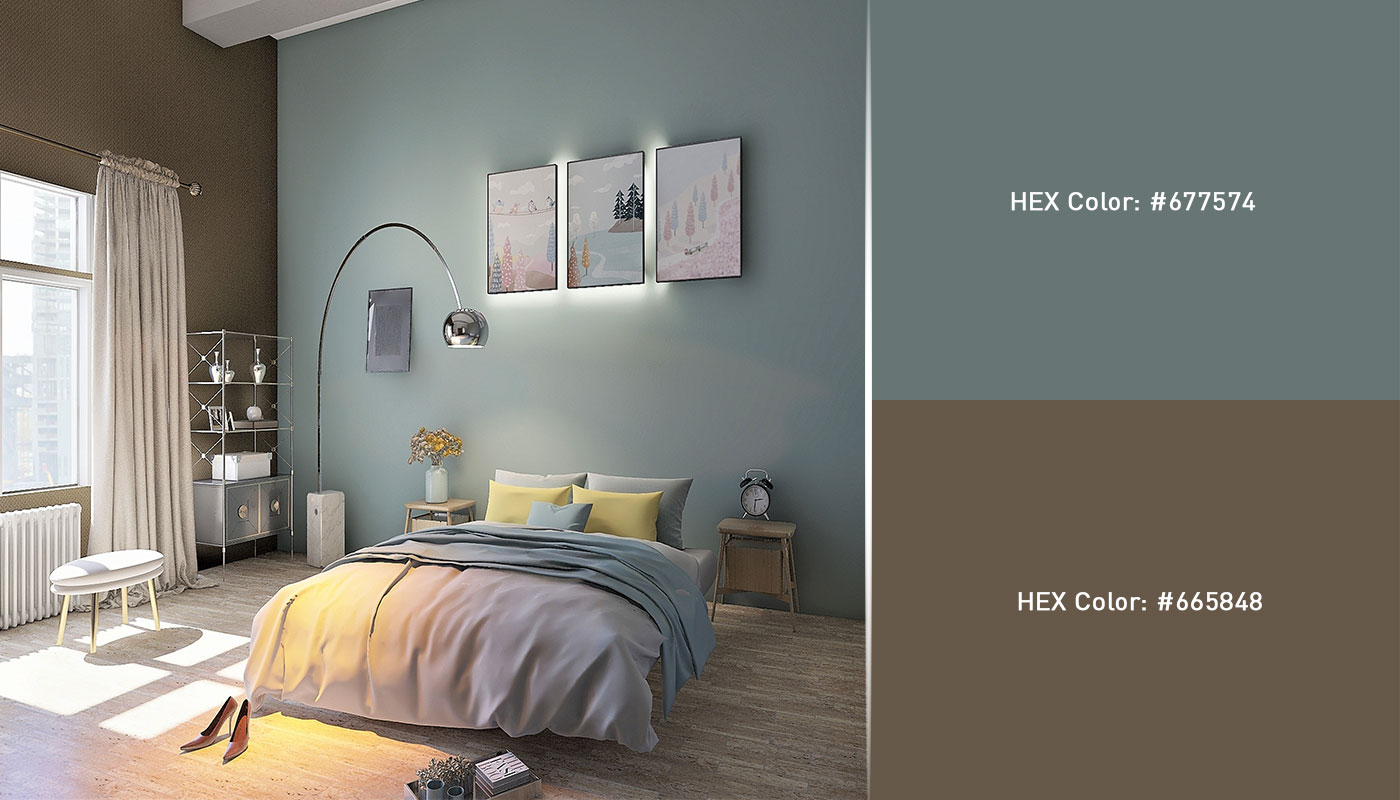 9. Whimsical Blue & Carrot Brown
This 2 color combination is one of the most enticing combinations that exist especially for wall painting mainly because of the fact that the powerful 'Whimsical Blue' complements the 'Carrot Brown' like Yin ang Yang probably that is one of the reasons why we love how beautifully they can be paired together. To bring out the best in your personal spaces, our suggestion would be that you must mix and match a couple of things here and there in Whimsical Blue and Carrot Brown colors to see how they can bring harmony & peace to your place as well as to your soul.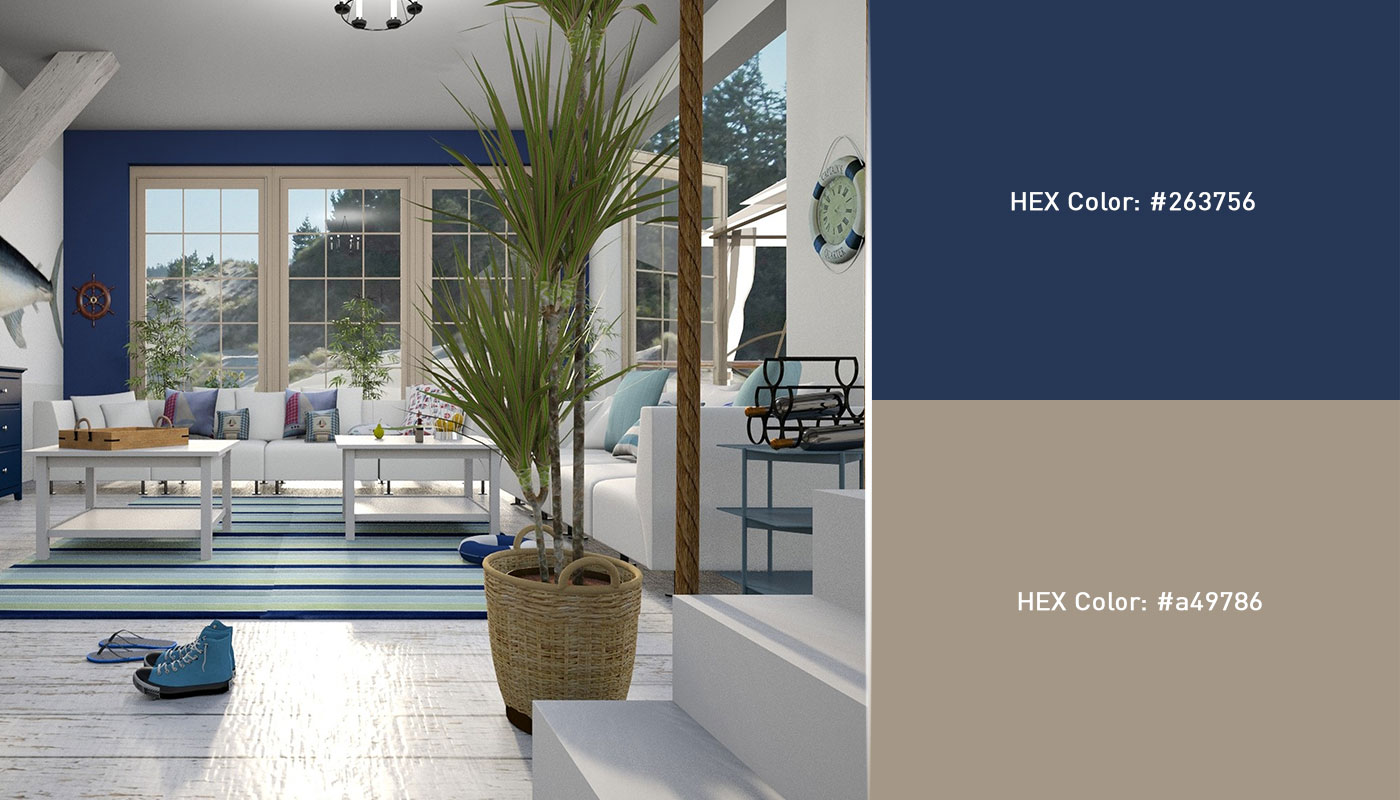 10. Cherry Wine & Mountain Grey
Although we are approaching towards the conclusion of our blog; we would like to say that we are sure that by this time it has been established that whenever you mix a darker shade of any color with a lighter shade of a contrasting color, you are going to end up with something so magical that you might want to take some time to digest the whole process. And we think it is safe to say that with the combination of 'Cherry Wine' & 'Mountain Grey', you will be able to create a passionate yet cozy look & feel of your rooms etc.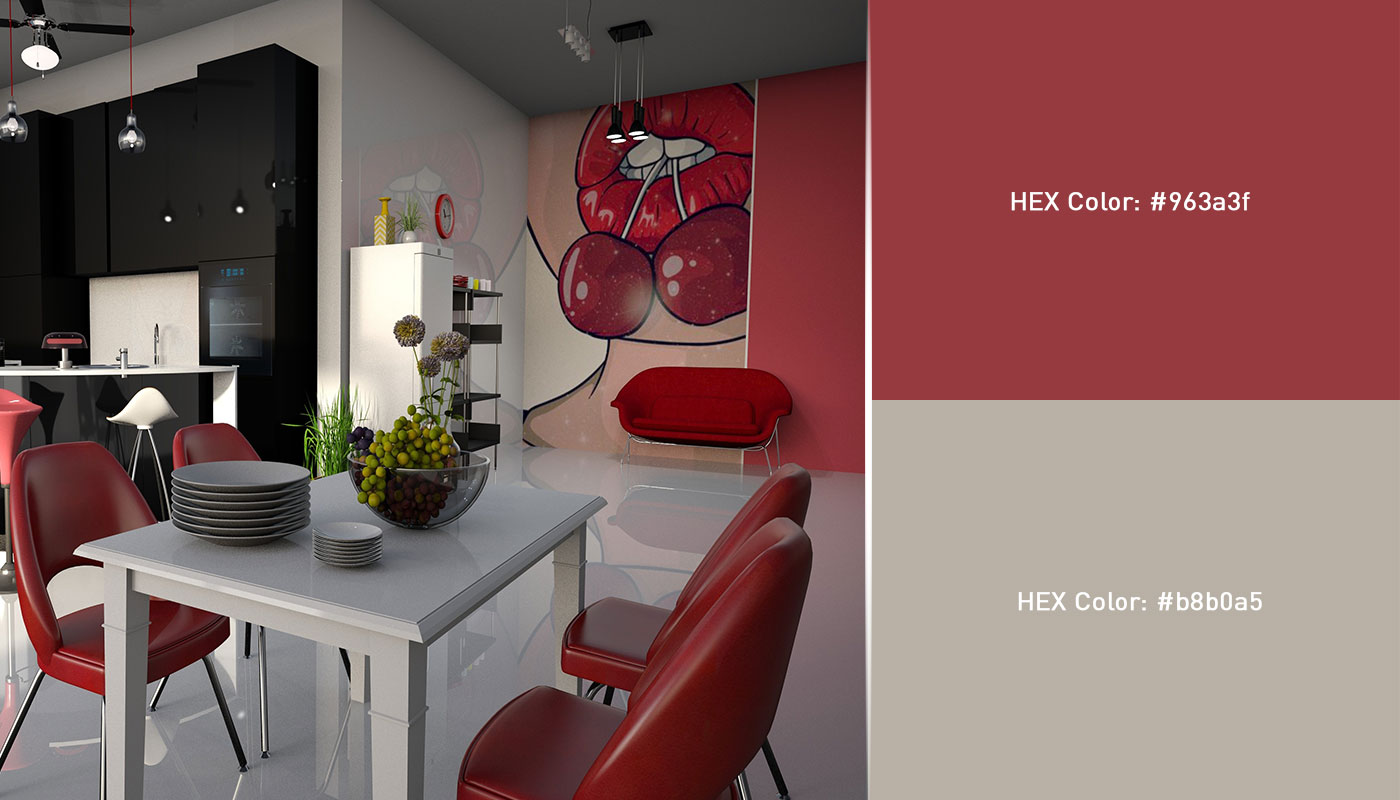 Before we say goodbye for now, we want you all to know that colors do not have an age or gender attached with them which means that you must be experimental with any and every color you like that you think will look great in your room and do it for yourself only to see if it is bringing out the best in you or not. But just by the way, we are certain that it will because that is what your room is also called your personal space, right? So, allow yourself to breathe comfortably in a room or a house for which you have picked the color combinations.
Also, never underestimate the power of color psychology as well because it not only states facts but the best thing is that you can also explore the colors or their combinations that you can easily connect with. In addition to that; do not wait for a specific reason to bring a change to your favorite space(s) because you should not have to wait for winters to be around so that you can be your true self in your cozy little room or for summers to be as playful and jolly as you want to be. Live out even more than you already have as life is too short and you would not want to spend it without trying out your favorite color combinations.
That is all for today! We hope that you guys had a great time reading the entire thing and that you will not only check out these 10 best 2 color combination for wall painting in detail but you are also going to share this blog with the ones you love and care for. Don't forget to share which 2 color combinations are your favorite ones from our list and feel free to let us know how you liked this blog too. We will be waiting to read all of that and more and until next time, take very good care of yourselves, keep reading our blogs and keep experimenting in your life here and there to make it more joyful and worth living.
Recommended: