Hey there everyone! We hope that you all are having a great time reading our blogs and that you are super excited to read this one too as we are about to share not just 10 or 20 but 48 free linear gradients that you can use for gradient logos for yourself as well as for your clients. But before we start talking about what we have worked on for you guys, we would like to thank you all for your overwhelming response on our previous blogs and for also sharing them within your personal and professional circles – it means a lot and we hope that you will keep doing that in the future as well.
Okay so, if you are one of those people who work on logo designs, then we can bet that you must have come across almost all the brands that use or have used gradient for their logos and we think we can agree with the fact that there will be people who like that sort of logo designs and then there are people who might not very much into gradients and all. Now, we would also like to mention it here that it is completely okay depending on the needs of a creative design brief, how the masses responded to such designs and everything else that can help the decision makers go or not go for a gradient in their logos. But the real question is: will you or should you go for gradient logo? And the answer to that question is right here in this blog so, keep reading it till the end in order to make an informed decision for yourself.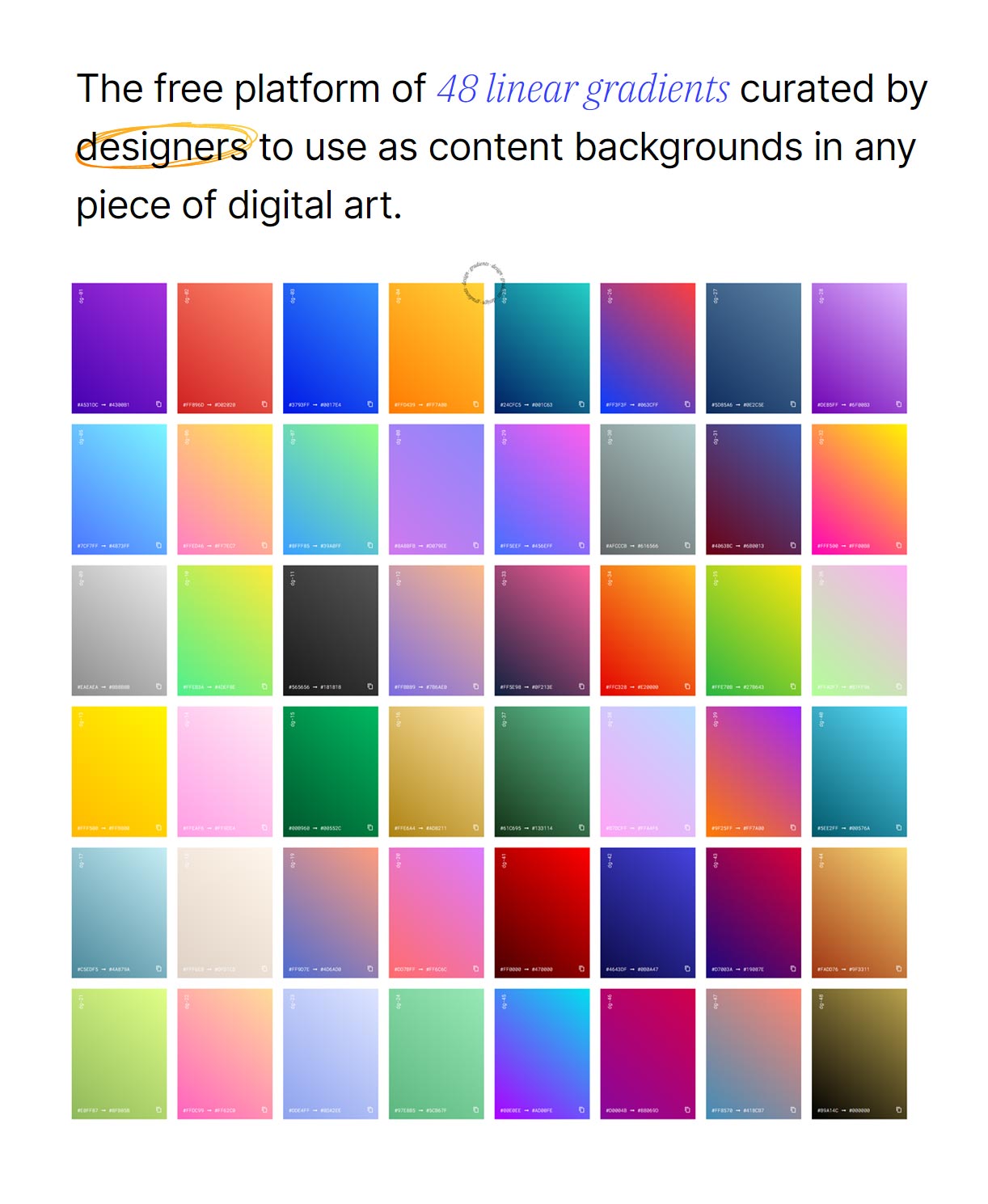 What we are going to say next might hurt a couple of graphic and logo designers but always remember that whenever you want to experiment with a new style, you need to make sure that you are not doing it to hide a weak design or concept for that matter. We have seen multiple logos in which gradients were used only to compensate them for a poor design and we do not entirely blame the people who created and executed those but we feel that it could have been reconsidered keeping in mind that fact that if something is not working for you, you are free to change it to something that will, you know. Gradient logos might not be for every business that exists or will exist but if you know how to make it work for yourself, you can most definitely use a gradient logo for your business. ?
There a couple of tricks that will help you create an effective gradient logo using our free linear gradients for example; do not create your logo design directly on the gradient(s) but first create a solid color version of a logo and then add the gradient to it. Here is why: a solid color logo will look amazing on multiple nonscreen logos such as embroidered apparel, signs, embossed mediums and even letter paper designs for that matter whereas the gradient version of logo will look great on your digital and social media platforms, billboards and various other out-door advertising mediums because you would not want your logo to look like something that it too complicated and kind of washed out.
Recommended: What Color Attracts Human Eye the Most
No matter what your business is like and how cool you are when it comes to experimenting with things here and there; you must know that it would be okay if you go easy on the gradient thing – meaning that too intense a gradient will not only create a messy look of the logo but it will make it difficult to get registered as well so, go easy on the eyes of your potential customers and choose the intensity of the gradient wisely. Also, make sure that you have carefully optimized your gradient logo designs for printing purposes as well as there are chances that your gradient logo design might not print well so make all your files perfect for all sorts of printing right from the start.
And lastly, we would like to mention it here that you also need to know and understand that the logo design needs to be relevant to your brand. Do not use gradients if you see them trending around the market you are running a business in but always try to use them in a creative way that the gradient can actually reflect what you are selling or providing to your customers. That being said; we think it's time for us to say you all good bye for today so that you can all go through our amazing linear gradients to design your gradient logos and we can work on our next blog for you guys. Do share your honest feedback with us in the comments section along with your suggestions and we will see you next time!
Credit: Design Gradients
Recommended: