Hi there everybody! We hope that you all are keeping safe and that you are also making the most of our free yet highly editable mock-up PSD files. Our today's blog has an amazing and free hand holding iPhone 13 mock-up PSD file for you guys but before we start talking about that, we would like to take this moment to thank you all for your overwhelming response on our previous blogs and for also sharing the content ideas with the people you love and care for. This journey is surely a long one, but you guys make it fun by motivating us so, never stop doing that.
As you all know that Apple happens to be one of the most intelligent tech organizations in the world and they never cease to impress us whenever they launch a new product line-up and same was the case with iPhone 13 as well – it is like you are only imagining things to happen and Apple launches them in the form of their smart devices and more. Although, there are chances that you might find the products a little too expensive, but we feel that when you wish to get something that is like a 100%, then you must pay the price too, right?
That being said; allow us to share briefly how cool iPhone 13 is so that you can work on your ideas that can be incorporated into making something new for the current and potential users of this device.
Okay so, iPhone 13 is equipped with A15 which happens to be lightning fast chip and as per Apple's official website, leaves the competition behind. It also has the best dual camera system (ever) and we are already sold on that one because with this smart a device, you won't have to carry huge equipment with you for your photography and videography projects. Sounds convenient, right? Well, there is more to it for example; there is a new Ultra-Wide camera that focuses on the dark areas if there are any in your photos while the new Wide camera  is capable of capturing 47 47 percent more light which will result in beautiful phots and videos as well. Then there is a new sensor for optical image stabilization allowing you to be ready always to capture your perfect moments.
Speaking of the camera; we are in love with the cinematic mode of iPhone 13 which is perfect for story telling and you can use it for your personal and commercial film making projects as well. We believe that with these very amazing devices, anyone and everyone can become a photographer or a videographer – because all you need is that device in your hands and with your skills, you can make things attractive. So, to cater to the modern needs of your audiences, you can create photo editing apps that will make the process even more fun.
iPhone 13 is one of the super cool smartphones that are available in the market, but did you know that it also offers a Super Retina XDR display as well? The Super Retina XDR display is superbright, supercolorful, and supersharp. We can bet that you must be thinking that with such powerful camera system and advance features etc., there are chances that the battery won't last for a long time is a day but know that iPhone 13 offers up to 2.5 hours more battery life making your overall experience a great one. Oh, and we know that this exciting feature will make you fall in love with iPhone 13 instantly and here is why: you can easily connect your iPhone 13 with your Mac, iPad and even with your Apple Watch as well and it is like you can do your thing with the device that is closer to you without having to leave your comfort zone for a while. This whole process is super seamless, and the best thing is that it won't hinder your work or personal life for that matter.
Every feature of iPhone 13 is an opportunity for the creative graphic designers, web and app developers as well as for businesses that create customized accessories etc. such as smart phone cases and covers, stickers and more such items. We would love to encourage you guys to work on app and game ideas as well which could be educational, informative, and competitive games so that you can not only entice the users to install them right away but to better the iPhone 13 experience as well.
And when you are done creating the flow charts, mock-ups and everything else that is required for pitch presentations and review meetings, make sure that you utilize our free hand holding iPhone 13 mock-up PSD file to the fullest. We have created this mock-up PSD file to help you demonstrate realistic mock-ups and designs and we can bet that you will be able to bag your business deals like a pro.
That's all from our end for today. If you liked reading this blog, feel free to share our feedback with us in the comments section.
Free Hand Holding iPhone 13 Mockup PSD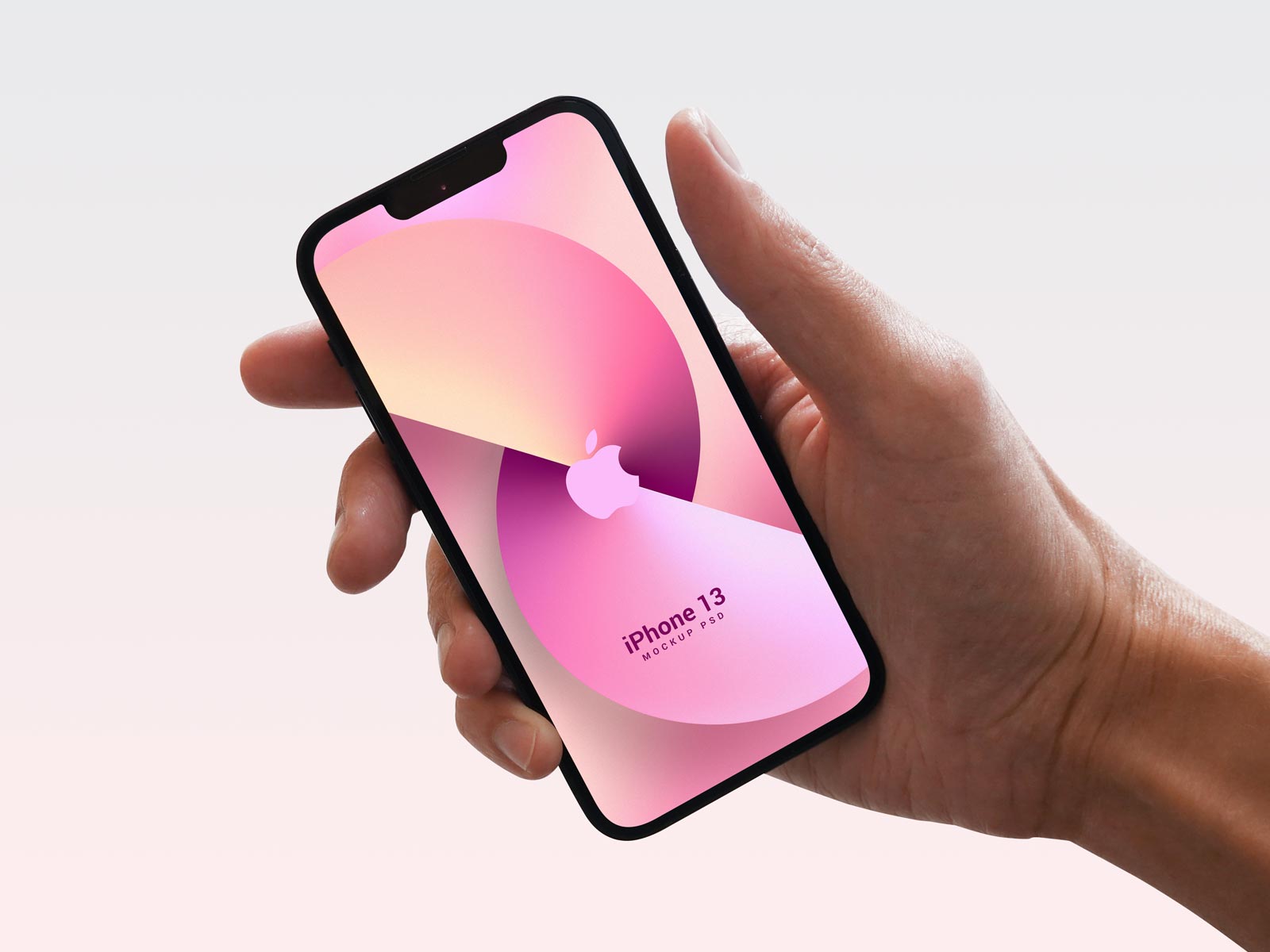 Available Format: Layered PSD with smart object insertion
License: Free for personal & commercial use
RAR File Includes: Free Apple iPhone 13 Mockup
Mockup PSD Resolution: 2532 x 1170 px
Note:
1. Free iPhone 13 Mockup PSD set is allowed for sharing online (A Must Linkback to this page)
2. Designbolts signature is placed as first layer kindly hide and use the mockup
3. Say thanks if you like or share/tweet with your friends
Download iPhone 13 Mockup
Recommended: