Hi there everyone! We are back with yet another super useful mock-up PSD file for you guys and we can bet that you all are going to love working on it. But before we start talking about that, allow us to take this moment to thank you guys for your genuine feedback, amazing suggestions as well as for always making sure that you share our blogs with the people you love and care for. We'd encourage you to keep doing that in the future too and we will keep creating content that you love.
Everyone loves to either have tea or coffee and today is not the day when we will be getting into this debate of which one happens to be the most favorite hot beverage but what we will be taking about is our free yet highly editable coffee mug mockup PSD file that you can use for yourself, for your clients as well as to create commercial designs too. And we all know that if we are not using our coffee mugs for taking any drinks whatsoever, we are cherishing them as souvenirs, corporate and non corporate presents and for more such things. Right?
So, no matter what your purpose of designing a coffee mug is; we are here to share everything that will help you create some super cool designs in no time. Make sure to keep reading the blog till the end.
Okay so, first things first; whenever you get assigned a design task regardless of its scale, you must know who you are creating the designs for as it will help you work on the creative thoughts and ideas that matter. For example; in this case, if you are to design coffee mugs to be sent out as corporate gifts, you not only have to have the information of the business itself but you would also need to know the corporate circle as well to keep the designs relevant. Because if the gifts are being sent out to marketing agencies, then the tone can be a little fun and quirky but if the corporate gifts are being designed for brands and businesses like banks, hospitals, educational institutions etc., then you will have to keep the designs a little serious (but do know that serious does not mean boring and you can play around with the colors, copy etc. to keep things fun).
Recommended: 20+ Logo Mockup Templates 2020
Then comes the business of creating customized coffee mugs for your side business or even for your actual one too – and when you will be working on those designs, then you will be catering to the requests of your customers, right? So, while you will get orders for a certain design and a certain quantity, we suggest that you can also share your suggestions as well so that your customers end up having amazing coffee mugs that they can keep for themselves or gift to their family members, friends, and colleagues etc. So, all in all, designing coffee mugs is an interesting thing to do and the best part is that it won't stop – like ever!
More and more people would be requiring coffee mugs every other day for their personal and professional needs but there is more than just creative ideas and really cool tools that you need to have in order to create something that not only stands out but will help you make your business stay ahead in the game as well. Allow us to share all of that in this part of our blog!
Now, when you are working on the designs, you must know a couple of things such as how much portion of the coffee mug will be covered with the design (like in its entirety or just one side of the mug), does the design cover anything from the inside of the mug, how does the color palette look like and is the design durable meaning is it permanent, washable, dishwasher safe or microwaveable etc. These questions will not only help you determine the quality as well as the pricing of the coffee mugs, but your potential customers would know if it is worth it (or nah).
We would also like to mention it here that never settle for less when it comes to the quality of the coffee mugs no matter what the purpose is so that you know that what you are working is not only durable but will be appreciated too. We personally like big coffee mugs as they give us a lot of design space to make our stuff on them but we wanted to provide you guys with two options so, make the most of the two different sized coffee mugs whenever you will start working on the designs. And to fully determine everything; don't forget to create the mock-ups first so that you guys have foolproof designs to sell or gift to your loved ones.
That's all from our end! We hope that you enjoyed reading the blog and we would love to hear your feedback too so feel free to share it in our comments section.
Free Coffee Mugs Mockup PSD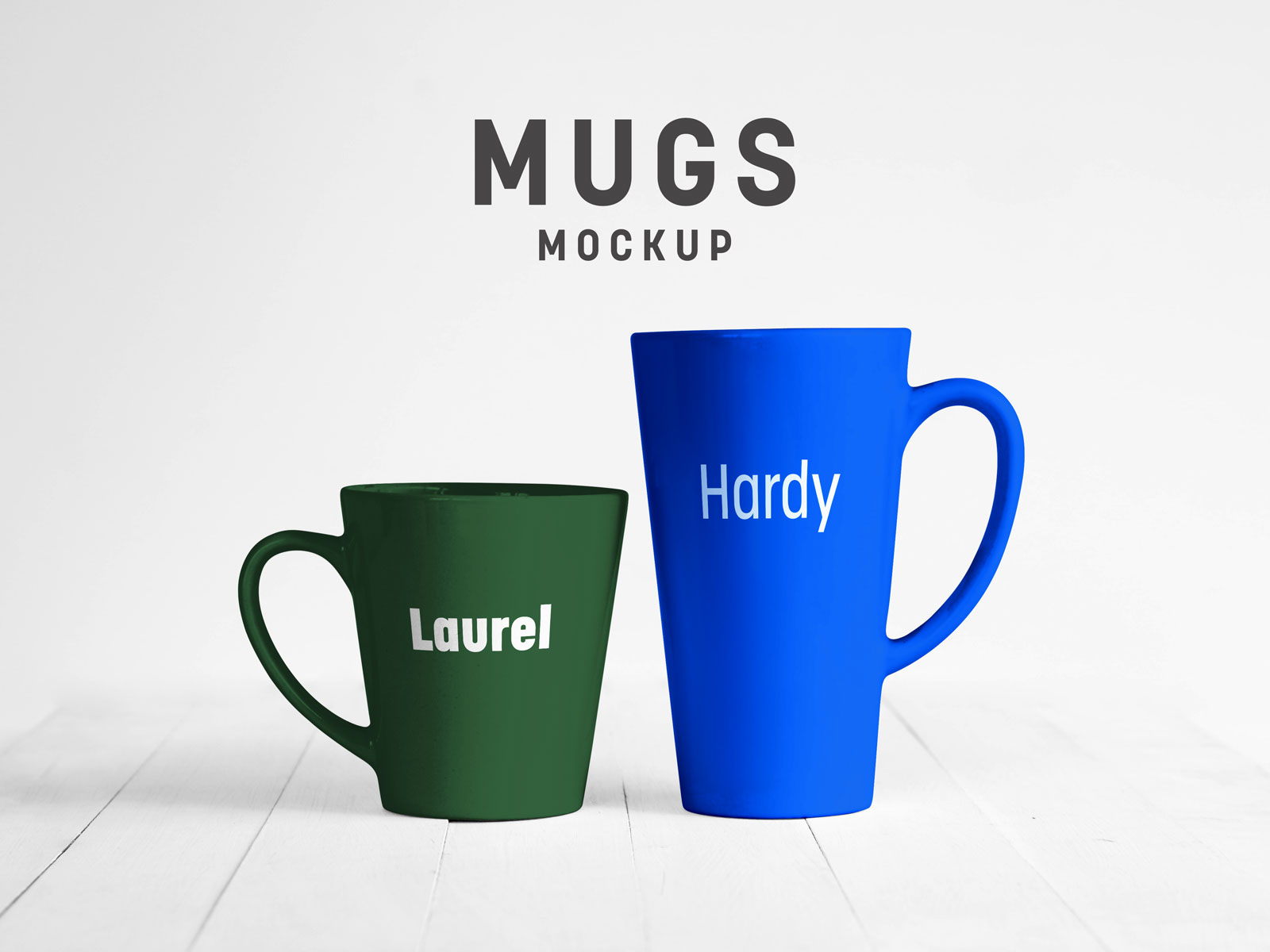 Available Format: Photoshop PSD
License: Free for personal and commercial usage
File Format: WinRAR
Mockup Resolution: 4000 x 3000 px
Note:
1. Free Laurel & Hardy Mug Mockup is allowed to share online (A Must Linkback to this page)
2. Say thanks if you like or share/tweet with your friends. That means a lot to me.
3. And don't forget to follow or subscribe to receive more high quality premium freebies & awesome articles only.
Download Mug Mockup
More Free Mug Mockups Designed By Us: