Hi there everyone! We are back with something really unique and amazing for you guys and we know this for sure that you all are going to love it as much as we do. But before we start talking about what we have for you in our today's blog, we would love to take this moment to thank you all for your overwhelming response on our previous blogs and for also sharing your feedback with us too. We hope to read more from your end in the future too so never stop sending us your feedback and suggestions as well.
We can bet that you guys must have read interesting quotes like: "Pasta doesn't ask questions, pasta understands!" or "Baked pasta is always a good idea." and stuff like that but do you really know what makes the pasta look so good that the moment you see it, you want to purchase it so that you can go home and cook it by following one of the recipes that you just came across? It is the packaging and the marketing & advertising campaigns and everything else that is designed and created to keep you all hooked to that communication in ways that you will make an informed decision regarding purchasing one of the products sooner or later.
Every packaging design that is created in the world is created to attract the potential customers to check out a certain business and whatever they are making as well as to keep the existing customers engaged not just through the communication but by also ensuring that your services are exceptional, your products are of top notch quality and that you have an efficient customer care team as well that is ready to sort out any issues that might arise. But what we have for you guys is something that is not just a smart move made by the business, but their updated strategy helped them in cutting down on plastic consumption by 230,000 kilograms a year. Want to know how? Keep reading this blog!
We all know that literally every brand and business in the world is trying to be "woke" and those that haven't even started might be jumping on the bandwagon super soon, but you know what? That's not important and here is why: you cannot stay in the market for a very long time if you are not interested in keeping your promises that you just made by bringing social media influencers on board or by spending loads of money on your on-ground activity. You have to make sure that whatever vows you have made were not made for the sake of it and you are more interested in doing something for the planet and its inhabitants than increasing your followers on Instagram, you know.
The business LA MOLISANA happened to increase their growth in double digits when they launched their plastic film packaging which was designed by their creative agency Dispenser Studio (based in Vasto, Italy) back in 2017 but then they decided to change the packaging design altogether for that sake of the planet earth and now their products are beautifully packaged FSC paper pack from properly-managed forest source. Sounds perfect, right? But there is more to it and there should be.
Because of course, it all sounds nice to know that a brand decided to up their game by making sure that they stop using plastic film packaging and got to a paper pack but to maintain that standard is something that demands commitment and seriousness while also making sure that whatever they are selling in those paper packs will remain fresh and healthy to use – no compromises there, yeah!?
We are glad to share the process of how Dispenser Studio made it all work for their client. So, the brief was to work on the strategic positioning of the brand, its packaging and storytelling along with the developmental elements to support the launch. The packaging system was to be rethought structurally as the paper packs were to be promoted in a way that the brand does not get lost while there are other brands in the market.
Different shades of bronze were used to create the designs along with the stamp that certifies the Italian wheat and then there is an artistic touch to the design that shows gleaners* in the background which goes perfectly well with the overall look & feel of the new packaging design. Everything that you will view in this packaging design looks appealing and harmonious and has successfully become the identity of an all Italian pasta brand that does not only produce perfect items for the audiences to use but is even more responsible towards the environment as well.
If you liked reading the blog, do let us know in the comments down below. Until next time, keep creating awesome designs.
*'The Gleaners' is an oil painting by Jean-François Millet completed in 1857. It depicts three peasant women gleaning a field of stray stalks of wheat after the harvest.
Credit: Dispenser Studio
Italian Pasta Packaging Designs For Inspiration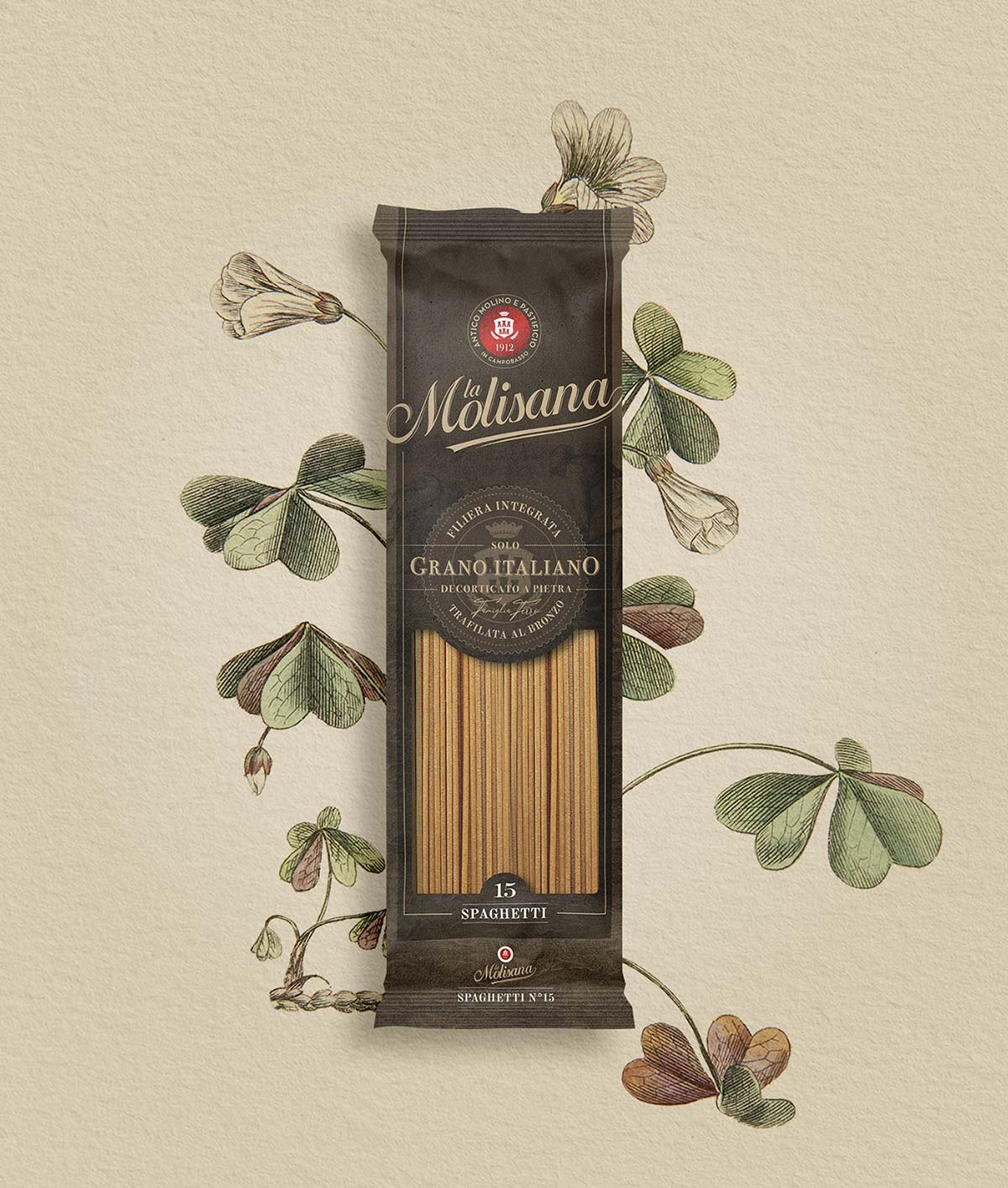 Recommended: