Hi there everybody! We are so happy to be back with yet another interesting blog of ours and we can bet that you will love working on our free yet highly editable A4 flyer mock-up PSD file. As you all know that in order to be super accessible to you guys, we keep all our mock-up PSD files free but we also make that they are not lacking in creativity and uniqueness so that you can make the most of them and can also bag your important personal and commercial business deals as well. Our today's blog focuses on flyers so, let us get started right away!
With the modern mediums and tools of marketing and advertising businesses, many people have formally said goodbye to the conventional ways of doing things and while we cannot blame them for doing that, we would like to share it with you guys that no matter how much budgets you have got for digital and social media marketing and advertising campaigns, you would be missing out on so much if you are running a campaign through brochures, posters, flyers, or even billboards for that matter.
Numbers prove that more than 78 percent of the people read flyers through cursory glances while 23 percent of the people thoroughly read the flyers they happen to come across – meaning: your promotional messages on flyers will bring you results if you know how to do that effectively. Always remember that a campaign can only be successful when you what you want from it because what happens is that many, many businesses around the globe often fail to mention the objectives and goals of their marketing and advertising campaigns or are expecting something that cannot happen due to a goalless strategy and they end up losing money as well as customers in some cases.
So, whenever you happen to work on a new project, you must ensure that you have clear ideas about the goals that you would like to achieve for example; if you wish to create awareness, you need to keep the communication that talks about creating awareness and if you wish to generate sale, talk it that way and you will see that you are getting the results that you were hoping for before you run that campaign. We also know that many businesses do not really know that flyer campaigns are easier to run and do not cost a lot of money too.
What we mean to say is that flyers are not just effective when it comes to promoting a business, its services or products but they are cost effective as well and if you are still not convinced, then continue reading the blog as we have more to share with you on flyers. This might sound something that you would like to skip given the COVID-19 SOPs and the fact that you can never be too careful but we have to say it here: no matter how pro you are at creating an ad on the internet, it won't get you the results that you can get through a physical material.
Here is why; when you hand over a flyer to someone or send it to them through newspapers and magazines, the audiences feel special and consider going through the promotional content piece at least once because they know you took out the time to speak to them – that exclusivity while including everyone is something which makes them take an action which will eventually translate into sales. Oh, and while you are spending so much time, efforts and every in making perfectly effective flyer designs and having them printed and spread over the city, make sure that you keep an incentive too – it does not have to be big, really but it can be a discount voucher, a ticket to your store launch or something of the sorts that will keep your potential customers hooked, you know.
We are sure that whatever you are planning to design, you will succeed in it too but you have to make sure that the designs are attention-grabbing, that the copy is short but informative, and that you have made the most of the given space intelligently as well and that is all going to work in your favor. And that is all for today from our end! We hope that you guys had a great time reading this blog and that you will enjoy working on our free A4 flyer mockup PSD file as well. Don't forget to share your feedback with us in the comments section and of course, do share the blog with your favorite colleagues and graphic designers too so that they can create brilliant flyers.
Also, if you guys have any requests or suggestions, send them our way and we will respond and get back with them right away.
– – – – – – – – – – – – – – – – – – – – – – – – – – – –
More Awesome Free Mockups:
– – – – – – – – – – – – – – – – – – – – – – – – – – – –
Free A4 Flyer Mockup PSD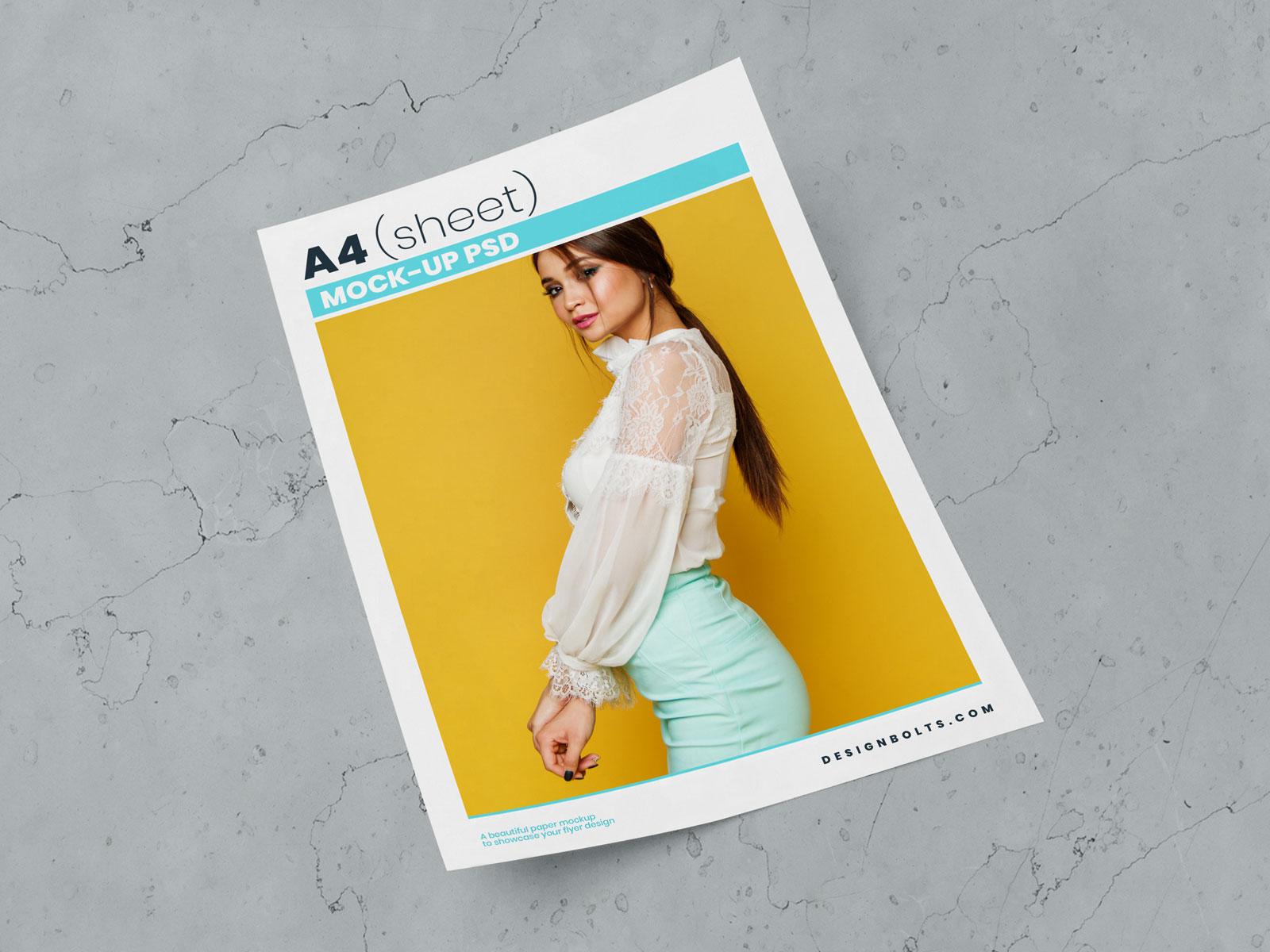 Available Format: Layered PSD with smart object insertion
License: Free for personal and commercial usage
RAR File Includes: Free A4 Mockup PSD
Design Template Resolution: A4 (300dpi)
Note:
1. Free PSD Mockup is allowed to share online (A Must Linkback to this post)
2. Say thanks if you like or share/tweet with your friends. That means a lot to us.
3. And don't forget to subscribe to receive for more high quality premium freebies & awesome articles only.
Download A4 Mockup
More A4 Size Free Mockups: