Hi there everybody! We hope that you guys are keeping safe and that our useful blogs and creative ideas are helping you create magical things for yourself and for the people that you are working with. In our today's blog, we will share a list of 20+ best 3 in 1 charging stations for Apple products and we can bet that you all are going to love reading about them so, let us get started without any further delays.
Okay so, first things first; you need to understand that whatever you purchase for work and entertainment purposes was bought after serious considerations and that you spent some time figuring out what things you needed to get. Smartphones, laptops, smartwatches, and fitness bands are a couple of things that we need on a daily basis so much that they have become the necessities of life and it becomes our responsibility to make sure that we keep them safe too and not just in the context of not losing them but using them in a way that they can stay with us for a long time. That is one of the reasons why charging stations are becoming a thing and we are glad that now you can have more fun with them.
Allow us to share what you can do with your 3 in 1 charging station if you own an Apple product or if you wish to gift it to someone who does.
We all know that wires can be messy; creating dramatic situations that can be avoided if there were no wires in the first place and we know that we have lived with them for a very long time and that we cannot really complain but since everything is becoming compact and more than easier to use; saying goodbye to wires won't be a hard thing to do, right? So, in addition to allowing you to make the most of a nice designated place to charge your Apple products throughout the day, these charging stations offer two different modes for charging the iPhones that are portrait and landscape.
We also love how there is a charging tray for the AirPods and you can ensure that the charging process has begun immediately the moment you place your AirPods in the tray and the best is that it won't get affected if other devices are being charged as well. Another super convenient thing about the charging stations is that you can simply your devices on to the stand before going to the bed, and you will wake up with your devices fully charged for you the next morning. For the Apple watch, there is a built-in charger that holds the watch at an ideal angle in order to take advantage of the Nightstand mode.
Now, let's talk about the designs of the 3 in 1 charging stations because the more you know, the better. We have said in our previous blogs as well that whenever you plan to purchase something for yourselves, you must ensure that it is fulfilling your needs first and then choose the colors so that, that (sort of) non-technical requirement does not hinder your process of getting something useful. We are saying it because we know how people get stuck with dozens of options that are readily available in the market only because they cannot find that particular thing in their favorite color.
We also know that it matters to you to get your favorite item in your favorite color but we are going to say it here for all of you so that you can make better decisions, that colors can be compromised on as long as the designs, features, and specs are going to do what you want them to do. And although the colors that are being offered for these best 3 in 1 charging stations are stunning and legit beautiful, make sure that you figure out your favorite designs first before you get on that route.
And guys, we would also like to mention it here that all the lists that we work on are created carefully so that you guys can get what you are looking for but we are aware that many people are not entirely comfortable with online shopping and they still prefer going to the shops and getting stuff for them – which is fine but if you are planning to get something from this list of 20 best 3 in 1 charging stations for Apple products; make sure that you read the reviews, do some research on YouTube and read up on the items in detail and we are sure that you won't be disappointed with whatever we have shared in our blog for you to check out and purchase too.
So, if you liked reading this blog, do let us know in the comments section and while you are at it, do share the blog with the ones you love and care for.
All charging stations mentioned below are compatible with these devices:
Apple Watch 6 SE 5 4 3 2, Airpods 2/Pro, iPhone 13 Pro Max/13 Pro/13/12/12PRO/11/11 Pro/X/Xr and Qi-Certified Phones. Please read the description on the Amazon page for the models.
1. Wireless Charger, ZHIKE 3 in 1 Qi-Certified 15W Fast Charging Station for Apple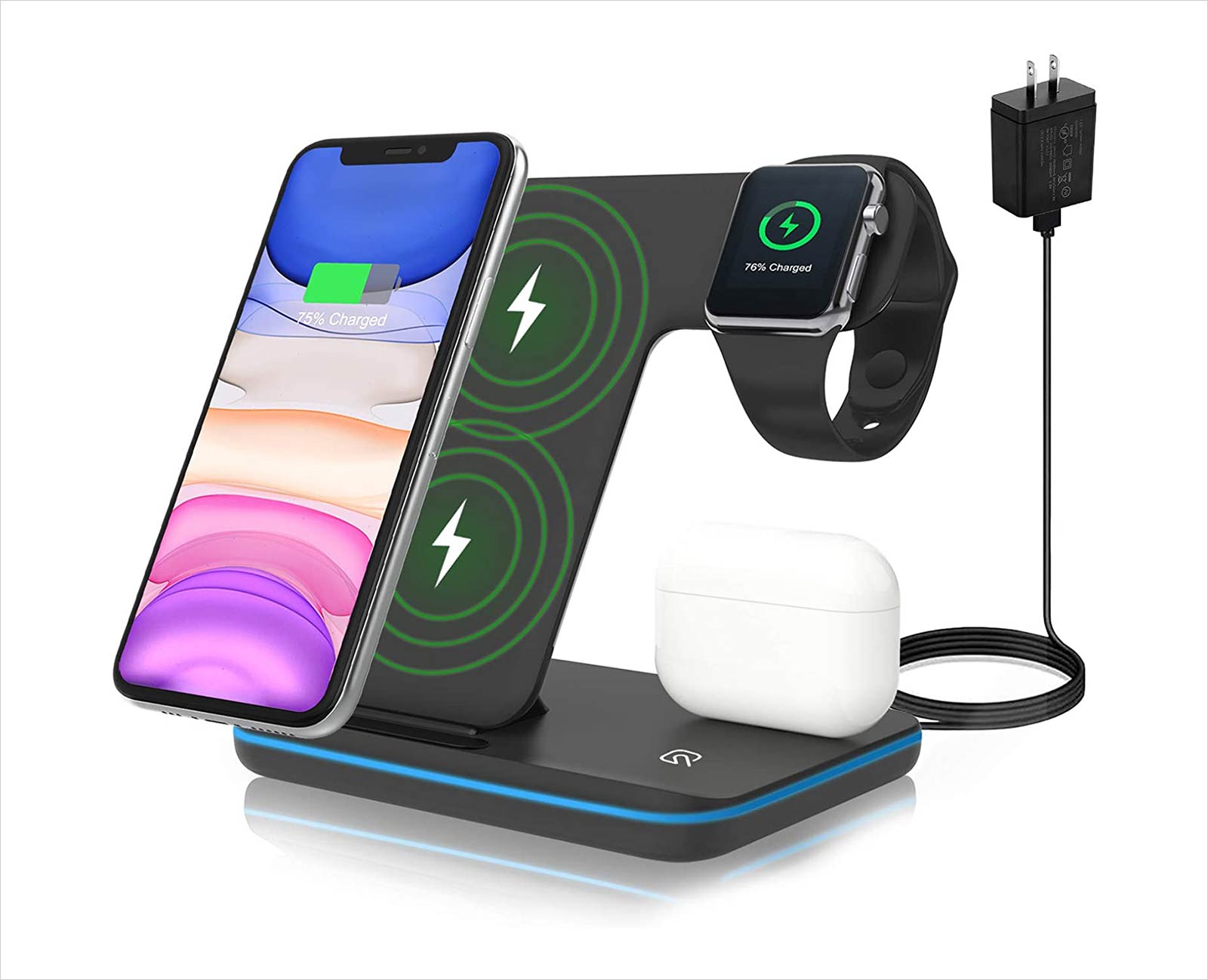 2. 3 in 1 Charging Station for Apple Products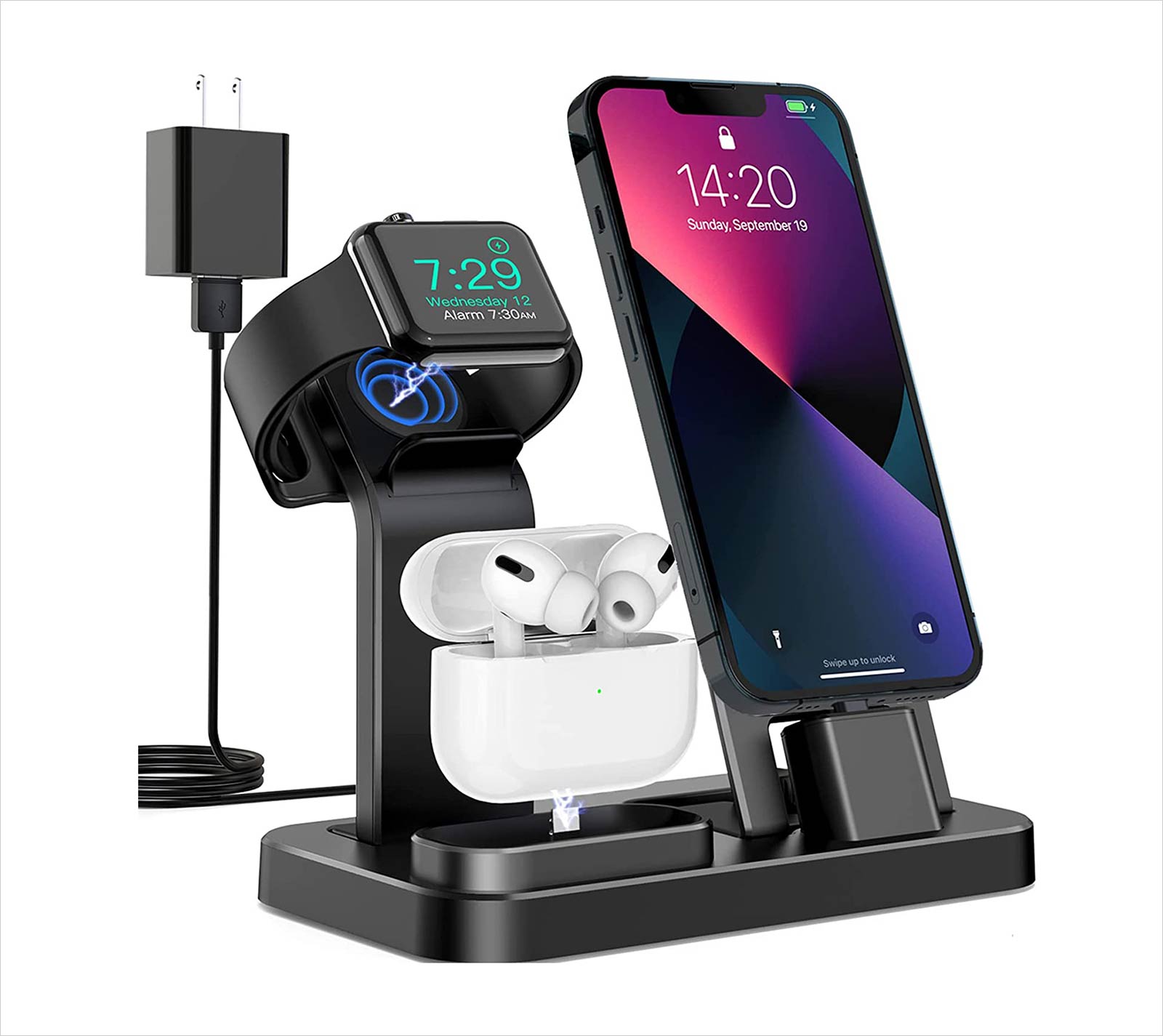 3. WAITIEE Wireless Charger 3 in 1, 15W Fast Charging Station for Apple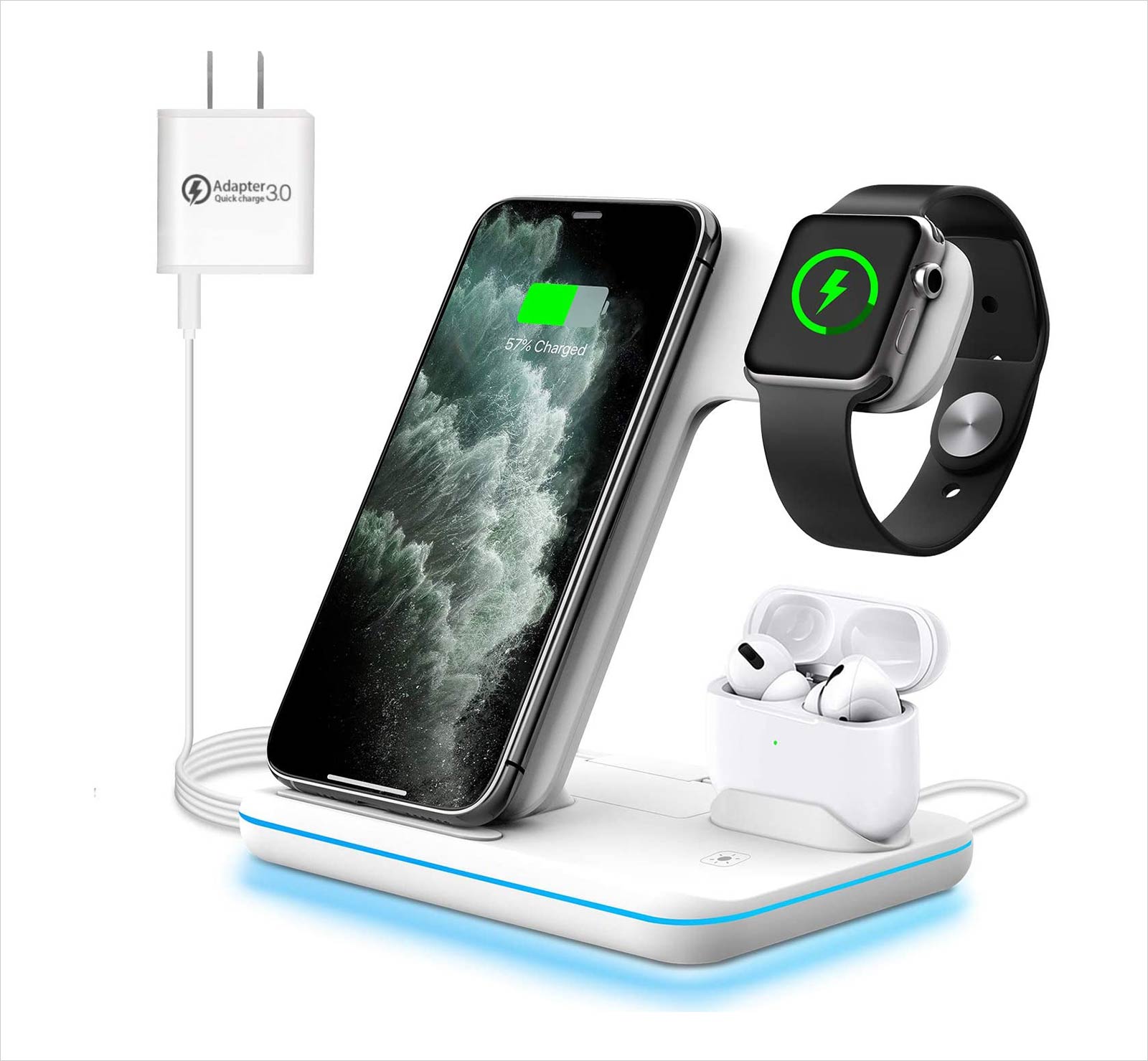 4. Wireless Charging Station for Apple Products, 3 in 1 Wireless Charger Charging Stand Compatible with all Apple Devices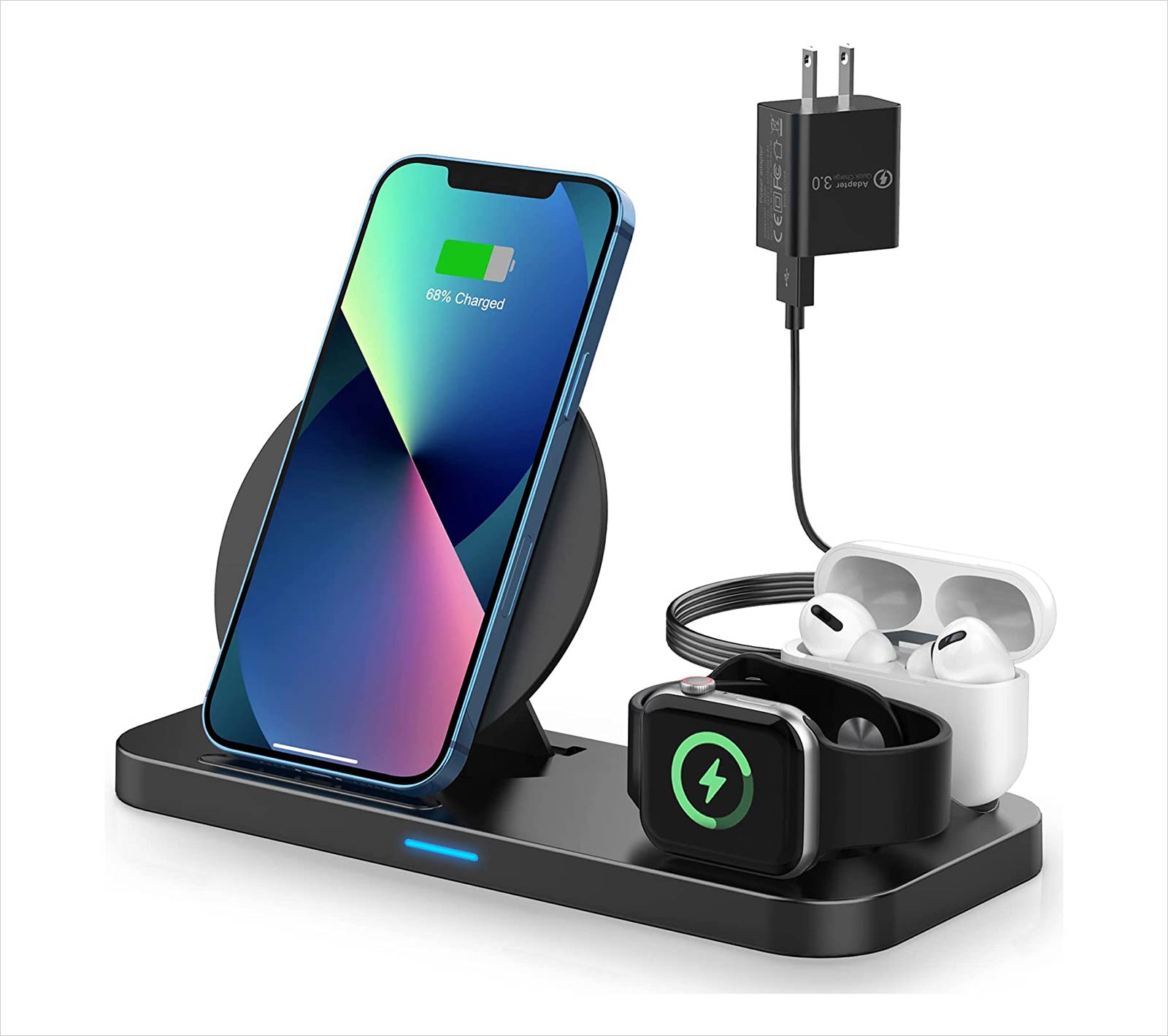 5. Wireless Charging Stand, GEEKERA 3 in 1 Wireless Charger Dock Station for Apple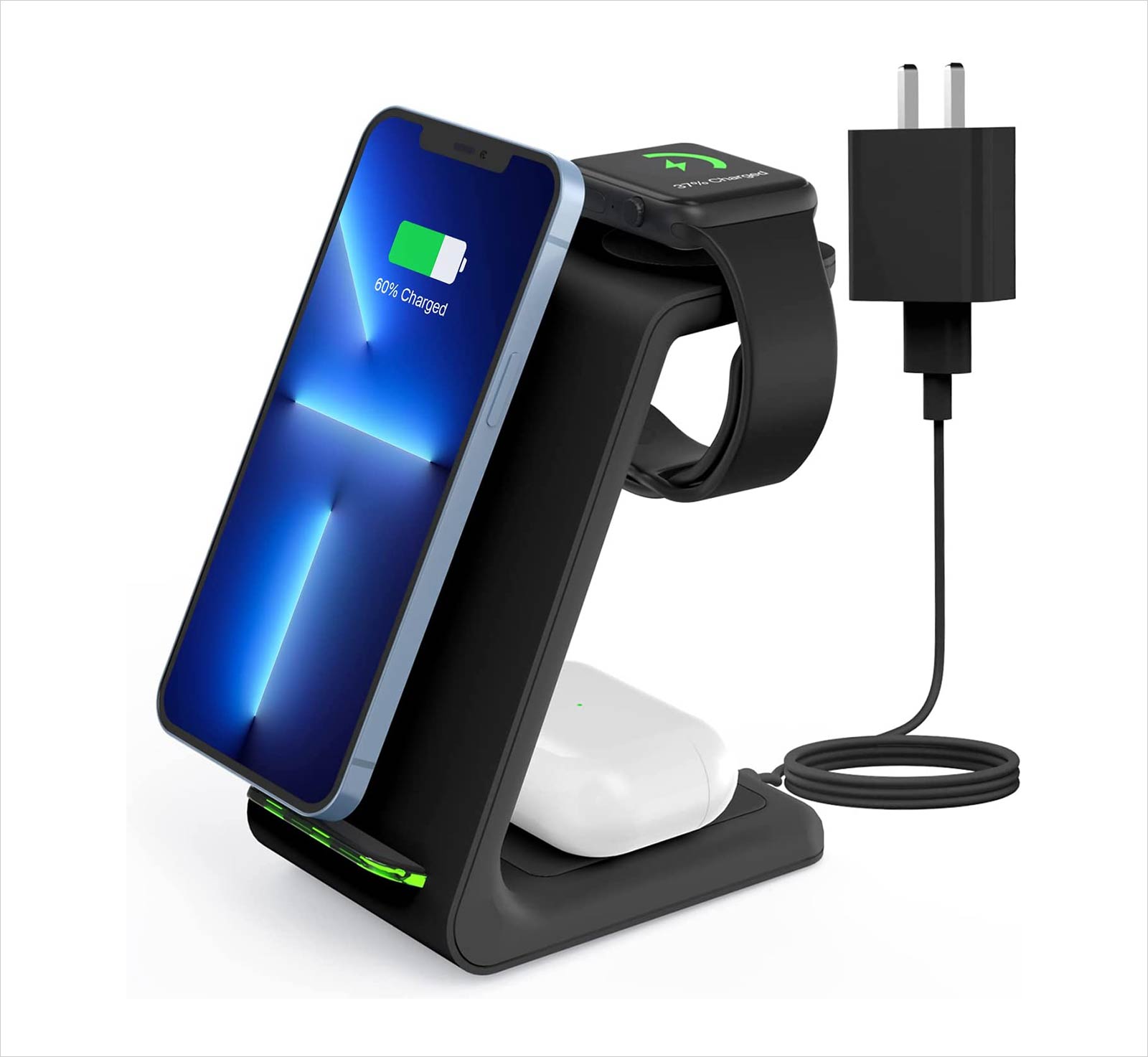 6. Tinetton 3 in 1 Charging Station Compatible with Apple Watch iPhone AirPods with 10W Adapter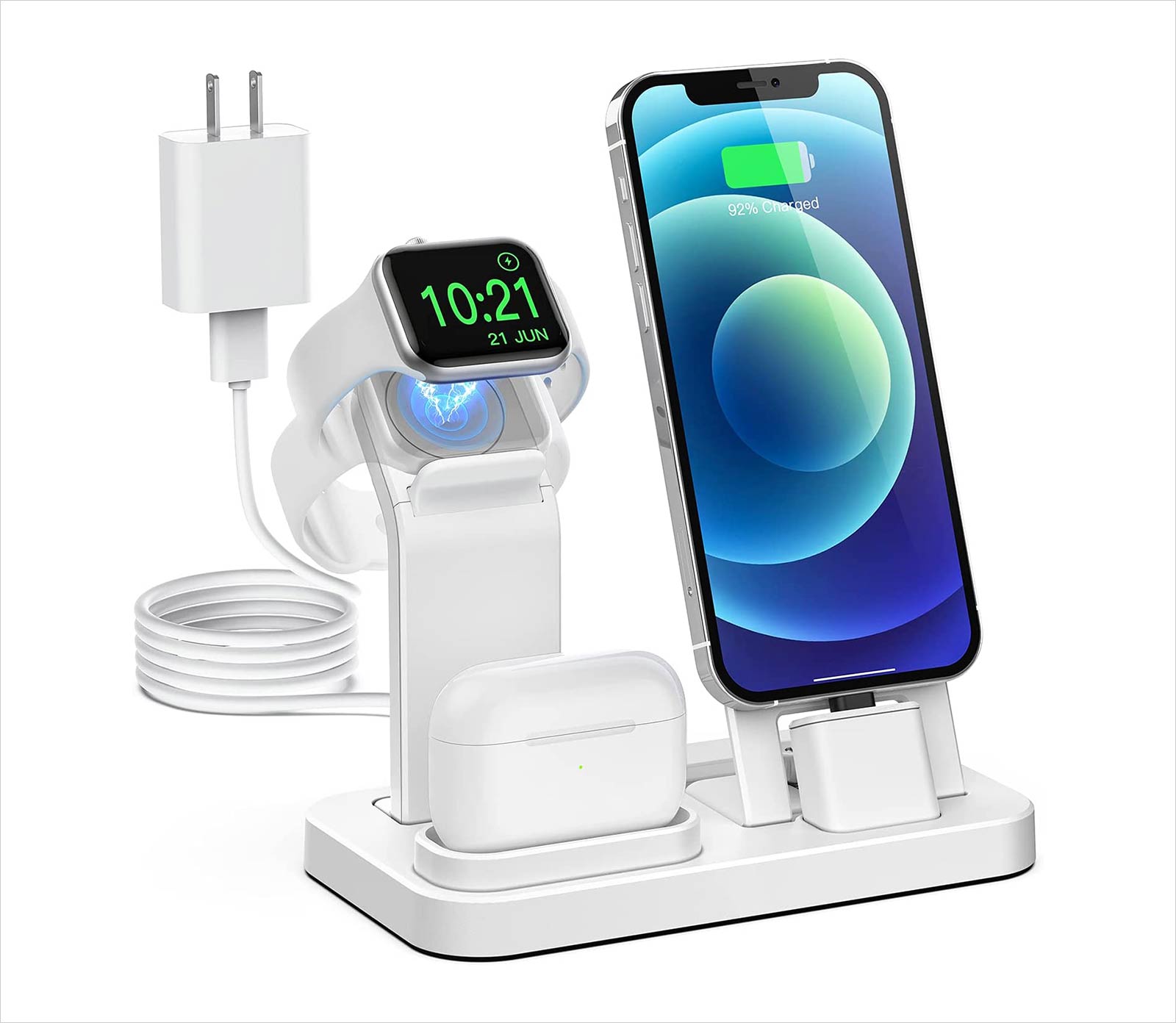 7. Asedoce Charging Station for Apple, 3 in 1 Charger Station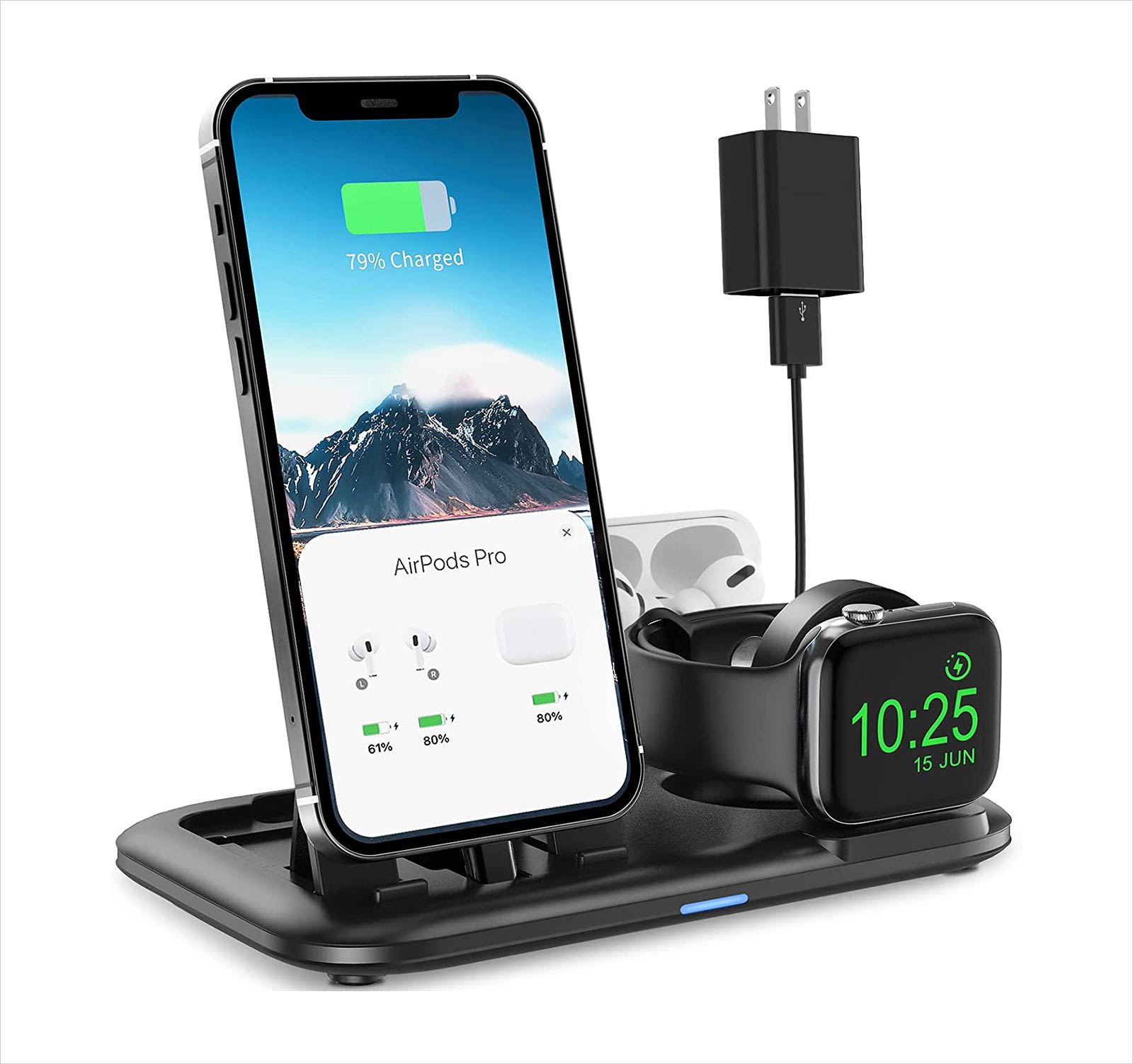 8. CEREECOO Portable 3 in 1 Charging Station for Apple Products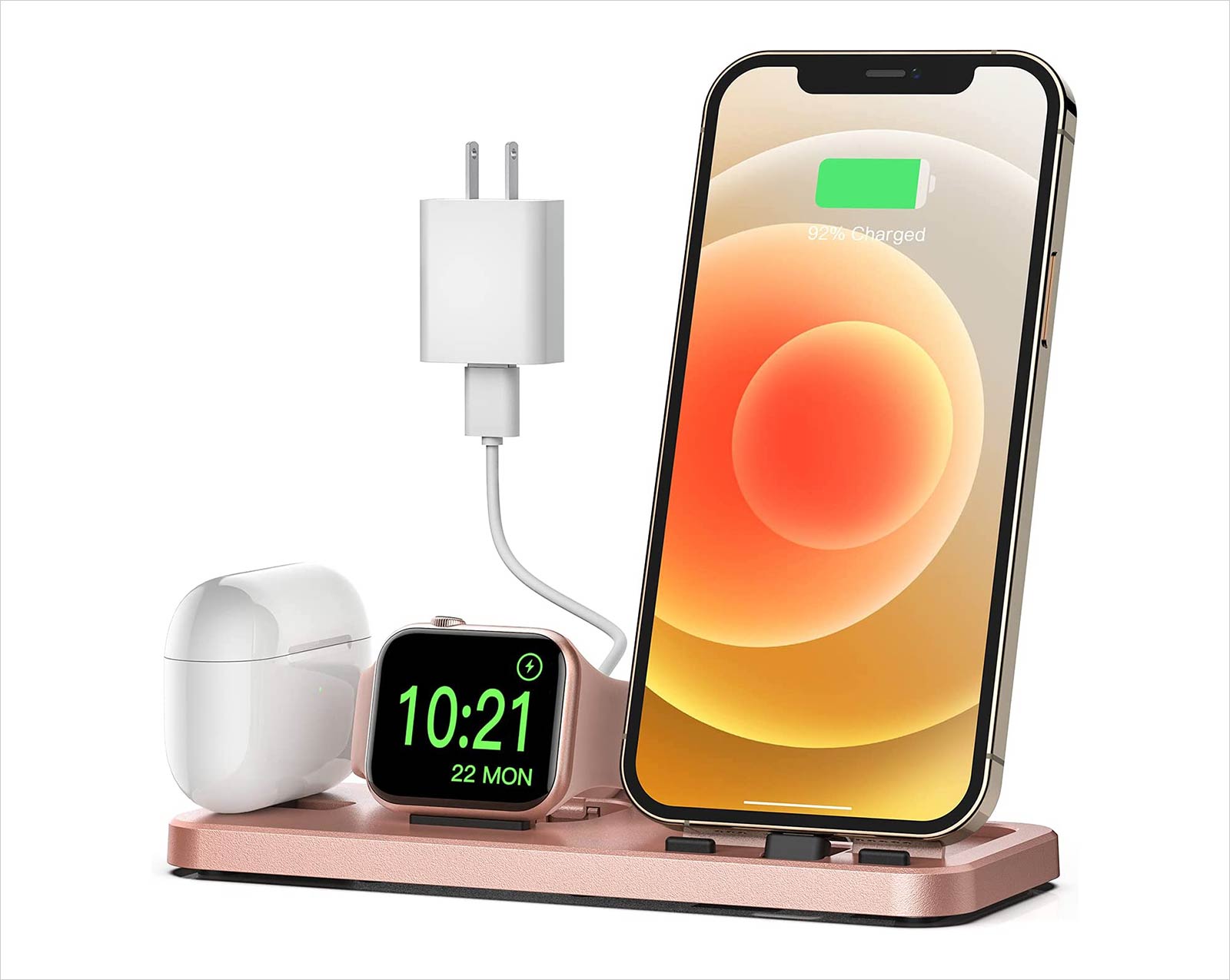 9. Intoval Wireless Charger, 3 in 1 Charger for iPhone-iWatch-Airpods, Qi-Certified Charging Station for iPhone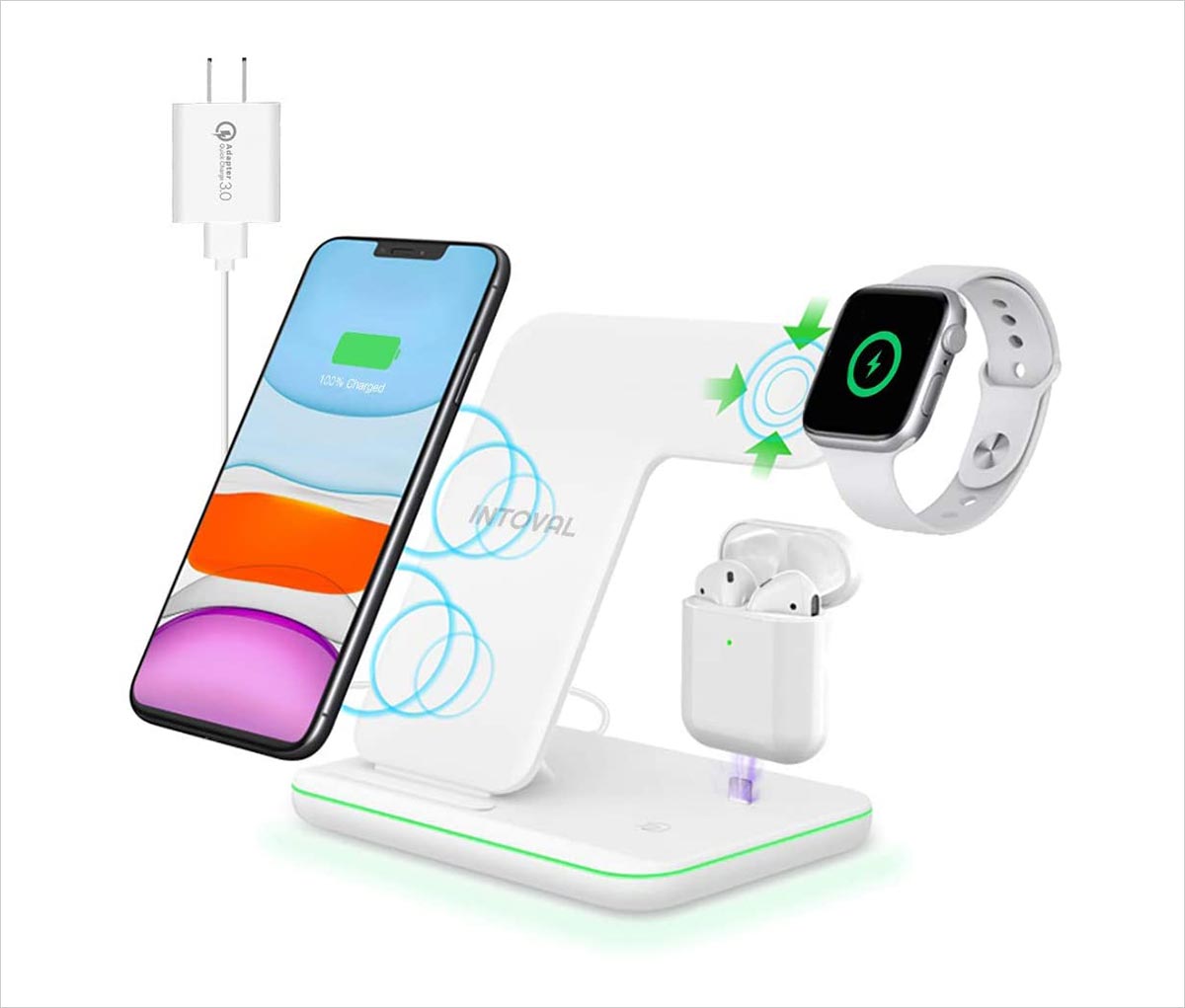 10. Wireless Charger, 3 in 1 Qi-Certified 15W Fast Charging Station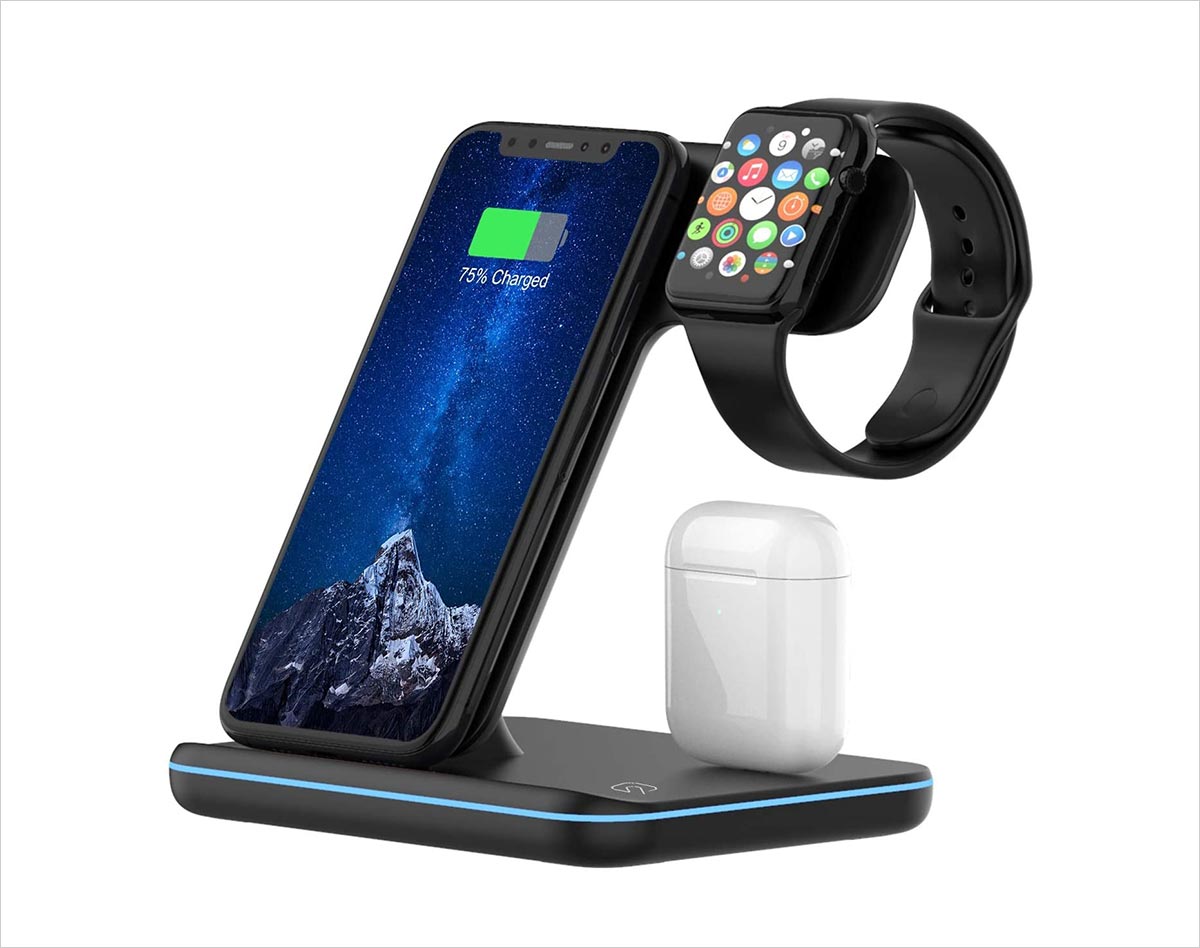 11. 2022 New Improved 3 in 1 Charging Station for Multiple Devices Apple, Foldable Charger Stand for for Apple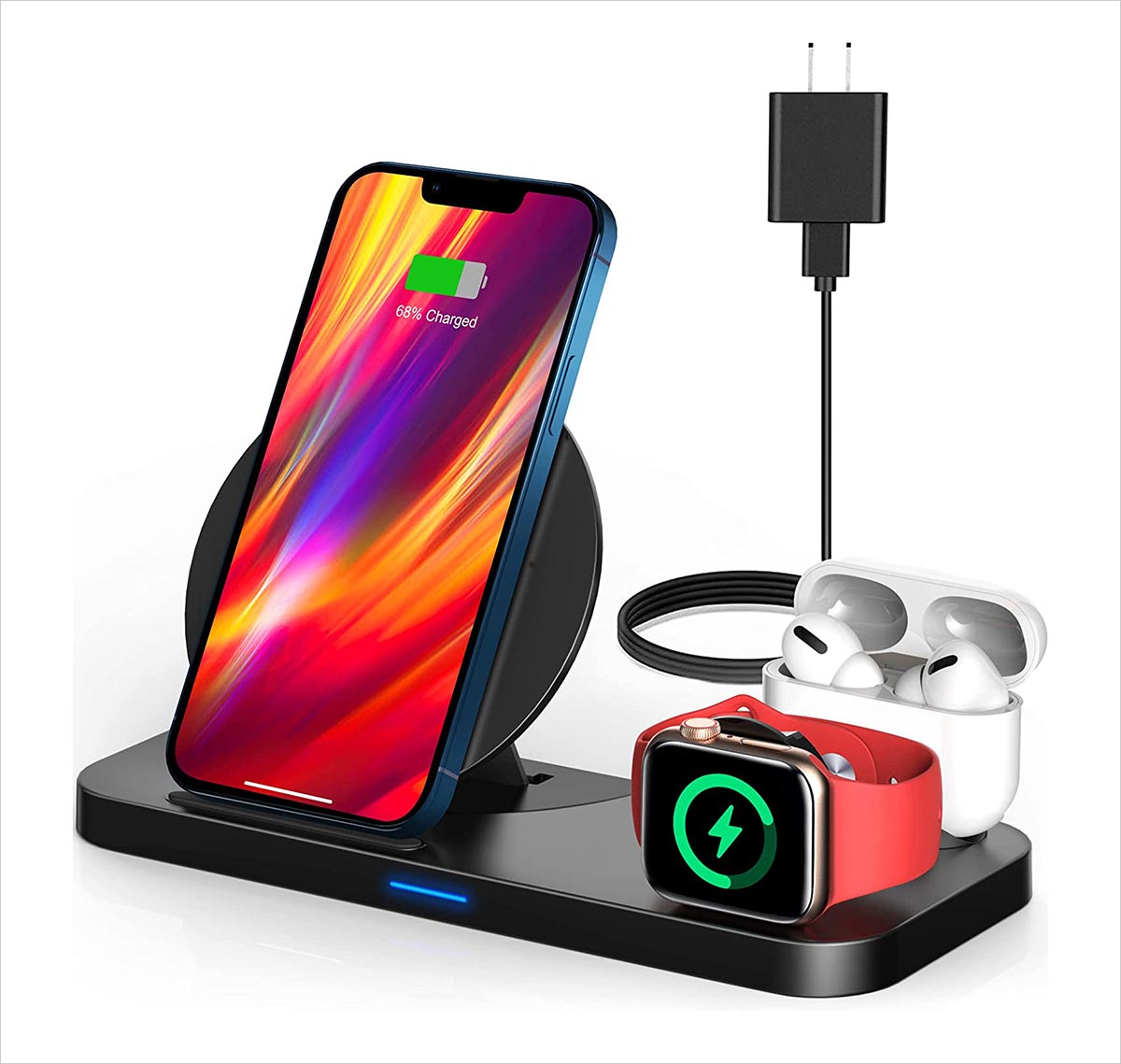 12. OLEBR 3 in 1 Charging Station for Multiple Devices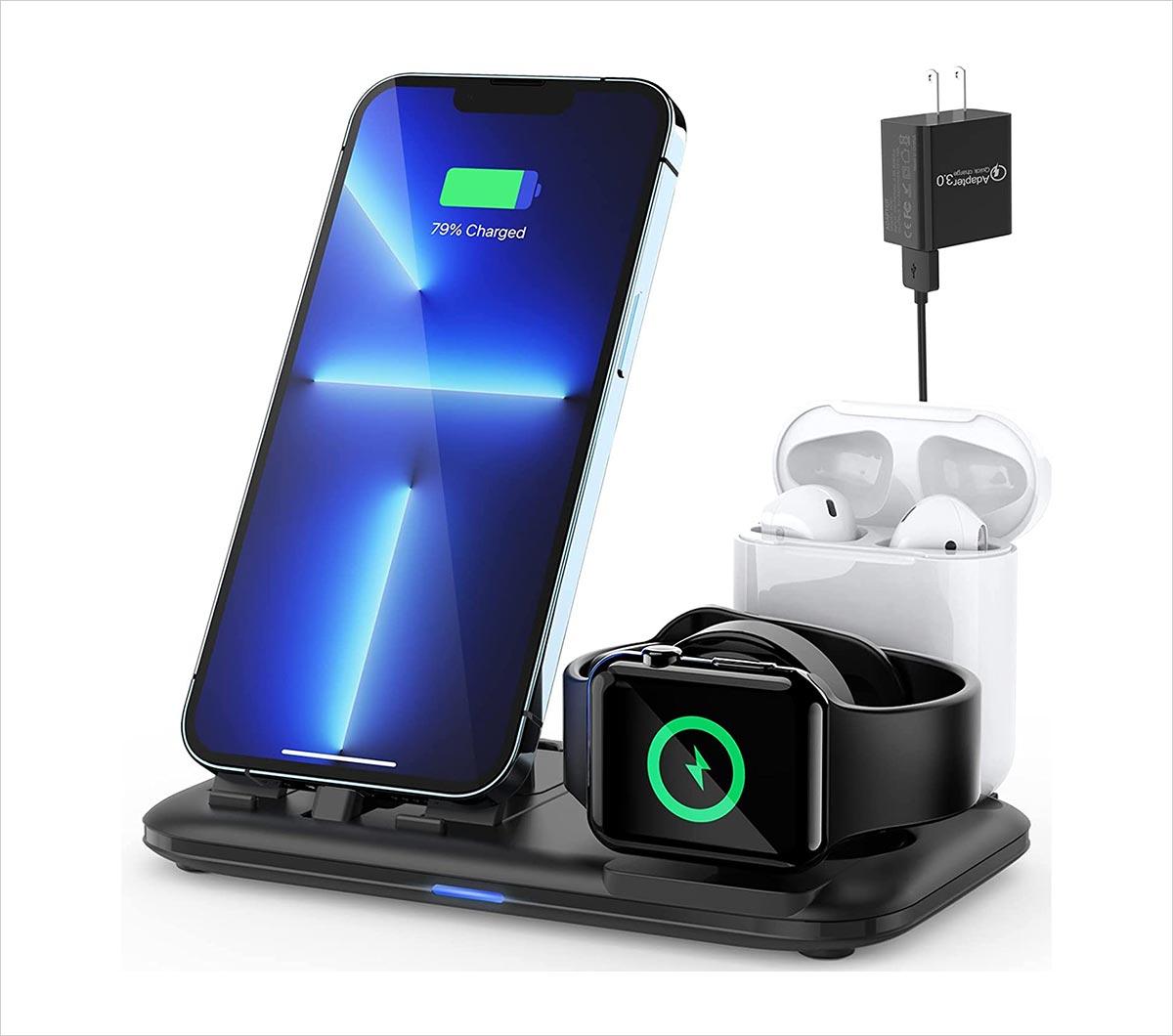 13. GLANA Portable 3 in 1 Charging Station Compatible with Apple Multiple Device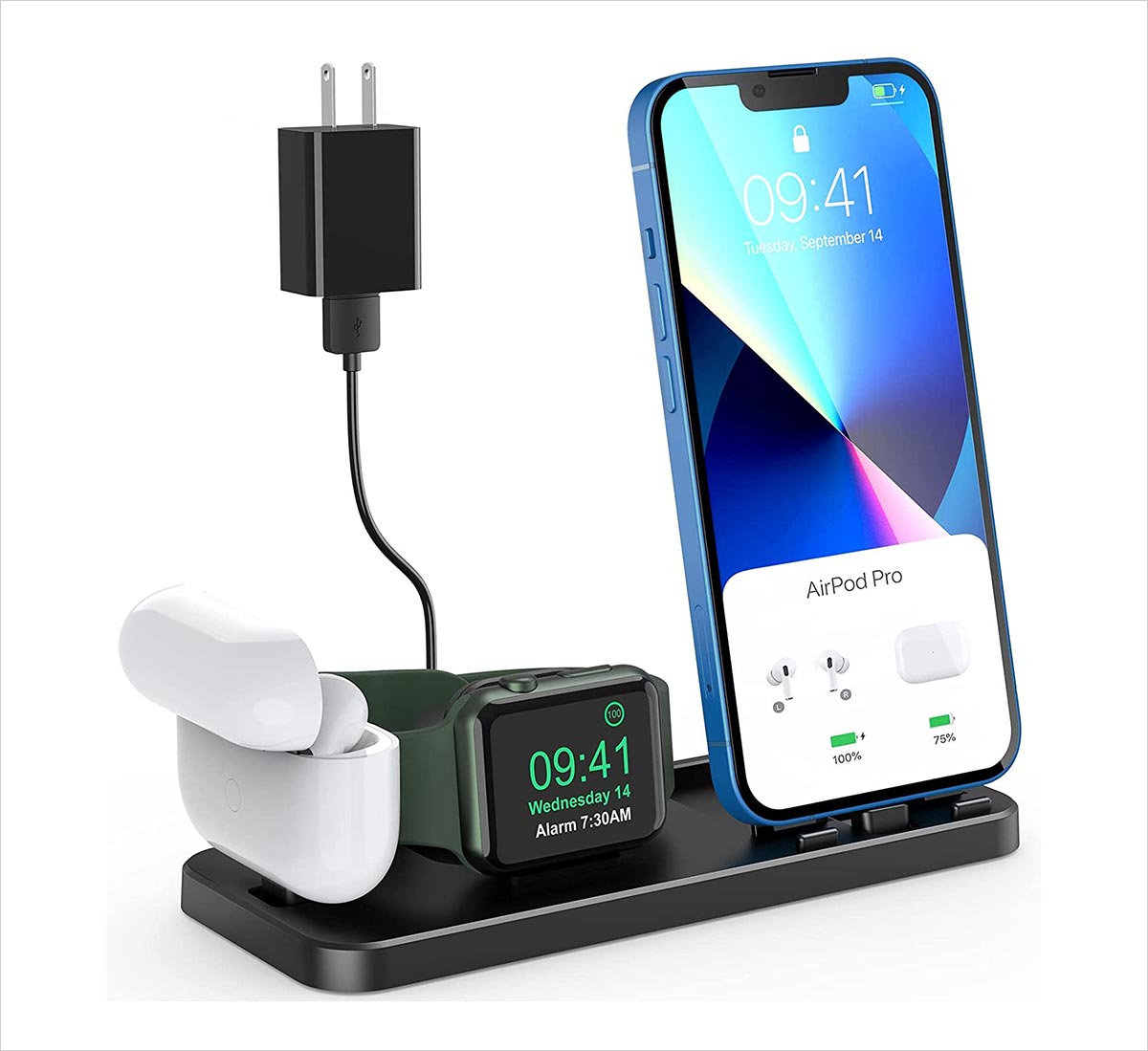 14. 3 in 1 Charging Station for Multiple Devices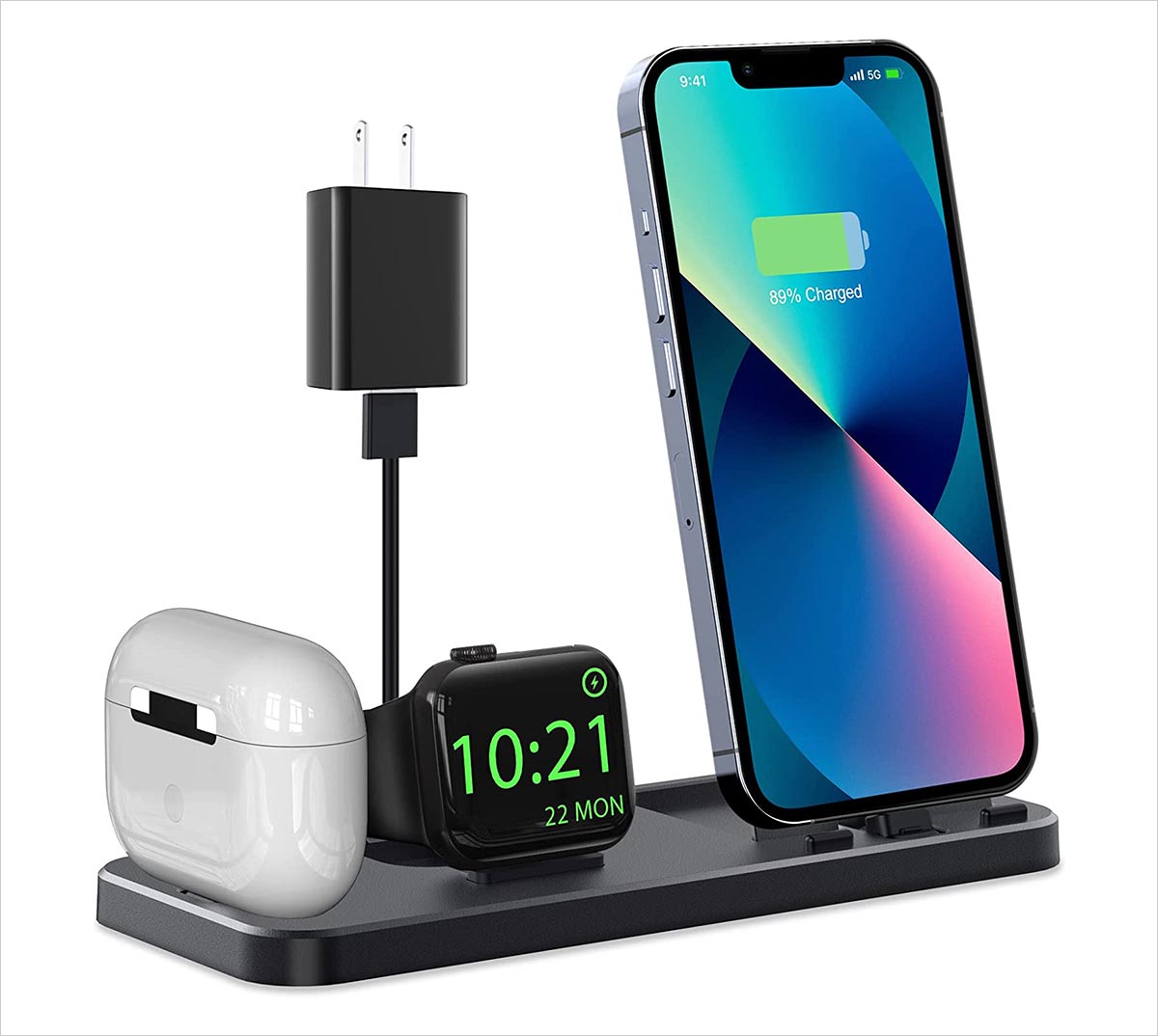 15. Foldable Wireless Charger, 3 in 1 Fast Wireless Charging Stand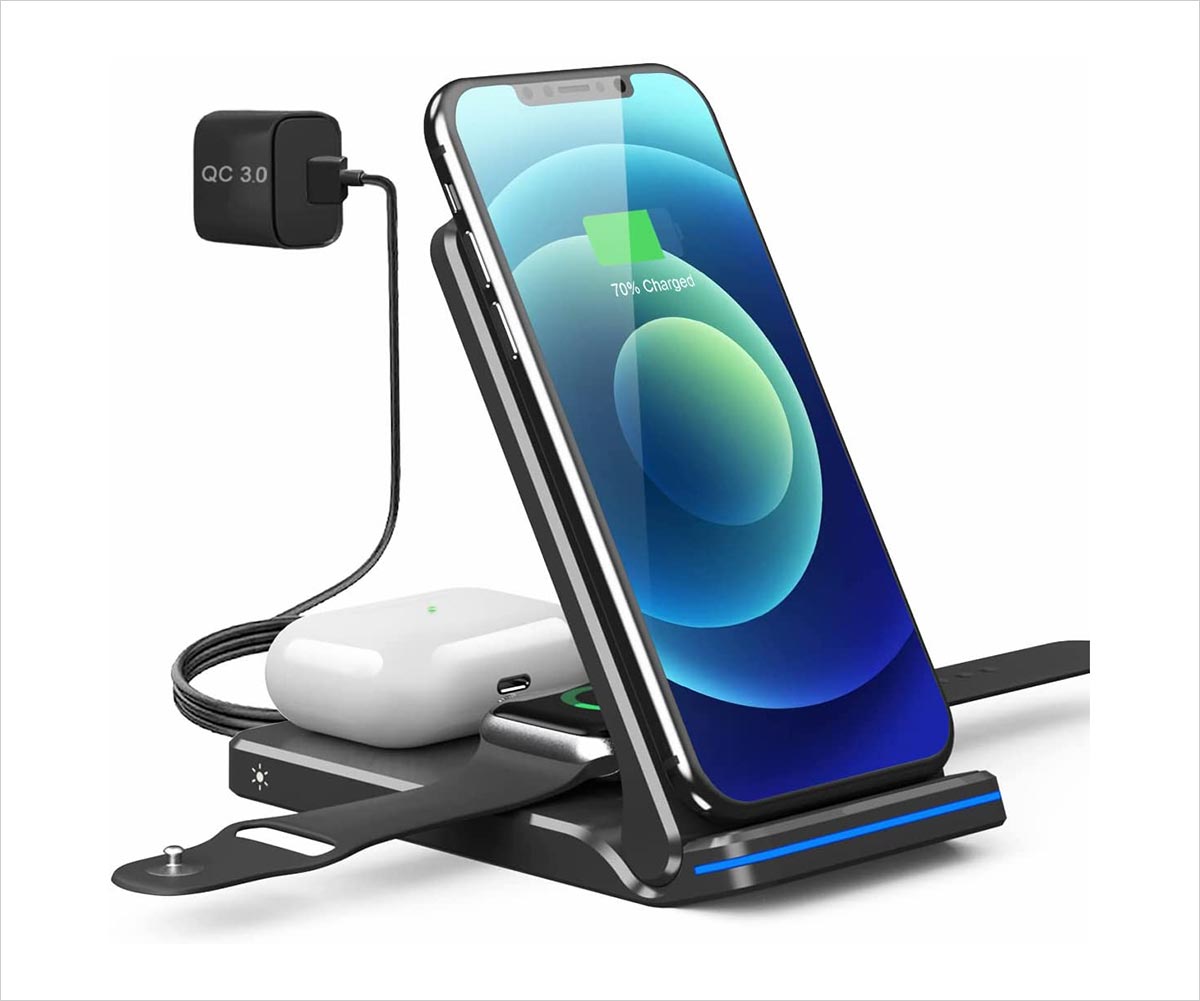 16. 3 in 1 Wireless Charging Station for Apple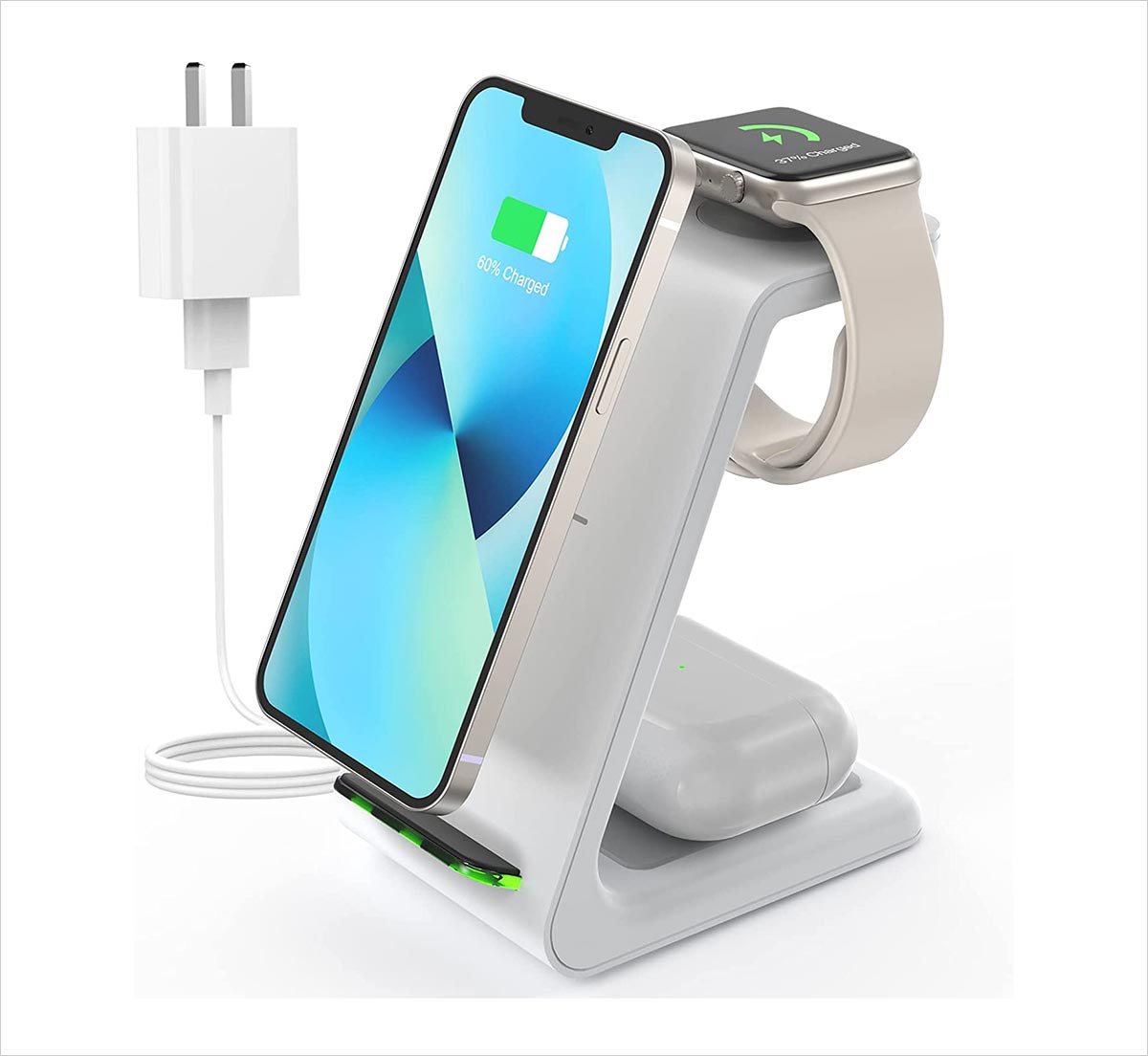 17. Wireless Charger, 3 in 1 Qi Certified 15W Fast Wireless Charging Station for Apple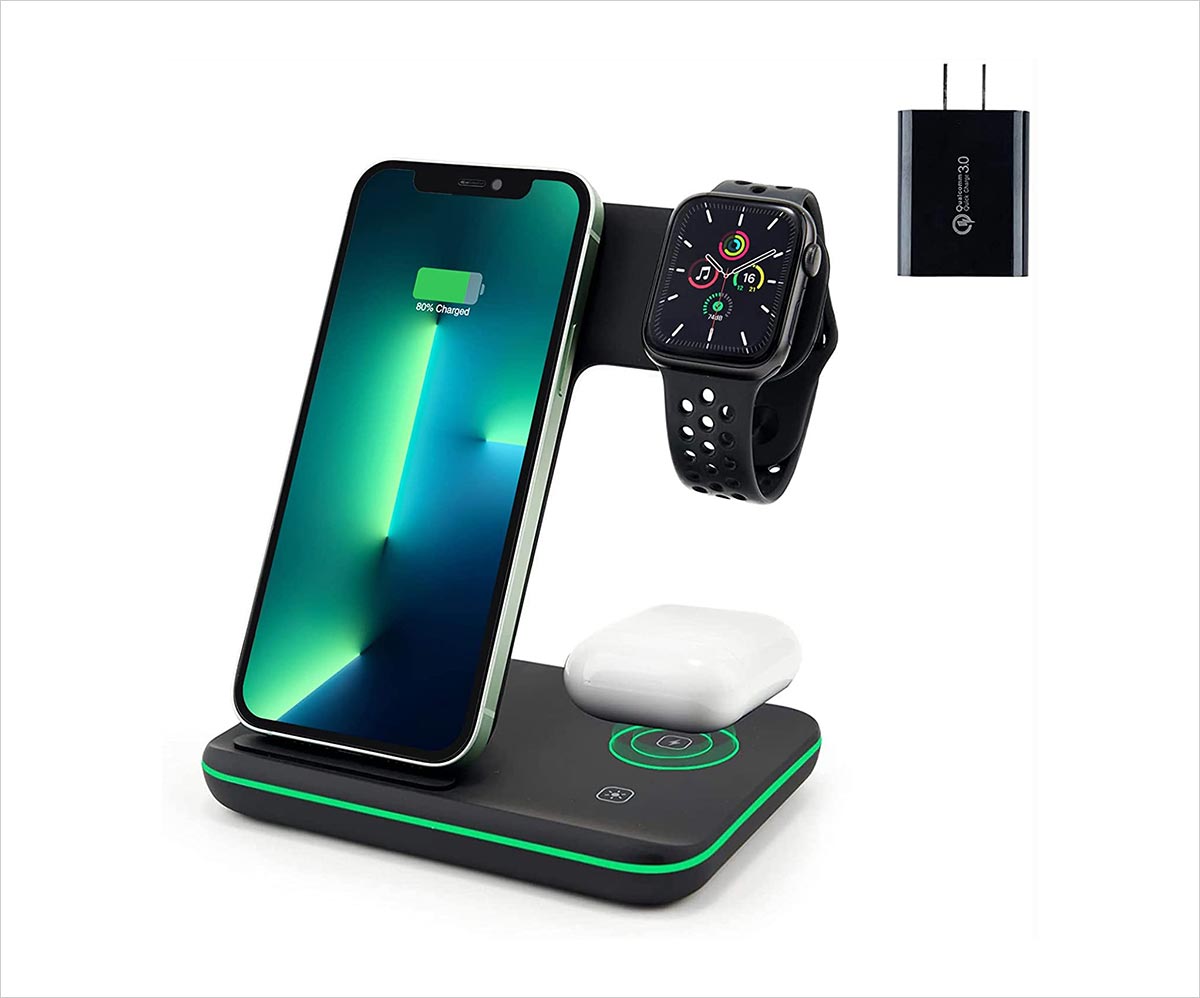 18. Wireless Charger for Multiple Apple Devices, 3 in 1 Charging Station for Apple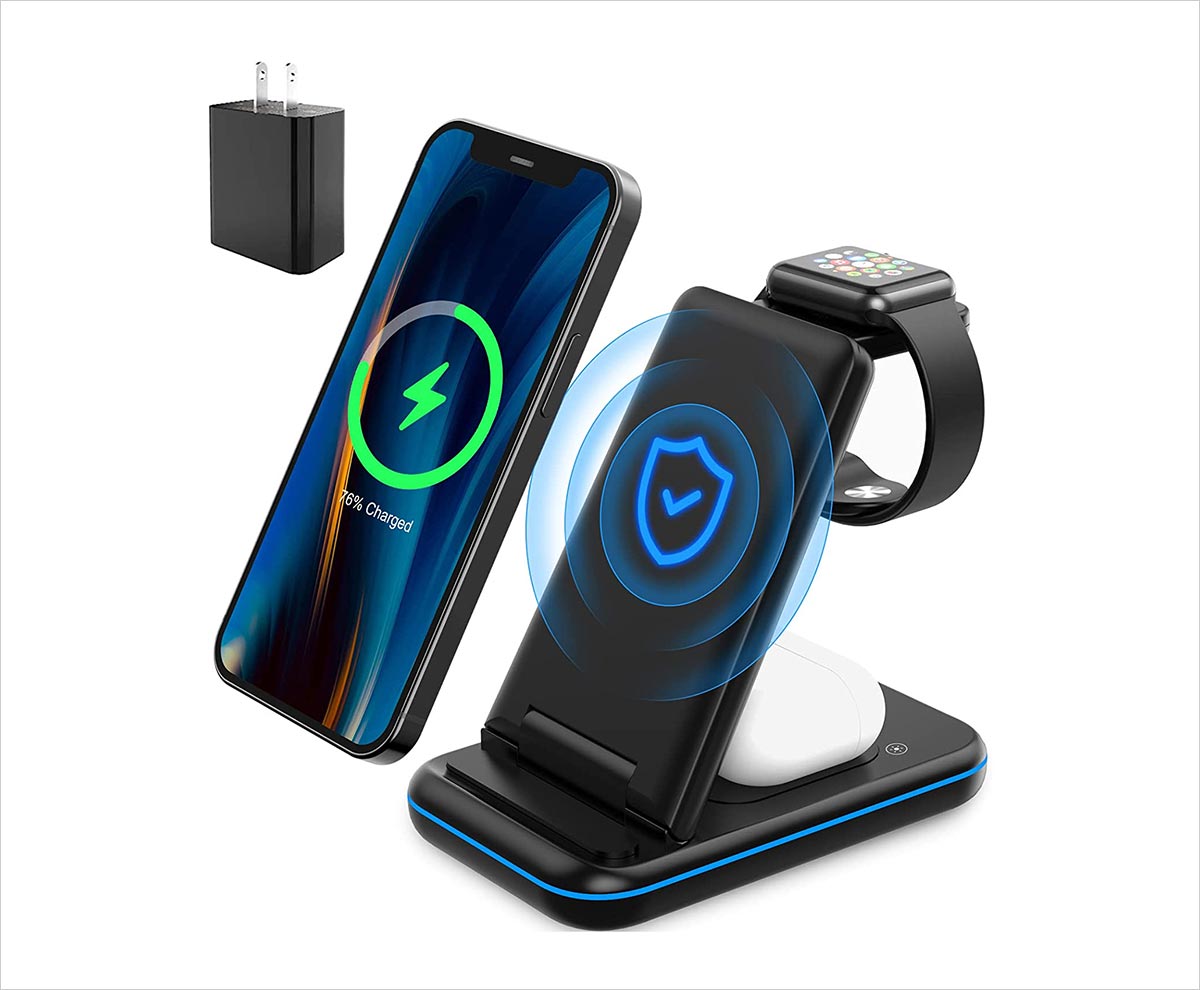 19. LERCIOR Portable 3 in 1 Charging Station for Apple Devices Foldable Charger Station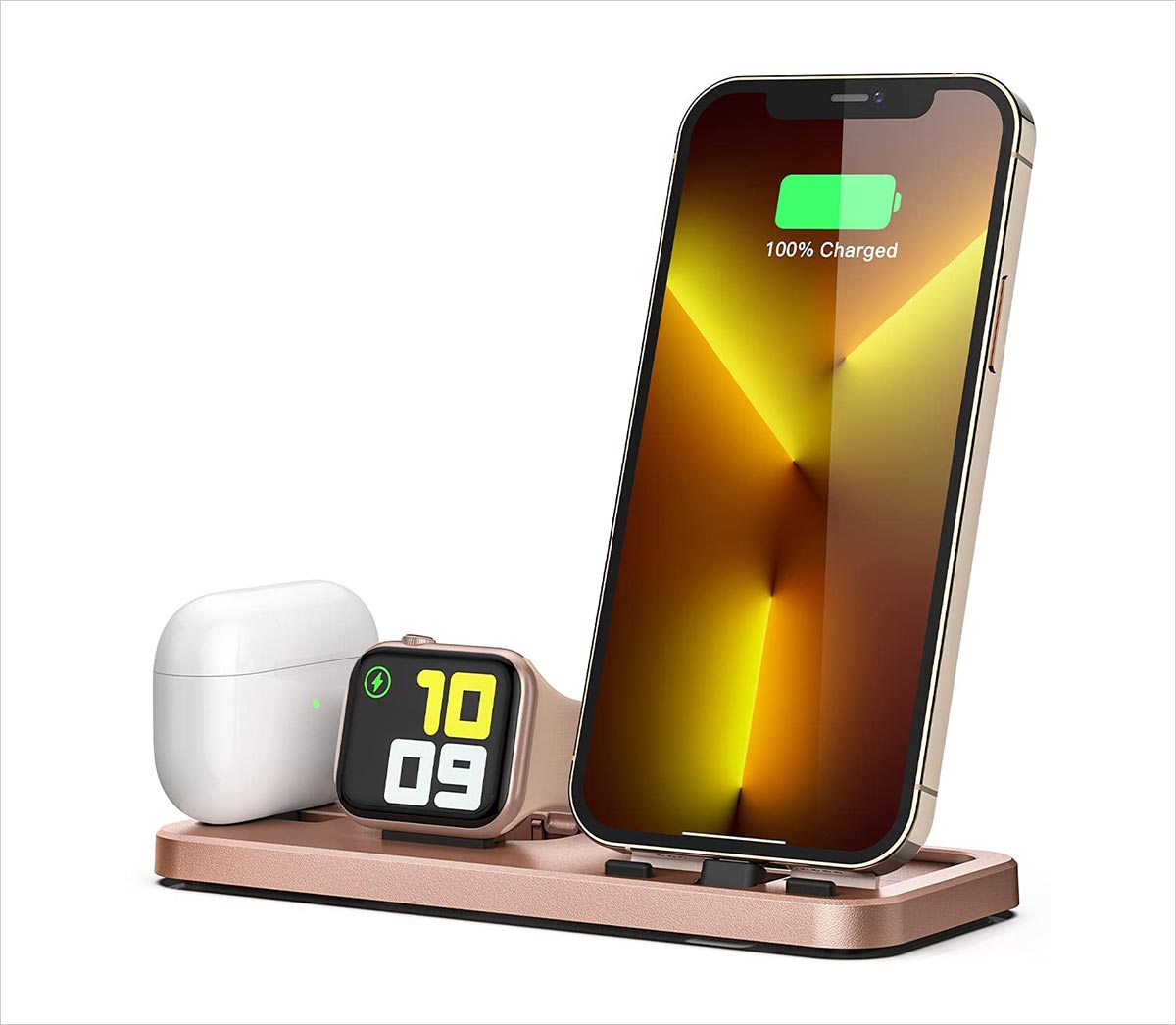 20. Wireless Charger Stand, CIYOYO 3 in 1 Fast Wireless Charging Station Dock for Apple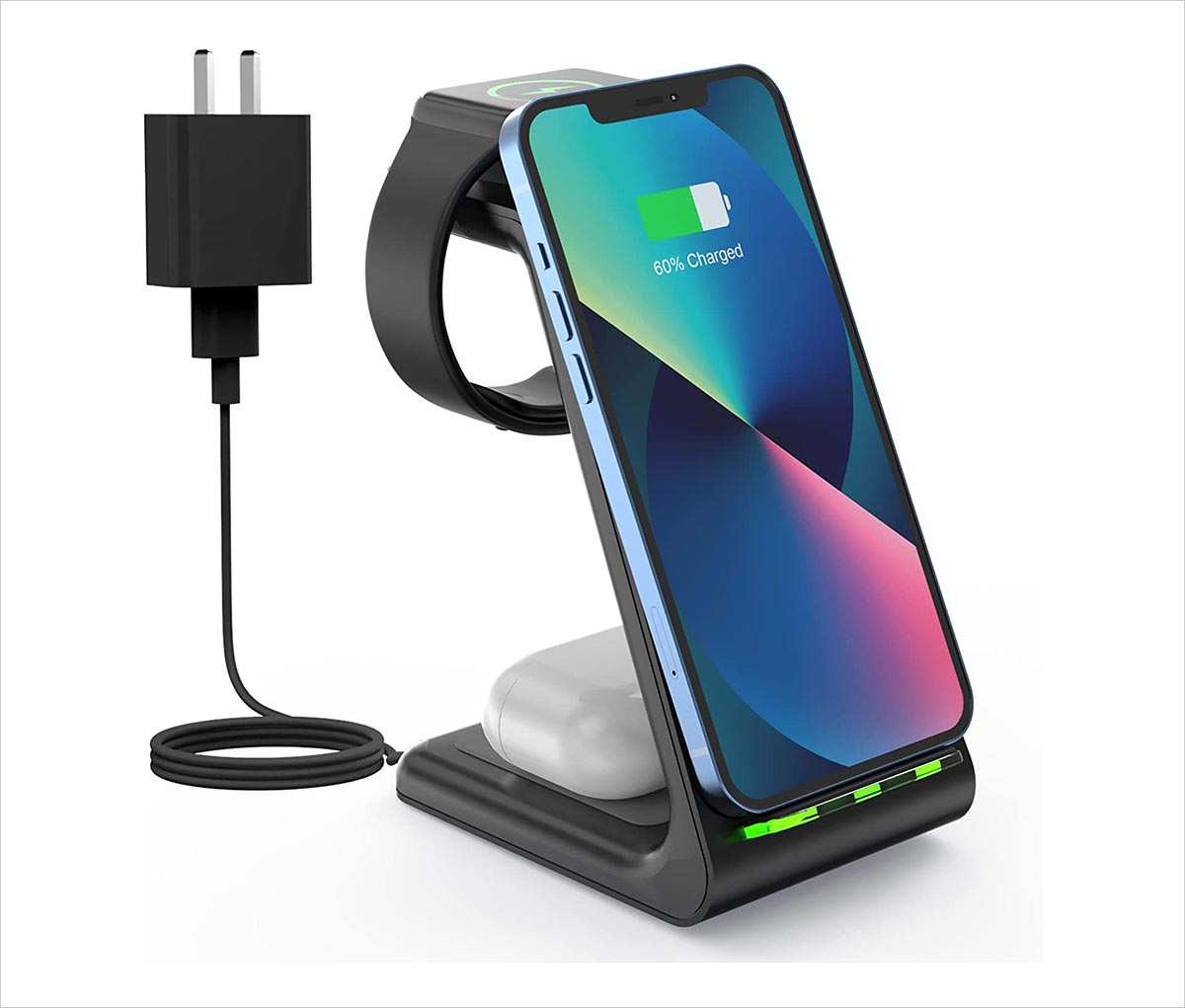 21. Intoval Wireless Charging Station, 3 in 1 Charger for Apple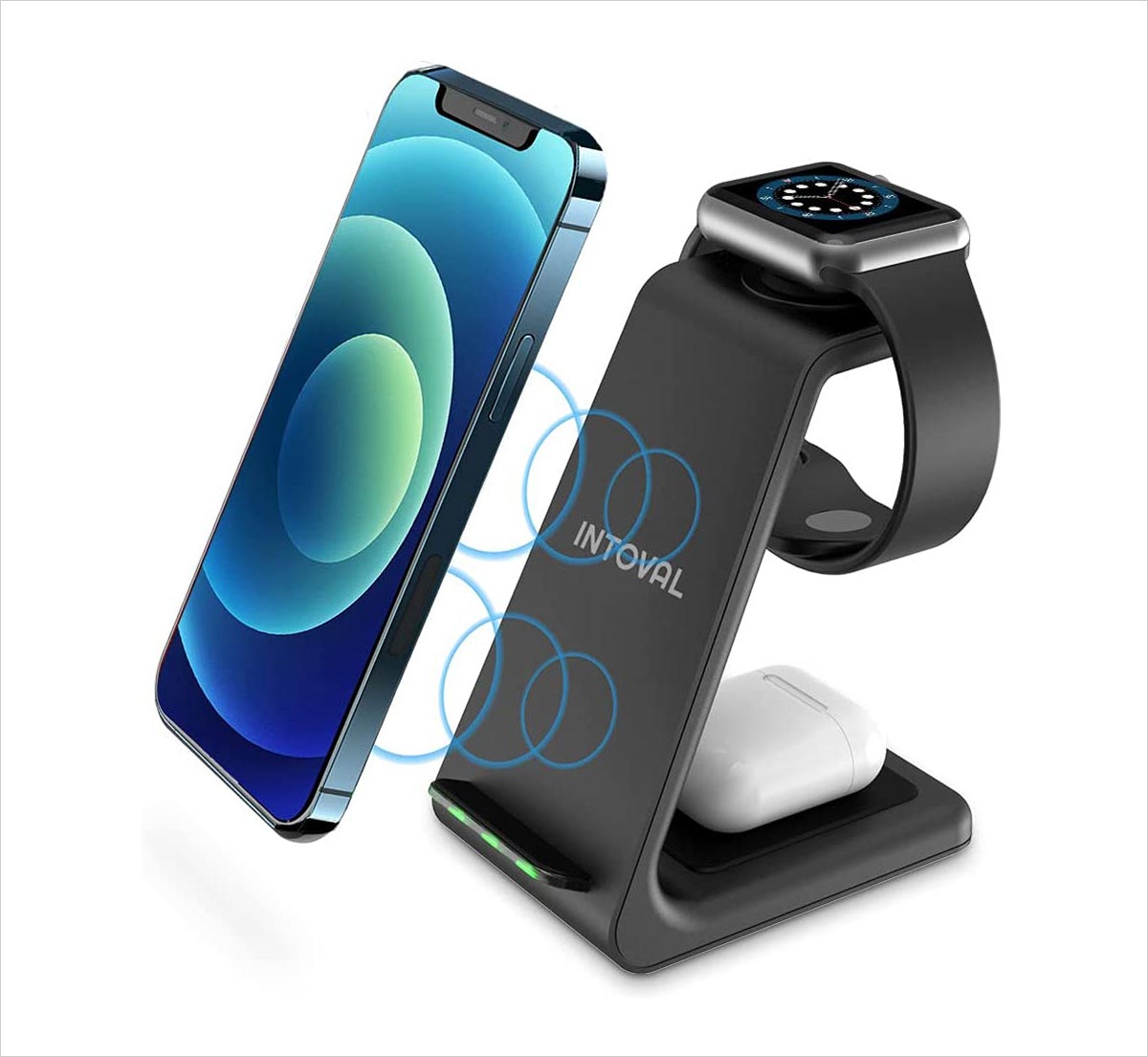 Recommended: