Hello there, you guys! We hope that you are having a really nice time reading our super informative blogs and are also working on a bunch of powerful creative and design campaigns as well. In our today's blog, we are going to be talking about our free yet highly editable wooden billboard mock-up PSD file and we can bet that you will enjoy working on it too so, let us get started without any further delays.
We have shared many different types of billboard designs here and we have talked about how you can create unique and effective designs that can help you and your business with pulling off a couple of groundbreaking campaigns etc. so if you are wondering what is going to be different about our today's free wooden billboard mock-up PSD file, allow us to share that with this mock-up, you guys will be able to work on something you haven't done before and here is why: wooden billboards are not created and used by every brand that exists which means that you have a higher chance of getting recognized and we can bet that you will enjoy all the attention too.
In addition to being looking classy, wooden billboards happen to have that vintage neat look attached to them and we are sure that looking at them would be a sight for the sore eyes that are tired of seeing huge metallic billboards and other big and small hoardings around the city. As you all know that billboards are very effective when it comes to out of home advertising even though the world has gone completely digital or is on its way to do so and we think that if you can afford getting billboards designed and displayed at the high traffic areas, then we suggest that you must do it in order to amplify your brand's message in the best ways possible.
We would also like to mention it here that we know many of you do not opt for billboard advertising most of the time because you either feel that it is going to cost you a lot of money or it might not get you the results that you would like to achieve and let us share it with you all, that, that is so not the case. Billboards do not just reach the masses, but if done rightly, you will notice that you have spent your money on all the right things. Also, do not forget that billboard advertising is serious business and you cannot go with something basic and simple to talk about through your billboards.
Recommended: 135+ Free Outdoor Advertisment Branding Mockup PSD Files
In order to make the most of all sorts of billboards for your business, you must know that it is more of storytelling and what do you do when you have to create a story? You create a character or two, bring it to life with your creativity, and there, you have it – an enticing short story that won't just entice your audiences the right way but they will feel compelled to make a decision that will benefit your sales, store visits, or something as simple as spreading the positive word of mouth.
Here are a couple of tips and tricks that will help you design the best billboards in no time so, make sure to read the blog till the end – we promise it will be worth it.
Recommended: 60+ Outdoor Signage Mockups
The factor of functionality is super important when it comes to billboard designs and like we have mentioned above as well, creating a billboard is not to be taken lightly, you must be aware of the target audiences that you are about to communicate with, how they behave in your category of business and what are their shopping patterns like, will they act as advocates of your business or does it seem to be like a one-time thing and once you have gathered all the required information regarding your audiences; you will be able to make your potential customers take the decisions that you want them to take for example; referring you to a friend after they have purchased your products, signing up for your newsletter or adding themselves to your mailing list, etc.
Make the copy appear to be BIG – don't worry about the space, it is a billboard so, make the most of it while you can. And as far as the fonts are concerned, go for non-Serif fonts as they are more powerful than the other fonts that are available. Another very important thing to keep in mind is that you must talk about one message in one billboard design, don't overdo it otherwise, it will become a hocus-pocus and that won't bring you anything good no matter how much money you have spent on your campaigns etc. Then you would want to go for bright colors that are attention grabbing to make it work in your favor and you will be good to go.
Now that we have shared what you needed to know to design your wooden billboards, we'll say goodbye for today so that you guys can get straight to work. ?
Free Wooden Billboard Mockup PSD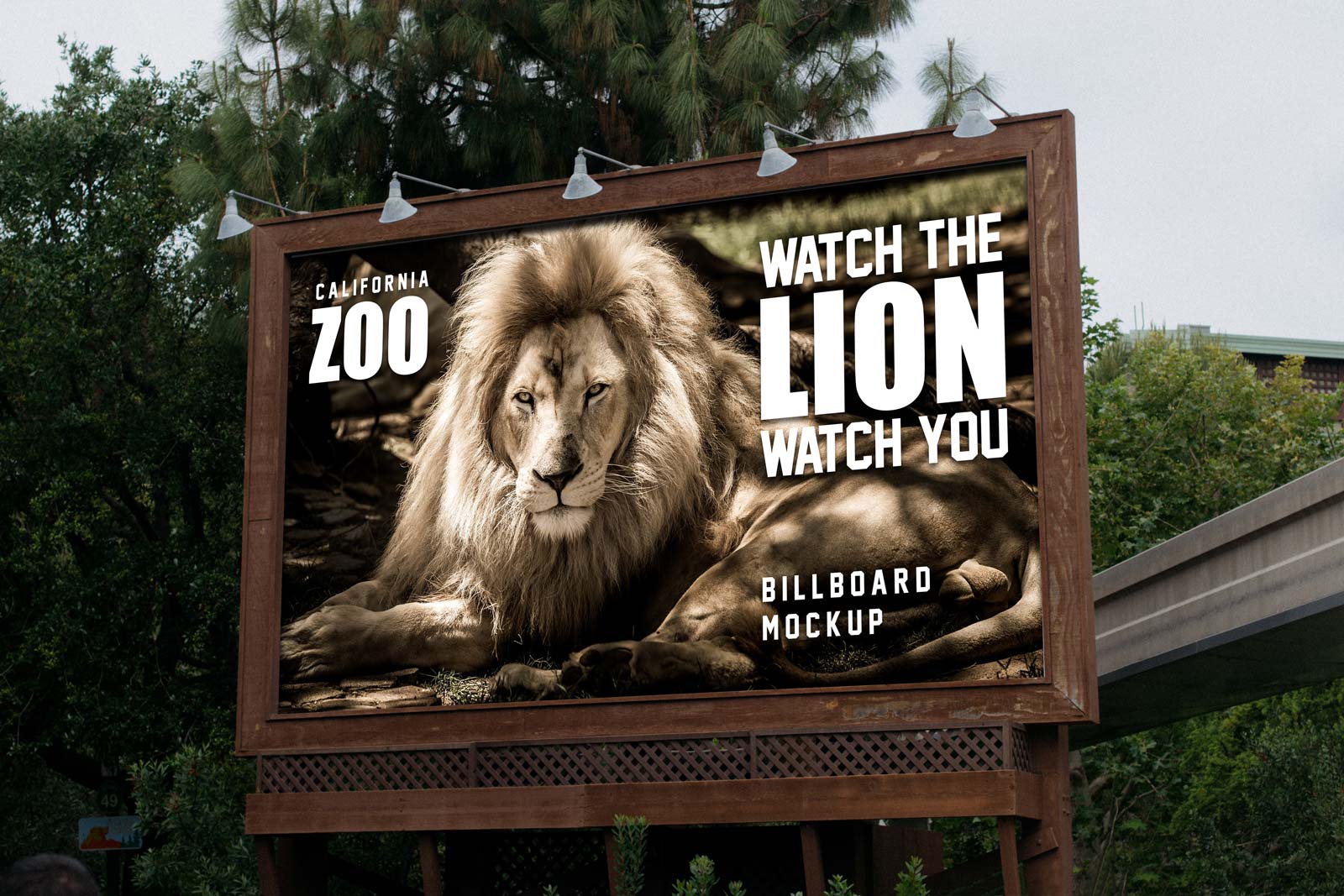 Available Format: Layered PSD with smart object insertion
License: Free for personal presentational use only
Zip File Includes: Outdoor Billboard Mockup PSD
Note:
1. PSD Outdoor Billboard Mockup is allowed for sharing online (A Must Linkback to this page)
2. Layers are hidden to decrease the size of the file kindly unhide and place your design on a red-colored layer.
3. Say thanks if you like or share/tweet with your friends.
Download Billboard Mockup
More Free PSD Hoarding Mock-ups you would love to download: