Hi there, our favorite people! We hope that you guys are keeping safe and that you are also enjoying our free yet highly editable mock-up PSD files, content ideas, and everything else that we share here. In our today's blog, we are going to be talking about the Guo Hua painting wall frame that you can use to create designs for your upcoming projects for personal and commercial use so, let us get started right away.
There are chances that most of you would not know about the Guo Hua painting so allow us to share everything that you need to know about that and then we will move to the next part of our blog that is to make the most of our mock-up PSD file. Okay so, guys the Guo Hua painting is basically a Chinese traditional painting, and keeping in mind the super rich Chinese culture, it will be fun to work on something that reflects what those people like and love to hang in their personal and professional spaces. It is very important for us to mention here that the Chinese (national) painting is one of the oldest traditions in the world when it comes to creating art and you will see why the entire world agrees with that fact through our blog.
As you guys know that every country or region has a specific set of things and practices they believe in – some of those were transferred to them from their parents who took them forwarded from their parents and some of the things keep on getting modernized with the passage of time as well and when the majority starts believing in them or starts following and celebrating them, then those things become traditions and a part of their culture too.
We all know that there are good things and then there are bad things and whatever is easier to be followed or worthy of teaching the younger generations is preserved while the harmful or meaningless traditions are said goodbye to. Makes sense, right? So, it means that the Guo Hua painting happens to be more than just a painting for the Chinese people that a lot of them not only learn how to draw it but they also incorporate the different techniques that are there and use them on different mediums like paper, silk, etc. to make it look more appealing. We would also like to mention here that in Chinese paintings, the goal is not to draw the actual objects but the characters that need to be created.
Another thing that you guys must know about Chinese paintings is that mostly inks are used to draw the paintings which means that once you have tried to create something through your strokes, you cannot undo it, you cannot erase or correct it either so, you must know how to do it way before you attempt to create anything that falls under the category of Chinese paintings. Now, let's talk about how you guys can use our free Guo Hua painting wall frame mock-up PSD file to create designs for your clients and friends, etc. First things first; know and understand that when you plan on creating something that does not belong to your traditions and cultural values, then you must be more than just careful in order to be respectful towards the people that theme, tradition, cultural art piece belong to, and to also make sure that you do not hurt anyone's feelings in the process of creating something as peaceful and harmless as creating art.
There are a couple of themes that you can work on to create the Guo Hua paintings for example; cat, shrimp crab, horse, tigers, and lions, etc. beautifully created by the Guo Hua "masters" such as Qi Baishi, Xu Beihong, Pu Xinyu, Wu Guanzhong, Fang Zhaolin as well as Li Keran. These artists belonged to olden times but the modern ones have worked on newer themes too and we love all of them. But than being said; we would like you all to explore the Chinese paintings at your end as well and see how you can create the paintings and designs to make your creations look more interesting.
That is all for today, you guys! We hope that you had a great time reading this blog and that you are also going to use our carefully created free Guo Hua painting wall frame mock-up PSD file as well. We would love to read your feedback on this blog of ours so feel free to share that with us in the comments section and don't forget to let your friends and favorite colleagues read the blog too. Also, if you have any suggestions or requests, do send them our way and we will work on them and get back here super soon.
Free Guo Hua Painting Wall Frame Mockup PSD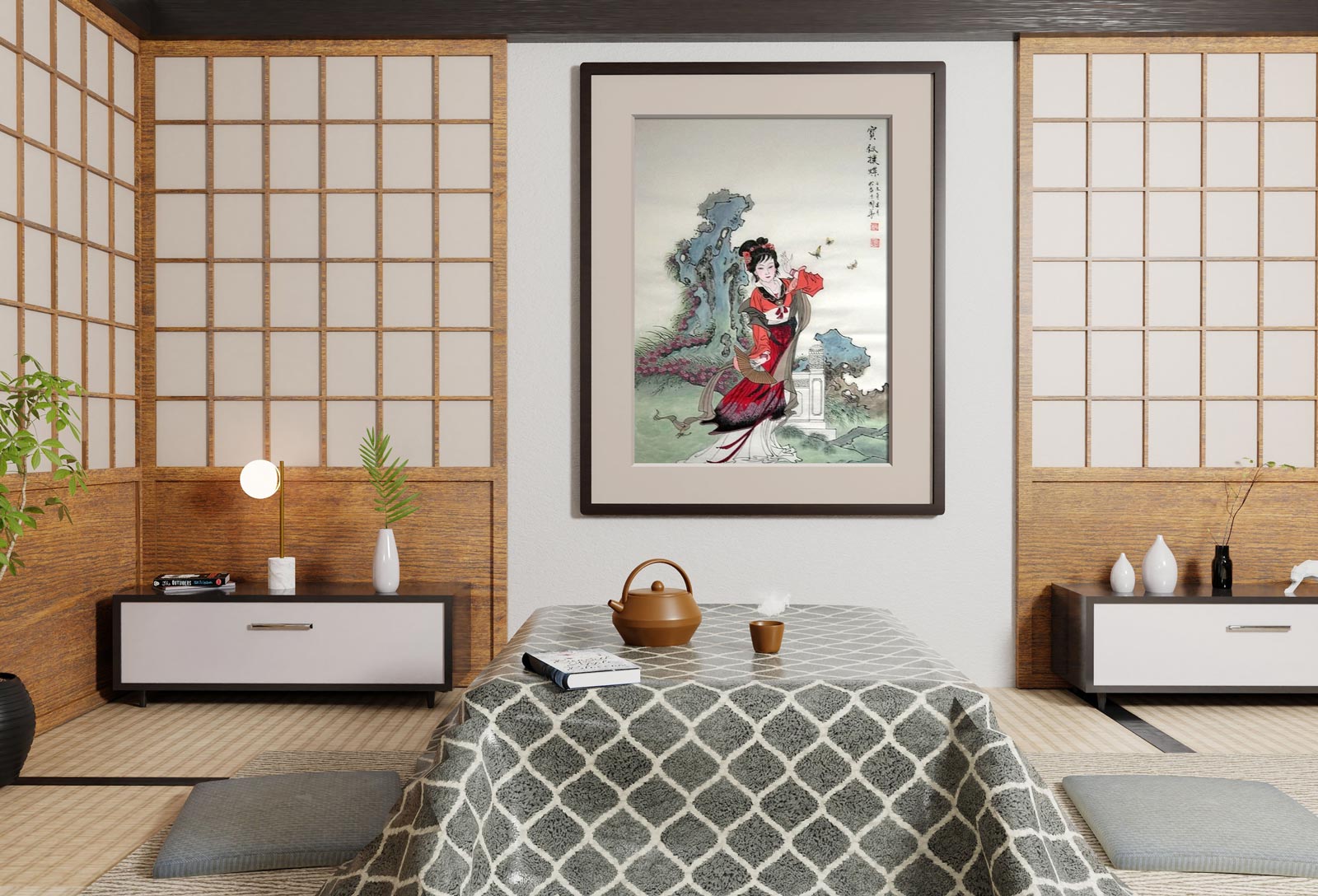 Available Format: Layered PSD with smart object insertion
License: Free for personal and commercial usage
RAR File Includes: Free Photo Frame Mockup PSD
Mock-up Resolution: 3000 x 2040 px

Note:
1. Free Photo Frame Mockup PSD is allowed to share online (A Must Linkback to this post)
2. Say thanks if you like or share/tweet with your friends. That means a lot to us.
3. And don't forget to subscribe to receive for more high quality premium freebies & awesome articles only.
Download Wall Frame Mockup
More Free Poster Mockups: