Hi there everybody! We hope that you guys had a nice time reading our previous blogs and that you are very excited to read this one too but before we start sharing about our new and highly editable free dump truck mockup PSD file, we would like to thank you guys for your overwhelming response, for your suggestions and feedback and for also sharing our content with your family, friends as well as colleagues. It's always a pleasure to create stuff for you and we will continue doing that in the future as well.
As you all know that for a business to grow properly and stay in the market for a very long and good time, it is important for the business owners, brand managers, as well as their creative and strategic agencies, to make sure that they are making and executing effective campaigns that will work in the favor of both the business and their customers / consumers. Now, we know that running businesses through digital and social media marketing is not something new and that many people around the world decided to shift all their communication to online platforms for good, but we want to share here that it does not guarantee a nice ROI or even a positive word of mouth for that matter.
We are not against doing business online, in fact, we would love it for you guys to explore the opportunities that you can explore online in order to get more and more business by also getting loyal customers on board, but what we mean to say in the context of our today's blog is that you must be accessible to your existing and potential customers, etc. which also includes Out of Home Advertising (OOH) covering billboards, vehicle branding, and even brochures, pamphlets, posters, etc. too because the more accessible you are to the people who believe in you, the more trust you are going to gain with the passage of time and the day won't be too far when you will become their preferred brand of all times.
We are sure that you must be having different sorts of ideas regarding your vehicle branding as you read this but we would like to share a couple of things that will help you master your next campaign without any blunders or minor hiccups whatsoever for example; you need to see the vehicles that you are going to brand first and then work on the actual designs later on because we can bet that you guys must have seen a couple of vehicles that were branded but you cannot see what the message is even saying, you know. And that happens because the vehicles were either not measured before the concerned people started creating designs or the mock-ups were not used the way they are supposed to be used.
Recommended: 40 Free Car, Van & Bus Mockup PSD Files For Vehicle Branding
Another important thing to do while branding your vehicles is that you must make sure that you are keeping your message short, crisp, and simple and we cannot stress enough that less is always better and more effective. Keep in mind that the branded vehicles will be traveling most of the time meaning that the audiences won't really get a lot of time to go through long paragraphs but they would be enticed to read the quirky one-liners that will also make them take an action or two like calling you up for more information regarding your new store that you are about to open, signing up for your newsletter, or following you on your Instagram / Twitter, etc. instantly and if they are already in the mood to try out something new that is happening in their city, they might want to visit your physical store in that instant too so make it easier for them to not just consume the information that is there but to also make a decision right away through your creative storytelling, compelling imagery, and strategic planning too.
One more thing before we conclude this blog would be that you need to understand that your vehicles are three-dimensional which means that the space must be used correctly in order to send clear messages to the people that will be looking at the vehicles from different angles. That is why we say that it is so very important to create mock-ups so that you can evaluate your designs before you have them executed practically.
Recommended: 100+ Free Outdoor Advertisment Branding Mockup PSD Files
That is all, folks! We are hoping that you will find this blog super useful for your upcoming design projects and we would love to read your feedback on this as well so, do take out some time to share that with us. Also, while you are at it, feel free to let your favorite colleagues design a couple of amazing brandings for their personal and commercial projects by sharing this blog with them and we will see you guys next time with something more fun to work on!
Free Dump Truck Mockup PSD for Vehicle Branding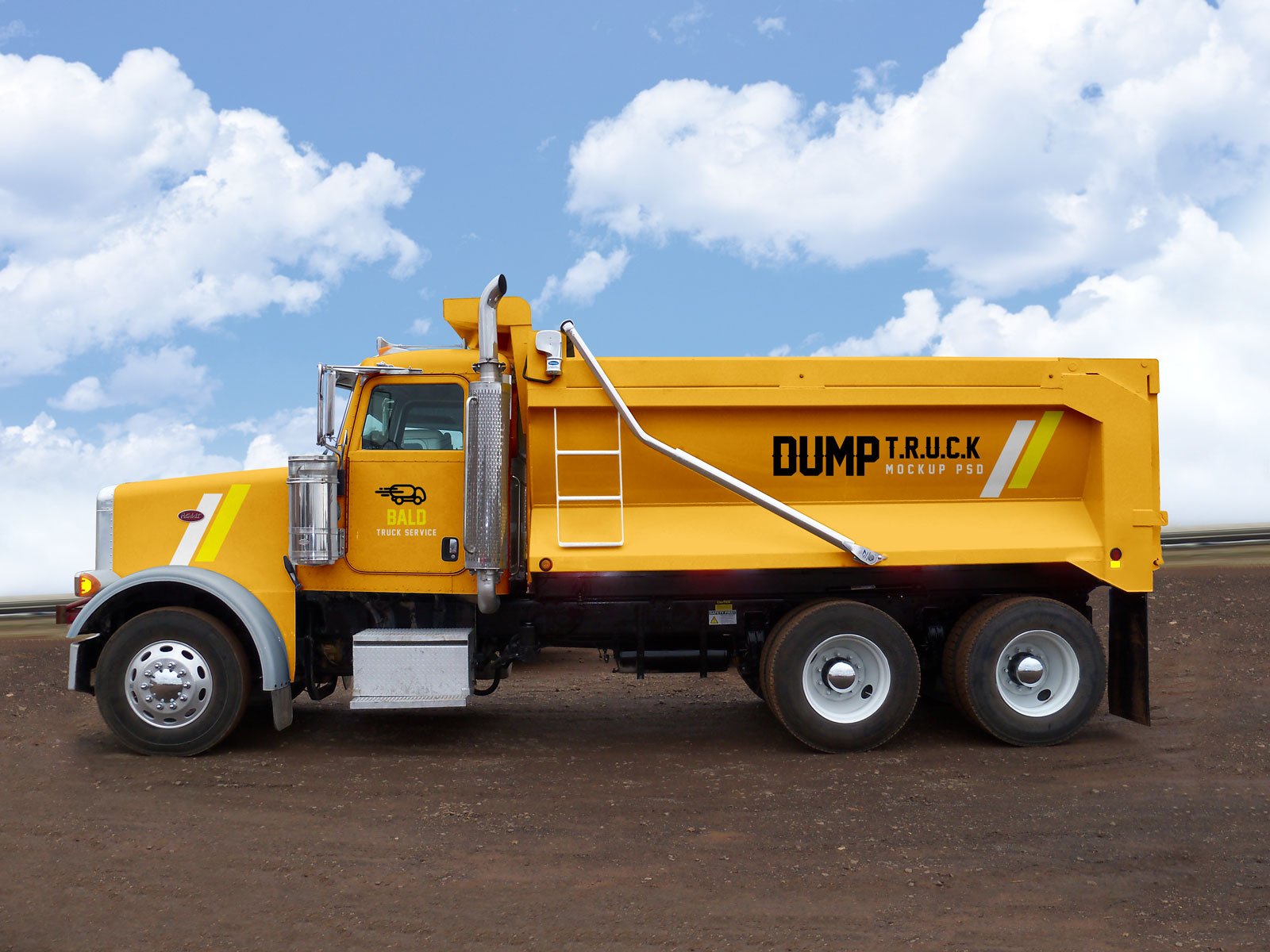 Available Format: Photoshop PSD
License: Free for personal and commercial usage
File Format: WinRAR
Mock-up Resolution: 4000 x 3000 px
Note:
1. Free Dump Truck Branding Mockup is allowed to share online (A Must Linkback to this page)
2. Say thanks if you like or share/tweet with your friends. That means a lot to me.
3. And don't forget to follow or subscribe to receive more high quality premium freebies & awesome articles only.
Download Dump Truck Mockup
More Outdoor Mockups: