Hello there, you guys! We hope that you really enjoyed reading our previous blog and that you are super excited about what we are going to share with you along with our free yet highly editable bus stop poster mockup PSD file so, let's get started right away.
If you are one of our regular readers here, then you guys would know that we have shared multiple bus stop poster designs in the past as well that can be utilized to create effective out-of-home advertising (OOH) for your brands, etc. however, in our today's blog, we would like to share how you guys can make the most of bus stop branding by spending a minimal amount of money as compared to the budget that you happen to spend on your digital and social media campaigns.
Well, we all know that ever since things started to become more digital and when businesses decided to be more available online as compared to being present physically, everything changed – for good, of course, but it does not mean that you take whatever you have to your online platforms and you stop communicating with your target audiences on the ground or through out-of-home advertising campaigns. Now, we are not saying that going digital is the wrong thing to do, but when you will leave a major chunk that's not present online, there will be someone else who will take your place, and then you might become a less preferred brand too.
You must be wondering what is it that you can do to speak to all your audiences without having to miss out on anything, right? Continue reading this blog as we will guide you on how to be present (almost) everywhere and we can bet that you will be able to devise better and more effective strategies to run your businesses successfully.
– – – – – – – – – – – – – – – – – – – – – – – – – – – – – – – – –
Recommended:
– – – – – – – – – – – – – – – – – – – – – – – – – – – – – – – – –
Always remember that no matter how powerful digital and social media platforms will become, there will always be a huge population of people that would want to visit your physical stores and offices, etc. to make sure that the products and services that you are offering are legit. We won't lie – there are certain things that we just cannot buy unless we feel them first like a long coat, a piece of jewelry, or maybe a pair of long boots, you know. Because we want to make sure that we are spending our hard-earned money on the right things. And then there are some things that we prefer buying online because well, who has the time and energy to go to a store to get them, right? So, it not only depends on the business, products/services but it is also our behaviors that determine whether or not we will get something from a physical store or place an order online.
And now as a business, when we will look at many different shopping behaviors of our potential customers, we will have to make sure that we are present for them on multiple platforms so that if they are not very comfortable in getting something online, they can get it from one of our stores. Do you know where we are going with all that information? We are basically saying that in order to cater to the needs & demands of our existing and potential customers, we must ensure that we are communicating with them both digitally as well as through our OOH campaigns and that is one of the reasons why we needed to share our very carefully designed free bus stop poster mock-up PSD file with you guys.
Recommended: 135+ Free Outdoor Advertisment Branding Mockup PSD Files
Here is how you can use our mock-up PSD file to create brilliant and meaningful bus stop posters in no time: since bus advertising happens to be more effective than hoardings and billboards etc., it is also very important to ensure that you are advertising your products and services correctly. For example; you need to be fun and playful in order to grab your audience's attention. Know that your bus stop posters will be seen by many people more than just once so you have to talk in a way that's not boring in fact, it should be so quirky and enticing that it attracts them every time they look at it.
Vibrant colors and easy-to-read fonts must be used to design bus stop posters so that people who are on the go can get the message too without having to stop for a while and read what's there to be read. Also, if your budget allows, go for interactive bus stop posters through which your potential customers can perform an action right then and there as that won't only help them remember your business name but they will definitely want to know more about you when they have more time to do so.
That's all for today! We hope that you liked reading the blog and that you will also use our free bus stop poster mock-up PSD for your upcoming OOH advertising campaigns.
Free Bus Stop Poster Mockup PSD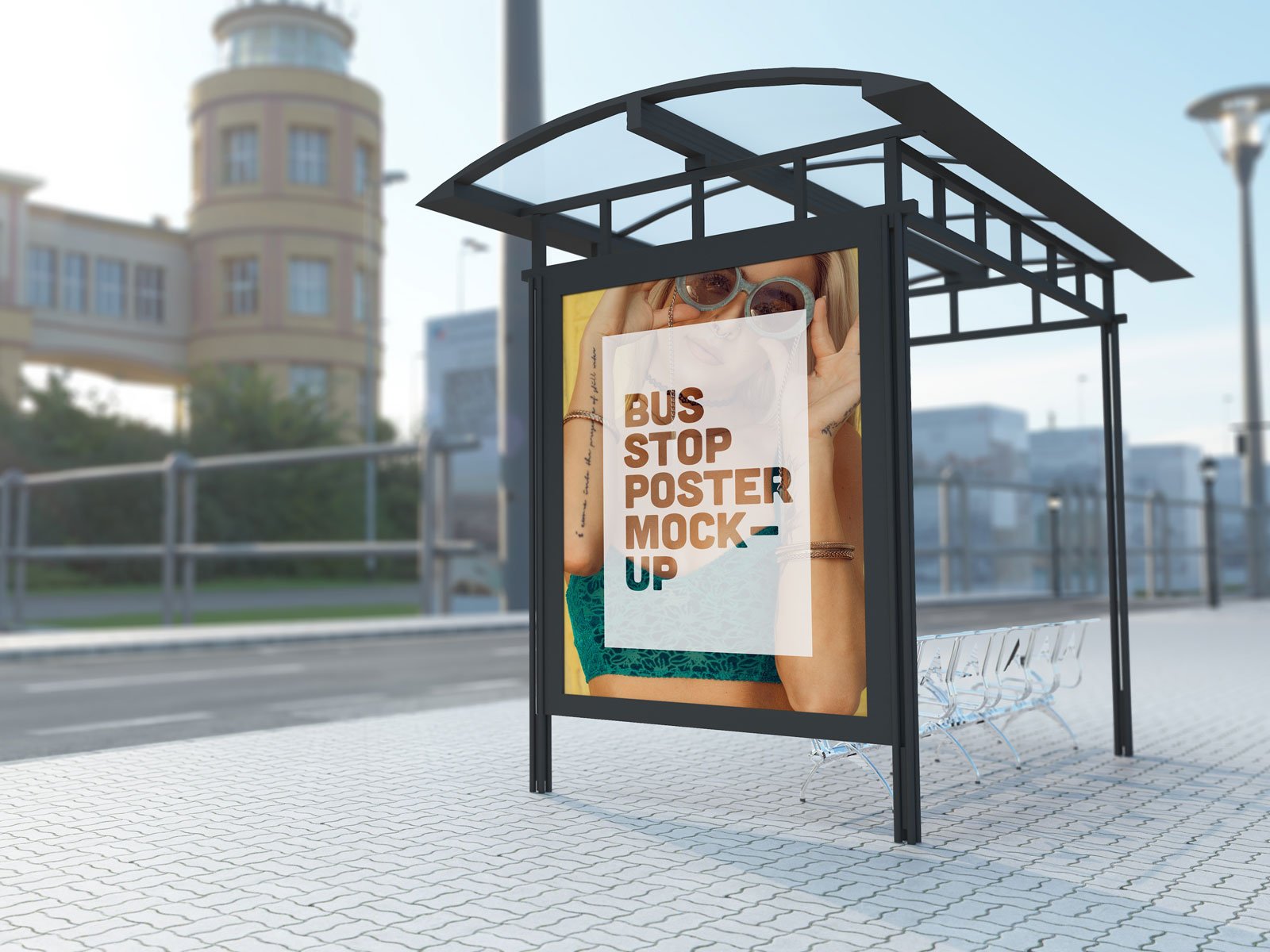 Available Format: Photoshop PSD
License: Free for personal and commercial usage
File Format: WinRAR
Mockup Resolution: 4000 x 3000 px
Note:
1. Free Bus Stop Poster Mockup is allowed to share online (A Must Linkback to this page)
2. Say thanks if you like or share/tweet with your friends. That means a lot to me.
3. And don't forget to follow or subscribe to receive more high-quality premium freebies & awesome articles only.
Download Mockup
More free mockups PSD files: