Hi there everyone! We hope that you all having a great time reading our blogs and that our free yet highly editable mock-up PSD files, creative content ideas, and tips & tricks are helping you design amazing stuff for your personal and commercial projects. We are truly thankful to each one of you for always sharing our blogs with the people you love and care for. Your support motivates us to keep creating what we enjoy creating and we will continue doing that in the future too. Today, we have yet another bus shelter poster and billboard mock-up PSD file to share with you all so, let us get started right away.
In our previous blogs in which we have talked about out-of-home advertising (OOH), we have always shared how it is still considered one of the most effective ways of getting your message out. But the best thing about it is that it allows you to be as creative as you would want to be and it will still cost you less than your digital and social media paid campaigns. So, what are the key factors that will help you design powerful campaigns featuring bus shelter posters and billboards? To know more, keep reading this blog.
First things first; it is very important for all of us to understand what our objectives are for a certain campaign so that we can work on it accordingly. Because what happens is that we start the creative and design process without doing proper research and when we don't get the results that we were hoping to get, we have to work on everything all over again. In order to save yourselves from the loss of time, effort and money, there are a couple of things that you need to know to consider bus shelter advertising for example; know that bus shelter advertising will give you more traction with its higher frequency rate and the fact that it can engage more and more people and works best for the local targeting tactics.
Another thing that you must know about out-of-home advertising and in this case, bus shelter advertising is that it happens to create more brand awareness than other mediums and we think that is one of the very convincing reasons why you must go for it for your brands too. What we like about bus shelter advertising the most is that it helps the advertisers to directly speak to the customers as it is guaranteed that the ones who are your primary audience will definitely read the brand messages and the ones who are your secondary audience will spread your message too. Sounds like a win-win situation, right? Well, it is.
– – – – – – – – – – – – – – – – – – – – – – – – – – – – – – – – –
Recommended:
– – – – – – – – – – – – – – – – – – – – – – – – – – – – – – – – –
In addition to being able to reach large numbers of people and directly communicating with your potential customers in your target geographic areas; bus shelter ads also allow more creativity through eye-catching content and visual appeal. Here, we would also like to share with you guys that you can also simulate multiple senses at a time, through your bus shelter ads and we just love how that works.
With vibrant colors, nice and subtle copy, and attractive imagery, you let your audience engage with you in ways that they will be convinced to take an action to get in touch with you – it could be following you on your social media platforms, signing up for your newsletter, calling you to get more information about the products and services that you are offering, referring you to someone in their circle or it can also include a store visit as well so by letting your brand message out nicely, you are allowing your potential customers to get in touch with you in one way or the other.
Recommended: 135+ Free Outdoor Advertisment Branding Mockup PSD Files
That being said; you will have to work on making everything work for you so starting from the important message / brand communication / promotional offers and everything else that you want to talk about to design elements, imagery to the colors as well – they all need to be brand relevant, they all need to properly communicate the message, and you will see how powerful your bus shelter posters and billboards are working for you. For more traction, you can also work on social media integration campaigns as well by announcing interesting discounts, free passes, etc.
And that is all for today from our end! How did you all like reading this blog? Do let us know in the comments section and we would love to encourage you all to share it with your friends, favorite colleagues, etc. as well. Also, if you guys have any requests and suggestions that you would like to share, do that too and we will get back to all of them super soon. Until next time, keep creating amazing designs.
Free Bus Shelter Poster & Billboard Mockup PSD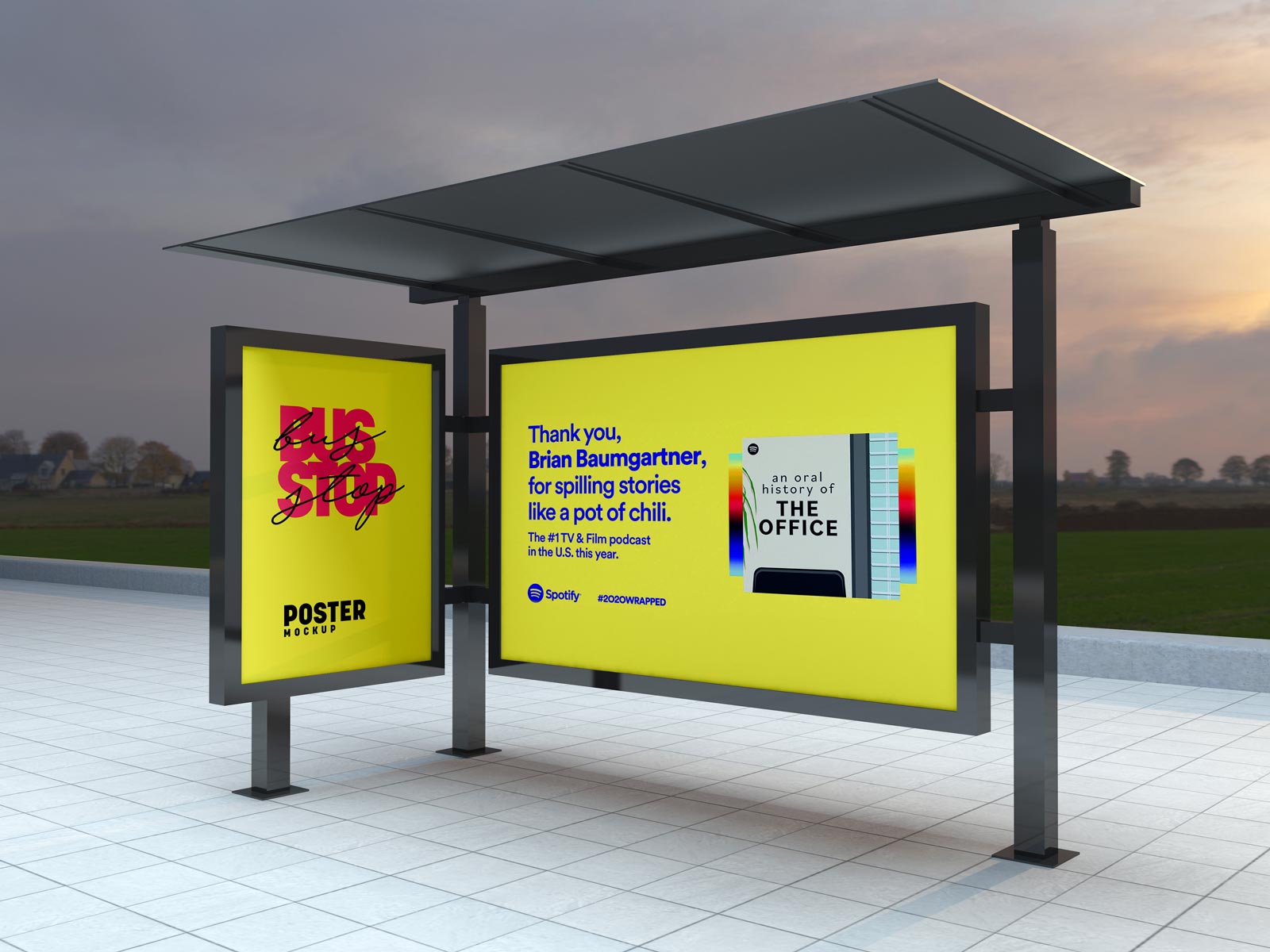 Available Format: Photoshop PSD
License: Free for personal and commercial usage
File Format: WinRAR
Mockup Resolution: 4000 x 3000 px
Note:
1. Free Bus Shelter Mockup is allowed to share online (A Must Linkback to this page)
2. Say thanks if you like or share/tweet with your friends. That means a lot to me.
3. And don't forget to follow or subscribe to receive more high-quality premium freebies & awesome articles only.
Download Bus Shelter Mockup
More free mockups PSD files: