Hi there everybody! We hope that you all are having a great time and that our blogs and mock-up PSD files are helping you create amazing designs for your personal and commercial clients. For our today's blog, we have created this beautiful and free decorative flyer mockup PSD file that you all are going to love so, let us get started right away.
Although we have many mediums for communication in today's world and with the advancement of digital and social media platforms, getting in touch has become so much easier that many people prefer that over conventional marketing and advertising but we are here to tell you guys that no matter what happens, flyers are not going to go away any time soon and here is why: first things first, flyers are one of the most affordable modes of communication when it comes to on-ground advertising campaigns. They come in handy, have a lot to offer too in terms of space and content and that makes them super effective as well.
Being a marketer/advertiser, we are sure that you would know that not everyone is on social media or uses internet for that matter which means that you guys will have to make it easier for the ones who have never heard of your business online, who don't know if you have a website or an Instagram shop or that you take orders through your Facebook page as well. And one of the things that can help you promote your business is to talk to anyone and everyone wherever they are present – not just on digital and social media platforms. The interesting thing is that flyers serve many purposes effectively and we are here to talk about them so, keep reading this blog if you are planning to devise a flyer marketing strategy for yourself or for your clients in the future.
Flyers are considered to generate more and better leads and when you know the right time and the right place to have them distributed, you will be ensuring that the performance is as per your requirements. Always remember that in order to make a marketing/advertising plan work out well for you guys, you must conduct a thorough research, find out the gaps, cater to the needs and demands of your audiences and offer more than what your competition is offering and you will see that you won't only become a preferred brand but they will also become your loyal brand advocates as well and that is what that matters the most, right?
– – – – – – – – – – – – – – – – – – – – – – – – – – – –
More Awesome Free Mockups:
– – – – – – – – – – – – – – – – – – – – – – – – – – – –
This is going to be an interesting pointer for you to consider and we feel that it might convince you to go for a flyer marketing campaign in order to see the results yourself; know that with all the space that flyers offer, you can utilize it to talk about your brand, services and products on one page without making it look like an overwhelming piece of paper. What you will have to do is to compartmentalize the whole thing and use those sections for all the relevant information about your upcoming sale, store launch, new product lineup, discount vouchers etc. Flyers happen to make the audiences curious – unlike emails or branded text messages, and the more you are going to make them look informative and interesting enough to look at and read too, the more you are going to make an impact as well. Another thing that you must keep in mind is to make sure that you work on a solid distribution plan for example; pick the right spots in stores and shopping malls, on roads, near kiosks, outside mini shops or have them sent via newspapers.
Do what makes sense to you but do it in a way can attract the right amount of attention. In addition to that; you will also have to make sure that you create visually pleasing flyers for any communication that is going to be made from your end in order to influence the masses to go through the messages and take a required action too. We can bet that all these things will become super easy to incorporate with our free yet highly editable decorative flyer mock-up PSD file.
That is all for today from our end! We hope that you guys had a nice time reading this blog and that you will also make the most of it to create a brilliant flyer marketing strategy. If you did like the blog and are going to use our free decorative flyer mockup PSD file, do let us know about your creative and design journey in the comments section. Also, don't forget to share the blog with your favorite colleagues as well and we will see you all next time with something more fun to work on.
Free Decorative Landscape A4 Flyer Mockup PSD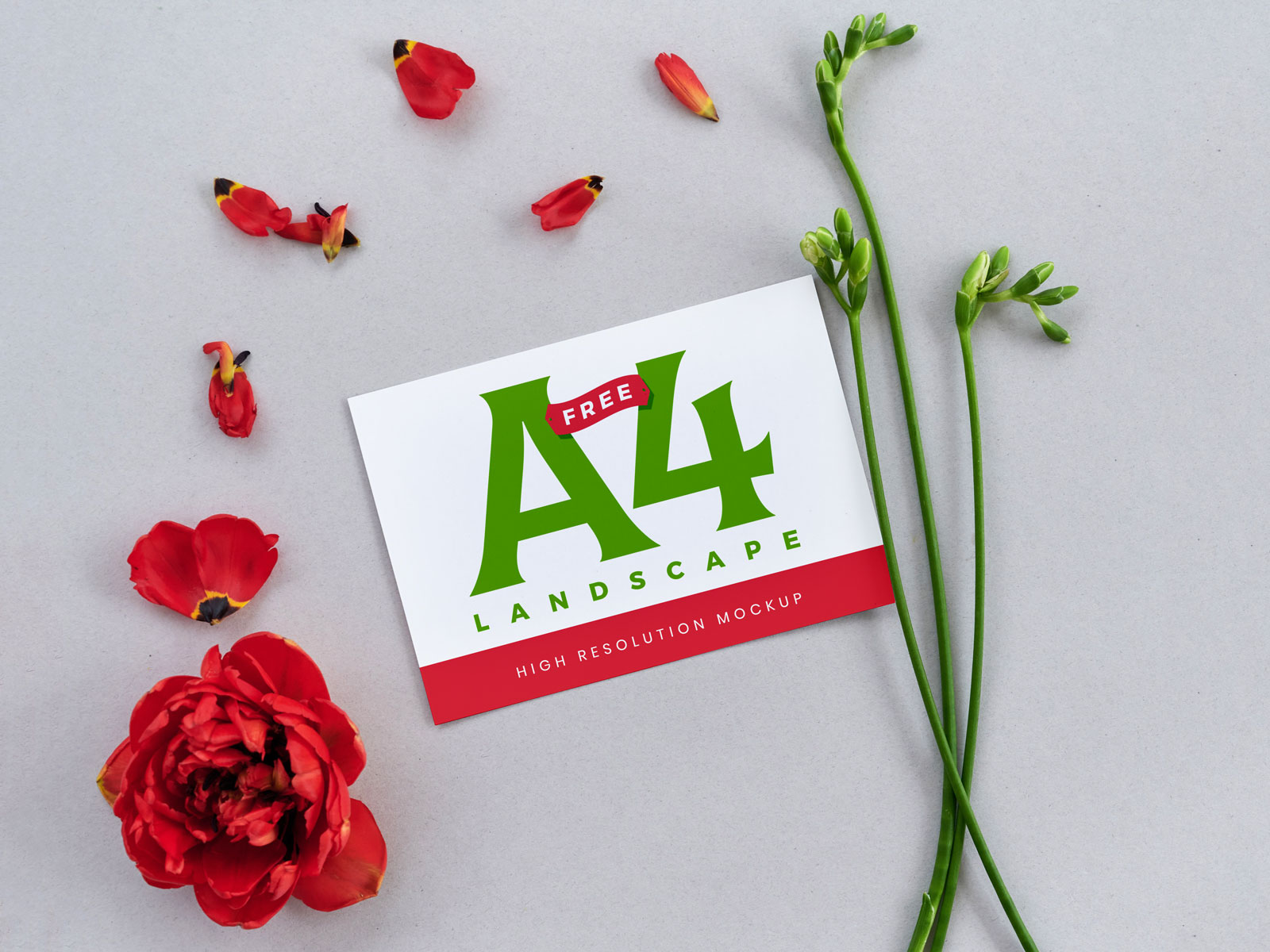 Available Format: Layered PSD with smart object insertion
License: Free for personal and commercial usage
RAR File Includes: Free A4 Mockup PSD
Design Template Resolution: A4 (300dpi)
Note:
1. Free PSD Mockup is allowed to share online (A Must Linkback to this post)
2. Say thanks if you like or share/tweet with your friends. That means a lot to us.
3. And don't forget to subscribe to receive for more high quality premium freebies & awesome articles only.
Download A4 Mockup
More A4 Size Free Mockups: