Hi there everyone! We hope that you had a great weekend and that you are super excited to get done and over with the new one too. In our today's blog, we are going to be sharing a free yet highly editable shopping bag mock-up PSD file but before we do that, we would like to take this moment to thank you all for your overwhelming response on our previous blogs and for also sharing them with your favorite colleagues, friends and family members. Your support means a lot to us and we hope that receive that in the future too.
Although, ever since COVID-19 hit the world, there was an increase in online shopping around the globe. It was also because businesses and consumers did not have any other choice either due to lockdowns etc. but when the masses started getting vaccinated and things started to come back to normal, so many things had to make a come back such as in-store shopping which means that shopping bags were going to be used again and for good because it gave businesses a chance to be creative with their marketing campaigns as well and in our blog, we will share how you guys can make the most of our free shopping bag mock-up PSD file to make interestingly attractive designs for your own business or for the ones that you are associated with.
So, what are the things that you can do to create unique shopping bag designs? Well, it is simple if you look at it this way: someone has shopped from your store and is now getting back home, etc., and on their way back, they will be seen by multiple people who might not know about your business or about the recent sale that you have announced, or that you have stuff for anyone and everyone and what your shopping bags can do is that they can tell every story that you would want to be told. Honestly, there are so, so many ways to think of shopping designs. If you are a food company, you can go with cheesy one liners to entice people or go with beautiful food images that can tempt your existing and potential customers to get a thing or two from you.
If you are a fashion brand, you might want to create a story mentioning how that certain piece of clothing or jewelry was designed and maybe have the articles printed on the shopping bags in a fun way as well. If you sell shoes, maybe try out something with laces to accessorize your shopping bags. And we don't know about others, but we will definitely shop with you guys so that we can get our hands on such cool shopping bags. Haha. It is a suggestion that you guys can also consider if and when you will create new shopping bag designs and that is to flaunt them on your social media platforms, intrigue people by creating reels and stories, and be as creative as you can be in order to gather more traction. That is one effective way to get the right kind of attention and we can bet that you guys will enjoy it too.
Recommended: 50 High Quality Free Shopping Bag Mockups
Now, let's talk about creating mock-ups and mock-up presentations. Trust us when we say that we know how hectic a graphic designer's life is but in order to make sure that you and the decision making bodies are on the same page, you must offer your creativity in ways that they can either pick and choose the best designs that are there or they can share their suggestions so that you can move forward in the design and printing processes. Always remember that when you create mock-ups and put all of them in a nice and detailed presentation, you have a chance to prove that you take your work seriously and you have put in an effort to make the designs work for everyone.
Since mock-ups are an effective way to visualize ideas and imagine how they will look like in real life so, another thing that you do by creating a mock-up presentation is that you allow the concerned team members to have changes incorporated into designs before you get the stuff printed or manufactured for that matter. And we would love to encourage you all to take out some time and do the needful as it will help you and everyone else who will be involved in the process.
That is all for today, guys! If you liked reading the blog, do share your feedback with us in the comments section and while you are at it, don't forget to share it within your personal and commercial circles as well. Also, if you guys have any suggestions or special requests, feel free to let us know about them too and we will get back with your requested content super soon.
Free Hand Holding Shopping Bag Mockup PSD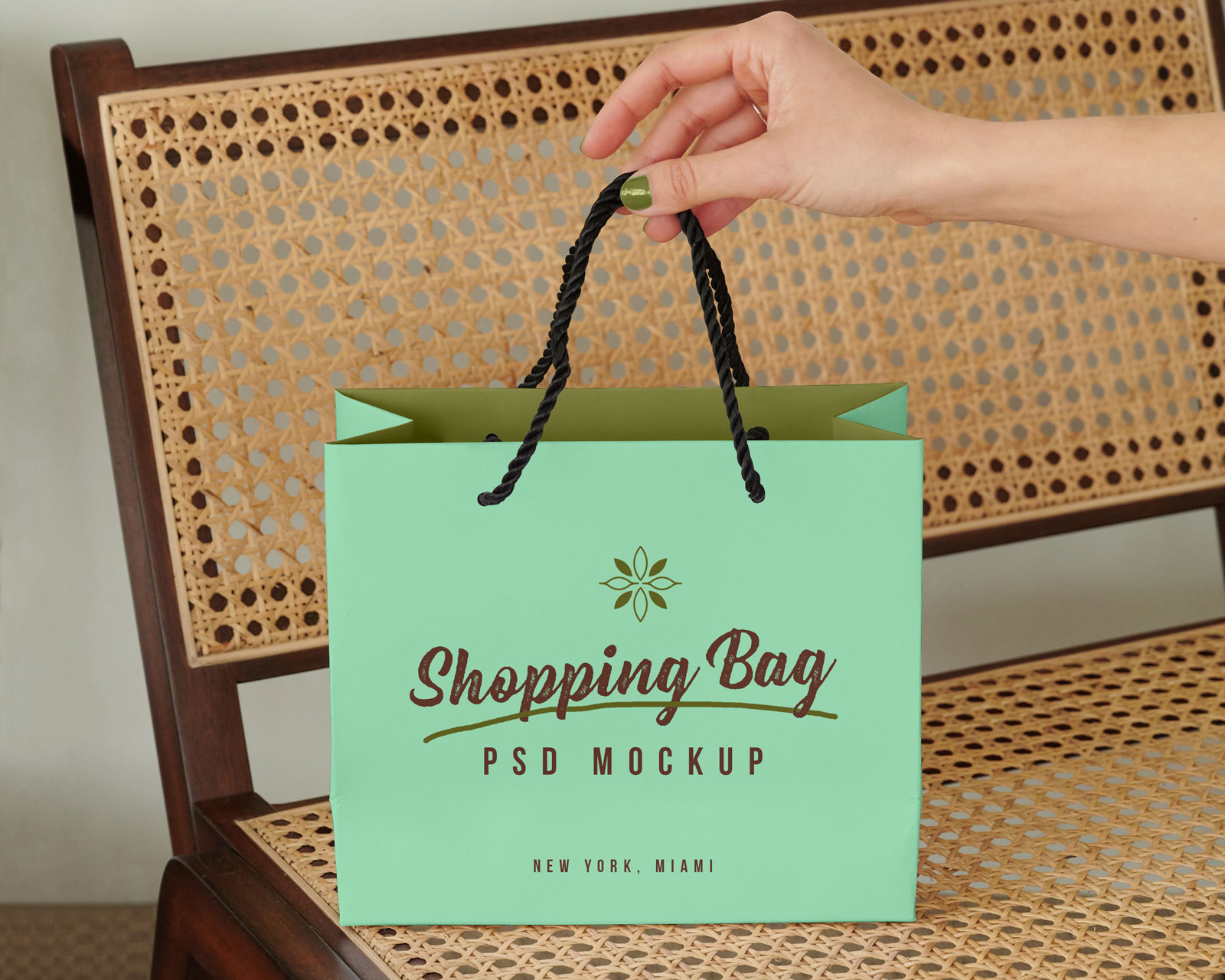 Available Format: Photoshop PSD
License: Free for personal and commercial usage
File Format: WinRAR
Mockup Resolution: 2800 x 2240 px
Note:
1. Free Shopping Bag Mockup is allowed to share online (A Must Linkback to this page)
2. Say thanks if you like or share/tweet with your friends. That means a lot to me.
3. And don't forget to follow or subscribe to receive more high quality premium freebies & awesome articles only.
Download Shopping Bag Mockup
More High-Quality Free Shopping Bag Mockup PSD Files