Hello there everyone! We hope that you all are having a great time reading our blogs and that you are also creating so many amazing things for your personal and commercial design projects as well. For our today's blog, we have created this free yet highly editable mockup PSD file of tin cans and we are sure that you all are going to love it very much. But before we start talking about that, we would like to thank you all for your overwhelming response and suggestions and for also letting us know how you are liking our content here. It is a pleasure for us to work on designs etc. that can help you excel at your jobs and we will continue to do that in the future as well.
It doesn't matter if you are a consumer of cold drinks, juices, and energy drinks for that matter to know that tin cans are far better than plastic boxes and glass bottles. Tins cans are easy to carry from one place to another, there are very less chances of leaking as well and the best thing about the tin cans is that they are nice and handy in the context of single-serving so, the general perception is to prefer tin cans over other materials that are available for beverages, etc.
If you are one of those people who have finally realized that we have been treating the planet really badly, then you would also know how plastic materials are not good for us and our future generations which brings us to the point of mentioning that tin cans can also get recycled easily as compared to other materials and this is another plus point to choose cans over plastic, glass, etc. Okay now that we are clear on the part that tin cans are preferred due to various reasons or must be preferred for that matter, we would like to talk about how you guys can use our free tin cans mock-up PSD file to create designs so, keep reading the blog.
For a multi-dimensional space, you must always chalk out a clear plan when it comes to designing it because you would want to be relevant even if the person who is looking at your tin cans does not know a lot about your brand etc. As far as Coke and Pepsi are concerned, you can instantly tell which of their drinks are being consumed by looking at the cans because these brands have been in the business for so long that anyone can recognize them easily. But when it comes to newer brands or brands that would want to change their designs for a campaign etc., it might be difficult for them to achieve that purpose of getting recognized.
Recommended: 50 Best Free Tin Can Mockup PSD Files for Beverages & Food Preservatives
So, what is it that you can do to make things work for yourself and for your existing and potential customers? It's simple, keep your branding designs to the point, don't let yourself overdo any designs so that meaning gets lost – be subtle, but make sure that whatever goes live from your end is effective and powerful enough to represent your brand or campaigns for that matter in ways that you want it to. When you pick a design for your branding or to promote a seasonal campaign for example for the holiday season or when you wish to introduce a new and better flavor etc., the first thing that you will have to work on would be picking the right and relevant design elements, colors and pair them all with a nice and fancy copy in order to deliver a complete message.
Your next step should be to create mock-up designs in order to see if the concepts once being incorporated look nice or do the designs need a little bit of tweaking here and there. Always remember that there will have to be a dedicated space for the health & nutrition-related facts, dates of production and expiry, etc. so make sure that you cater to that space too before you finalize anything. Creating mock-ups here will be the best thing to do as it will give you an opportunity to visualize the designs before you have them manufactured and printed and you will also get to experiment a little more during and after the review meetings for improved and more effective design ideas.
That is all, folks! We hope that you had a great time reading this blog and that you will also share your feedback with us in the comments section while you are at it, don't forget to let your friends and favorite colleagues read the blog and make the most of our free tin can mockup PSD file too. Do let us know if you want us to work on something for your upcoming projects and we will come back with it and more very soon.
Free Fizzy Drink Slim Soda Tin Cans Mockup PSD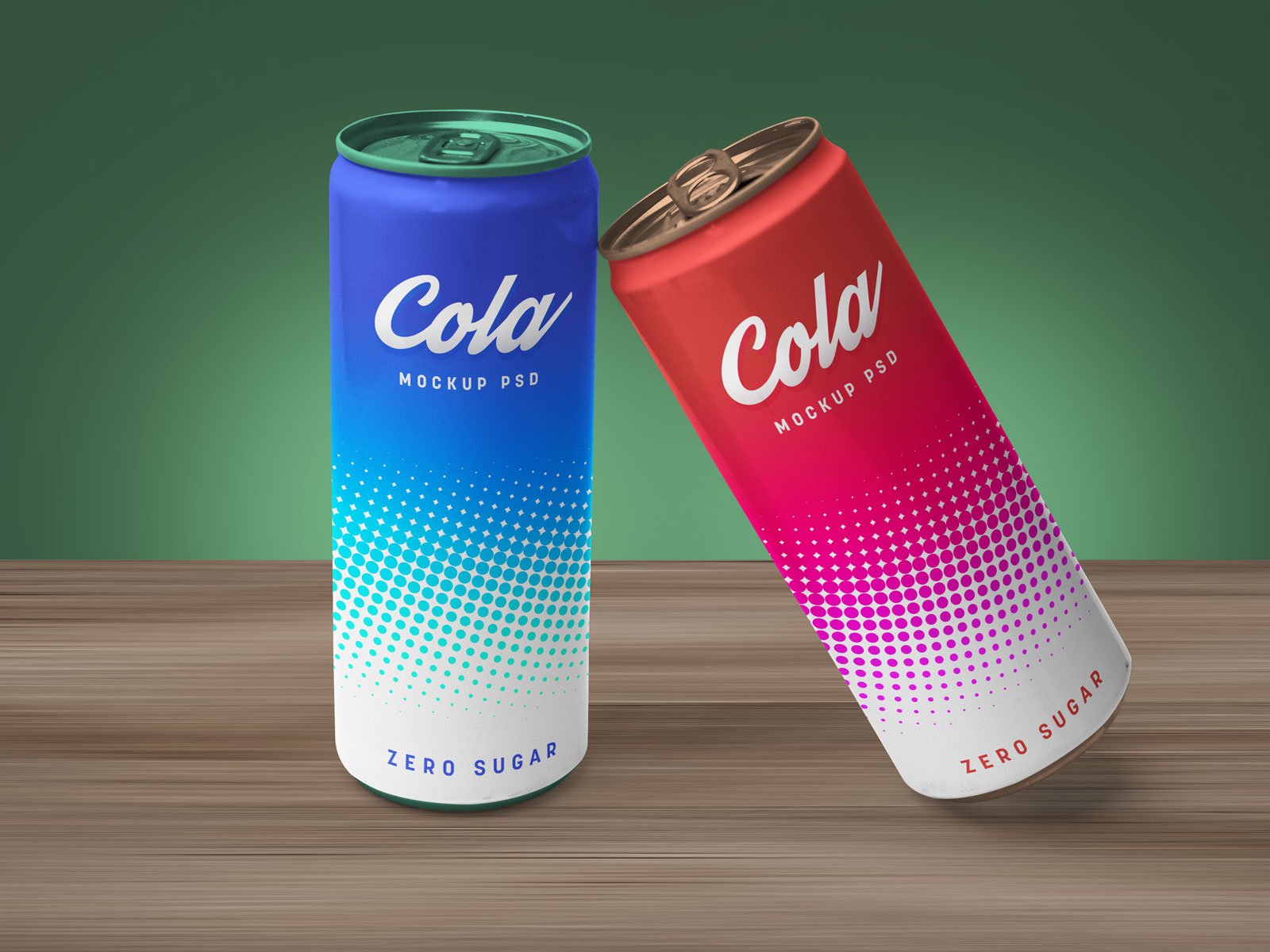 Available Format: Photoshop PSD
License: Free for personal and commercial usage
File Format: WinRAR
Mockup Resolution: 4000 x 3000 px
Note:
1. Free Tin Can Mockup is allowed to share online (A Must Linkback to this page)
2. Say thanks if you like or share/tweet with your friends. That means a lot to me.
3. And don't forget to follow or subscribe to receive more high-quality premium freebies & awesome articles only.
Download Tin Cans Mockup
More High-Quality Free Mockup PSD Files