Hello there everybody! We hope that you guys are having a wonderful time reading our blogs and that our free yet highly editable mock-up PSD files are helping you work on amazing designs for your personal and commercial clients as well. And before we start talking about what we will be sharing with you guys today, we would like to thank you all for your overwhelming response on our previous blogs and for also making sure that your family members, favorite colleagues, and friends read them too. Okay so, are you guys ready to know how you can create stunningly effective bus shelter poster designs? Keep reading the blog and you will know that and more!
You guys would know that there are many different types of marketing and advertising mediums and platforms that are being actively used all around the globe but the real question is which of them is the most effective one and while you cannot name just one to prove a point, it is always a great idea to weigh in your options first before you jump on the bandwagon. In today's age and time, it can be difficult to not follow the modern trends that are there because what happens is that people start thinking that you do not keep up with whatever is happening but we feel that you must only go for something which is right for you and your business.
Now, we won't say that digital and social media marketing and advertising platforms are not worth a shot but what we will say is that you must check out and explore the opportunities that on-ground, as well as out-of-home advertising (OOH), can get you. We know this for a fact that whatever you will display alongside the roads, at bus shelters, etc. will always gather more tractions than the campaigns that you design for your digital and social media audiences, and here is why: there is no doubt that almost everyone is on Facebook, Twitter, Snapchat, Instagram or happens to use YouTube, LinkedIn, etc. but that does not mean the ones that you wish to target are there too.
So, what happens is that when you design a campaign that is going to go live for a specific audience, there are chances that you might not be able to reach them due to their unavailability on the above mentioned online platforms and you might get a limited response too while on the other hand, when you put up a thing or two out there in the form of a billboard, poster or banner for that matter, you are making sure that your message gets delivered to your primary and secondary audiences as well. Another thing that you might not know specifically about bus shelter posters is that they are cost-effective and what we like the most about them is that they happen to provide a large space for the prices that you will pay to get them designed and even displayed for that matter.
– – – – – – – – – – – – – – – – – – – – – – – – – – – – – – – – –
Recommended:
– – – – – – – – – – – – – – – – – – – – – – – – – – – – – – – – –
We feel that although you already know about this, we must share it as another advantage of having made bus shelter posters that they are there 24/7; meaning that your message won't expire like your Instagram story after 24 hours nor will it get ignored due to ten messages from other brands that are there, you know. In addition to that, you get to be more experimental with out-of-home advertising and we genuinely love that, to be honest. From crafting an interesting story to entice the audiences to create interactive bus shelter ads, you guys have a pretty big room to see what you can do in order to become one of the most preferred businesses locally and maybe intentionally as well.
Recommended: 135+ Free Outdoor Advertisment Branding Mockup PSD Files
And now that you guys have gotten enough information on the effectiveness of bus shelter ads, we think it is time for you to get started with the brainstorming sessions so that you can work on upping your communication game by doing what's best for your business as well for your valuable customers too. We won't conclude the blog without reminding you to also create 2 to 3 mock-ups of each concept / creative idea in order to present different approaches to carrying out successful campaigns.
That is all for today from our end! We hope that you not only had a great time reading this blog, but you will also make the most of our free bus shelter poster mock-up PSD file as well to create your designs for your upcoming campaigns and if you do, feel free to share your creative journey with us in the comments section. And while you are at it, don't forget to share this blog with your graphic designer friends, colleagues, etc. and we will see you all next time with something more fun to work on.
Free Bus Shelter Poster Mockup PSD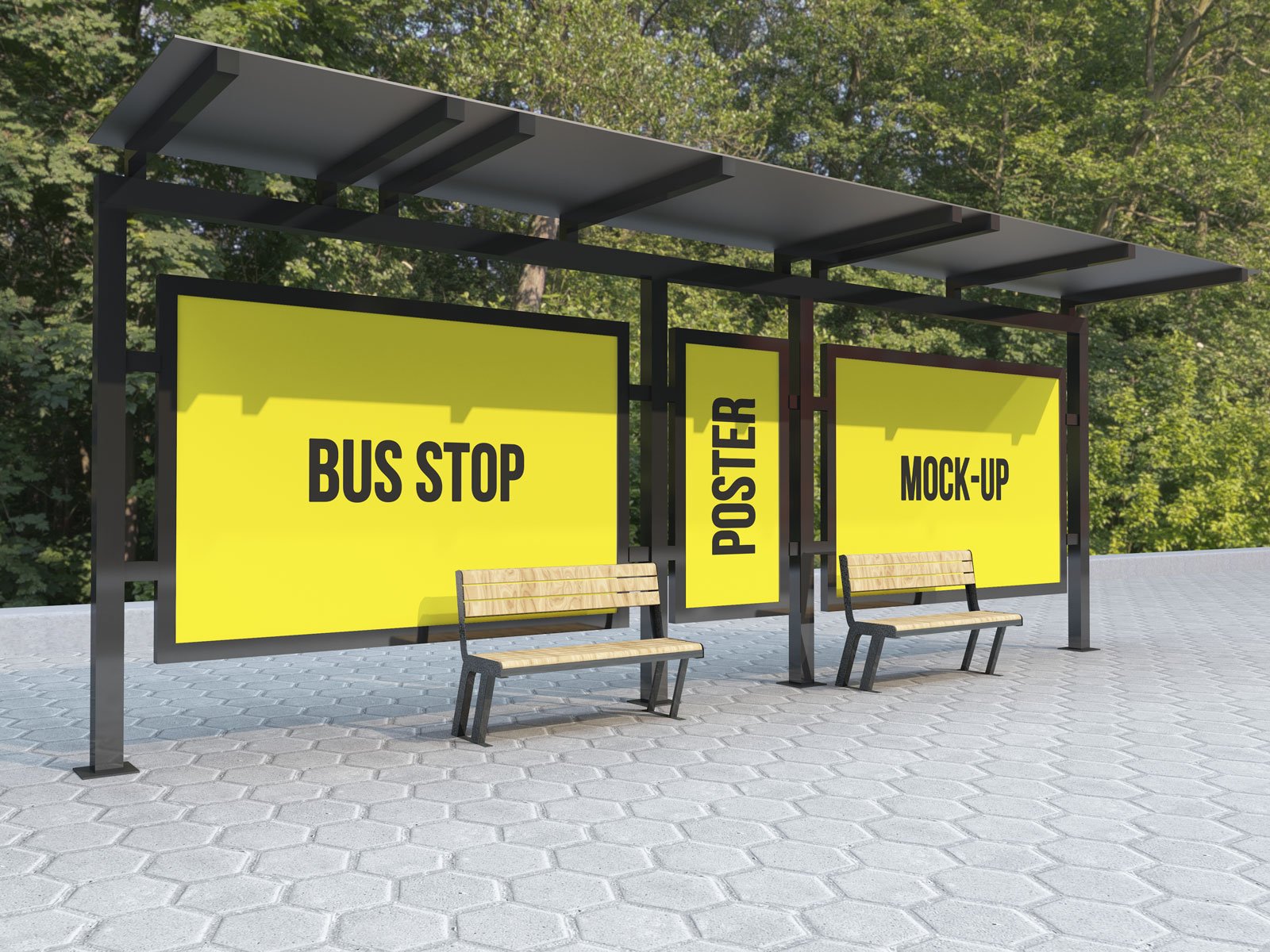 Available Format: Photoshop PSD
License: Free for personal and commercial usage
File Format: WinRAR
Mockup Resolution: 4000 x 3000 px
Note:
1. Free Bus Stop Poster Mockup is allowed to share online (A Must Linkback to this page)
2. Say thanks if you like or share/tweet with your friends. That means a lot to me.
3. And don't forget to follow or subscribe to receive more high-quality premium freebies & awesome articles only.
Download Mockup
More free mockups PSD files: