Hello there everyone! We are so overwhelmed with your response on our previous blogs and we are so glad to know that you share them with the people you love and care for because that is how we all are going to make sure that we are letting people do their thing easily while we also do ours without having to worry about its effectiveness and that is one of the reasons why we are back with yet another amazing blog of ours paired with a free Ultra Wide Cureved LED screen mock-up PSD file for all of you so, let us get started right away.
If you are one of our regular readers, then you would know how we like to keep things classy and simple but we would also like to mention that before we start sharing how you can use our free screen mock-up PSD file, you must know how it is different from the 4K screens and if they are worth spending your time on for whatever projects you will get in the future to incorporate our mock-ups into them.
We all have been present during the time when 4K resolutions screens were a hit and they still are but like everything else in the world, there has to be something better than the previous one or the one that exists at the same time frame. That being said, we would also like to say, that Ultra wide is not really a technology but it is a display resolution and it is usually for the consumers that like to watch their movies and play their games from the comfort of their homes, offices, etc. On the other hand, 4K happens to benefit professional purposes and is considered to be the best for cinemas. So, now that we know what stands for what and about their basic uses, let's get to the main point.
Keeping in mind the provision of better quality media across different sizes of screens and monitors, it becomes super important to make sure that the companies that happen to work on those products make sure that they are giving their customers nothing but the best. When we talk about high definition resolution or ultra high definition resolution, we mean that everything that is being played and viewed on the screens is seamless, it is of high quality and does not get pixelated either. Such screens are best not only for entertainment purposes, but you can surely use them for work as well for example; when you are creating designs, when you are documenting your records, or when you need to proofread and check text as well as visuals, etc.
Recommended: Best Dual Arm Monitor Mount
As far as personal usage is concerned, we are sure that whoever wants to up their game can spend the required money on any ultra wide curved LED screen that they would like to get for themselves. But for professional purposes, you might have to get approvals from the concerned departments first before you place an order or get the stuff from a physical store and what's better than creating a nice and clean mock-up design to sort of convince the decision makers to invest in a couple of good screens for the work place so that anyone and everyone can not only enjoy working through those UHD screens but they can also make sure that there are no mistakes of the sorts in any of the projects either.
We also wanted to make this mock-up PSD file of ours to look more relevant and closer to life so, we decided to create one that showcases a work desk with all the devices and accessories around. And we did not forget the gamers in the house so, we had to place a controller there as well so that you can get an idea of how versatile the ultrawide curved LED screens are and can show that nicely to the ones who will be approving the budgets to get the screens installed, etc. With our mock-up PSD file, you guys will be able to properly show what is required or what can be done when you have the right accessories, devices and screens for your work and we can bet that you will be able to get what you are asking for.
Recommended: Best Video Project for Games
And that's all for today, friends! We hope that you had a great time reading that blog and that you will also share it with your friends, colleagues, etc. as well. We would love to read your feedback on the blog and in general, too so, feel free to share that with us and also let us know your requests and suggestions too so that we can work on them and get back to you guys as soon as we can.
Free Ultra Wide Curved LED Screen Mockup PSD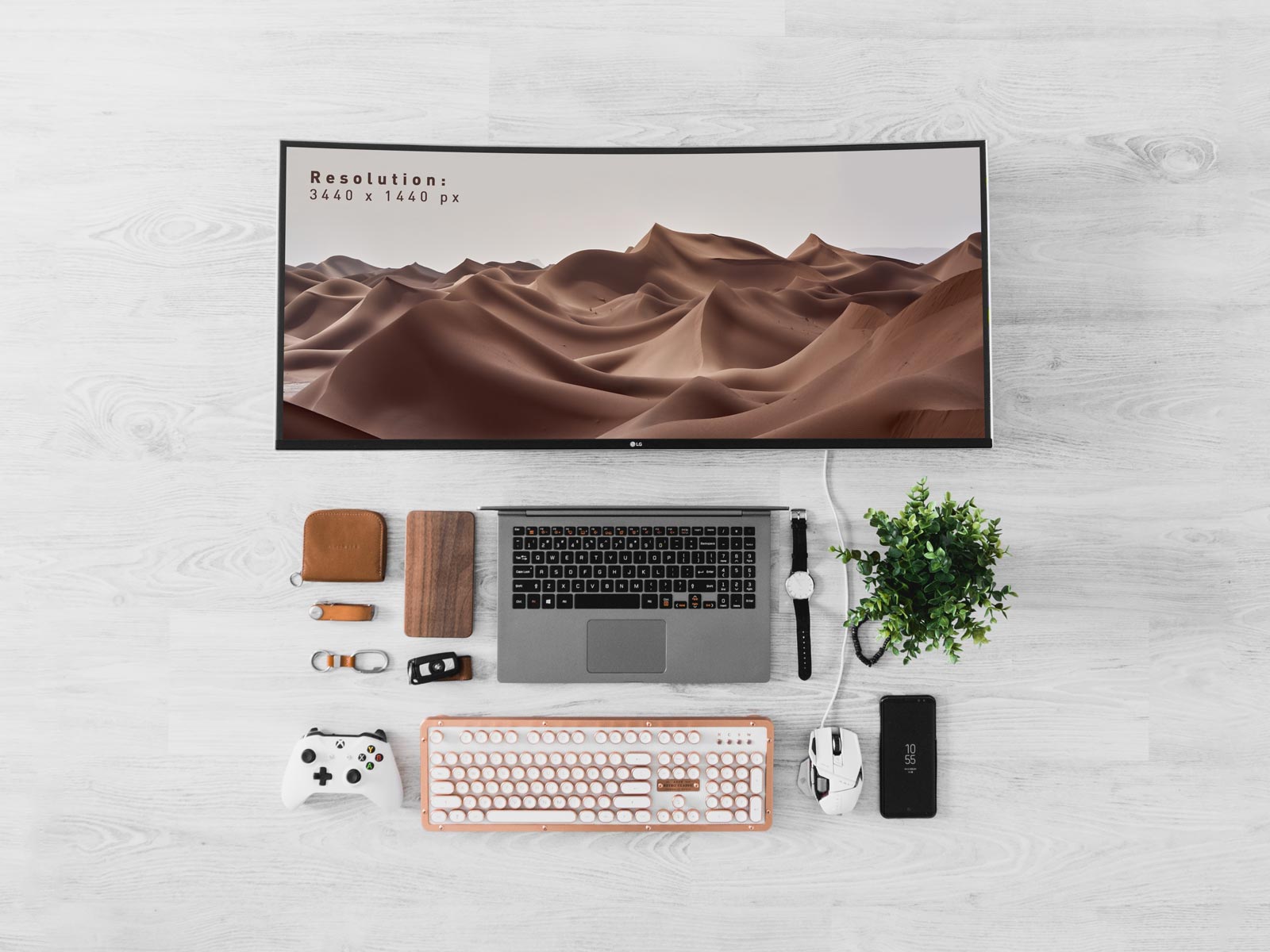 Available Format: Layered PSD with smart object insertion
License: Free for personal presentational use only
WinRAR File Includes: Ultra Widescreen mockup
Note:
1. Mockup is allowed for sharing online (A Must Linkback to this page)
2. Say thanks if you like or share/tweet with your friends.
Download Ultrawide Screen Mockup
More Awesome Latest Free Mockups: