Hey there everyone! We hope that you all doing well and that you are also enjoying our blogs, creative ideas, designs, and everything else that we share here. Your overwhelming response on our blogs tells us that you are being able to bag your dream deals for your personal and commercial projects and we would love to share it with you guys that we will keep creating everything that you will need from our end in the future as well.
As far as our today's blog is concerned, we have made this free yet highly editable billboard mock-up PSD file that will let you create attractive advertising for your businesses, etc. so, let us dive right into it.
If you are working as a marketing or advertising professional, you would know the importance of out of home advertising (OOH) so much so that you also include that in every campaign that you are working on. And that is how it should be because although digital and social media campaigns are beneficial for businesses, no one can deny that OOH advertising happens to be more fruitful and brings better results too. That being said, we can tell that you must be wondering about the effectiveness of airport advertising as airports happen to be a little away from the regular roads and everything and there are chances that whatever branded messages you will put out there, won't get seen.
But that is not the truth because even though not everyone in the city might get to see your promotional messages, the ones who will see them won't let them go to waste. We are sure that you guys know about turning customers into loyal advocates for your services, products, etc. and we can tell you guys that you can do more than that when you have taken into consideration all sorts of marketing and advertising mediums to talk about your business. In this part of our blog, we will share the many types of airport advertising so that when you do go for something in the future, you not only know about all of them but you can also try to make an effective case / presentation as well.
Recommended: 135+ Free Outdoor Advertisment Branding Mockup PSD Files
Below are the types of airport advertising that can bring you results if the campaigns are carried out strategically:
Banners
Billboards
Airport shuttles
Digital video screens
Backlit dioramas & spectaculars
Then there are flyers, brochures, and booklets as well that can help you promote your business in all the right ways and if you are thinking that no one is going to read long texts – know that flights get delayed all the time and there are people who usually don't take books to airports so how about you make your advertising sound so captivating and interesting, that they want to be engaged with you in one way or the other.
Those of you guys who have been at the airports for travel business or to see someone off or even to receive them would know that airports have that captive environment where people sit and wait for a couple of hours before their flight takes off or before someone they are waiting for (finally) arrives which means that it gives them all the time in the world to go through the advertisements over and over again and we are sure that you know what the means. With the constant reinforcement of a message or two, the message stays with the people and they are going to pass it on to the ones who might be in need of a particular product or service for that matter.
Recommended: 60+ Outdoor Signage Mockups
And like all great things, the best way to make your airport billboards effective is to make sure that you have a proper big idea / creative thought behind it before you sit to design the options. The billboards can mention something about safe travels while also a subtle branded message that is easy to understand and the call to action is also visible enough to make the audience make an informed decision right then and there – if need be.
That is all for today from our end, you guys! We hope that you all had a great time reading this blog and that you will also make the most of our free airport billboard mock-up PSD file and all the tips that we have shared here with you. Feel free to share your feedback with us in the comments section and while you are at it, do share the blog with your graphic designer friends, favorite colleagues, and other people that you think might be interested in getting their hands on a free mock-up PSD file of an airport billboard.
Also, do let us know if you have any suggestions and requests and we will come back with all of them in our upcoming blogs super soon.
Free Airport Billboard Mockup PSD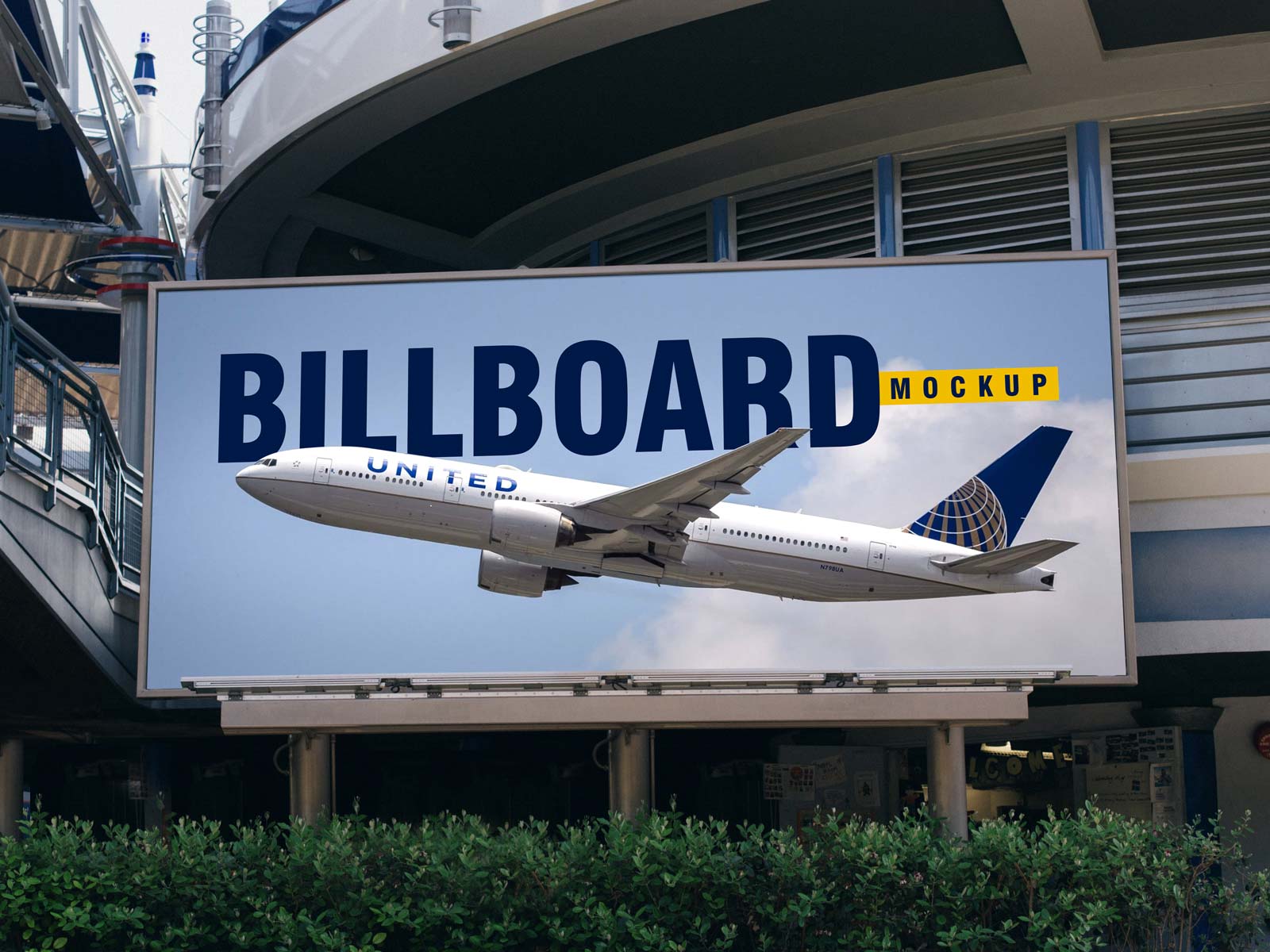 Available Format: Layered PSD with smart object insertion
License: Free for personal presentational use only
Zip File Includes: Airport Billboard Mockup PSD
Note:
1. PSD Outdoor Billboard Mockup is allowed for sharing online (A Must Linkback to this page)
2. Layers are hidden to decrease the size of the file kindly unhide and place your design on a red-colored layer.
3. Say thanks if you like or share/tweet with your friends.
Download Billboard Mockup
More Free PSD Hoarding Mock-ups you would love to download: