Hi there everyone! We hope that you all are doing great and that our blogs and mock-up PSD files are helping you create amazing designs for yourself as well as for your clients. For our today's blog, we have made this free street billboard on urban pavement mock-up PSD file which is highly editable and you can use it for your upcoming personal and commercial projects. But before we start sharing how you can use the free mock-up PSD file, we would like you all to know that we are thankful to you for your support and feedback that you share with us and we would love to receive more of it in the future as well.
Now, we know that you guys have read many blogs here that featured brilliantly designed street billboards and how you could make the most of them too but our free street billboard mock-up PSD file that you are about to get your hands on is not just different but we have a bunch of tips to share with you guys that will help you create marvelous out of home advertising (OOH) like a boss that you are. The reason why we create closer to life mock-up PSD files is that we want you guys to imagine what your designs will look like in real life and to also help your clients visualize the same so, for this one, we decided to show an urban pavement in order to make it look like an even better visual for all of you.
It is a fact that many companies have shifted their businesses to digital and social media platforms but we cannot deny what billboard advertising can do for us. We know that many people still don't believe in the idea of being available on multiple platforms and choose to do what other brands are doing in their category of business but with that approach, what happens is that audiences that are not present on digital or social media platforms won't get to know that you exist as a brand and the same goes for the ones who might not get to roam around in the city a lot to see what you have put out there as your out of home advertising, you know.
And even though you would like to believe that it does not really matter, it does and as a business, you must make sure that you are available and accessible so that more and more people can reach out to you in one way or the other. Also, trust us when we say this; doing that isn't that difficult – because all you have to do is to work on a proper strategy and then execute it too in order to get what you wish to get. That can be your business growth in terms of revenue, the opening of new stores, or making the life of your end consumer easier by fulfilling their needs and more.
Recommended: 135+ Free Outdoor Advertisment Branding Mockup PSD Files
So, what is it that you can do to create effective street billboards for your own business or for the ones that you are associated with? Read this blog till the end to know how you can create powerful billboards. Plan out the whole thing strategically as billboards need to be functional meaning that your billboards must be legible even from a distance. But that doesn't mean that you only have to write the copy in such big a size that it is visible enough to be read from a distance but it does not make any sense. What we mean to say is that don't just work on the fancy fonts and the size of your copy but make it worthy of reading as well.
Recommended: 50+ Best Free Outdoor Advertising Mockups for 2022 Projects
Sure, you get a lot of space on the street billboards to use but use it wisely and stick to one message or idea of yours. When you overdo it, there are chances that most of the information would be lost and we all know that you don't want that to happen. When it comes to the background colors, you can go for anything but white. Make the most of all the happy colors that are there to make your street billboards and we can bet that you won't regret doing that. Before we conclude the blog, we also want to say always, always go for high-resolution imagery and other design elements otherwise everything will look really bad and might not even work in your favor.
Recommended: 60+ Outdoor Signage Mockups
That is all for today, you guys! We hope that you all had a great time reading the blog and that you will also share it with your graphic designer friends and favorite colleagues as well. Feel free to let us know what you liked the most in the comments section and while you are at it, do share if you have any requests or suggestions as well. We will see you guys next time with something more fun and exciting to work on.
Free Urban Street Billboard On Pavement Mockup PSD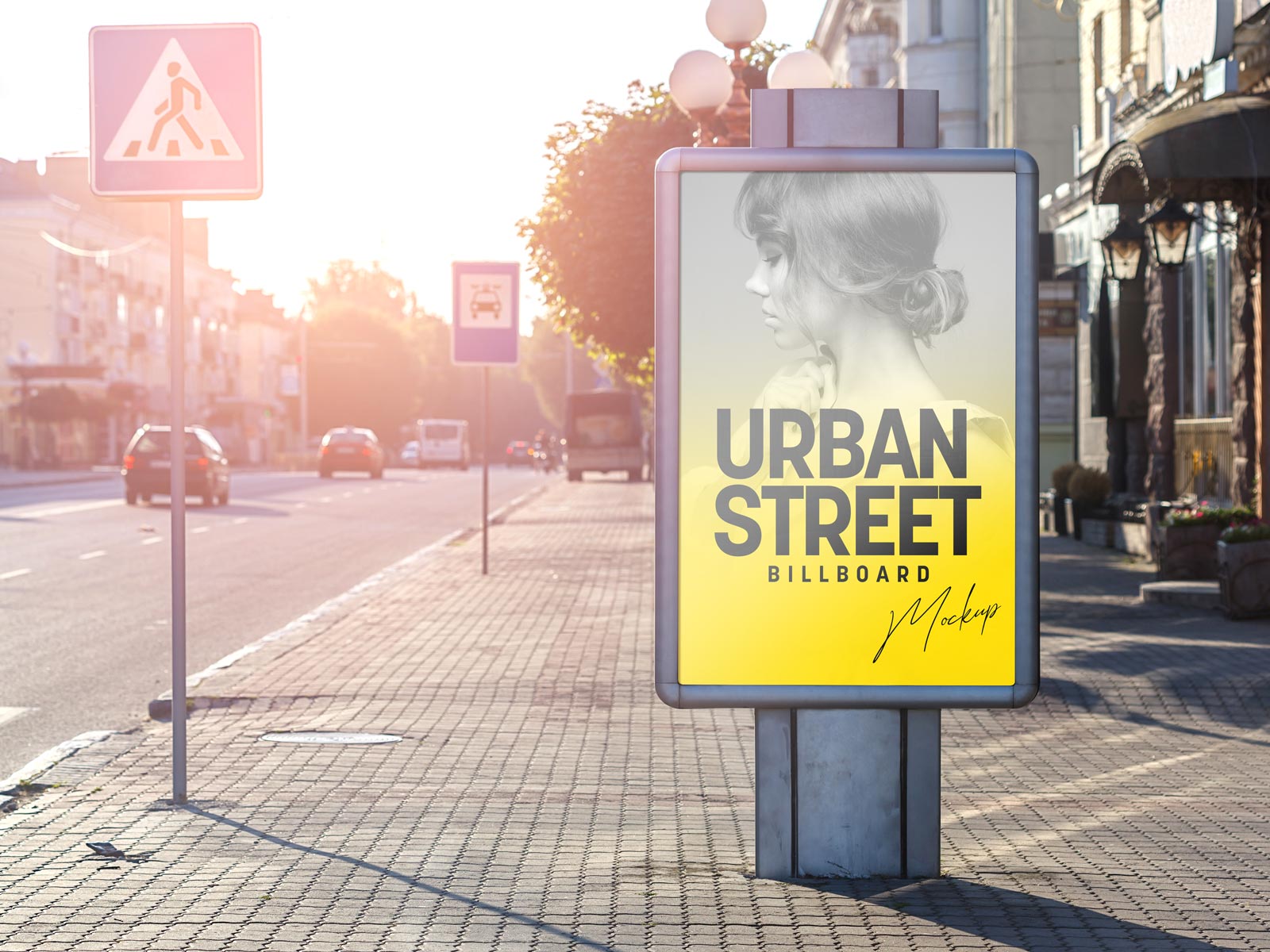 Available Format: Layered PSD with smart object insertion
License: Free for personal and commercial usage
Zip File Includes: Free Urban Street Billboard Mockup PSD
Mock-up Resolution: 4000 x 3000 px 

Note:
1. Free Mockup PSD is allowed to share online (A Must Linkback to this Page)
2. Say thanks if you like or share/tweet with your friends. That means a lot to me.
3. And don't forget to follow or subscribe to receive for more high quality premium freebies & awesome articles only.
Download Street Billboard Mockup
More Free Mockups: