Hi there everyone! We hope that you had an amazing time reading our previous blog and that you are also making the most of our free yet highly editable mock-up PSD files as well. For our today's blog, we have worked on this free gift tag mockup PSD file that you can customize and use for your upcoming personal and commercial design projects but before we start talking about how you can create your own designs, we would like to encourage you all to keep sharing your constructive feedback with us and to share our blogs with your friends, family members, and colleagues as well.
If you are one of those people who love giving gifts and have received gifts, then you would know how handy gift tags can be when it comes to adding a personal touch to your gift. Gift tags can be in different sizes, can depict the artist that's hidden inside you, and can also enhance the overall look of the gifts as well. In addition to creating and using gift tags for personal usage, you can also use them for corporate gifts as well by branding the tags and then sending over the gifts to your business partners, clients, loyal customers, etc.
The idea behind gift giving is to spread love, to show the other person that you care for them and that you appreciate, and respect them. But the best thing about giving each other gifts is that you can and cannot have a reason to get someone something and we think when the gifts come as a surprise, then they double the excitement as well. There are many people who don't like getting gifts because they like to get things for themselves, but we are not like them and we hope that you guys don't mind a random as well as a planned gift every now and then too.
Although gift tags should be in cute adorable sizes but you can always make them bigger or smaller – depending on the gift that you have got for someone or as per your clients' demands. We would like you all to know that it won't hurt you to experiment and then see what is working for you for example; there should be some space for the name of the sender and some space for a heart felt message as well. If you want to design it using your branding elements, then you will have to make sure that they are prominent so that people know where the gifts came from, you know.
In addition to the design or pre designed gift tags, you can also give different options for the materials and finishing of the gift tags as well – from paper (preferably recycled ones) to hard paper to glossy or matte finishing, you will find a variety of options in the market that you can go for yourself or give suggestions to your clients as well. Make sure that you have done your research first because that's something that involves third party members so you would want to be right about the materials, costing, durability, and everything else that matters to make your gift tags worth buying. You can also suggest ideas on how to wrap the gifts to your customers through engaging content on your social media platforms and then promote your own products as well – if that's something that you do as a business.
Before we wrap up our today's blog, we would love to remind you all to always spend some time and create mock-up designs before you go in for a review meeting or even when you have to share the designs over an email or a presentation for that matter. Why do we say that is because we want you guys to excel at everything that you are doing and will plan to do. And as far as making mock-ups is concerned, we know that it takes time, and we also know how jampakced a designer's or visualizer's life is but if you want to make a nice impression on someone that you are meeting to share your designs, it is always a great idea to do it through a proper plan.
Show them your level of interest in the job and how seriously you take all your projects too and we can bet that you will bag all the business deals that you wish to get very easily.
That is all for today from our end! We hope that you guys had a nice time reading this blog and that you will also utilize our free gift tag mockup PSD file for your design projects as well. Feel free to share your feedback and suggestions with us in the comments section and while you are at it, don't forget to share the blog with your graphic designer friends and favorite colleagues too. We will see you guys next time with something more exciting to read and work on – until then, keep creating magical designs!
Free Gift Tag Mockup PSD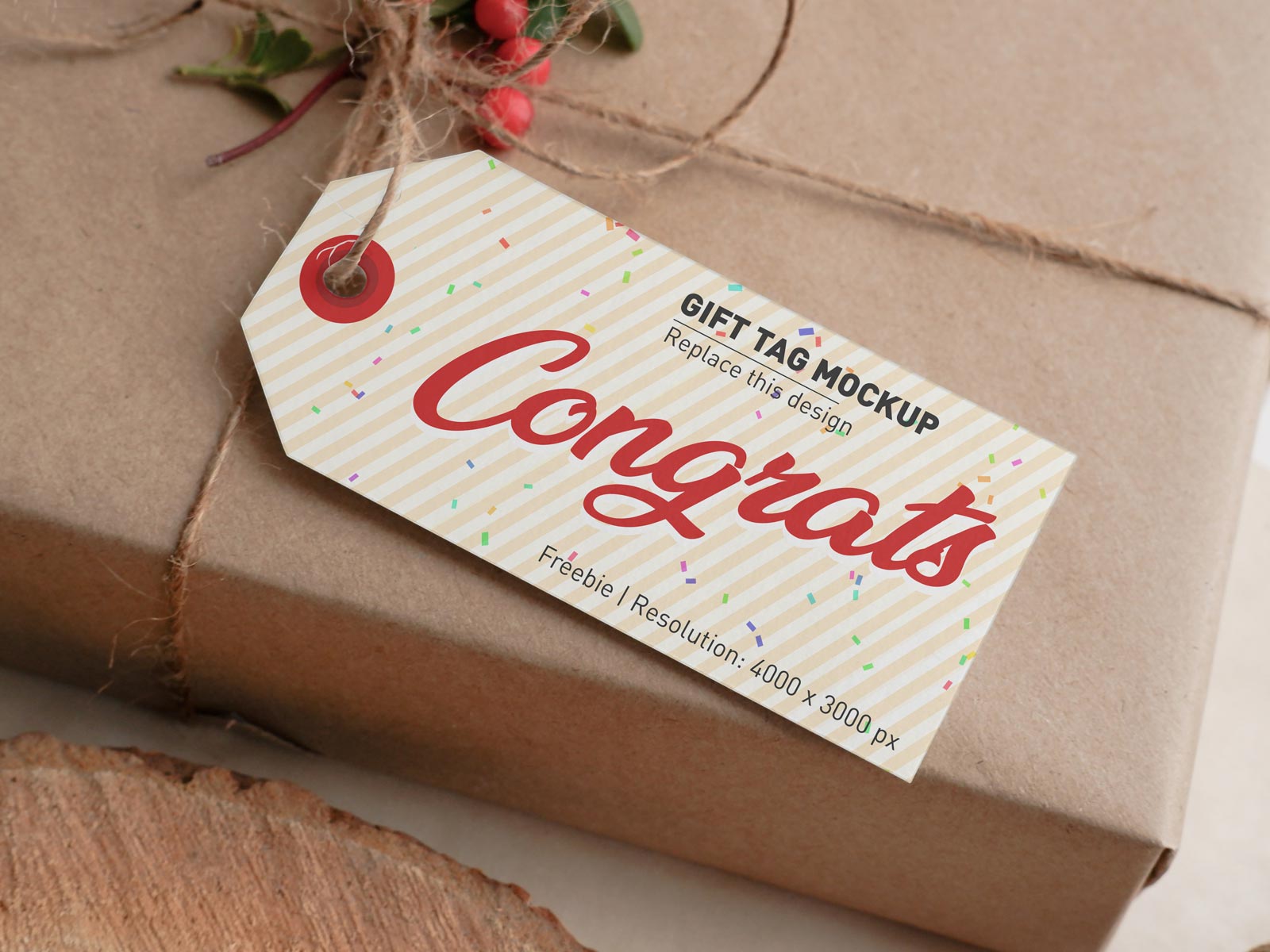 Available Format: Photoshop PSD
License: Free for personal and commercial usage
File Format: WinRAR
Mockup Resolution: 4000 x 3000 px
Note:
1. Free Hang Tag Mockup is allowed to share online (A Must Linkback to this page)
2. Say thanks if you like or share/tweet with your friends. That means a lot to me.
3. And don't forget to follow or subscribe to receive more high quality premium freebies & awesome articles only.
Download Gift Tag Mockup
More High Quality Free Mockup PSD Files