Hey there everyone! We hope that our previous blog and free yet highly editable mock-up PSD file helped you work on your personal and commercial design projects in style and that you are super excited to read our today's blog as well. But before we start sharing everything that you need to know about our free candle label mock-up PSD file, we would like to take this moment to thank you for your kind feedback and suggestions and for also sharing our creative ideas and easy to follow tips with the people you love and care for.
Okay so, let's start this blog with a couple of real questions. Do you guys love candles? If you do, how many scented candles do you have at the moment? If you wish to know about our love for candles, we think we will just say that we have to have at least one scented candle wherever we are working so that we can light it and enjoy it as much as we can. And through this blog, we are also trying to send a message to our friends to get us some candles every now and then too so, there is that. Anyways, as you must have seen candles have become a topic of discussion (again) and for all the right reasons. They bring peace to the room / area where you are sitting and the vibe is so relaxing that there are chances, you might not want to leave that place for some time too.
Then comes aromatherapy and we believe that it is here to stay mainly because it helps you relax and you can bring your brain to get into a productive mindset as well. We also know that there are candles that can be harmful to the person who sits with them for a long time so, we would like to share some information with you, and then we will move to the next part of our blog which is the free candle label mock-up PSD file that we have created for you guys.
When candles are burned, they release toxins that are not only harmful for the person who is in the room or the place where the candles are being burned but the fumes also have an impact on the environment as well. And we might not consider that something huge and all but well, things are happening and we need to stop them too. So, when it comes to getting candles, make sure that you don't get the ones that have paraffin in them and you will be good to go. That being said; let's now talk about how you guys can make the most of our free candle label mock-up PSD file.
If you make candles and sell them, then that it your opportunity to try out some new things in order to attract more and more people. Now, the scent can't be smelled if you are selling your items online and we all know that it can be a little difficult too so in order to make people know and understand what you are selling, you will have to take help from your branding and design elements. In addition to that, make the visuals look so enticing that no one can scroll or move past them before they make a purchase. How to do that for candles, you ask? Well, there are many different ways to showcase your products in a way that can depict what you are trying to say, what you are selling, etc. but the most effective strategy to get people's attention is to working on aethetically beautiful designs and premium packaging and of course, offering reasonable prices (after doing your research on what your competition is offering) so that your potential customers can distinguish your business from others and can make an informed decision as well.
Our free yet highly editable free candle label mock-up PSD file let you showcase your designs in a nice and powerful way – we have added more elements like the vases to complete the look and we can bet that with your designs and rationales, you will be able to impress your team lead and clients too. Make sure to work on a couple of mock-ups before you submit the designs for your review meetings. You can go for thematic designs in order to build a story or suggest to launch an ocassion specific product line as a part of your business plans.
That is all for today, you guys! We hope that you all had a great time reading this blog and that you will also utilize our free candle label mock-up PSD file for your upcoming design projects. If you guys have any suggestions and requests, please do them our way and we will make sure to get back with them and more super soon.
Free Pillar Candle Label Mockup PSD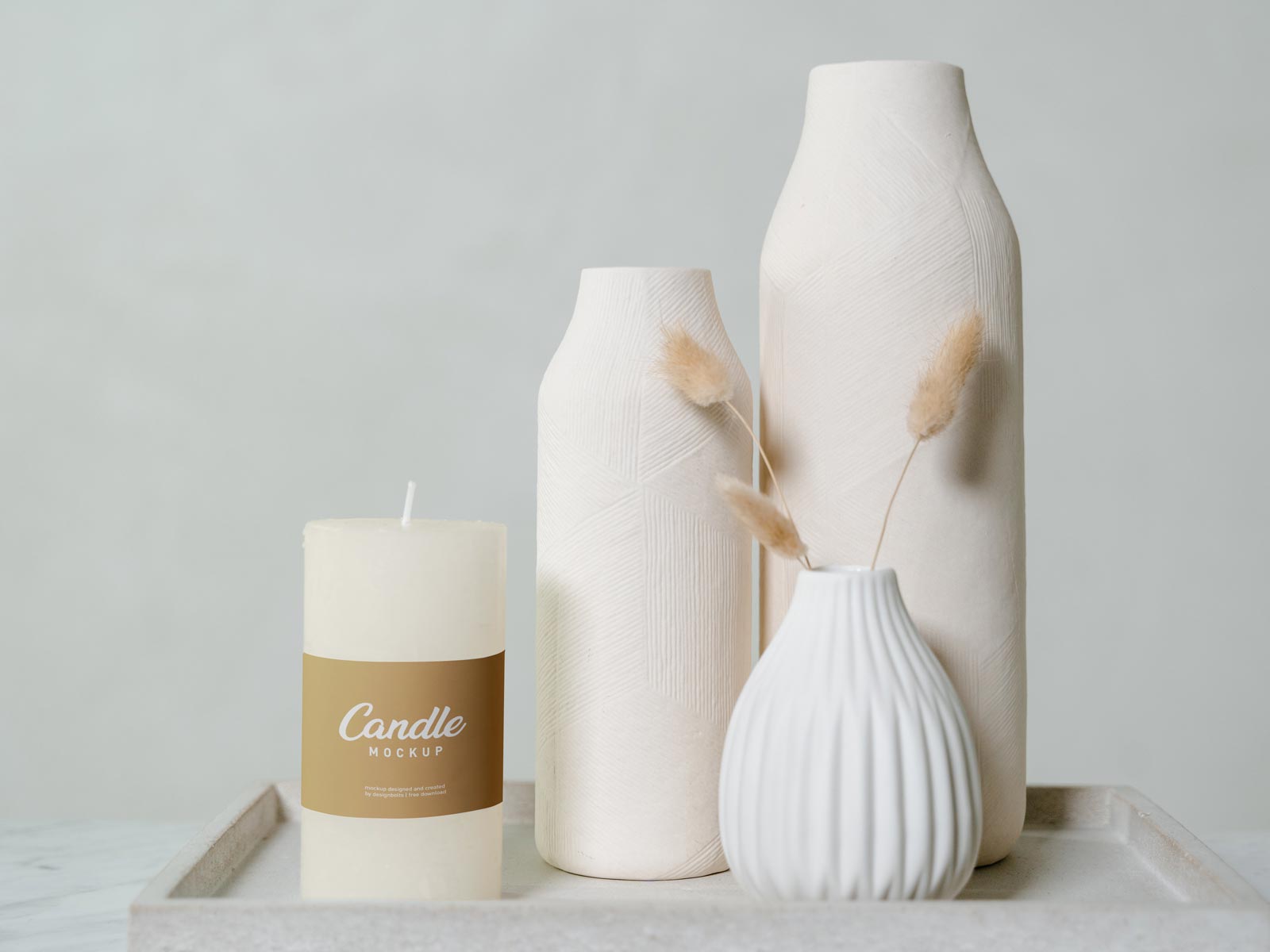 Available Format: Photoshop PSD
License: Free for personal and commercial usage
File Format: WinRAR
Mockup Resolution: 4000 x 3000 px
Note:
1. Free Hang Tag Mockup is allowed to share online (A Must Linkback to this page)
2. Say thanks if you like or share/tweet with your friends. That means a lot to me.
3. And don't forget to follow or subscribe to receive more high quality premium freebies & awesome articles only.
Download Candle Mockup
Recommended: