Hi there everyone! We hope that you guys are having a great time working on your personal and commercial design projects and that our carefully designed mock-up PSD files, tips & tricks, and everything else that we share here are helping you ace your business goals too. For our today's blog, we decided to share a new and free textured vertical business card mockup PSD file with you guys which will help you create stunning designs for your upcoming tasks so, let's get started right away!
In our previous business card related blogs, we have shared how you can make the first impression a great one if you have your business card to share with your potential clients and even employers for that matter but in our today's blog, we are going to be sharing a couple of things that fall under the category of business card etiquettes, which will not only help you function more professionally during your business meetings and conferences, etc. but these things can very well help you in designing the perfect business cards as well.
First things first; if you are a working professional, a business card is something that you must never leave at your house or office. We know that in this digital world of ours, we have made peace with the fact that our smart phone is something that will help us lead the day however we want to lead it but that's not effective if you are interested in making human contact with someone and if we are being entirely honest, we believe that it is important that you behave like a regular human being who is not too dependent on their smart devices.
We would also like to add here that we are not against the use of smart devices at all, but what we are saying is that if you wish to leave a long-lasting impression on someone so that they can remember you in the future as well, you would want to prefer conventional business cards over anything. You must also know that even though you have a big deck of your business cards with you, you don't hand it out to every person that you happen to meet during a public event, meetings, etc. You need to read the room before you plan to do the networking too especially for public events because you would not want to pass on your personal or professional information to every random stranger that you come across.
Recommended: 5 Types of Business Card Printing
This is considered to be a common practice among many professionals that before you hand out their business cards to other people, they also write a personalized note on the back of the card as well so that the person who is receiving the card can exactly remember whose card it is, you know. We like this practice as far as the communication is clear and the people have the time to do it for everyone they are meeting along with the fact that the business cards were designed in a way that they allow the people to use the back side for making a short note for the future. Another very important thing is that the business cards must always look presentable – they must be in good shape, neat and clean too.
Okay so, now that you guys know a thing or two about the business card etiquettes, let's talk about their design and printing. A business card design is one of those branded media of communication that can help you make a nice impression on the audience. The design should be clean and in harmony with the branding of the business, it should represent what the business or the person is all about and it should also be printed on reliable material so that it doesn't get dirty and crumpled either.
Lastly, make sure that you have designed a couple of options to finalize the business cards with your team lead or clients and customers for the matter by creating mock-ups of them, and also make sure to go through the copy one last time before you share the files with the third-party vendors for the purpose of printing the business cards and you will be good to because you will be working on one of our favorite textured vertical business card mock-ups and we can bet that it will be a great experience for all the involved parties.
That is all for today, you guys! We hope that you had a great time reading the blog and that you will also share it with your friends, family, and favorite colleagues. We look forward to reading your feedback on the blog too so feel free to share that in the comments section and while you are at it, don't forget to share your requests with us and we will come back with them and more very soon. Until then, keep creating super awesome designs for yourself as well as for your clients.
Free Textured Vertical Business Card Mockup PSD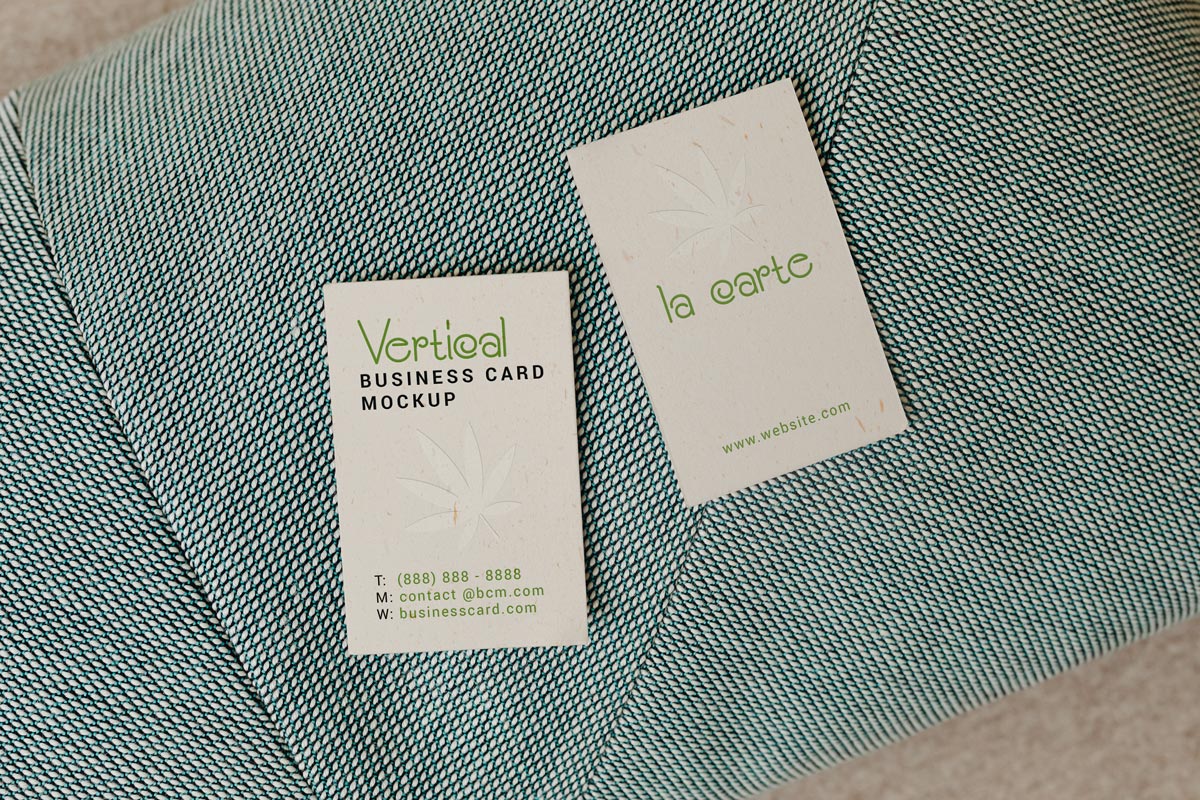 Available Format: Layered PSD with smart object insertion
License: Free for personal and commercial usage
WinRAR File Includes: Free Business Card Mockup PSD
Mock-up Resolution: 4200 x 2800 px 

Note:
1. Free Business Card Mockup PSD is allowed to share online (A Must Linkback to designbolts.com)
2. Say thanks if you like or share/tweet with your friends. That means a lot to me.
3. And don't forget to subscribe to receive more high-quality premium freebies & awesome articles only.
Download Business Card Mockup
More Awesome Free Business Card Mockups: