Hi there everyone! We hope that you all are having a great time reading our blogs and that are creating many different designs with the help of our free yet highly editable mock-up PSD files. In our today's blog, we will share a free bus stop mock-up PSD file that you will use for your upcoming projects if you or your clients wish to advertise the business campaigns, etc. But before we do that, we would like to thank you all for your overwhelming response on our previous blogs and for also sharing them with the people you care for.
Out-of-home advertising (OOH) becomes super effective if you include bus stop advertising in the plan and in this part of our blog, we are going to be talking about how you can make sure that you have worked out a perfect plan for your own business or for the one that you are associated with so, let's get started!
Before you get to the design part, you first need to work on the goals that you would like to achieve through your bus stop advertising campaign(s) because not only it is important to have a pepper plan worked out but it will also be super beneficial even after the execution of the campaigns as well. Now, there are multiple objectives that you can think of for an OOH advertising campaign however, there should be just one objective for a campaign at a time otherwise too many messages will not only confuse your existing and potential customers, etc. but you might not be able to evaluate the actual results due to mixed messaging as well. The objectives can be to launch a brand / product or to communicate with the clientele through a regular branding message to let them know that you are still there – working on your products and improving the services and so on.
Then there is a subtle dig at the competition while also talking about how you are better than them although, for this, we would suggest you think through the entire thing before you make it live as many brands such as Burger King, McDonald's, etc. always make the most of their advertisings that turn into banters as well but as long as none of the brands takes it seriously, it is all good. We also believe that fun communication between brands should be made otherwise, what is the point of being available on-ground and online if you cannot play with words, you know!?
– – – – – – – – – – – – – – – – – – – – – – – – – – – – – – – – –
Recommended:
– – – – – – – – – – – – – – – – – – – – – – – – – – – – – – – – –
In addition to that, you can definitely use your platforms and mediums to create goodwill and the end goal of such campaigns is to increase the receptiveness of the products that you are selling as well as to strengthen your business's position in the market. Always remember that you can literally get more than what you are expecting from your campaigns if you know how to strategically plan out everything. Also, never forget that there will be days when you will have to take the high road, a road that might be full of risks and challenges too, but if you know how to deal with them, you will get where you deserve to be. Most of the brands' creative agencies are almost always working on super amazing ideas but they never get executed because the business owners and the brand managers, etc. are not too confident about changing the communication and making it fun for everyone or trying out a new platform for to talk to the customers directly and what happens is that they end up executing their old campaigns with a twist in their conventional ways and that is literally it for them.
Recommended: 135+ Free Outdoor Advertisment Branding Mockup PSD Files
Even bus stop advertising has become more than just delivering a message to your audiences, it has become interactive, it allows you to scan the QR codes, and it can also act as a vending machine and all of this depends on you – if you have the ideas and the budgets to do something unique and different, this is your sign and we can bet that whatever you will think of can be well executed with our free bus stop mock-up PSD file. So, what are you waiting for? Get your hands on the PSD right away and let the fun begin.
That is all for today, you guys! We hope that you liked reading the blog and that you will also share it with your friends, and favorite colleagues as well. Feel free to share your feedback with us in the comments section and while you are at it, we would also love to know if you have any special requests to make, or any suggestions that you would want us to know and we will get back to your comments right away. We will see you all next time with something more fun to read and work on – until then keep creating awesome designs.
Free Bus Stop Mockup PSD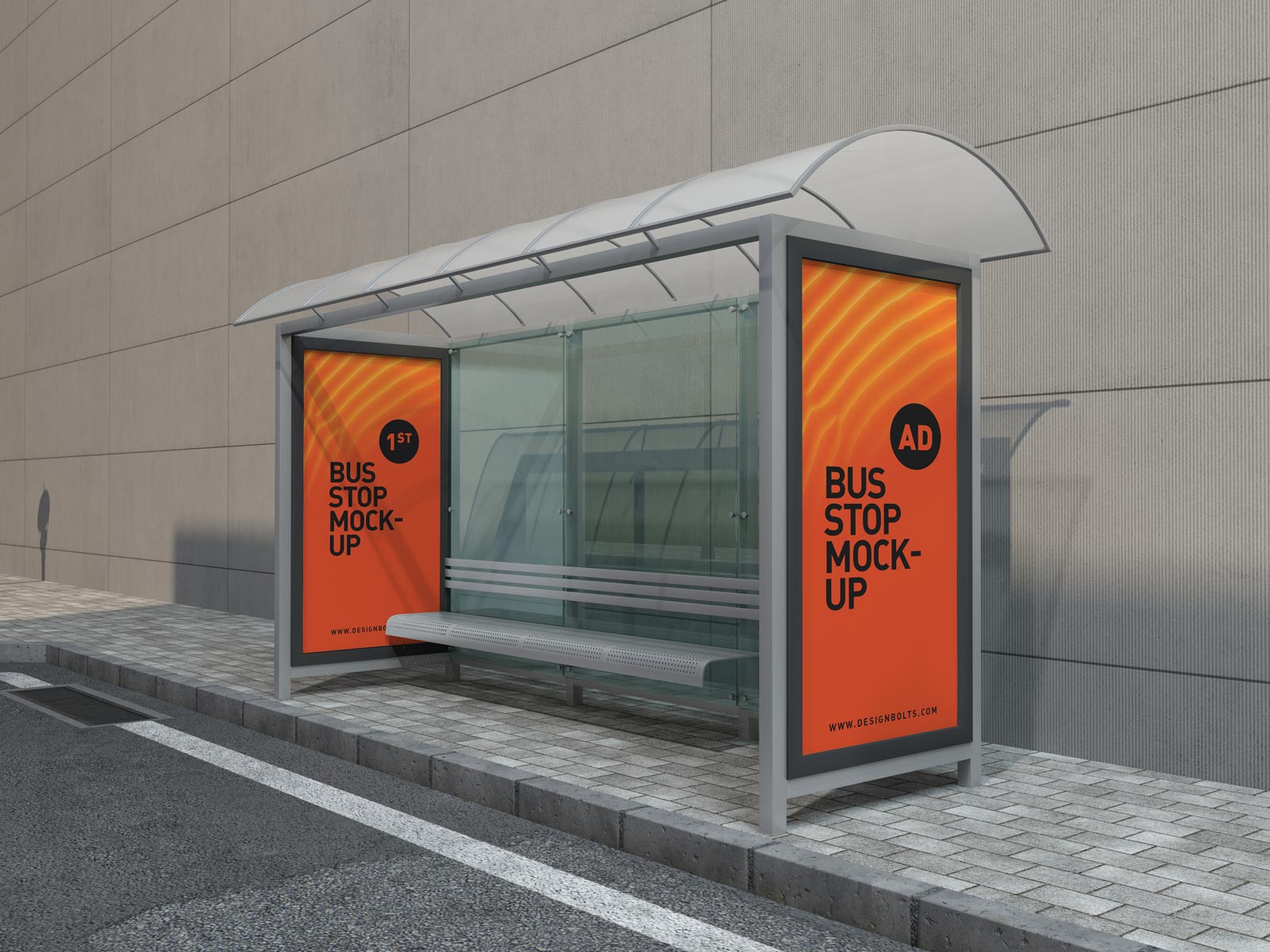 Available Format: Photoshop PSD
License: Free for personal and commercial usage
File Format: WinRAR
Mockup Resolution: 4000 x 3000 px
Note:
1. Free Bus Stop Poster Mockup is allowed to share online (A Must Linkback to this page)
2. Say thanks if you like or share/tweet with your friends. That means a lot to me.
3. And don't forget to follow or subscribe to receive more high-quality premium freebies & awesome articles only.
Download Bus Stop Mockup
More free mockups PSD files: