Hi there everyone! We hope you had an amazing time reading the previous blog and that you are super psyched to read everything that we will share regarding our free square signboard mock-up PSD file. But before we formally start sharing that, we would like to thank you all for your support and for always sharing your feedback with us. We are also thankful that you take out the time and share the blogs within your personal and professional circles as well and we hope to receive more such support in the future too.
As you all know we keep all our mock-up PSD files highly editable and fun to work on, we are sure that you will enjoy creating designs for your own signboards as well and we would like to suggest a couple of design ideas as well but before that, we would like to help you understand the importance of Out of home advertising (OOH) and how you can make the most of it for the businesses that you are looking after.
Out of home advertising (OOH) is still considered to be the most effective mode of promoting a business, its products and services, etc. despite the fact that digital and social media advertising is comparatively easier to plan out and execute and even monitor as well. All the reasons behind preferring OOH advertising are not only valid but we also feel that if the businesses wish to promote a certain campaign well, they must always include OOH into the plan so that the branded messages can reach the masses in a better way. And you can use multiple formats to plan out your next OOH advertising such as; billboards, bulletins, posters, wall murals, bus shelter branding, mobile billboards, and so many more.
As far as the branding for shops and stores is concerned, lit signboards are not only the safest bet but they enhance the overall look & feel of the place outside of which they are displayed, you know and we just love that about the signboards. But there is one more thing that you need to consider when it comes to branding that you should also incorporate different and unique shapes into your branding plan as well. Like this square signboard is something that will instantly attract more and more people mainly because of the fact that it is not in a not-so-regular shape.
Recommended: 50+ Vintage Hotel Signage Ideas
Then comes the style that you choose to display the message and in the context of our today's blog, it's the name of your brand. Now, as you can see that we have gone for an abbreviation for our fee square signboard mock-up PSD file which not only looks amazing but we feel that it has more impact on the audience as well and that's what we all want, right?
Let's now talk about how you can utilize the mock-up PSD file to create your square signboards! First things first, work on your strategy for example; you are either launching your business or you are revamping it and want to make a good second impression on your existing and potential customers, etc. You will obviously go with your brand's colors and the fonts that you have finalized for your official communication but if you wish to draw instant attention, then you can go for something too different too like try a new font this time around and maybe you can then keep it for every communication that you will work on, in the future as well.
Recommended: 60+ Best Free Signage Mockups
Since it is a signboard, you don't need a lot of text to be up on it but if you have a tagline, then you must leave some space for it too so that it is prominent enough to be seen and read if from a distance as well. Another thing that you must also keep in mind is to run a test campaign, it can also be done creating the mock-ups so that everyone has an idea how the signboard(s) will look like in real life and it will allow you guys a chance to rethink or maybe change a thing or two regarding your existing designs, etc.
Lastly, always make sure that you have proofread everything that you will send to your third-party vendors so that you don't have to redo and repay if in case, there are any errors.
And that's all, folks! We hope that you enjoyed reading the blog and will also share your feedback with us in the comments. We look forward to hearing from you, especially if you have any requests to make, so we can work on them and get back in our upcoming blogs. Oh, and feel free to share this blog with your friends and favorite colleagues so that they can make the most of our free square signboard mock-up PSD file.
Free Square Signboard Mockup PSD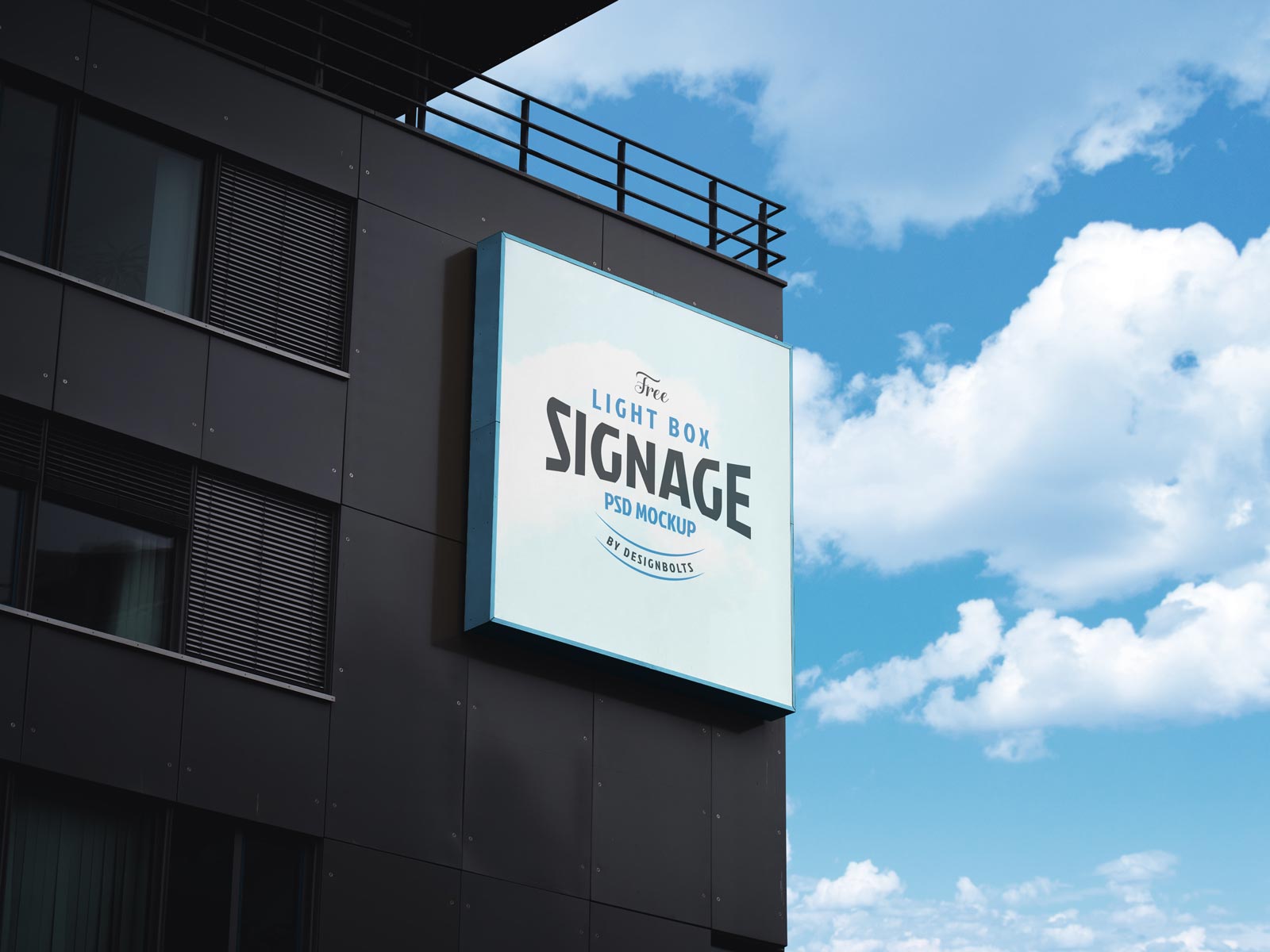 Available Format: Photoshop PSD
License: Free for personal and commercial usage
File Format: WinRAR
Mock-up Resolution: 4000 x 3000 px
Artwork Size: 1300 x 1400 px
Note:
1. Free Signboard Mockup is allowed to share online (A Must Linkback to this page)
2. Say thanks if you like or share/tweet with your friends. That means a lot to me.
3. And don't forget to follow or subscribe to receive more high quality premium freebies & awesome articles only.
Download Signage Mockup
More Free High Quality Outdoor Mockups: