Hi there everyone! We hope that all of you are having a great time reading our blogs and that you are super excited to know what we are about to share regarding the free Kraft paper hang tag mock-up PSD file. But before we do that, we would like to take a moment to thank you all for your overwhelming response on our previous blogs and for sharing them with the people that you love and care for. We hope to receive more support and love from you guys in the future as well.
For those of you who would like to have more information on what Kraft paper is, we would first like to talk about that and then we will share how you can make the most of our carefully designed, free yet highly editable Kraft paper hang tag mock-up PSD file. Okay so, Kraft paper is basically paper or cardboard which is produced from the chemical pulp that gets produced during the kraft process. Now, what exactly is that, and is it a good/reliable option too? Allow us to share that in the kraft process, the wood is converted to the wood pulp which consists of pure cellulose fibers, which is the main component of paper.
We would also like to share the information with you guys that 'kraft' is a german word and it means 'strong' so, when we talk about the durability of the Kraft paper, we want you all to know that not only this paper is strong and tear-resistant but it is also a reliable option as well and if given a choice; you must always choose Kraft paper over other available options. You will notice that this paper is good value for money and trust us when we say this: you will feel amazing about making that decision.
Kraft paper is used for many different things such as wrapping and packing items that are fragile or need extra strength so that they can be shipped from one place to another. You can also use the paper as load binders between palatalized products. Then there are businesses that use the Kraft paper to create hang tags for their products as well and we feel that it is safe to say that the Kraft paper is widely used for industrial and commercial purposes for one thing or the other.
Recommended: 80+ Best Packaging Mockups
The mock-up PSD of the Kraft paper hang tag that we have created for you guys can be utilized to design many different types of tags. For example; if you are a clothing brand, then you would want to keep the design more fun with maybe a short branded story about a particular clothing item and if you own a book store or run a business online to sell cute little stationery items, then you can also use the Kraft paper hang tags to hang with your items to add a more personalized touch to whatever you are selling, you know. Hang tags are also one of the most important articles to be used for gift wrapping & packing businesses as well as they can simply use the hang tag to write the name of the sender or add a note to it too.
As you all know that we keep all our PSD files highly editable which means that you can choose whatever size that you would require a hang tag in and make it by using our PSD file and we can bet that you will be extremely happy with the end results as well. To complete it, you can go for a pretty-looking thread that complements the branding or the idea behind making the idea that you are selling.
Recommended: 30+ Premium Quality Product Mockups
Before we conclude the blog, we would like to mention that it is very important for each one of you to ensure that no matter how great you are at your work, you must spend some time creating a couple of variations / mock-up designs that you can share with your team lead or the client to get their final approvals. We know that not all of us have a lot of time during the day to create mock-ups and presentations as well but if you wish to be on the safe side while also being creative, mock-up presentations are the way to go.
And that is all for today, guys! We hope that you not only enjoyed reading this blog but that you will also share your response with us too and while you are at it, feel free to share the blog with your graphic designer friends, favorite colleagues and with everyone else that you think could use the free Kraft paper hang tag mock-up PSD for their projects, etc. We will see you guys next time with something more fun and exciting to work on – until then, take care and keep creating magical designs.
– – – – – – – – – – – – – – – – – – – – – – – – – – – –
More Awesome Free Mockups:
– – – – – – – – – – – – – – – – – – – – – – – – – – – –
Free Kraft Paper Hang Tag Mockup PSD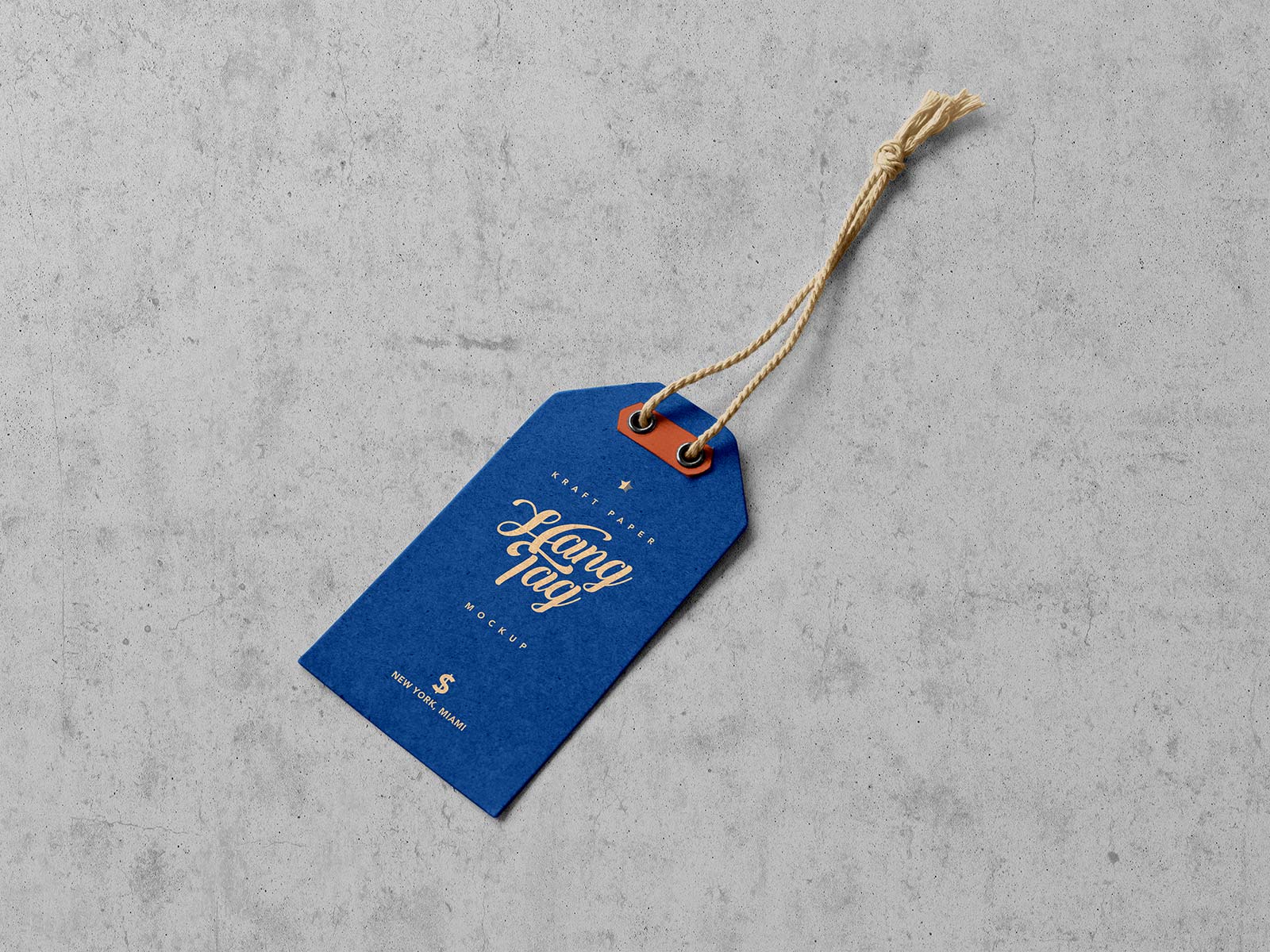 Available Format: Photoshop PSD
License: Free for personal and commercial usage
File Format: WinRAR
Mockup Resolution: 4000 x 3000 px
Note:
1. Free Hang Tag Mockup is allowed to share online (A Must Linkback to this page)
2. Say thanks if you like or share/tweet with your friends. That means a lot to me.
3. And don't forget to follow or subscribe to receive more high quality premium freebies & awesome articles only.
Download Hang Tag Mockup
Recommended: