Hi there, friends! We hope that you all had a really great week and that you are all set to get the next one too with your awesome ideas, unmatched creativity and positive energy. In our today's blog, we will share how you can make the most of our free portrait street signboard mock-up PSD file for your upcoming projects. And we are going to do that shortly after we thank you guys for always sending your genuine feedback our way and for also sharing our blogs with the people that you love and care for – it means a lot to us and we hope to keep receiving more support from your side in the future too.
We are sure that you guys must have read our previous blogs on signage along with the easy to follow tips and tricks that you could follow to create your own designs, etc. but in our today's blog, we are going to be talking about how minor innovations can help you boost the promotion of your business. Know that anything which is not too common in shape, colors or even communication for that matter is bound to catch attention. And when we are working on designs that can help you achieve your business goals, we make sure that we only share modern ideas that cna resonate with the needs and demands of the market while also helping you communicate to your audiences in a better way.
As you guys must have noticed that we have designed a portrait street signboard for you all as it is not only different in shape but it will be attractive enough for your potential customers to make their move and get to know what you are selling or providing. And now we think that it is time for us to get to the main topic so, allow us to share how you can make the most of our free yet highly editable portrait street signboard mock-up PSD file.
Whenever you are designing something for the masses, you must ensure that you are considering all the factors that can affect the readership or viewership of that particular thing. For example; in this digital age and time, everything is super fast paced and not everyone has a lot of time to read what you want them to read through your branded communication especially when you are displaying it along side the roads, etc. You have got to be quick in making that first (powerful) impression by keeping the message short and to the point. If you wish to have more clarity on that, know that the best bet is to write the messages using three to eight words only.
Recommended: 50+ Vintage Hotel Signage Ideas
We know that when we are working and the ideas are oozing, we want to see them all on the signboard but that's not how it works. In order to make it easier for your audiences to read what you have written and understand that as well, you need to keep one message per communication medium or platform – the message must be clear, not in very fancy language either and it should focus on the recent campaign that you wish to execute. Same goes for the visual designs as well that you have to pick the ones that best suit the communication and don't overdo the design and when you are finalizing which design elements to go for a certain signboard, make sure that you have only picked the ones that are in high resolution so they don't get pixelated when they are moved to larger sizes to be printed and displayed.
As far as the colors of your portrait street signbaord are concerned, make sure that you go for contrasting colors. Usually two colors make a perfect look and feel of the overall design and we think that's how you should do it too but if you really feel that there can be a third color in the design, maybe for providing accent, then don't shy away from that and let that happen. So, guys these are the tips & tricks that you have to keep in mind before you start working on your signboard. Before we conclude the blog, we would like to add that always ensure that the copy has been proofread a couple of times and then share the files with your third party vendors to print and develop your designs into real life signboards.
Recommended: 60+ Best Free Signage Mockups
That is all for today, you guys! We hope that you had a nice time reading this blog and that you will utilize it to make your very own street signboards. Feel free to share the blog with your graphic designer friends and favorite colleagues as well. Also, do let us know if you would like to read on a specific topic related to design, technology and all things creative and we will get back that and more in our upcoming blogs super soon.
Free Portrait Street Signboard Mockup PSD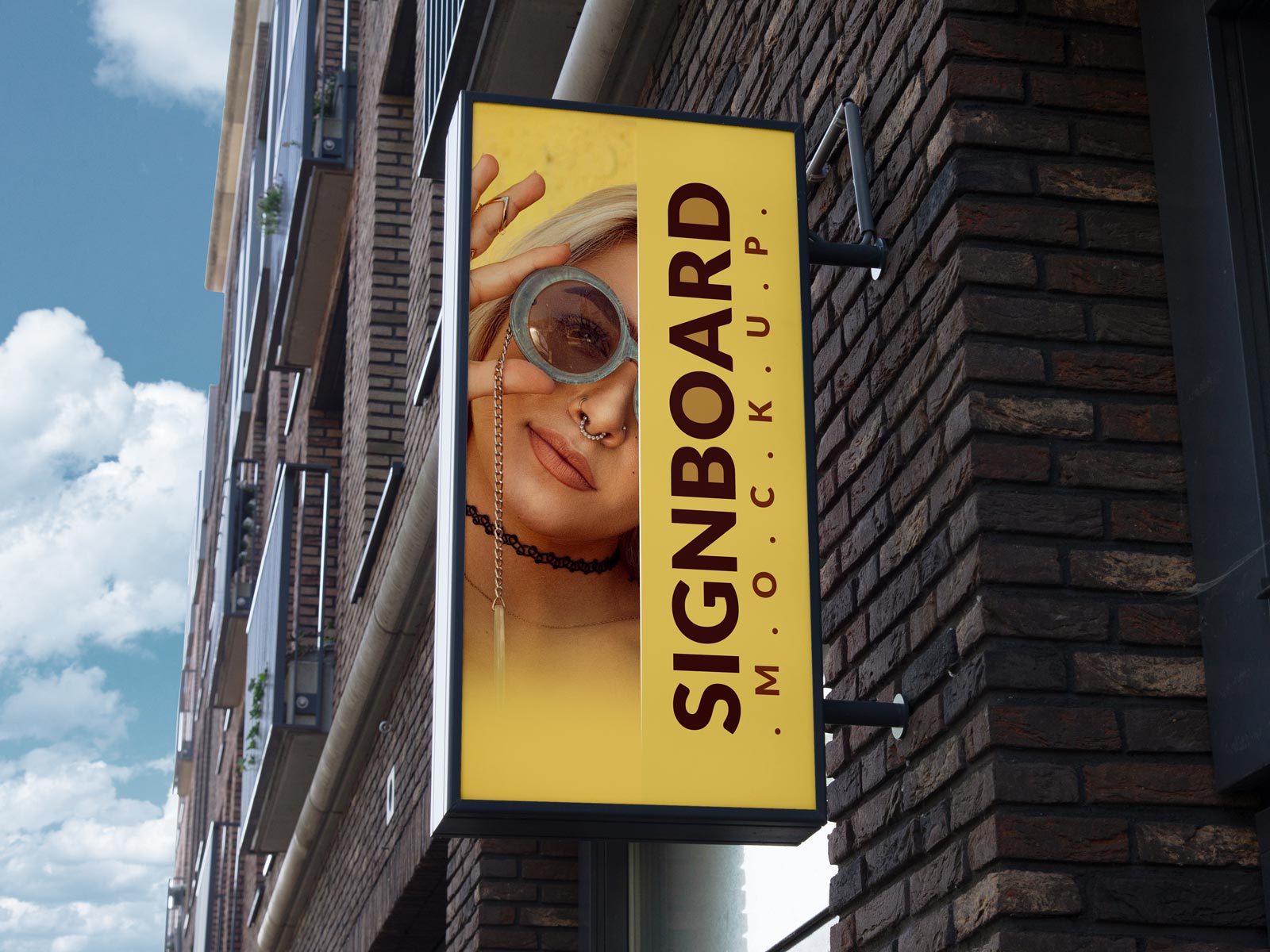 Available Format: Photoshop PSD
License: Free for personal and commercial usage
File Format: WinRAR
Mock-up Resolution: 4000 x 3000 px
Artwork Size: 1121 x 2203 px
Note:
1. Free Signboard Mockup is allowed to share online (A Must Linkback to this page)
2. Say thanks if you like or share/tweet with your friends. That means a lot to me.
3. And don't forget to follow or subscribe to receive more high quality premium freebies & awesome articles only.
Download Signboard Mockup
More Free High Quality Outdoor Mockups: