Hi there everyone! We hope that you all had an amazing time reading our previous blogs and that you will also enjoy what we are about to share with you in our today's blog, but before we do that, we would like to take this moment to thank you for your overwhelming response and for also sharing them with the people that you love and care for. Your constant support and constructive feedback help and motivate us to keep creating things that we love to create and we hope to receive more love & support from you guys in the future as well.
As you guys have already read the title of our today's blog, we will get to it right away so that we can share information on the gable boxes and how you can utilize our free mock-up PSD file to make your very own designs. First things first; we would like to share that a gable box is basically made of a single paper sheet (usually sturdy for strength and durability) by folding it into a box with a handle so that the user can carry it. The gable boxes are used for food, mostly but if you have more interesting ways of using them, then you must give these boxes a try and we are sure that you would be able to pull off a nice packaging campaign for your brand.
We are sure that you guys know that your packaging is one of those things that your (potential) customers get to interact with so you have to make sure that you are not compromising on anything when you create your gable boxes or any other packaging items for that matter. In this part of our blog, we will share how you can work on and then design the gable boxes for your upcoming design projects. Keep reading the blog because we are sure that once you are done reading it, you will end up having multiple ideas to incorporate into your designs.
Before you get to the design part of the project/task, etc., you first need to know the kind of products that you wish to pack in the gable boxes. For example; if you have a food business, then you would want to design the gable boxes in a way that can safely carry the food items in them without ruining their shape or even qualifying for that matter, then comes packaged food items which can be of any shape and size too but you will have to have the relevant information in order to make sure that whatever you wish to pack inside the boxes not only stays safe but it doesn't go bad due to the external factors as well such as rain, dust, etc.
Recommended: Free 80+ High Quality Packaging Mockups
You can also use the gable boxes for packing coffee mugs in them or other crockery items such as plates and bowls too and we can tell that most of you can recall adorable baby food trays and yes, you can totally go for them too if you are in that business, you know. And of course, the gable boxes must also be used to pack gifts as well because we feel that everyone would love receiving gifts that are not packed in the old school style with wrapping paper and ribbons, etc. Also, one more thing that we need to mention here is that the gable boxes can definitely be reused for keeping items such as tissue paper (if you are really not in the mood to through the gable box because it's too pretty to be thrown out) or carrying a couple of things such as coffee cups or dry eatables as well such as donuts, cupcakes, etc.
Recommended: 25+ High Quality Packaging Mockups
And if you are a business that is on a mission to minimize the pollution issues that our planet is facing at the moment then we suggest you design your gable boxes in such a way that they can also be recycled or reused for packing gift items too. We know that you will be happy to leave a positive impact through your designs and your existing and potential customers will look forward to more such creative ideas from your end in the future too.
That's all for today, everyone! We hope that you guys enjoyed reading the blog and that you will also get your hands on our free gable box mock-up PSD file right away so that you can work on all your awesome ideas and do let us know everything about your creative and design journeys too in the comments section. Oh, and while you are at it, don't forget to share this blog with your favorite colleagues and graphic designer friends as well so that they can also create a bunch of interesting gable box designs too. And we'll see you guys next time with something more fun & exciting to read on.
Free Gable Box Mockup PSD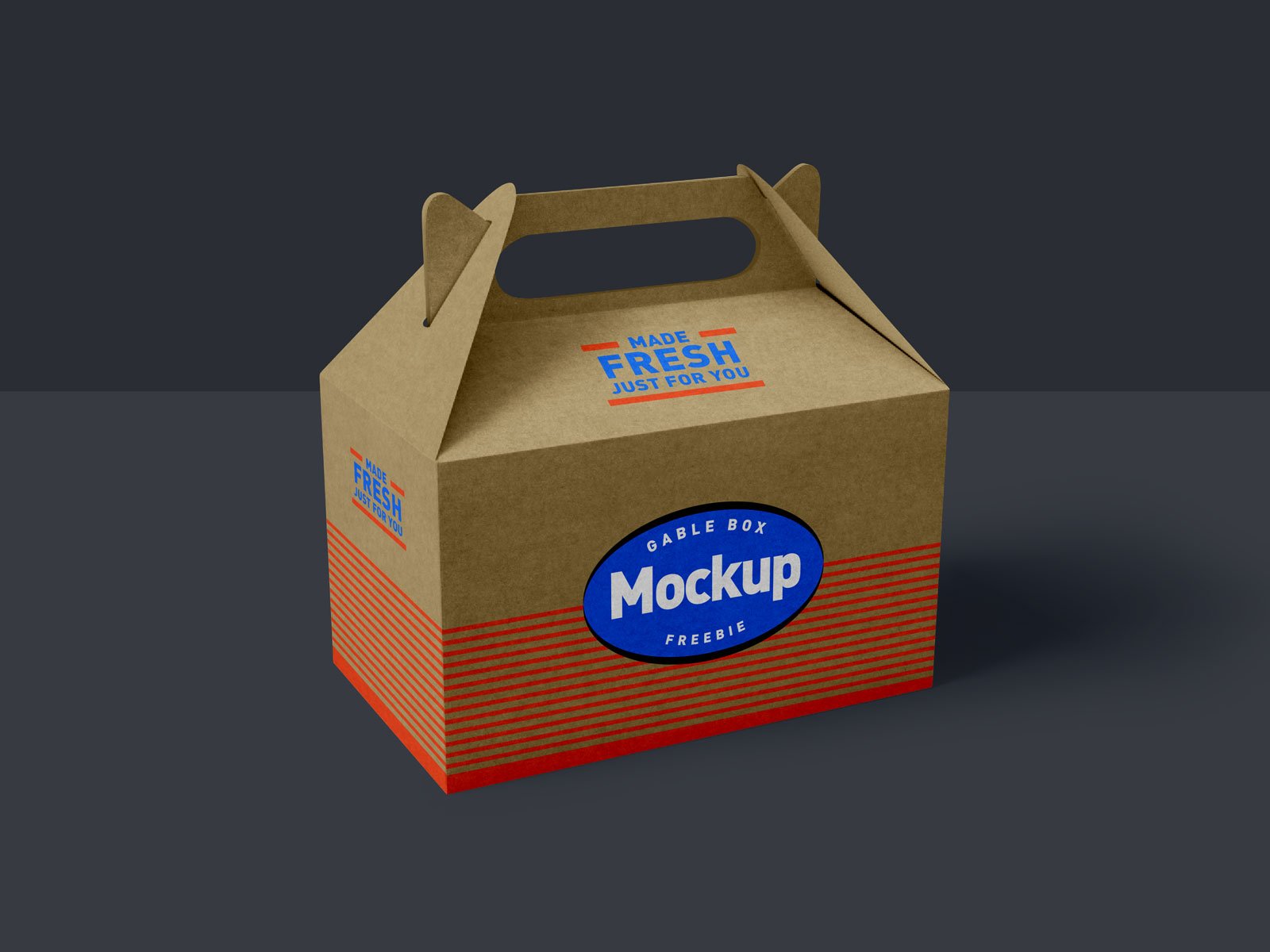 Available Format: Layered PSD with smart object insertion
License: Free for personal presentational use only
Zip File Includes: Gable Box Mockup PSD
Note:
1. PSD Mockup is allowed for sharing online (A Must Linkback to this page)
2. Say thanks if you like or share/tweet with your friends. That means a lot to me.
3. And don't forget to subscribe to receive for more high-quality premium freebies & awesome articles only.
Download Gable Box Mockup
More Free PSD Packaging Mockups you would love to download: