Hey there everybody! We hope that you had a great time reading our previous blog and that it was pretty helpful for you to execute your projects in a more effective way. In our today's blog, we are going to be sharing our new & free minimalistic business card mock-up PSD file that you can use to create or redesign your business cards right after you have read the blog so, let us get started.
We are sure that most of you guys must be thinking that business cards are dead and that you don't need them at all because well, almost all of us have smart phones and other devices that let us save contacts, etc. in a more efficient way and that you are not conventional but allow us to share it with you that not only business cards are still very relevant in 2022, but they also make you look more professional when you present them to the people that you are meeting for the first time during a business meeting, conference or even at a job fair as well.
Now, what is the reason why people started to think that we can say goodbye to business cards, hmm? Well, we can think of a couple of reasons, such as it is a hassle to take them with you, you might not get a chance to exchange the business cards since everything is so fast-paced and mainly that business cards are history. But that's not the case, to be honest, and if you are one of those people who still use your business cards during a professional interaction, know that you have already made your first great impression on the other people.
We are aware of the fact that so much information can be found on the internet and that you just have to type in a few words on, let's say LinkedIn and you will be able to know everything that you need to know about a certain person or the company too but you know what's missing in that process? One-on-one interaction. Also, have you ever considered the fact that you may have gotten a chance to meet a potential client or a business partner for that matter and you guys chose to share your contact information on the phones but when you left without leaving your business card behind, there are chances that they might not really remember you? We are sure that you would not want that to happen, right?
Recommended: 5 Types of Business Card Printing
Another thing that you must always consider regarding business cards is that they play a major role in marketing your business or you as an individual as well which means that you won't just have your business cards to exchange or provide your contact information within your professional, but you will also let it market your business in the most effective ways too even without spending extra money on anything. Now, how does that sound? We think that using your business cards to market the business in the most subtle ways is one of the best things that you can do so, drop the thought that business cards are not relevant or that you can use your phone, etc. to quickly store the information.
Let's now talk about how you can use our free minimalistic business card mock-up PSD file for your upcoming projects. First things first, you need to treat your business card as one of your marketing tools meaning that it should not only complement your branding but it should also reflect what you do as a business so that the person who gets to have your business card can remember you for a long time. Always remember that a business card is your way to make your first impression and we know that you would want to make a good one.
Your strategy needs to cover finding the right typeface for the card design, organizing it all and then creatively putting that on the shape / size of the business card that you have finalized. Oh, and while you are at it, don't forget to give your logo a prominent position on the card design so that it's clearly visible. Lastly,  make sure to proofread everything before you send it out for printing.
That is all for today, you guys! We hope that you liked reading this blog and that you will also make the most of our free minimalistic business card mock-up PSD file as well for your personal and commercial design projects. Know that we would love to hear from you guys, so feel free to share your feedback with us in the comments section and while you are at it, don't forget to share the blog with your graphic designer friends and favorite colleagues as well. We will see you all next time with something more fun to read and work on super soon.
Free Minimalistic Business Card Mockup PSD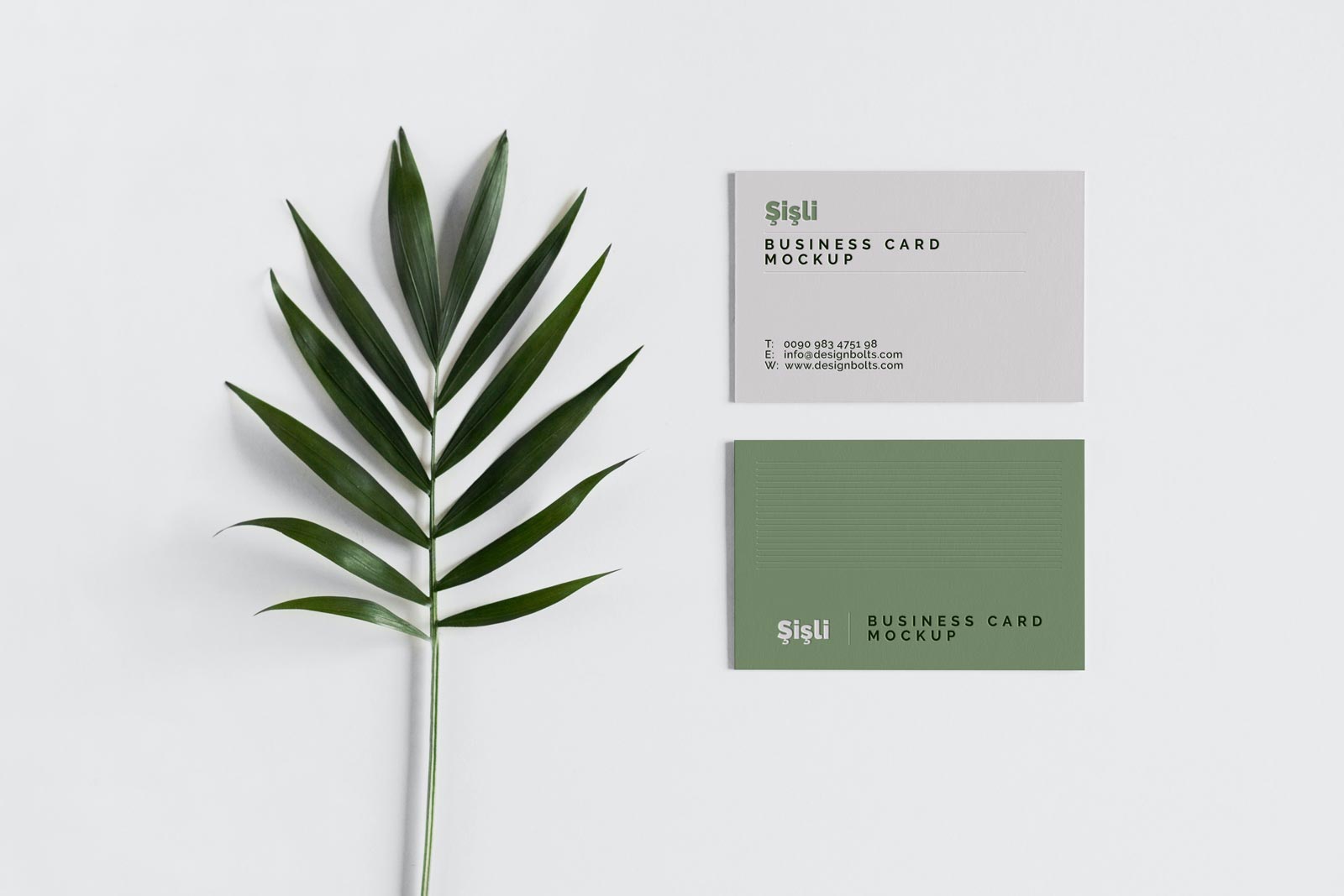 Available Format: Layered PSD with smart object insertion
License: Free for personal and commercial usage
WinRAR File Includes: Free Business Card Mockup PSD
Mock-up Resolution: 4500 x 3000 px 

Note:
1. Free Business Card Mockup PSD is allowed to share online (A Must Linkback to designbolts.com)
2. Say thanks if you like or share/tweet with your friends. That means a lot to me.
3. And don't forget to subscribe to receive more high-quality premium freebies & awesome articles only.
Download Business Card Mockup
More Awesome Free Business Card Mockups: