Hi there everyone! We hope that you all are doing great and that our free yet highly editable mock-up PSD files are helping you create the best designs for your own businesses or for the ones that you are working for. In our today's blog, we will share our newly created free shop sign mock-up PSD file that you can use for your upcoming projects but before we do that, we would like to thank you all for your overwhelming response on our previous blogs and for also sharing them with the people that you love and care for. Your support and encouragement mean a lot to us and we hope to receive that in the future too.
Like the packaging of a product, the branding of a shop / office or a building matters a lot as that is the first thing your potential clients, etc. will get interacted with and like they say that the first impression is the last impression, you have to ensure that the outlook of your space is on point so that the people feel the need to visit you and check out what you have in store for them. We feel that ever since COVID-19 happened to the world, many business owners have started to focus more on their digital and social media platforms because they are suddenly of the viewpoint that those are the things that matter, you know? Such as your online campaigns, the announcements that you make online and everything else that you can do virtually.
Now, we are not against going digital or shifting your business to your online platforms, but what we are trying to say is that you all need to have a strategy that works for all your platforms and none of them gets neglected in any way. And guess what? It won't be a difficult thing to do, to be very honest because most businesses were literally present on the ground before they shifted to the digital world, right?
Another thing that you must always keep in mind is that there are still thousands of people who would like to see your physical store and we won't get into the details or share the reasons here except that many people in the world do not feel comfortable when they shop online so, they have to visit the store in person, take that thing in their hands, check it thoroughly and then get it. And frankly speaking, as a customer, that's their right too, as they are spending their money on your products so, it is okay if your physical store established the factor of believability.
Recommended: 50+ Vintage Hotel Signage Ideas
What is it that you can do to make your branding work for you, you ask? Well, first things first, get to know and understand what your objective is? Are you launching a business or are you revamping an exciting one? Because for the one that you are about to launch, you will have to have a different strategy while that one that is going to get a new look would comply with a strategy that has been created to bring the results for rebranding the business.
As far as our free shop sign mock-up PSD file is concerned, we would love to mention here that it's yours to use and you must utilize it in a way that when you walk into your meeting room, you are confident that you are going to bag the business deal. Also, it won't be a difficult thing to do if you follow the below-mentioned tips to create your own designs and more.
Recommended: 60+ Best Free Signage Mockups
Do a quick research on how's your audience like and what are they looking for when it comes to you as a brand. Then work on the brand values that you would like to depict through your shop sign designs. During this process, you must also finalize your brand personality as well because all the insights will help you pick the right words, colors, imagery, etc. that you would like to make a part of the shop sign(s). Once you have done that, make sure that you proofread eveyhing multiple times before you send it out to get manufactured and mounted outside your shop.
That is all for today from our end, you guys! We hope that you had an amazing time reading the blog and that you will also share it with your friends and favorite colleagues as well who might be looking for something as great as our free shop sign mock-up PSD file to work on. Feel free to share your kind feedback with us in the comments section and while you are at it, do let us know if you guys have any special requests to make too so that we can immediately start working on them and then share them with you super soon.
Free Shop Sign Mockup PSD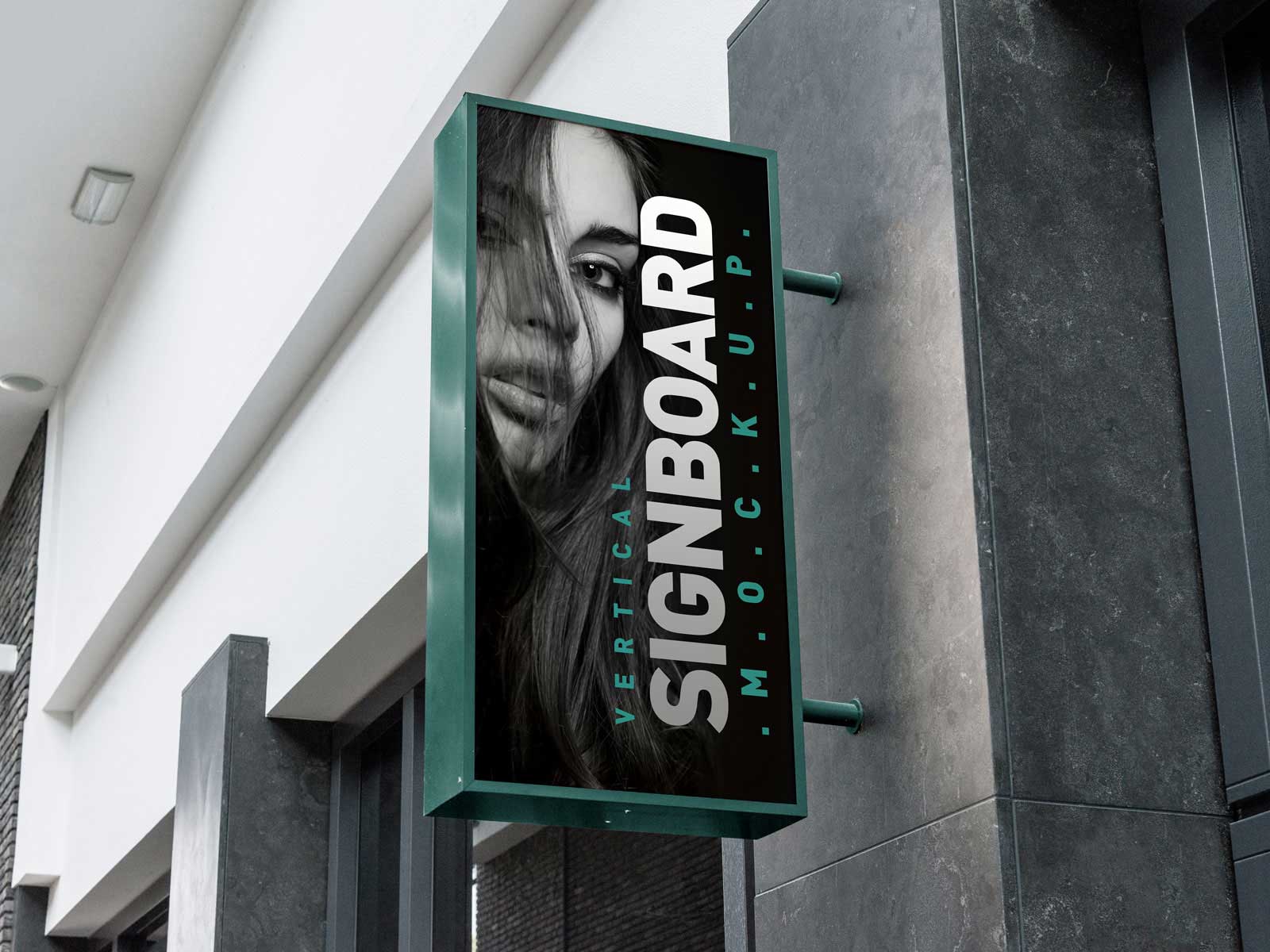 Available Format: Photoshop PSD
License: Free for personal and commercial usage
File Format: WinRAR
Mock-up Resolution: 4000 x 3000 px
Artwork Size: 1000 x 2150 px
Note:
1. Free Signboard Mockup is allowed to share online (A Must Linkback to this page)
2. Say thanks if you like or share/tweet with your friends. That means a lot to me.
3. And don't forget to follow or subscribe to receive more high quality premium freebies & awesome articles only.
Download Signboard Mockup
More Free High Quality Outdoor Mockups: