Hi there, everyone! We hope that you are having a great time reading our blogs and that you are super excited to know what we are about to share today about our free letterhead and envelop mock-up PSD file. But before we do that, we would like to thank you guys for your support and for also sharing our blogs with the people that you love and care for. And we hope to receive more of that in the future too.
Since we have a mixed audience here on our blog, we wanted to share something with you guys that can help everyone who is a working professional and who is planning to start something of their own in the future too and we decided to work on and share items that literally every business needs; letterheads. As you guys know that all our mockup PSD files are highly editable despite being free, we make sure that you get to enjoy your work when you are incorporating your very creative ideas into your designs so allow us to share how you can utilize our free letterhead and envelope mock-up PSD file.
It is important for every business to know that letterheads are considered to be one of the most effective communication pieces when it comes to sending out a letter or two or just using it for publicity as well so, regardless of the scale of your business must invest in creating and having your own letterhead(s) along with branded envelopes in order to make a good professional impression. Your letterhead is going to go to your own employees, to your potential clients, as well as to vendors, etc. who won't just immediately recognize you as a business, but let us tell you that you will also be able to create a great recall in their minds as well. And isn't that every business wants? To make sure that the direct and indirect audiences remember you?
Know that having a letterhead is one thing and having a letterhead that is beautifully designed is another. Now, we know a bunch of people who would spend huge amounts of money on producing something that is fancy, but they won't tend to cater to the fact that, that thing has to be meaningful as well. You must be wondering what a meaningful letterhead is so continue reading the blog as we are going to be sharing how you can make sure that your letterhead is not only beautiful but it is also promoting your business in the best ways possible too.
Recommended: Free Corporate Stationery Mockup PSD
Treat all your mediums and platforms like they are supposed to be treated; what we mean by saying that is: keep your letterhead simple and easy to go through. Don't be very creative that it starts looking like a smaller version of a billboard, you know but also make sure that you compliment the branding with your letterhead design. There should be harmony in every design that is to go out from your end. Another thing that you need to keep in mind while designing a letterhead is that you should aim for using hierarchy in the design.
At the very top of the letterhead design should be the logo of the company which should be obvious and prominent. For the bottom of the letterhead, you will have to mention a return address, your website, mobile phone number, landline, or fax number if you have that along with the email address if an individual is going to be using the letterhead. This information can be smaller in size than the logo but make sure that you are using the space in the most strategic way so that the focus of the reader(s) doesn't shift from the important information.
Recommended: 30+ Free Stationery Mockups For 2022 Projects
If you want, you can choose to add design elements and special effects to the design as well and you will see that the information has popped out and looks amazing. Lastly, choose a good quality medium for your printed letterhead(s), and for this, you can consult with your third-party vendors to suggest the best options, and then you can decide which ones to go for.
Recommended: 30+ Free Envelope Mockups 2022
That is all for today, you guys! We hope that you had fun reading this blog and that you will also share it with the people that you are working with or with friends who might need it to design or redesign their letterheads and envelopes, etc. We would love to hear your feedback too so feel free to share it with us in the comments section and while you are at it, don't forget to let us know what you want to read about next so that we can come up with that and more in our upcoming blogs.
Free Letterhead & Envelope Mockup PSD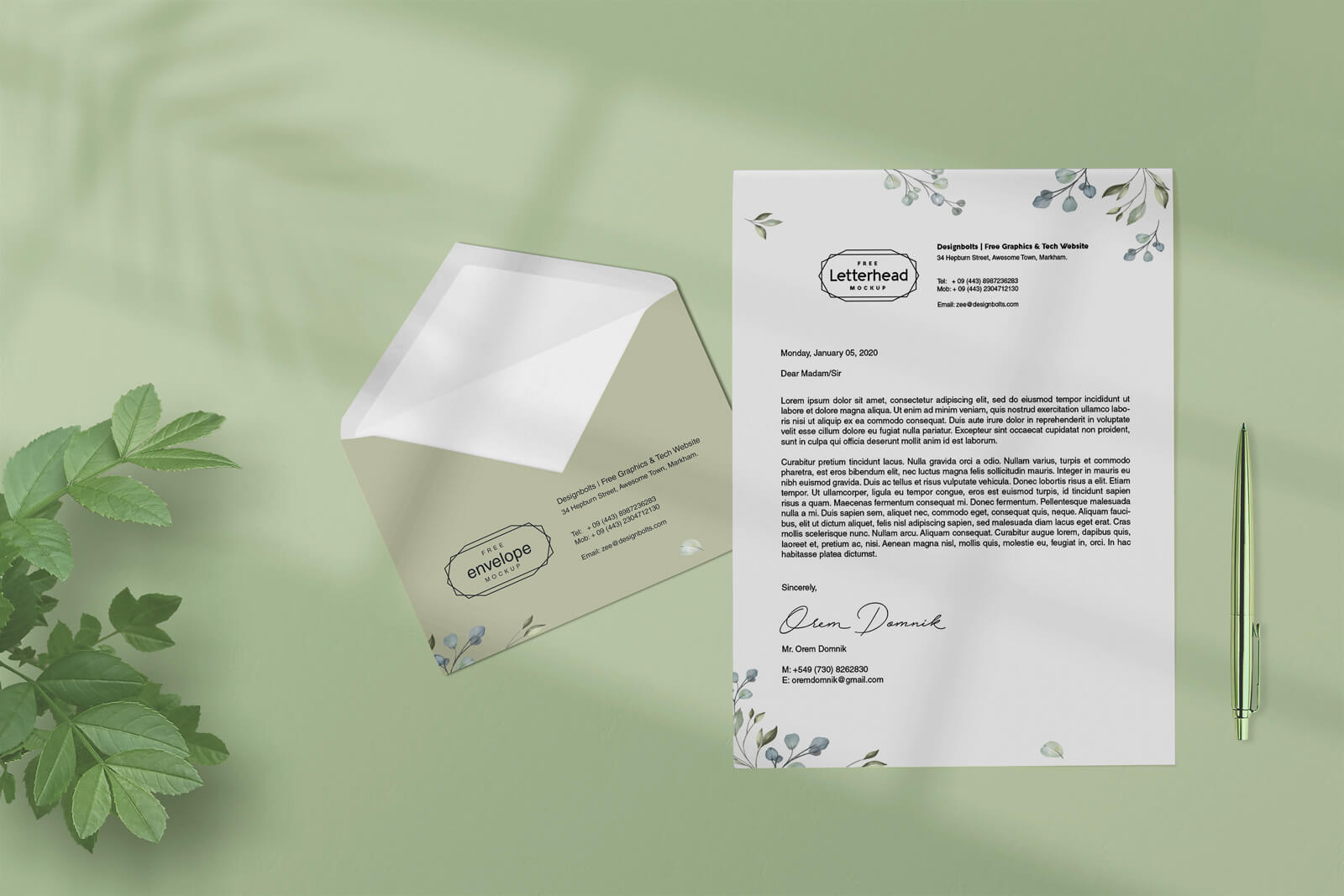 Available Format: Photoshop PSD
License: Free for personal and commercial usage
File Format: WinRAR
Mockup Resolution: 4500 x 3000 px
Note:
1. Free Mockup is allowed to share online (A Must Linkback to this page)
2. Say thanks if you like or share/tweet with your friends. That means a lot to me.
3. And don't forget to follow or subscribe to receive more high-quality premium freebies & awesome articles only.
Download Letterhead Mockup
Recommended: