Hi there everyone! We hope that you all had a great time reading the blog and that you are very excited to read this one as well because we are going to be sharing our free yet highly editable lightbox signage logo mock-up PSD file that we have created for you guys. Before we start sharing everything that will help you design a couple of amazing and effective lightbox signage logos, we would like to take this moment to thank you guys for your responses as well as for your support. Your love and encouragement keep us going and we hope to receive more of them in the future too.
As you all know that signage is one of the most important tools to let the word out and without it, you really cannot deliver promotional messages to your audiences. Since signage is created and used to promote a business and whatever they sell and provide their customers with, it is super important to make sure that you are doing it alright. Otherwise, you will keep struggling with your graphical communication for a very long period of time and we are sure that you are not up for that, right? So, earlier this week when we were working on our content list and ideas that we wanted to share with you guys, we wanted to share this newly made lightbox signage logo mock-up PSD file with you guys that will help you display and convey the branded messages that are in the pipeline.
Okay so, for those of you who must be looking for more details on what lightbox signage is and how that work; this part of our blog is dedicated to you guys. Make sure that you read it thoroughly in order to make better design decisions for yourself as well as for your clients.
Lightbox signage is basically a sign that is lit by electricity and displays a discreet sheet which is made of a backlit film containing a print image. The lightbox encapsulates the film and protects it while also transmitting light through it to actually display the message such as a logo design with the name of the business as well as the tagline and whatever is there to display. The interesting thing about lightbox signage is that they are preferred by businesses, etc. because you can frequently replace your messages through them. So, if you are not using the lightbox to display your logo outside your buildings, etc. you can literally use the lightboxes for your sale announcements, the addition of new items to the menu, and so much more.
Recommended: 60+ Outdoor Signage Mockups
Another reason why businesses prefer going for lightboxes is that they allow you to be as simple (they are mostly available in very regular shapes such as rectangles and boxes) as you would want to be while also allowing extensive customization as well which is a good thing because then you do not have to pay for something specific to the vendors, there are hundreds of lightboxes that are being produced and you everyone can take advantage of that by plugging in their logo designs as well. It won't cost you or other people extra money, and everyone will be happy with the end results.
Then there are other things to consider when it comes to lightbox signage such as you get to advertise 24 hours every day of the week, you also get to offer double side visibility to your existing and potential customers as well and in addition to that; the lightbox signage is versatile and also enhance the customer experience as well. Now that we have shared all the benefits of going for lightbox signage, we are sure that you guys are all set to incorporate your creative ideas into your logo designs and we want you all to know that we will be waiting for the updates on your creative & design journeys as well. So, what are you waiting for? Get your hands on our free lightbox signage mock-up PSD file right away and start making magical designs. Also, make sure that you have proofread everything more than twice before you send it out to the vendors.
Recommended: 135+ Free Outdoor Advertisment Branding Mockup PSD Files
That is all from our end for today, you guys! We hope that you had a great time reading the blog and that you also share your honest feedback with us on it as well, and while you are at it, don't forget to share the blog with your designer friends and favorite co-workers as well and we will see you guys next time with something more exciting to read and work on.
Oh, and feel free to share your special requests with us too so that we can work on them as well and be back with your requested content and more in our upcoming blogs.
Free Lightbox Signage Logo Mockup PSD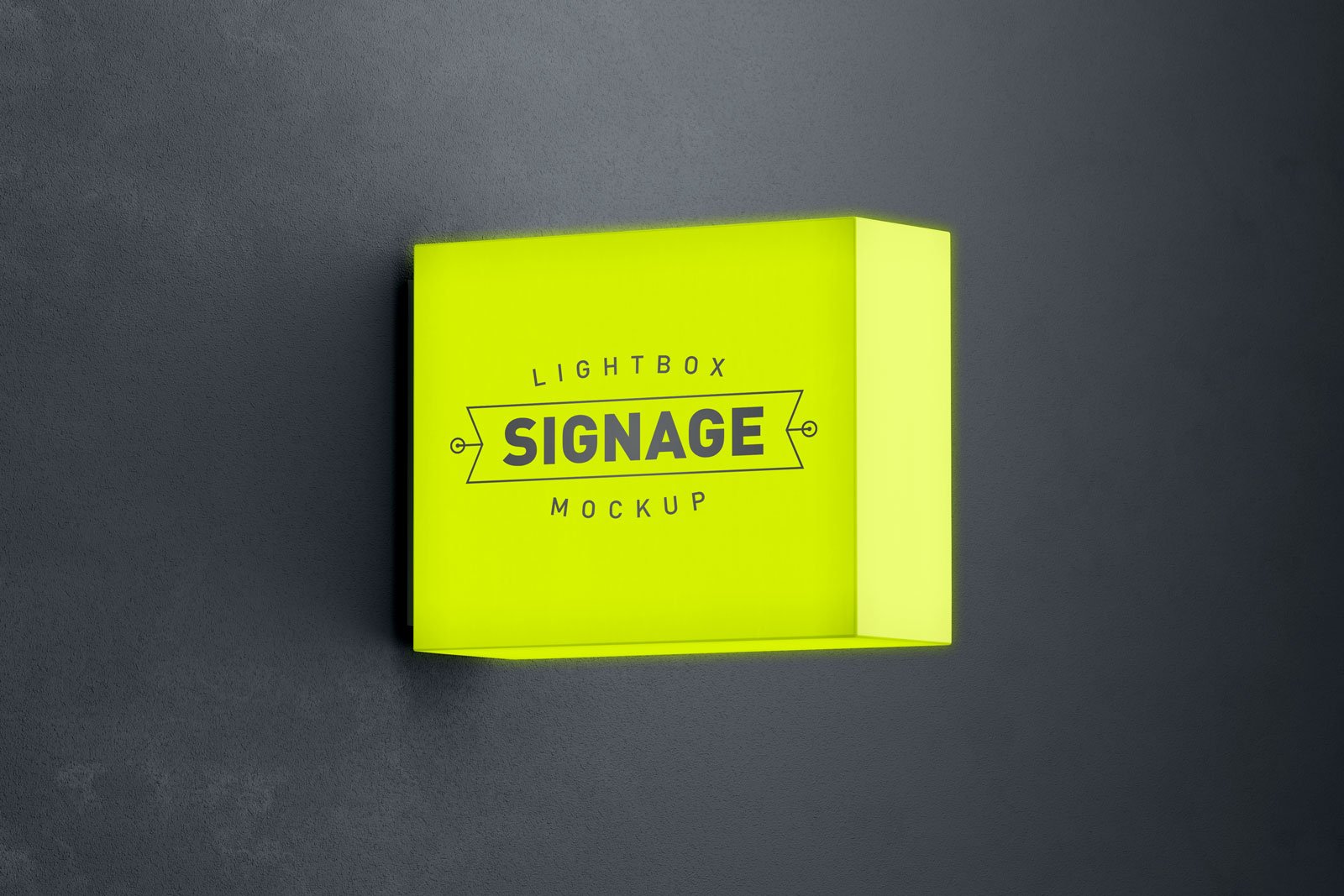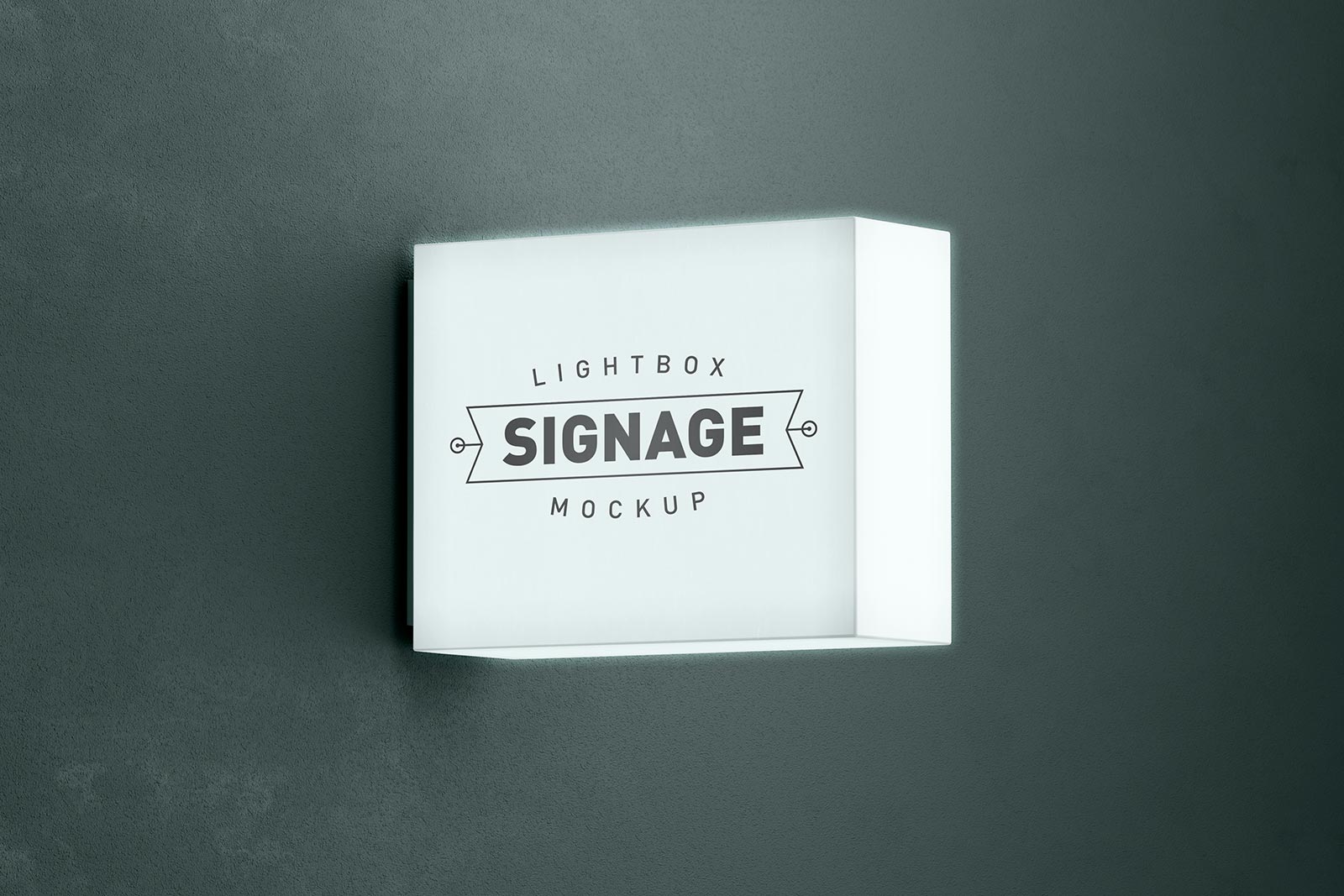 Available Format: Photoshop PSD
License: Free for personal and commercial usage
File Format: WinRAR
Mock-up Resolution: 4500 x 3000 px
Artwork Size: 1509 x 1353 px
Note:
1. Free Signage Mockup is allowed to share online (A Must Linkback to this page)
2. Say thanks if you like or share/tweet with your friends. That means a lot to me.
3. And don't forget to follow or subscribe to receive more high quality premium freebies & awesome articles only.
Download Signage Mockup
More Free High Quality Signage Mockups: