Hi there, everyone! We hope that you all are having an amazing time reading our blogs and that you are super excited to know what we are about to share with you guys today. Before we do that, we are going to take this moment to thank you all for your overwhelming response to our previous blogs and for also sharing them within your personal and professional circles. We hope to receive more support from you guys in the future as well so that we can keep creating stuff that we love to create.
Before we get into the details of how you can make stunning designs of flyers and make your out-of-home advertising (OOH) effective, we would first like to talk about the fact that many people think that flyers are not effective and that they are outdated. Some go the extra mile to also think that flyers make the audiences think that the businesses do not have enough money for their digital and social media campaigns so flyers help them promote their messages. We would like to add here that even though flyers are one of the most cost-effective tools of advertising and an effective one too, using them to promote a message absolutely does not mean that the businesses don't have budgets, in fact, it means that they have smart planners who know how to do this thing in a smarter way.
Now, let us talk about how you can start working on the flyer designs that will get you the results that you wish to get through your campaign. Make sure to read the blog till the end so that you can get your hands on everything that you need to know to make better flyers through an informed decision-making process.
Okay so, first things first; know that for a flyer's copy, you have to keep the content brief. We know that you must be wondering about all the space that you get on a flyer but no one says that all of it has to be filled with long sentences (that no one would be bothered to read if there is going to be a lot of information). And we are sure that you must have heard 'minimum words, maximum impact' – yeah, it is still relevant and is not going to go anywhere. So, a catchy headline, a visible call to action, and witty but easy-to-understand language are going to make your flyer campaign a huge success.
– – – – – – – – – – – – – – – – – – – – – – – – – – – –
More Awesome Free Mockups:
– – – – – – – – – – – – – – – – – – – – – – – – – – – –
Another thing that you would want to make sure about is the fact that there is only one message on the flyer – it could be about a sale campaign, it could be about a new store launch, it could also be about an event that you are going to host over the weekend but it has to be only one message; in plain and simple but of course, creative words. Also, if the copy has multiple pointers to cover, you would want to use bullet points too as they make the reading process even easier.
When it comes to the flyer designs, it is necessary to divide the flyer into multiple sections that can be easily accessed by the reader. By doing that, you allow them to remember the information that is on the flyer and if they wish to go back to it, they can do that too without having to go through the entire flyer all over again, you know. That will not only save them time but somewhere in the back of their minds, they are giving you full marks on being creative and considerate at the same time.
Recommended: 60+ Free A4 Flyer Mockup PSD Files
Lastly, we would want to talk about the imagery that you will be using for the flyer designs by utilizing our free yet highly editable free flyer mock-up PSD file. It is a fact that with photos, infographics, and relevant icons, you can up the game of your written communication but you have to be smart, don't settle for low-quality imagery, and also make sure that you don't overdo it either and you will be good to release the file(s) for the printing process.
That is all for today from our end! Here is hoping that you all liked reading the blog and that you will also take out the time to share your honest feedback with us too. We would also love to encourage you guys to share our blog and free flyer mockup PSD file with your friends, and favorite colleagues as well so that they can make the most of the easy-to-follow tips that we have shared and can design the best of the best flyer designs for themselves as well as for the people they are working with. We will see you guys next time with something more fun & exciting to read and work on super soon.
Free Portrait Flyer Mockup PSD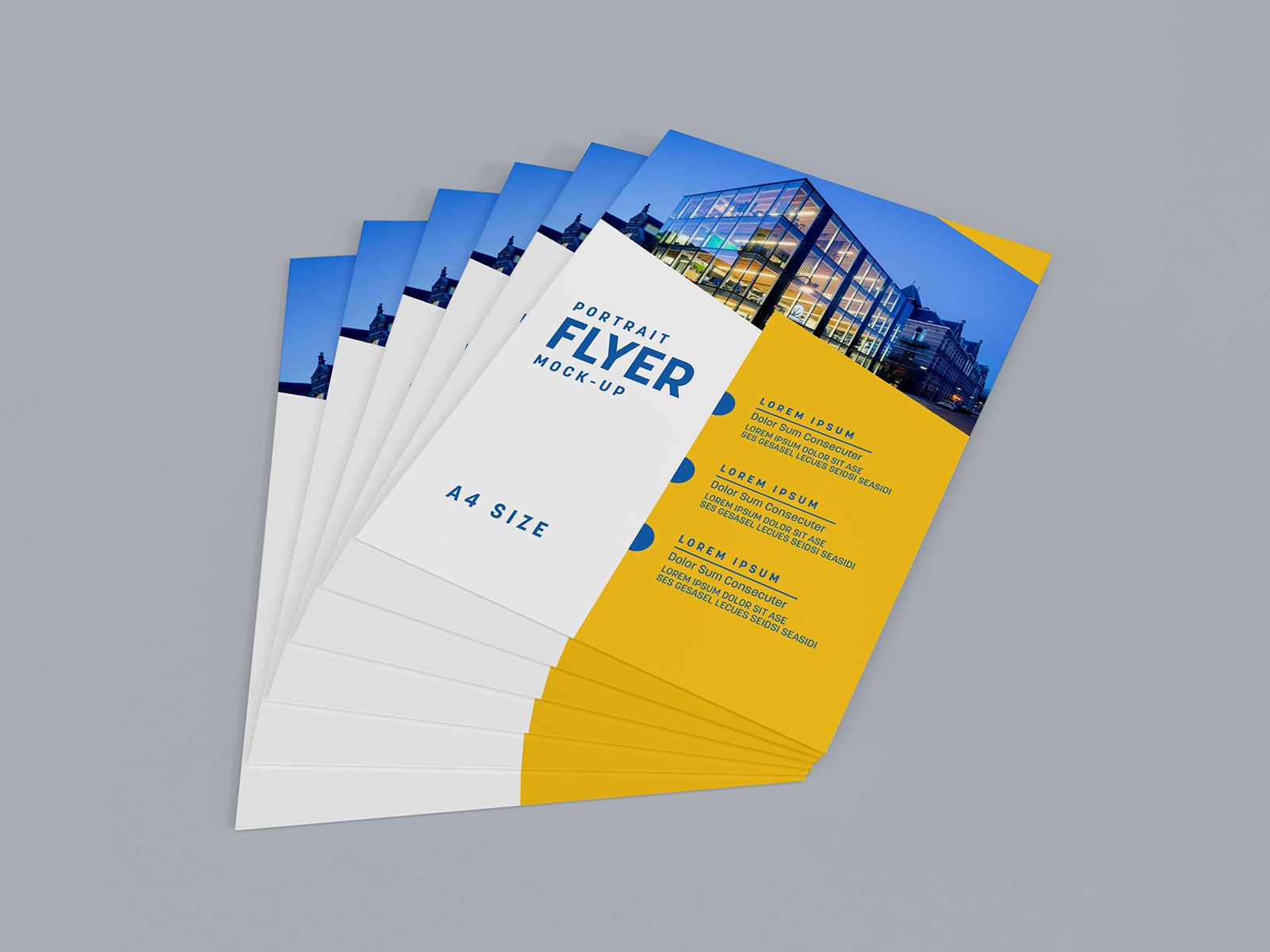 Available Format: Layered PSD with smart object insertion
License: Free for personal and commercial usage
RAR File Includes: Free A4 Mockup PSD
Design Template Resolution: A4 (300dpi)
Note:
1. Free PSD Mockup is allowed to share online (A Must Linkback to this post)
2. Say thanks if you like or share/tweet with your friends. That means a lot to us.
3. And don't forget to subscribe to receive for more high quality premium freebies & awesome articles only.
Download A4 Mockup
More A4 Size Free Mockups: