Hi there everyone! First things first; we are so very happy to receive your overwhelming response on our previous blogs. And we truly hope that you all are safe and enjoying your work and that our blogs are being super helpful for you guys to carry out your personal and commercial projects perfectly fine. In our today's blog, we are going to be sharing our 10 Halloween scary pumpkin carving stencils that we have made for you guys and you must check them out and create your pumpkin masterpieces in 2022.
Halloween is one of those times of the year when families and friends sit with each other and plan their hearts out to throw a perfect party for their loved ones while also making new memories too and we feel that you must take out some time to start planning on what you want to do this year on Halloween (otherwise there are chances that you would regret not doing anything and that won't be a good sight in our opinion).
Also, if you are one of our regular readers, then you would know that we started sharing our new and free scary pumpkin carving stencils for Halloween a couple of weeks ago and we want you all to grab a pen and your notebook and start jotting down all the things that you will do for the Halloween party once you are done reading this blog as it is always a great idea to be prepared for everything then being all over the place on that day, you know.
Okay so, almost every Halloween party has a main theme around which everything else revolves and to be honest, we think that's the way to go about it too because it not only helps you to stay focused and not spend your money and time on things that you don't need or are not relevant to your party's theme but you will also less exhausted as well and that should be one of your goals too because you being the host does not mean that you have to do all the work and when it's actually time to enjoy the party, you are all tired and not quite in the mood.
Recommended:
– – – – – – – – – – – – – – – – – – – – – – – – – – – – – – – –
400+ Free Printable Halloween Pumpkin Carving Stencils, Patterns, Designs, Templates, Faces & Ideas for UK, Canada, Australia, USA
Best Halloween Pumpkin Stencils Ever For the Year 2024, 2023, 2022, 2021, 2020, 2019, 2018, 2017, 2016, 2015, 2014, 2013, 2012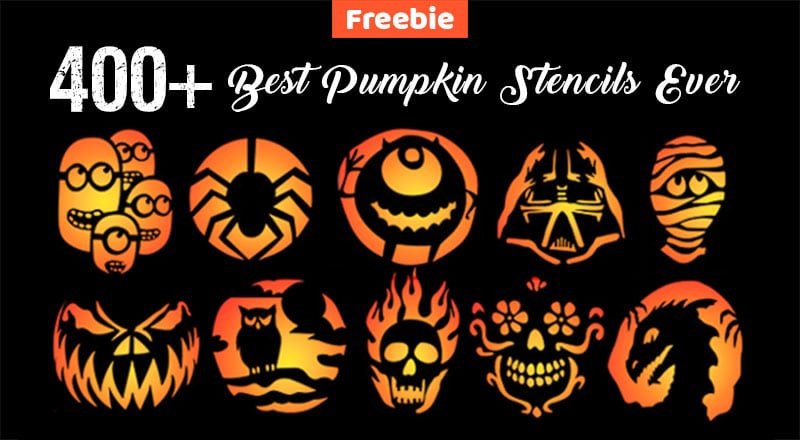 – – – – – – – – – – – – – – – – – – – – – – – – – – – – – – – –
Always plan out your budget in a way that you don't happen to spend all your money on stuff that might not be of any use once the party is over. You can always check what you stored last year, make the most of the items that are good as new or you can also recycle a couple of things too in order to only spend your money on things that you really need to decorate the house. We are sure that by now, you guys have invested in at least one pumpkin carving kit for yourself so that you don't get to waste the pumpkins and create perfect decor items for the party or even to decorate the house.
Keeping in mind the different age groups of people that read our blog, we have created these scary pumpkin stencils on different levels of scary as we would not want the kids or even adults to get uncomfortable especially when they are hoping to enjoy a Halloween party. And you can always tweak the stencils a little bit as per your liking so that everything that is there complements the theme of the party and the night but is also okay to be around too. Similarly, you can also add more to the level of scary if need be.
We would also like to mention here that for a party to be great, you do not need a very big house / venue or spend thousands of dollars on the decor and food, etc. as well. What you really need for a party to be great are your loved ones gathered around carving the pumpkins with these 10 scary carving stencils, laughing like there is no tomorrow and helping you around the house to make the time so very memorable for the years to come. We are sure that you will be able to spend an amazing time with your near and dear ones while you work on your Halloween decor with our stencils.
That is all for today, everyone! We hope that you guys had a great time reading this blog and that you will also share it with your friends, family members and favorite colleagues as well to help them throw a great Halloween party too. Do let us know which of the 10 best Halloween scary pumpkin carving stencils you liked the most in the comments section and while you are at it, feel free to share your favorite topics that you would like to read up on and we will get back with your requested content super soon.
– – – – – – – – – – – – – – – – – – – – – – – – – – – – – – – – – – – – – – – – –
Don't miss out on these cool Halloween freebies:
– – – – – – – – – – – – – – – – – – – – – – – – – – – – – – – – – – – – – – – – –
10 Halloween Scary Pumpkin Carving Stencils & Ideas 2022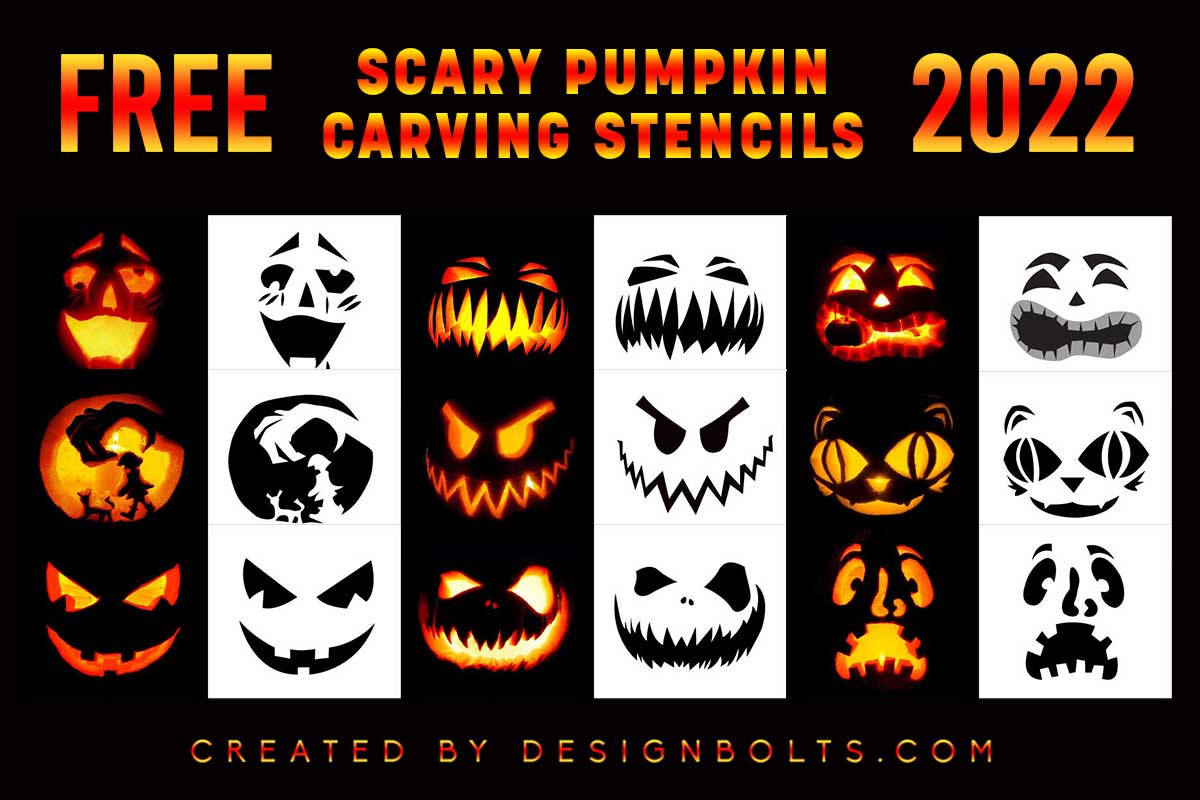 1. Free Scary Simple Pumpkin Carving Stencil 2022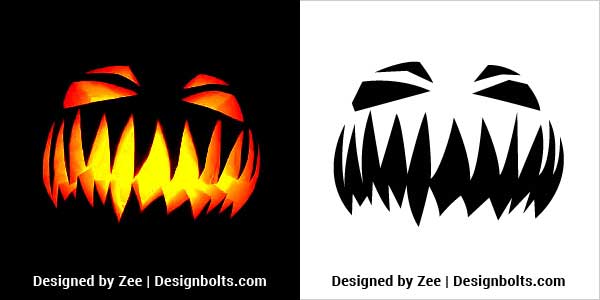 Download Stencil 1
2. Free Scary Pumpkin In the Mouth Stencil 2022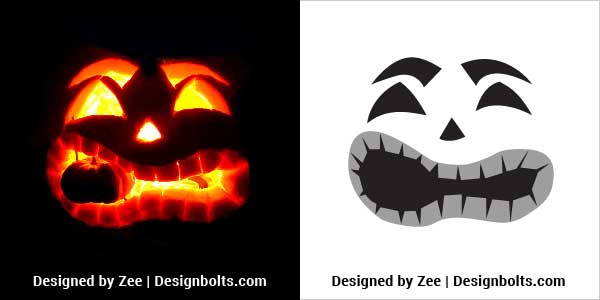 Download Stencil 2
3. Free Scary Hand Grabbing The Child Stencil 2022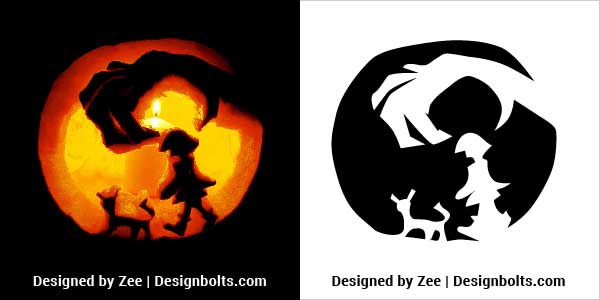 Download Stencil 3
4. Free Scary Pumpkin Carving Face 2022 For Kids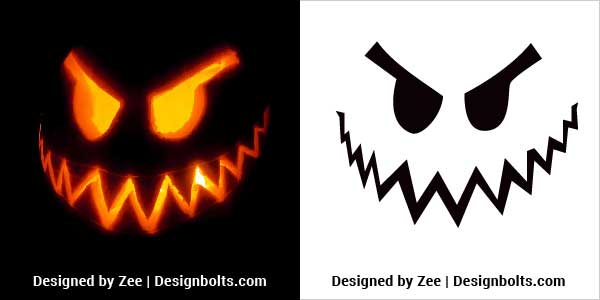 Download Stencil 4
5. Free Scary Cat Pumpkin Carving Stencil 2022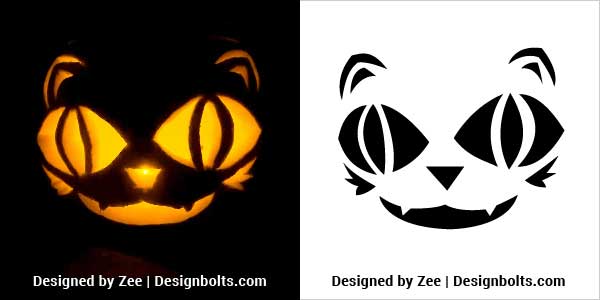 Download Stencil 5
6. Free Spooky Pumpkin Carving 2022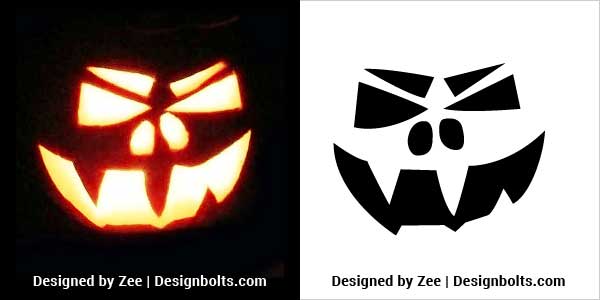 Download Stencil 6
7. Free Scary Face Simple Pumpkin Carving Stencil For Kids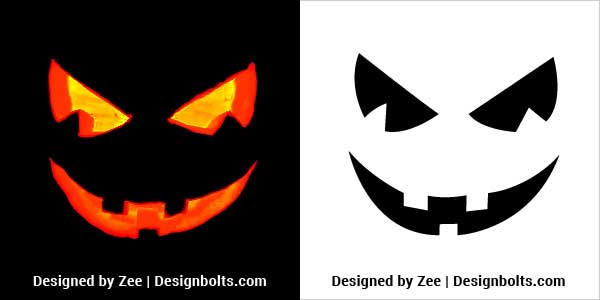 Download Stencil 7
8. Free Jackolantern Pumpkin Carving Stencil 2022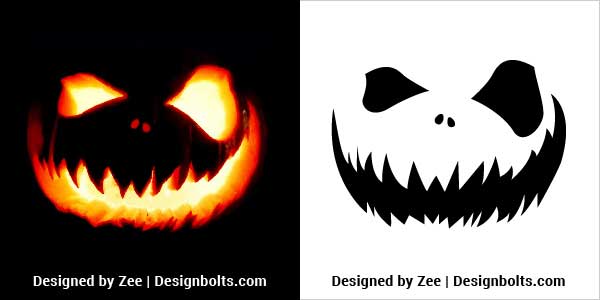 Download Stencil 8
9. Free Scared Pumpkin Carving Stencil 2022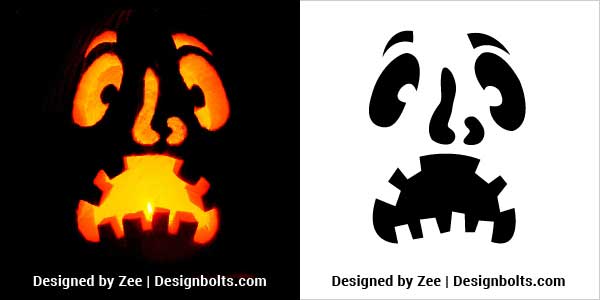 Download Stencil 9
10. Free Scary Pumpkin Carving Template 2022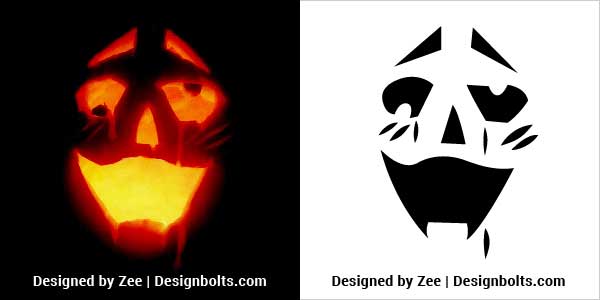 Download Stencil 10
More Pumpkin Carving Stencils For Kids & Adults: