Hi there everyone! We hope that you guys are having a great time working on your favorite projects these days and that you have also started planning your Halloween party for 2022 as well. In our today's blog, we are going to be focusing on decorating ideas that you can follow and then apply to decorate your house, office, shops, etc. for your party. But before we formally start the blog, we would like to thank you guys for the love and support that you send our way and for also sharing our blogs, content ideas and tips & tricks with the people that you love and care for. We hope to see more of that in the future too.
Recommended:
– – – – – – – – – – – – – – – – – – – – – – – – – – – – – – – – – – – – – – – – –
400+ Free Printable Halloween Pumpkin Carving Stencils, Patterns, Designs, Faces & Ideas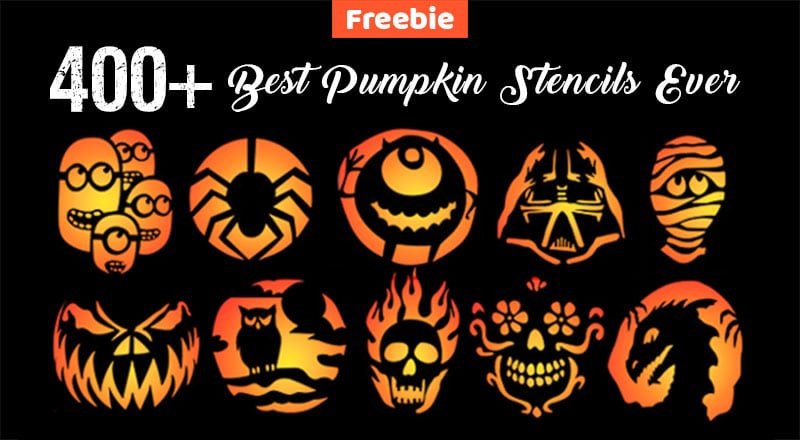 – – – – – – – – – – – – – – – – – – – – – – – – – – – – – – – – – – – – – – – – –
As you all know that there are many different ways of decorating a pumpkin for the decor of your Halloween party or even if you are planning to decorate your office space or shops for that matter too. But since so many of us are almost always busy and do not have a lot of time to spend on planning the party and then working on the decor items too, we try to go for shortcuts that serve us well. Now, we are not saying that shortcuts are not good, they are but what we are here for today is to guide you on how you can follow our 50+ decorate pumpkin ideas and make your Halloween party the talk of your street, if not the town. 😉
If you guys have already invested in a carving kit, then you are definitely in for a treat but what if we told you that you can do so much more and end up having a variety of decorated pumpkins for yourself? And just by the way, you can literally use the pumpkins (once they have been decorated) as gifts too, you know. Okay so, allow us to share what you will be needing to decorate your pumpkins with, it's up to you to get everything that we are going to mention here or just go with the items that you will need to go for a certain theme.
Recommended: 35+ Amazing Decorative Painted Pumpkins
Items to get water paints, acrylic paints, sharpies, glitter (different colors), googly eyes, paper nose or chart papers, buttons, cloth bandage, cotton, net, nails, laces, ribbons, rubber bands, crochet flowers, thread, wool, and of course, a couple of pairs of scissors, scotch tape, glue, and washi tapes, as well. Once you have decided what you are going for; that is painted pumpkins or pumpkins that you will be decorating with either glue or buttons and paper caps, paper noses, etc., then you can sit down and make a list of items that you will need to get so that you go to the shop and get everything that you require. And if you prefer online shopping, then, of course, you can do that too.
Since no carve pumpkins are equally good, we would suggest you involve the kids in the process of decorating them as well. What will happen is that they will be happy to be your helping hands and it will boost their confidence too that you invited them to do big things, you know. And also, the best part is that you guys will not just decorate your pumpkins for the party, but you will also be making so many memories too and we can bet that all of you are up for it. Another thing that we would like to mention here is that life is too short to keep carving pumpkins for Halloween so, if you are up for doing something different this year, we urge you to check out all the decorative pumpkin ideas that we have included in this blog for you guys and make sure that you try them out too.
Recommended: 25 Cool Painted Pumpkins
As far as the themes of these decorative ideas are concerned, know that we have added a variety of ideas to this collection from super scary stuff to mildly scary ideas to cute and adorable ideas that your young ones, siblings and other kids are going to fall in love with and we are sure that is the satisfaction we all crave for when we have put in efforts into making our party a great one.
And that is all for today from our end, we hope that you guys enjoyed reading the blog and that you are very excited to follow everything that we have shared here so that you can throw a great party on Halloween this year. Do let us know which decorative pumpkin ideas you liked the most in the comments section and while you are at it, we would love to know if you have anything specific in mind that you would like to read up on. We promise to come back with your requested content in our upcoming blogs super soon.
Credit: Decorative Pumpkin Design Ideas 2022 from Instagram Tags
– – – – – – – – – – – – – – – – – – – – – – – – – – – – – – – – – – – – – – – – –
Don't miss out these cool Halloween freebies:
– – – – – – – – – – – – – – – – – – – – – – – – – – – – – – – – – – – – – – – – –
60+ Pumpkin Decoration Ideas & Designs For Halloween 2022
More Awesome Halloween Pumpkin Carving Ideas: