Hi there everyone! We hope that you all are having a great time working on a couple of personal and commercial projects and that you are also very excited about Halloween too, you know when the days will start to feel a little less hot and we would know that the holiday season is starting soon as well; these are the things one looks forward too and if you have loved ones to spend such occasions with then consider yourself lucky and get ready to check out these 10 simple and spooky Halloween pumpkin carving stencils that we have created for you guys to try out in 2022.
Recommended:
– – – – – – – – – – – – – – – – – – – – – – – – – – – – – – – –
400+ Free Printable Halloween Pumpkin Carving Stencils, Patterns, Designs, Templates, Faces & Ideas for UK, Canada, Australia, USA
Best Halloween Pumpkin Stencils Ever For the Year 2024, 2023, 2022, 2021, 2020, 2019, 2018, 2017, 2016, 2015, 2014, 2013, 2012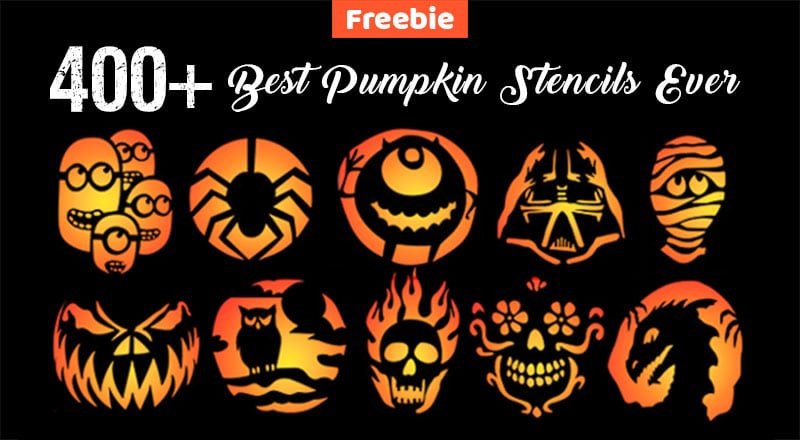 – – – – – – – – – – – – – – – – – – – – – – – – – – – – – – – –
Halloween parties are for everyone and if you are the one hosting them, make sure that you are considering every single person who would be coming over to attend the party – we mean this in the context of the theme of the party, the food items as well as the things that you will be planning for the after party sessions. If you are thinking that it is your party, and you get to decide what it should be like then we would like to let you all know that, that's not how it goes. When people take out the time to come meet you and spend time with you, it is important for you to organize the party in ways that welcomes everyone.
Specifically for Halloween parties, you have to be super careful regarding the themes and decor as well because you would not want the kids or even adults who can get scared too easily to stay uncomfortable the whole time they are going to be at your party, you know. There is a simple way to go about it and although, the ideal situation is to set just one theme for the party but if you wish to go for a couple of themes this year, then you can do that as well. What you are going to do is that you might want to arrange two separate set-ups where the kids can spend their time while you and the other adults can celebrate Halloween the way you wish to celebrate it.
If you are thinking about how to go about having two mini parties at the same time, here are a couple of suggestions that will get you going. As far as the decor of the house or the party venue is concerned, we suggest you get in touch with your friends and family members at least a week before to let them know that you will need their brains and hands to help you decorate the space(s). Oh, and just by the way, this also includes you guys carving out the pumpkins as well or you can, of course, get acrylic paints for the kids and you will see how invested they will become in the activity. For the food items, we suggest that you keep one corner for that for both kids and adults but arrange everything in a way that even if the table is not being supervised, the guests can get what they wish to consume.
And in this part of our blog, we are going to be focusing on how you guys can utilize the 10 simple spooky Halloween pumpkin carving stencils that we have created for you guys. Keep reading the blog till the end so that you can throw a party that will be remembered in years to come.
Pumpkin carving might sound too much to first-timers so the key to being in the game is to make sure that you have got the time to carve the pumpkins or even paint them for that matter. Get all the things that you will require to decorate the pumpkins, set up a corner for this activity and by using the stencils, carve our paint your pumpkins however you like. To protect the pumpkins from going bad, also make sure that you use bleach + water solution to spray on them and you will be able to use the pumpkins for more than a day. Once the party is over, you can reuse them as compost for your plants.
That is all for today, you guys! We really hope that you had fun reading this blog and that you have already picked your favorite ones from our collection of 10 simple and spooky Halloween pumpkin carving stencils for 2022. Also, it's okay if you haven't, though because now will get to spend some more time with your family members and friends and during the brainstorming sessions, you can decide a couple of other things too like who is going to get what for Christmas, the plans for the holiday season and so much more, you know. We hope that you guys have an amazing time with the people that you love on Halloween and after that too.
– – – – – – – – – – – – – – – – – – – – – – – – – – – – – – – – – – – – – – – – –
Don't miss out on these cool Halloween freebies:
– – – – – – – – – – – – – – – – – – – – – – – – – – – – – – – – – – – – – – – – –
10 Simple Spooky Halloween Pumpkin Carving Stencils 2022

1. Free Spooky Pumpkin Carving Stencil 2022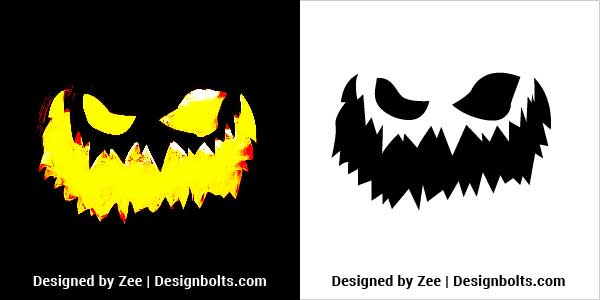 Download Stencil 1
2. Free Scary Pumpkin Carving Face 2022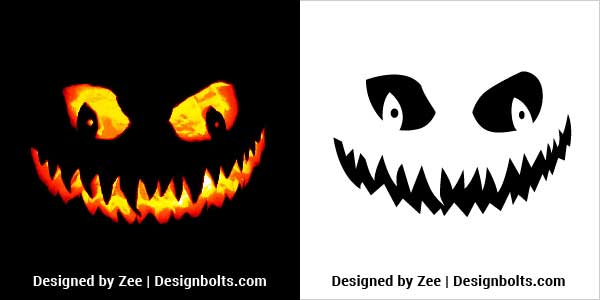 Download Stencil 2
3. Free Spooky One Eye Pumpkin Carving Stencil 2022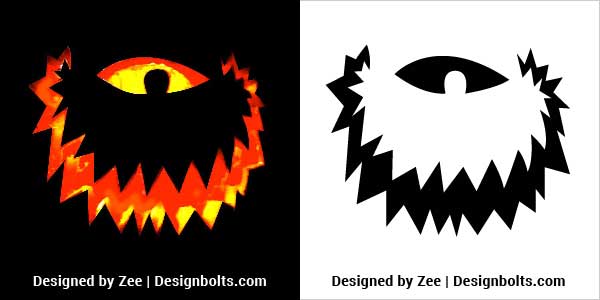 Download Stencil 3
4. Free Cross Eye Pumpkin Carving Template 2022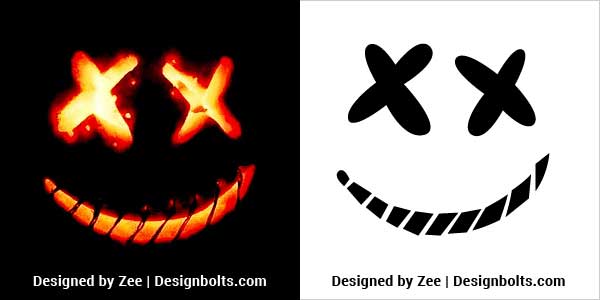 Download Stencil 4
5. Free 404 Pumpkin Carving Stencil 2022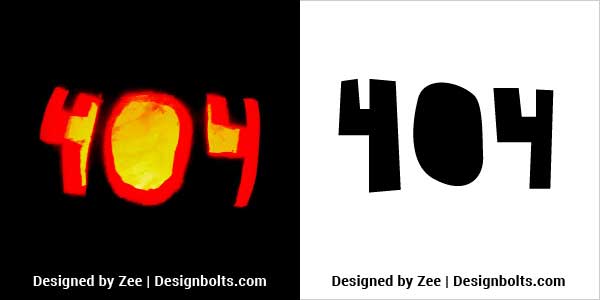 Download Stencil 5
6. Free Scary Pumpkin Stencil 2022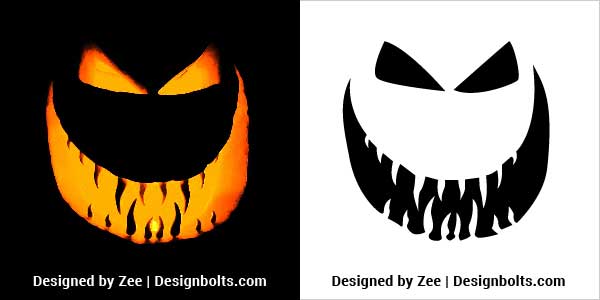 Download Stencil 6
7. Free Scary Traditional Pumpkin Carving Stencil 2022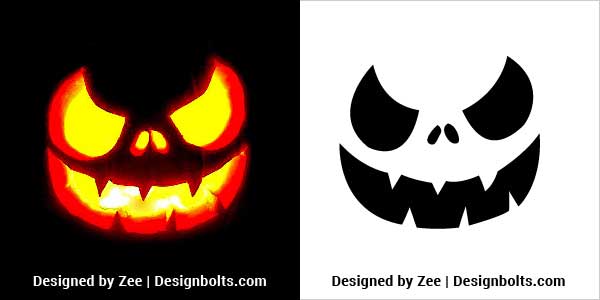 Download Stencil 7
8. Free Scary Jackolantern Stencil 2022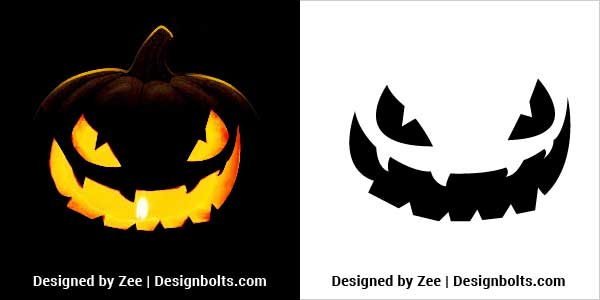 Download Stencil 8
9. Free Simple Pumpkin Carving Stencil 2022 For kids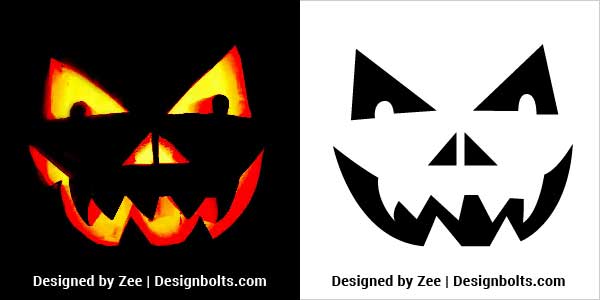 Download Stencil 9
10. Free Simple Scary Stencil 2022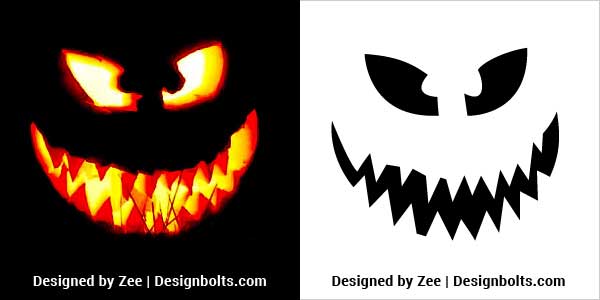 Download Stencil 10
More Pumpkin Carving Stencils of 2022 & 2021 For Kids & Adults: