Hi there everyone! We hope that you guys are having a great time reading our blogs and that you are making amazing designs for your personal and commercial tasks as well with the help of our free yet highly editable mock-up PSD files. In our today's blog, we are going to be sharing our free street billboard mockup PSD file which will not only help you share your brand story with your audiences in an effective way but you are going to generate a great return on investment (ROI) as well.
No matter how digital the advertising will become, billboards are never going out of fashion and here is why: when you put up a key message paired with attractive graphics, and interesting colors on that large a scale, you are bound to get views and that is one of the main reasons why advertisers still include billboards in their strategies, etc. But what we like the most about street billboards or billboards in general, is that they are more effective than we can imagine.
For example; on social and digital media platforms; it sounds great that you have the power to control your audiences but do you know that you are also limiting yourself from getting visibly visible, you know? And while many, many people think that digital and social media advertising campaigns are better and more effective than out-of-home advertising (OOH), facts tell us that is not correct. Billboards make people more confident about a certain business and they are sure that they won't be spending their money on anything bad or bogus for that matter.
You also need to know the right tools to work on the campaign and then make sure that you are making the most of the integrated communication strategy to ensure that whatever you put out there is also being amplified on your digital and social media platforms as well. In this part of our blog, we are going to share how you can utilize our free street billboard mock-up PSD file to create designs for your own business or for the ones that you are working with.
Recommended: 135+ Free Outdoor Advertisment Branding Mockup PSD Files
Always remember that your billboards need to have one key message which is written in easy-to-read fonts (in large sizes) and even easier-to-understand language as well. The colors have to be relevant to the brand, of course and make sure that you do not go too bright otherwise, that won't look nice, you know and instead of looking that the billboards, there are chances that people will look away. And we are sure you don't want that to happen. Also, avoid picking the color white for the background at any cost.
Also, be short and quirky with the copy – or you can take the sweeter route too if that complements your services and products. One more thing that you must always keep in mind is to make sure that your call to action (CTA) is super visible and cannot be missed even if you are looking at it from a distance. Lastly, your image(s) must be in high resolution and must be picked up wisely. Do not go for very cheesy ones and stick to the ones that can bring harmony to the overall look and feel of your billboard designs.
Recommended: 60+ Outdoor Signage Mockups
Although, creating mock-up presentations for every task is important and you must never take that thing for granted but for billboards, you need to make sure that you first work on the mock-ups and when you have gotten the approvals from your internal team members and the clients, etc. only then you release the files that need to be printed and then installed later on.
We know that you guys must be aware of how creating mock-ups can work in your favor but we would like to say here that always stay ahead in the game by being proactive; share how the designs are going to look like once printed, explain your ideas with rationale, let your creativity and design approach convince the decision makers to take a challenge and go forward with ground-breaking thoughts and ideas and only then you will be able to attract the right audience who will also take the actions that you would want them to take such as visiting your store, signing up for your newsletter, following your Instagram account to stay updated in the future, etc.
That is all for today, everybody! We hope that you guys not only had a good time reading the blog but you will also share it with your graphic designer friends and favorite colleagues as well. While you are at it, don't forget to share your feedback with us in the comments section so that we can improve the areas that need improvement. Also, do let us know if you guys have any special requests to make and we promise to share your requested content and more very soon in our upcoming blogs.
Free Shadow Street Billboard Mockup PSD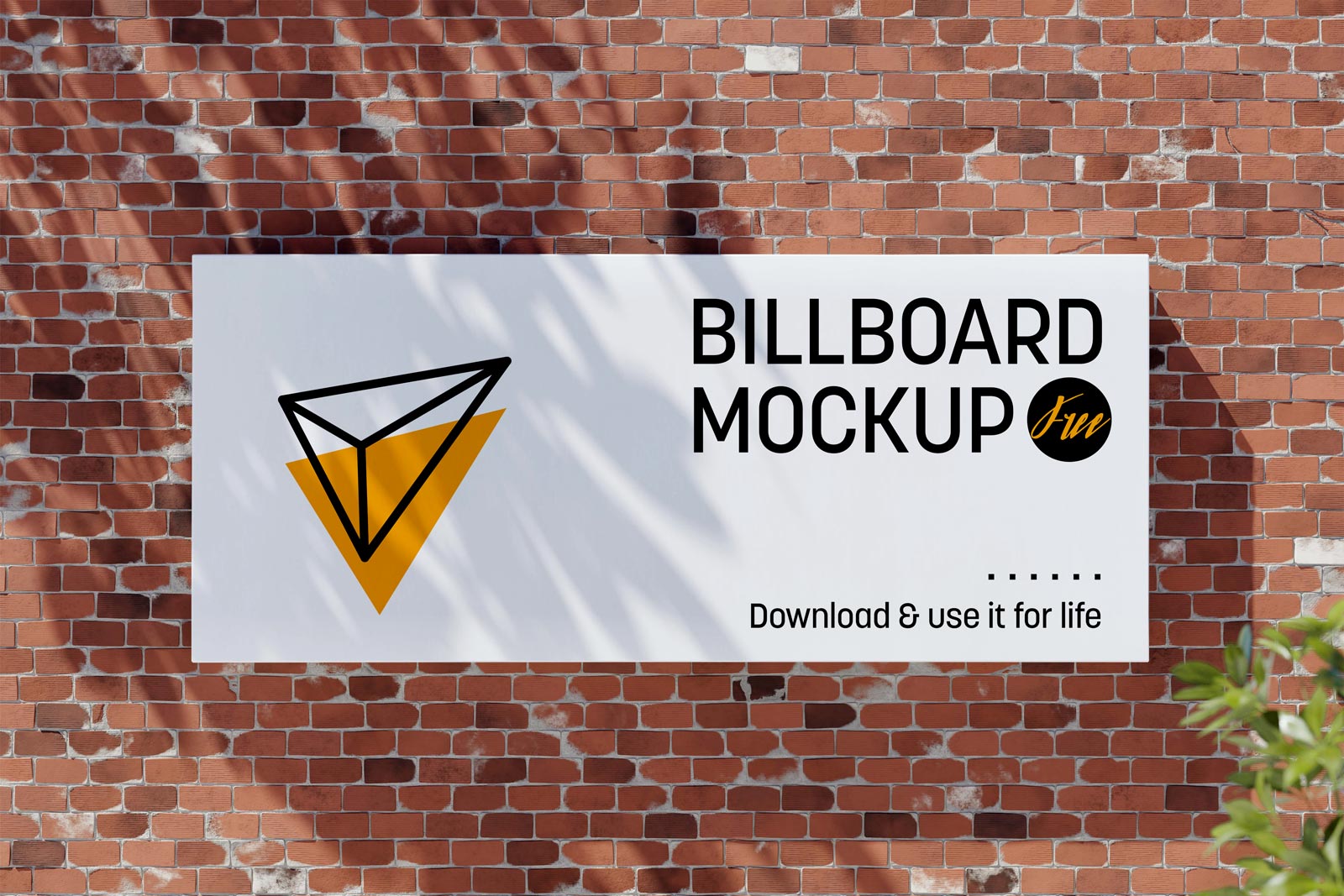 Available Format: Layered PSD with smart object insertion
License: Free for personal & commercial use
Zip File Includes: Street Billboard Mockup PSD
Note:
1. PSD Street Billboard mockup is allowed for sharing online (A Must Linkback to this page)
2. Layers are hidden to decrease the size of file kindly unhide and place your design on red colored layer.
3. Say thanks if you like or share/tweet with your friends.
Download Billboard Mockup PSD
More Free PSD Hoarding Mock-ups you would love to download: