Hi there everyone! We hope that you guys are having a great time reading our blogs and that you are super psyched to check out our free yet highly editable free 3-door hatchback car mock-up PSD file. But before we start sharing how you can utilize the mock-up PSD file for your upcoming projects, we would like to thank you guys for the support and love that you send our way and we hope to receive more of that in the future as well.
3-Door hatchback cars not only look great but you can use them for advertising your businesses as well apart from driving them for your personal usage so, we decided that we should create a highly editable mock-up PSD file that you can get your hands on and start working on it as per your creative thoughts and design brief. The best thing about our mock-up PSD files is that you will be able to incorporate all your design elements easily into them without having to worry about any limitations whatsoever.
Keep reading the blog as we are going to take you through the usage of 3-Door hatchback cars one by one in order to help you initiate your creative thinking and design processes effectively.
If you are working with a company that designs and manufactures automobiles, then our free 3-Door hatchback car mock-up PSD file is going to help you more than you could have imagined. You can be as creative as you would want to be. Honestly, the sky is the limit here – be it the colors, the shape of head lights, the tyres, side mirrors, and literally everything that is there. Your job would be to make sure that you are following the guide lines and requirements of the design brief and then you would be good to go.
Recommended: 40 Free Car, Van & Bus Mockup PSD Files For Vehicle Branding
Then comes the car advertising and we are here to tell you guys that if you have the budget to do something like that, you must because car advertisements are not just creative but your promotional messages go from one place to another and if done right, you are definitely attracting the right kind of attention too. So, it will all work in your favor but you have to make sure that you are not scared of taking a challenge or two by being creative when it comes to your message as we have seen many brands becoming irrelevant only because they did not want to do something communication-wise thinking that their audiences might not like it. Know that there is only one way to find out and that is to do it.
Now, let's talk about how you can make sure that you are on the right track and that your internal teams as well as your clients and the people you are going to pitch your innovative ideas will get convinced with your creative thoughts and design approach. Before we say anything, we would like to mention that we know how tough the schedule of a graphic designer looks like and in order to make sure that all the tasks are being worked on and delivered on the committed dates, you might not be able to get a lot of time on your hands to make mock-ups and then compile them all in your presentations, etc. But that is literally where your management skills come in because you have to be transparent and clear regarding the deadlines especially when you are dealing with third party vendors and clients, etc. Allow us to share how you can do that without sounding like someone who is not serious about a certain project or client for that matter.
Recommended: 100+ Free Outdoor Advertisment Branding Mockup PSD Files
Creative, advertising and marketing agencies have multiple clients to deal with while the clients are literally individual entities that are dealing with their agencies. Now, what happens is that the clients do not really cater to humanly possible deadlines and agencies sort of overcommit as well. In order to be on the same page, you have to inform your clients, etc. that great things take time and you won't be okay sharing anything that is average, right? Because by the end of the day, it's the brand image that you are working for. Commit deadlines that allow you to create mock-ups and when you are all aligned, then start the creative and design work and deliver the final project.
That is all for today, you guys! We hope that you enjoyed reading our blog and that you are super excited to work on our free 3-Door hatchback car mock-up PSD file as well. Feel free to share your feedback with us in the comments section and also share the blog with your graphic designer friends and favorite colleagues too. We will see you guys next time with something more fun & exciting to read and work on.Free 3-Door Hatchback Car Mockup PSD
Free 3-Door Hatchback Car Mockup PSD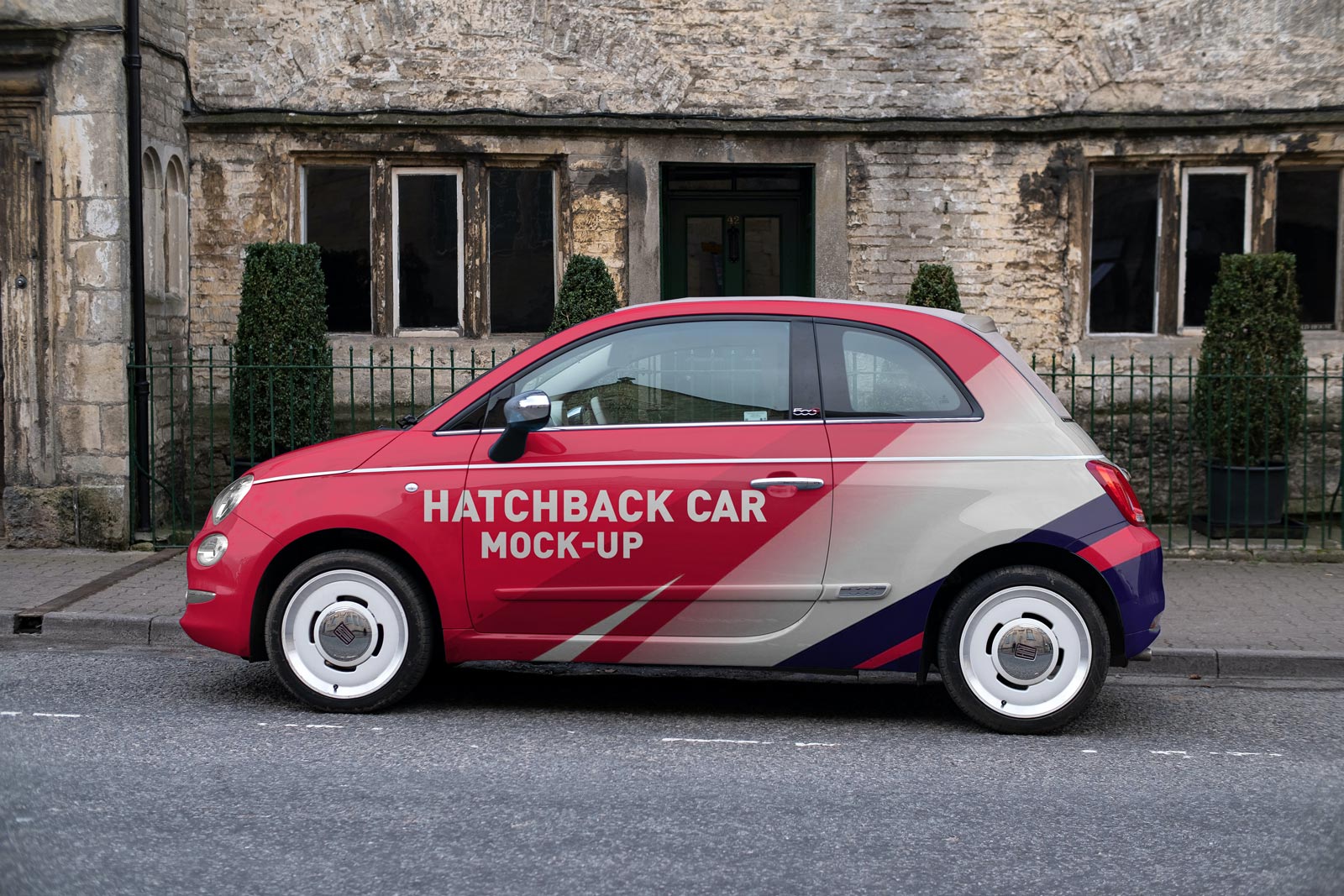 Available Format: Photoshop PSD
License: Free for personal and commercial usage
File Format: WinRAR
Mock-up Resolution: 4500 x 3000 px
Note:
1. Free Car Branding Mockup is allowed to share online (A Must Linkback to this page)
2. Say thanks if you like or share/tweet with your friends. That means a lot to me.
3. And don't forget to follow or subscribe to receive more high quality premium freebies & awesome articles only.
Download Car Mockup
More Outdoor Mockups: